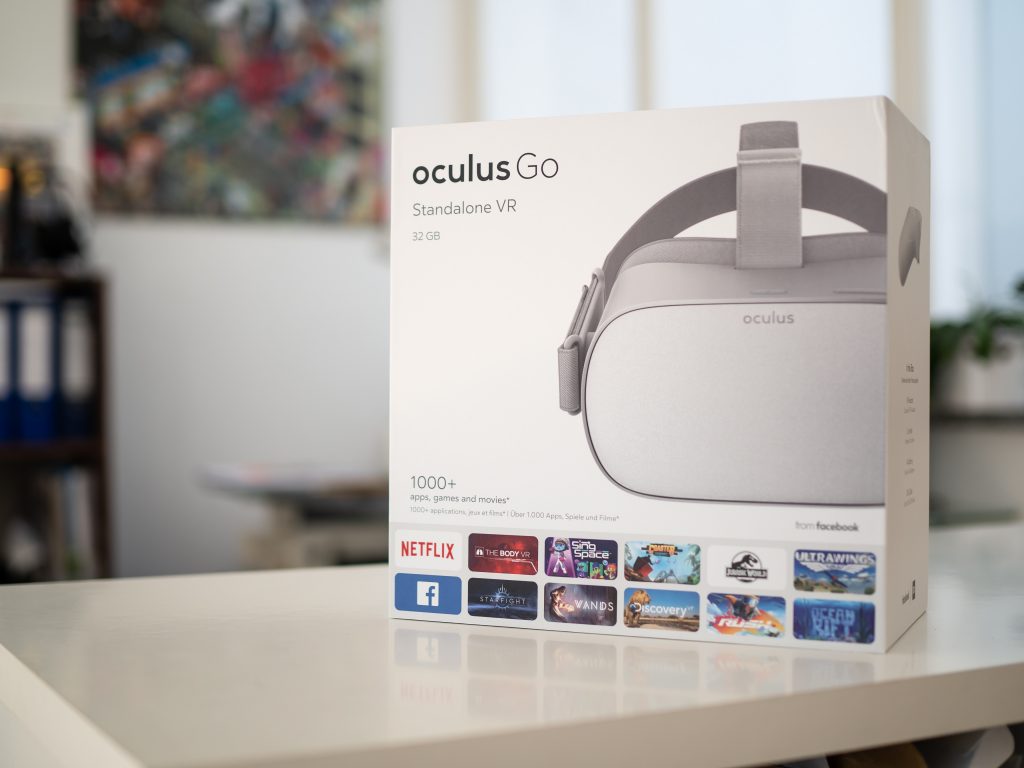 Looking through Oculus Go's app store, you're suddenly struck by crippling indecision. There are hundreds of apps and games to download, but you don't know which to choose. You neither have the time nor the patience to look through all of the reviews, ratings, and previews to determine which app is worth your money.
Fortunately, I spent two weeks in the world of VR to compile a list of apps and games you should download on Oculus Go.
Games
Drop Dead ($9.99)
Shooting-game fans will find all the thrills in Drop Dead. It's reminiscent of your traditional arcade game: two characters guide you through several zombie hordes in an effort to find the evil villain and mad scientist Dr. Monday. The game features power-ups, a variety of weapons and zombie species, and missions.
You don't only get entertainment and thrills—you also get comfort. The game offers two modes: Take It Easy, which skips dynamic motion and cutscenes—perfect for those with motion sickness—and Full Experience, which includes cutscenes, storytelling, and dynamic movement. If you're not prone to motion sickness, choose Full Experience. It's not as fun without it.
Virtual Virtual Reality ($9.99)
Virtual Virtual Reality (V-VR) is an adventure game set in the world of—you guessed it—virtual reality, where humans work for AIs. You play as a "temporary human agent," working for 50 AI clients whose demands verge on the whimsical and hilarious, including coating your client, Butter, with toast and tumbling another client, Tumbleweed, with a vacuum. You enter the client's world through your VR headset called the virtual labor access point.
This is the most interactive game in Oculus Go. You can move objects and touch characters, who react accordingly. The game also has great graphics, humor, and storytelling. As you serve your AI masters, a dystopian narrative unfolds.
Dead & Buried (Free)
If you love zombies and the wild wild west, then Dead & Buried is up your alley. Stepping into the world of gunslingers, zombies, and ghosts, you attempt to survive waves of zombie cowboys using a revolver, which you spin and cock back to reload. Although the game errs on the side of zany rather than spooky, the fast moving hordes are enough to thrill.
For a game that's free, it has impressive graphics and ambiance, the latter which you can control. If you feel so compelled, you can change the environment to dawn, afternoon, dusk, or night. (My personal favorite is dawn, which blankets the sapphire sky in stars.)
You can play three different games. In one game, you're in an old saloon where you battle a wave of zombies. The second game, too, allows you to battle a horde but in an alley. If you're sick of staving off zombie hordes, you can duel one-on-one with other players.
Note: the video above is a trailer for the Oculus Rift, not Oculus Go. 
Wands ($9.99)
If you've always longed to become an expert wizard, now is your chance. Wands is an adventure, fantasy game where you, a wand-wielding warlock, duel several opponents. Set in a world where hooded sorcerers and masked witches roam the earth, Wands opens in your characters' lair, where you create your wand, choose your spells, and pick your outwear. To duel fellow gamers, you teleport through a magical mirror that takes you to the dueling chamber.
The game has one of the best graphics Oculus Go can offer. Although not in the level of Resident Evil 8 for PS4s, Wands' graphics are impressive for a $10 app.
Although entertaining, Wands requires expertise—it's not a game for newbies. It requires skill and sharp memory to use the controls, which requires numerous complicated maneuvers. Also, you must know how to fight multiple opponents on your own. If you like your games complex, try this one.
Entertainment
Netflix (Free with an Account)
Can you watch movies from the big screen without paying $13 at the theater? With the Netflix app, you can.
Netflix allows you to watch shows and movies from a big screen in your virtual home. It doesn't matter the time of day: as soon as your movie plays, the lights in your high-tech and meticulously decorated house dim so you can enjoy your movie without the annoying glares.
Affected the Manor ($2.99)
Explore the spooky, dilapidated halls of Affected the Manor, where portraits seem to follow your every move, furniture floats in the air, and mysterious children appear and disappear from your field of vision.
Although the anticipation of jump scares leaves you trembling in your seat, the graphics themselves are mediocre, certainly not as impressive as V-VR, Dead & Buried, or Wands. Nonetheless, the creepy experience makes Affected the Manor worth a try.
The Missed Spaceflight (Free)
The Missed Spaceflight is a brief two-minute experience that simulates a space shuttle launch. Like most of the experiences in Oculus Go, the journey unfolds through the first person perspective: you're one of the astronauts, lying back in your seat and watching out the window as the craft propels you from earth to space.
While V-VR and Dead & Buried rate an 8 out of 10 in graphics, The Missed Spaceflight scores a 10 out of to 10. The graphics are as good as it can get, glimpsing into the future of what Oculus Go games could be.
Education
Titans of Space PLUS ($4.99)
For many of us, space travel is as probable as sprouting gills—but Titans of Space PLUS offers an experience that's close enough.
This 60-minute experience (30 if you choose the short tour) takes you on a trip around the solar system. As you stop by each planet, the app presents interesting facts you likely have never known before, such as the planet's distance from the sun and its size. Titans of Space is a fun and educational experience for anyone curious about our solar system.
Mondly: Learning Languages in VR ($4.99)
Planning a trip to France? Japan? How about Germany? If you want to learn a few phrases in a foreign language, you can do so with Mondly, which offers 30 languages, including Portuguese, Arabic, and Thai. To practice, Mondly places you in a setting where you're forced to converse with a virtual character. You can practice your pronunciation by speaking into the headset's microphone.
Ocean Rift ($9.99)
The ocean is filled with mysteries and unexplored territories. Ocean Rift gives you the opportunity to dive deep into our world's oceans and watch sea creatures go about their daily lives.
Using your controller's touch pad to swim, you explore 12 different habitats including coral reefs, shipwrecks, and lagoons. You can also choose to meet 11 sea creatures, including dolphins, sharks, turtles, orcas, sea snakes, rays, and even dinosaurs!
The Oculus Go store offers a plethora of games and apps you can download. But if you suddenly find yourself crippled with indecision, give one of these apps a try.