This year seems to be a busy one for Facebook as it hustles to provide its users new features and updates, from original video content to Facebook Stories to Live Audio. Note that while some of these features are slowly rolling out to users in select countries (mainly the U.S.), some are still in its testing stages. Below are the top 12 Facebook features and updates you should expect to roll out this year.
1. Facebook TV App
Facebook announced on its newsroom blog that it's soon releasing Facebook TV apps for set-top boxes like Apple TV, Amazon Fire TV, and Samsung Smart TV. With Facebook's TV app, which is only available to those with a Facebook account, you can watch Facebook videos from your TV. You can watch the videos you saved and the videos shared by friends and by the pages you follow. You can also watch the videos Facebook suggests to you based on your interest.
There is currently no word on the release date for Facebook's TV app.
2. Mid-Roll Video Ads
Facebook is currently testing mid-roll video ads, ads that appear on videos that run for at least 90 seconds. The ads will only appear once you have watched the video for 20 seconds.
3. Messenger Home Screen Ads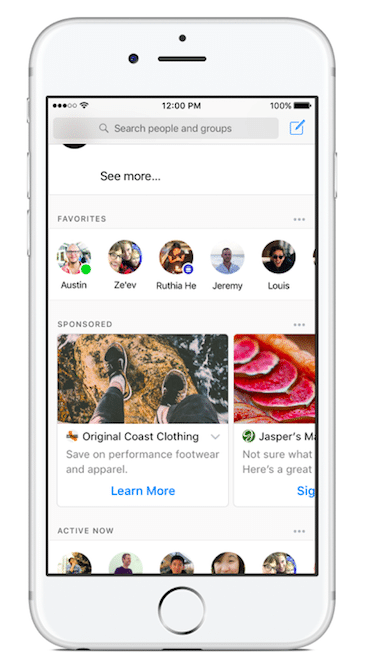 Expect to see ads on Messenger this year. Facebook is currently testing carousel ads within Messenger, which you will find underneath the bar that features your Favorites, or the contacts that you message the most. You can swipe through the carousel and view different ads from different advertisers.
4. Facebook Sound-On Videos
Facebook announced that it's updating the way videos play on your news feed. Previously, videos automatically played with sound off. Now, Facebook videos will automatically play with sound on. With this new update, sound will fade in as your scroll toward a video and will fade out as you scroll away from a video.
If you dislike this feature, there are two ways you can disable Facebook videos from automatically playing with sound on. You can disable automatic sound by putting your phone on silent or by switching off "Videos in News Feed Start With Sound" on your settings.
5. Watch and Scroll
The new watch-and-scroll feature, which is only available to mobile devices, allows you to scroll through your news feed while watching a video. You can minimize a video and drag it to any corner of your screen. If you own an Android, you can continue watching even after you've left the Facebook app.
6. Vertical Video
A large preview of vertical videos on mobile news feeds are now available. This new update is available to both iOS and Android devices.
7. Original Video Content
Facebook recently hired former MT executive vice president Mina Lefevre as head of development. Lefevre will manage the development of Facebook's scripted and unscripted video content. During an earnings call, Facebook revealed that these videos will be short and episodic, like Buzzfeed or CollegeHumor videos.
8. Facebook Stories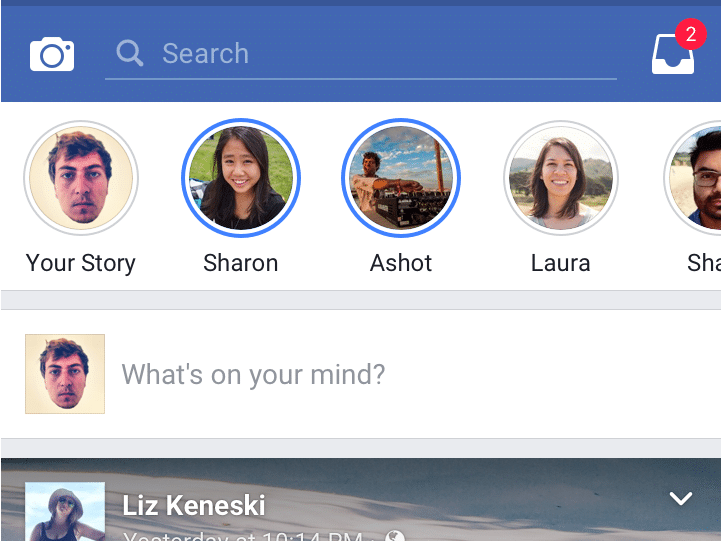 On January, news spread that Facebook is testing Facebook stories, Snapchat's second clone. Much like Snapchat Stories, with Facebook Stories, which appear underneath your search bar, you can upload ephemeral photos and videos that last up to 24 hours and message friends through the story you're viewing. You can also apply filters when recording a video or taking a photo. The stories you post will neither appear on your news feed nor your timeline.
9. GIFs in Facebook Ads
Facebook is giving advertisers another way to combat ad fatigue. In a Facebook product newsletter, Facebook announced that advertisers can now upload GIFs as a video format into Ads Manager.
10. Instagram Stories Ads
Instagram is currently testing mid-roll Instagram video ads that appear within Stories. These skippable, full-screen ads are currently being tested with more than 30 brands and businesses including Nike, Netflix, Airbnb, and Capital One, among many others. Although no word has emerged as to how long these ads will be, Facebook revealed that Airbnb is testing 15-second ads into Stories.
11. Live Audio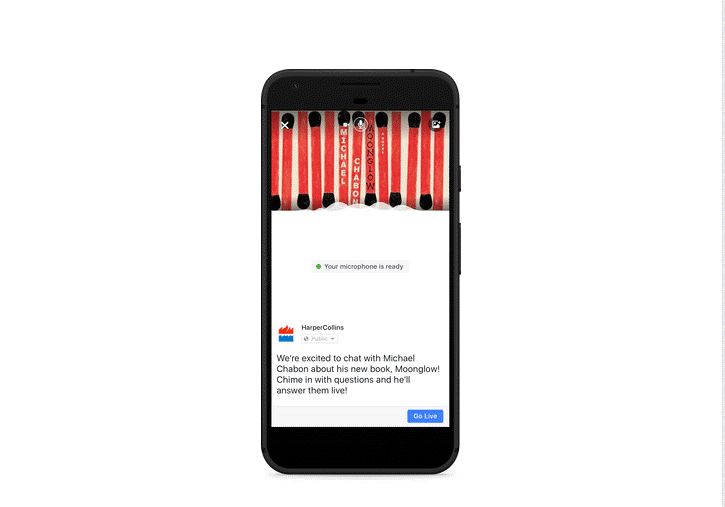 Today, you can take a live video or a live 360 video. Soon you will also be able to record or listen to a live audio. Live Audio, the latest addition to Facebook's live products, allows users to record a live podcast. Users will be able to find your live content as they scroll through their news feeds. Additionally, they can ask questions, leave reactions, or share your podcast during your broadcast.
Users with Android devices will be able to listen to a live audio even if they leave the app or lock their phones. Those with iOS devices, on the other hand, can listen to the broadcast while browsing other parts of Facebook.
Although Facebook is currently testing Live Audio with a select few partners such as BBC World Service, LBC, Harper Collins, and authors Adam Grant and Brit Bennett, it plans to make this new feature available to more publishers and users this year. The date for Live Audio's official release is yet to be determined.
12. Jobs Bookmark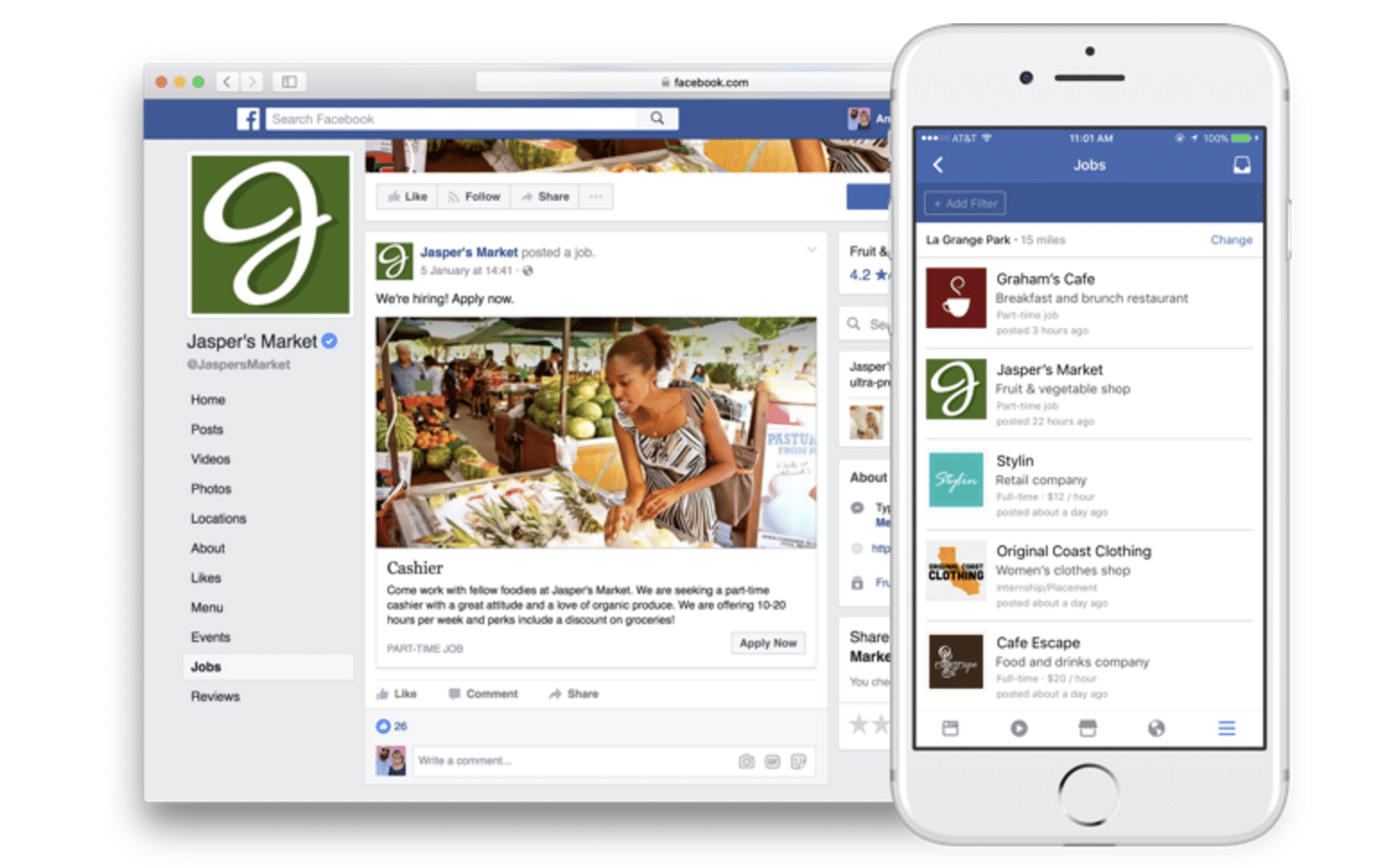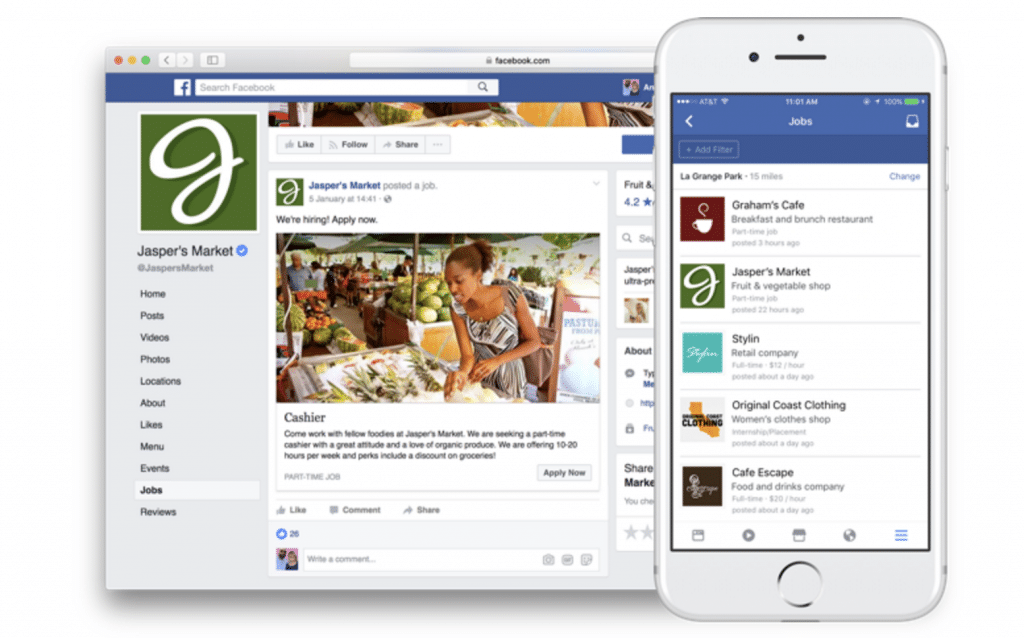 Facebook's latest feature, which officially rolled out earlier this week, is the jobs bookmark. If you're an employer with admin access to a Facebook business page, you can post a job opening straight from your page via mobile or desktop. All job postings will appear on the jobs bookmark, a tab that appears on your page. The jobs you post will appear on people's news feeds, in the jobs bookmark, and alongside other posts on your business page. If you want more applicants to see your job opening, you can boost your post.
When applicants respond to your post, they are directed to a form pre-populated with the information found on their profiles, including full name, email address, phone number, location, education, and work experience. The applicant can review this information and choose to make edits or deletions. Once you receive applications, you can respond to the applicant via Facebook Messenger.
If you can't spot some of these feature and updates, don't worry. They are still slowly rolling out to all users, and they likely haven't rolled out to you yet. Also, remember that some of these feature and updates are still in its testing stages, and they will be released sometime this year.
Have you seen any of these new features and updates yet? Let us know on the comments section below. If you know someone who will be interested in this post, share this link.