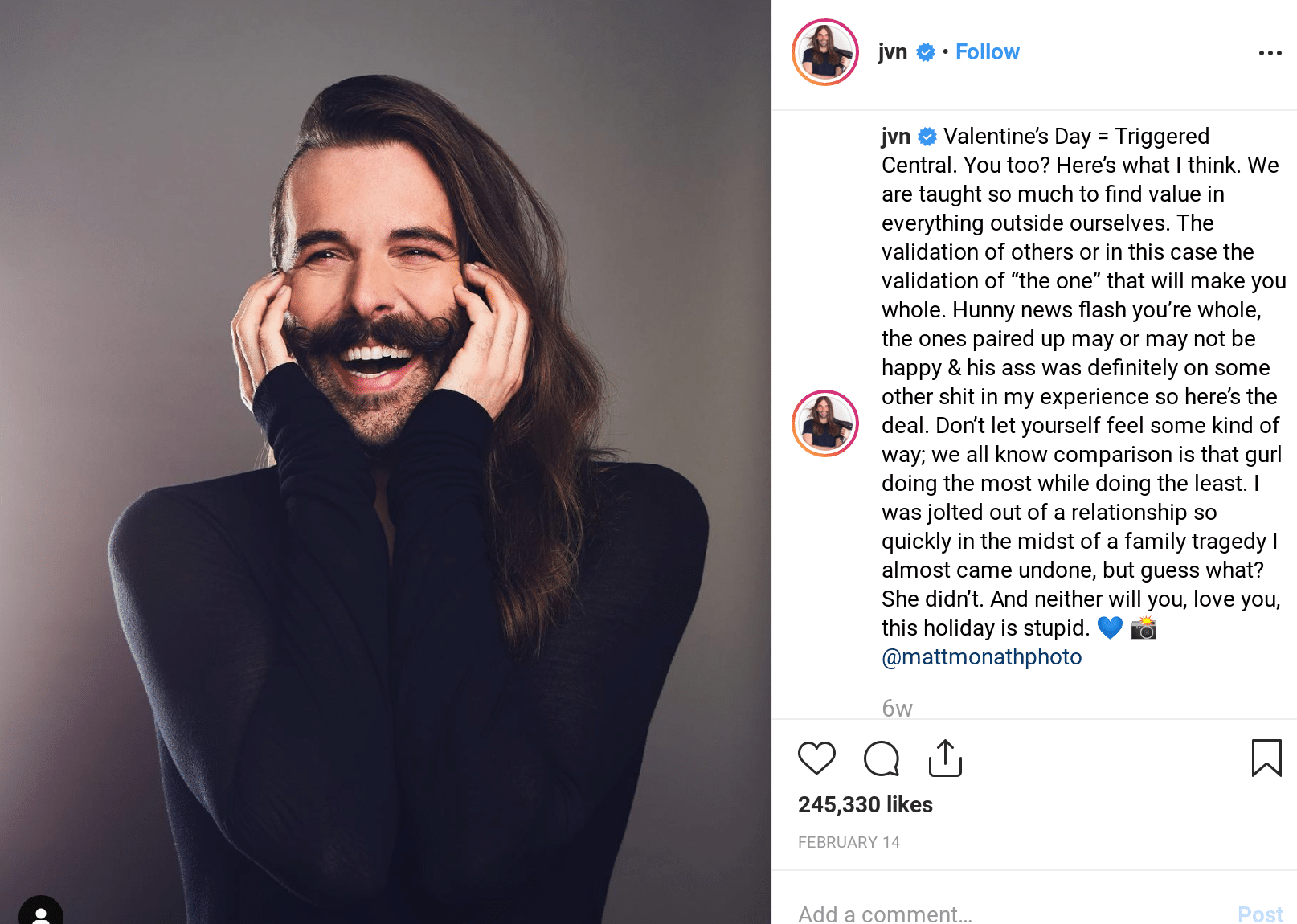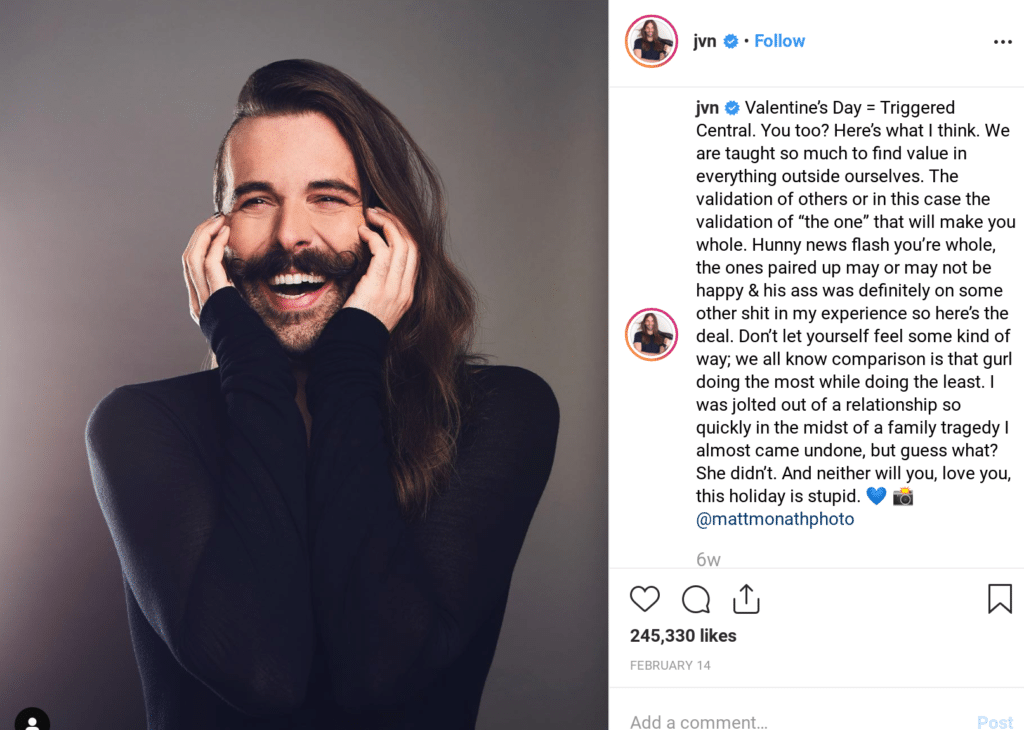 When it comes to Instagram, some celebrities got it and some celebrities don't. Jonathan Van Ness, an American hairdresser, podcaster, and television personality known for the hit Netflix show Queer Eye, is one who's got it—just take a look at his more than three million adoring followers. Scrolling through his feed, it's obvious why Van Ness attracts so many fans. Here are five of my personal favorite Instagram posts by this Fab Five member and the reasons why they're so effective.
He's a Regular Person
What says "I'm just like you" better than a classic mirror selfie? I love that this picture does not look staged, yet it's still uniquely framed. While showcasing his new tattoo, Van Ness subtly depicts himself as a normal person who, like us, takes mirror selfies in the moment. Not every Instagram photo needs to be from a professional photo shoot.

By showing off his new tattoo, Van Ness is inviting his followers to engage with his post. Fans are naturally inclined to share their feedback about his new ink.
He's True to Himself
Van Ness is no stranger to wearing heels and strutting his stuff. He's also known for his styling and hairdressing finesse. All of these traits are familiar to his fan base, and this photo of him fully exemplifies his confident personality in all its glory. You can't help but think "That's so Jonathan!"

In this post, Van Ness cleverly tags Lady Gaga and Lip Sync Battle in the caption, boosting the post's visibility. By using these popular tags, the post becomes more relevant to even more users.
He Rocks the Photo Shoot
Van Ness's genuine happiness in this professional photo makes me smile. His message in the caption, which encourages his fan base to love themselves fully with or without a romantic partner, is so full of emotion and inspiration. The post is even more effective because the high-quality image prompts users to stop scrolling and view it in their feeds.
He Gives Followers Behind-the-Scenes Access
Van Ness posts behind-the-scenes pictures of the Fab Five now and then. This authentic, low-key image of the guys gives fans of Queer Eye reason to geek out and get excited about seeing their stars in a spontaneous moment.
This post was a great opportunity to promote the show, as we can see in Van Ness's caption, where he builds hype for Season 3. Fans are psyched up enough to engage with the post, either by liking or commenting.
He's Helpful
In pure Van Ness style, the star hairdresser gives his fans useful grooming tips in this video made with The Art of Shaving. As a model of great hair care, Van Ness is the perfect celebrity for this short video series. Fans trust his expertise, and his free advice makes the content particularly valuable to users.
To boost the post's visibility, Van Ness tags relevant accounts and uses popular hashtags in the post's caption. The video is also high-quality, making it stand out in feeds.
So as you can see, there are many reasons why this Fab Five member is also fabulous on Instagram. As digital marketers, we can learn from his posts to help boost our own Instagram campaigns.

Another celebrity who kills it on Instagram is Ariana Grande, who recently achieved the status of most followed woman on Instagram.