In a previous post, you learned how to create a Snapchat ad account. Great, congratulations! However, like all advertising agencies, you cannot manage an ad account on your lonesome. In fact, it's impossible to keep an agency running without other members helping you, such as account managers, analysts, and graphic designers. In this post, you'll learn how to invite new members to your ad account and assign account roles.
What is Snapchat Ad Manager?
Snapchat Ad Manager is a powerful platform that enables businesses to create, manage, and optimize their advertising campaigns on the popular social media network.
Acting as a hub for campaign execution, it allows advertisers to target potential audiences based on demographics, interests, and behaviors. With a user-friendly interface, advertisers can design engaging ads, set budget parameters, and monitor campaign performance in real-time.
By seamlessly connecting brands with their desired audience, Snapchat Ad Manager empowers businesses to leverage the platform's dynamic and visually captivating environment to drive brand awareness, engagement, and conversions.
Who can be added as a Member to Snapchat Ad Manager?
Anyone involved in a brand's advertising and marketing efforts can be added as a member to Snapchat Ad Manager, facilitating seamless collaboration and campaign management.
The platform accommodates a diverse range of roles, from marketing teams and creative designers to data analysts and campaign strategists.
This inclusivity ensures that all stakeholders can access and contribute to the campaign's success, whether it's crafting captivating ad creatives, monitoring campaign analytics, or adjusting targeting parameters.
By extending membership to relevant team members, brands can develop collective expertise, streamline workflows, and ensure that every facet of the advertising process aligns with the overarching marketing goals.
Why add a member to Snapchat Ad Manager?
Adding a member to Snapchat Ad Manager offers several compelling advantages for effective campaign management and collaboration.
Firstly, it allows businesses to tap into a wider range of expertise, as team members from various departments can contribute their specialized skills. This fosters creative synergy, enabling the generation of engaging ad content and innovative strategies.
Moreover, distributing responsibilities among team members streamlines workflow, ensuring efficient execution of tasks and timely campaign launches.
Collaborative efforts also enhance data analysis and optimization, as different perspectives contribute to more informed decision-making.
By adding team members, businesses can navigate the complex advertising landscape with collective strength, fostering a holistic approach that maximizes campaign impact and outcomes.
How to add a member to Snapchat Ad Manager?
Step 1: Go to the Members page
You can access the Members page from the Business Manager menu. Go to Business Manager, click the three-lined hamburger icon on the upper-left corner of the screen, then click "Members."


Step 2: Click "Invite New Member"
Once in the Members page, click "Invite New Member" located on the upper-right corner of the screen.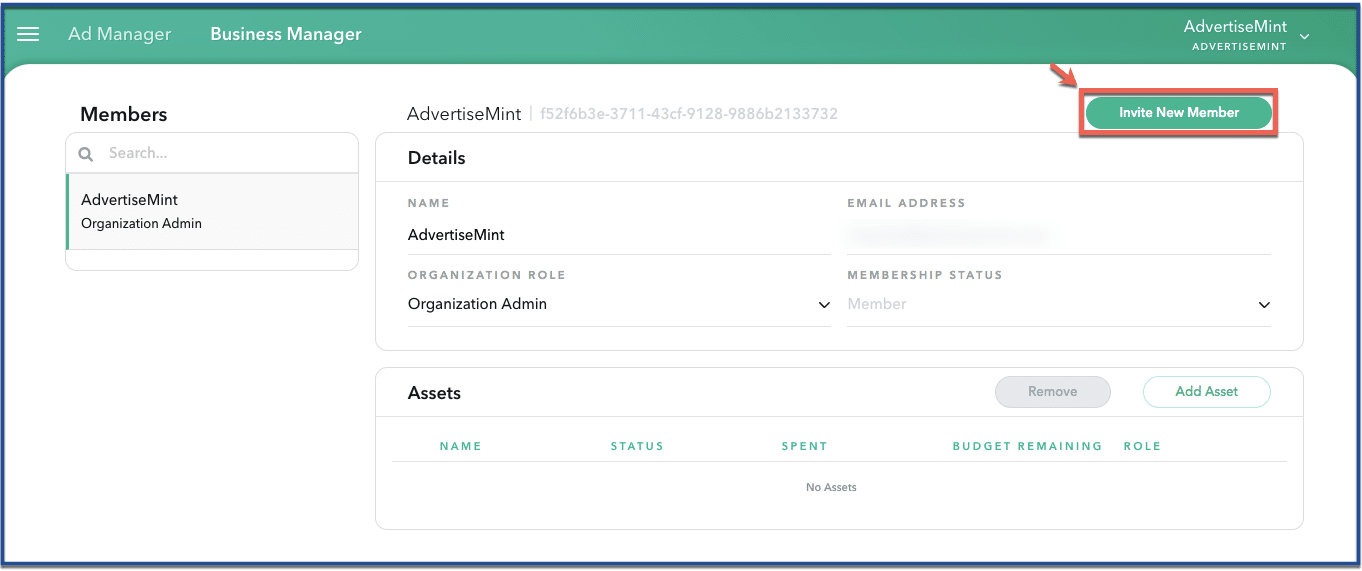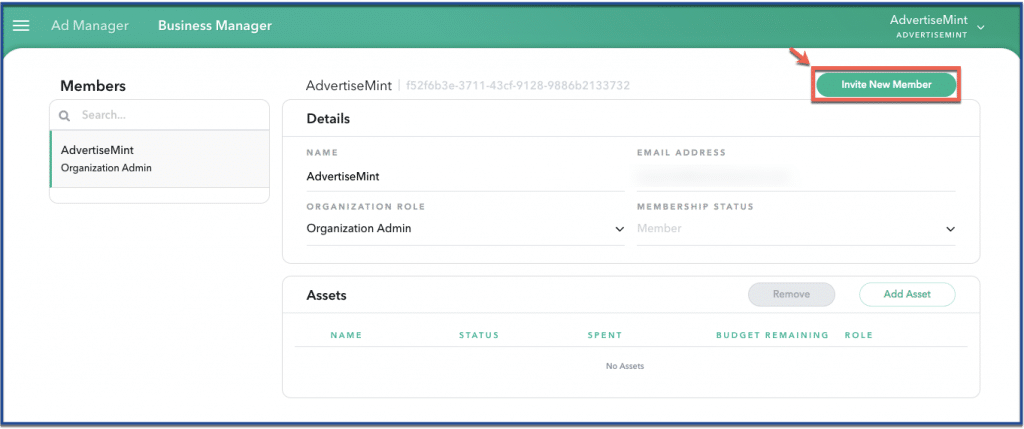 Step 3: Enter member information
One at a time, enter the names and Snapchat email addresses of the members you want to invite. It's important that you enter the email addresses connected to their personal Snapchat accounts. Otherwise, they will be unable to access Business Manager. If the members you want to invite do not have a Snapchat account, they must create one—it's mandatory.
Next, choose an organization role. Choosing the admin role will give members admin access to the account: the members can create ads, invite other members, make important changes to the account, and edit account roles. If you want to give the new members limited privileges to the account, choose the member role.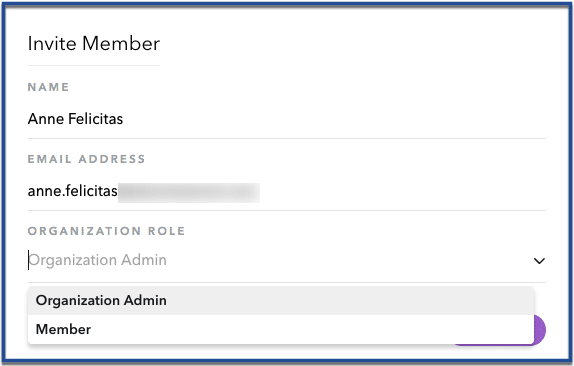 Step 4: You're done!
Added members should appear in a list on this page. You can remove members or change their account roles at any time.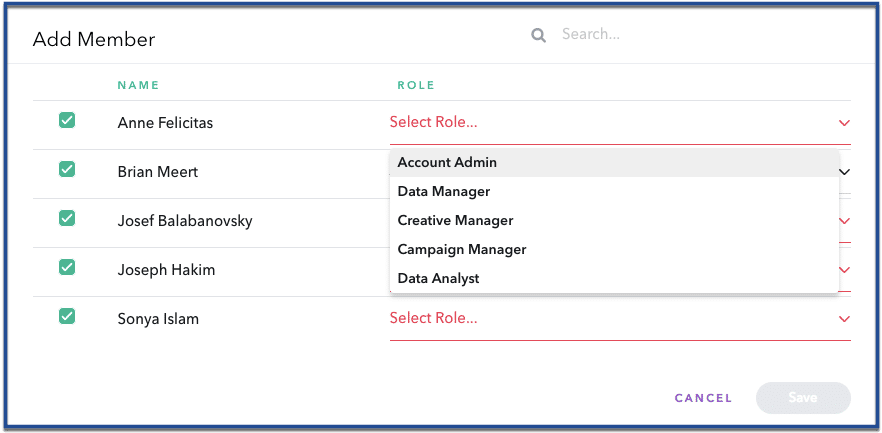 Roles of Member on Snapchat Ad Manager?
Admins
Admins hold the highest level of control and can oversee the entire ad account. They manage access permissions, create campaigns, allocate budgets, and monitor campaign performance. Admins play a crucial role in setting the overall campaign strategy and ensuring that all team members work cohesively.
Advertisers
Advertisers are responsible for creating, managing, and optimizing campaigns. They have the authority to design ads, select target audiences, and set budget parameters. Advertisers focus on executing the campaign's tactical aspects, ensuring that ads are engaging and resonate with the intended audience.
Analysts
Analysts delve into the data and provide insights to optimize campaign performance. They assess key metrics, track KPIs, and identify trends to fine-tune targeting and messaging. Analysts help refine strategies based on data-driven observations, ensuring that campaigns are efficient and effective.
Collaborators
Snapchat Ad Manager also offers the option to add Collaborators, who have more limited access. Collaborators can assist with creative tasks, such as designing ad content, without having full control over campaign settings or performance tracking.
How to remove a Member from Snapchat Manager?
Here are the steps on how to remove a member from Snapchat Ad Manager:
Log in to your Snapchat Ad Manager account.

Click on the "Settings" icon.

Click on "Members."

Click on the name of the member you want to remove.

Click on the "Remove Member" button.

Click on the "Remove" button to confirm.
So far you've created a Snapchat account, added members, and assigned page roles. Now it's time for the next big step: creating Snapchat ads.
FAQs
Who can I add as a member to Snapchat Ad Manager?
You can add any person with a valid email address to your Snapchat Ad Manager account.
How do I invite a member to my Snapchat Ad Manager account?
Inviting a new member involves accessing the Ad Manager interface, navigating to the "Team" or "Members" section, and entering the email address of the team member you want to add.
What happens if I remove a member from my Snapchat Ad Manager account?
If you remove a member from your Snapchat Ad Manager account, they will no longer have access to the account. This includes any ad campaigns they have created or edited. You will need to re-assign those campaigns to another member with the appropriate permissions.
What is the email verification process for new members?
After receiving the invitation, the new member needs to check their email and follow the verification link provided by Snapchat to confirm their identity and set up their account.
Can I change roles or permissions for existing members?
Yes, you can adjust roles and permissions for existing members as campaign dynamics change or responsibilities evolve. This ensures access aligns with their tasks.