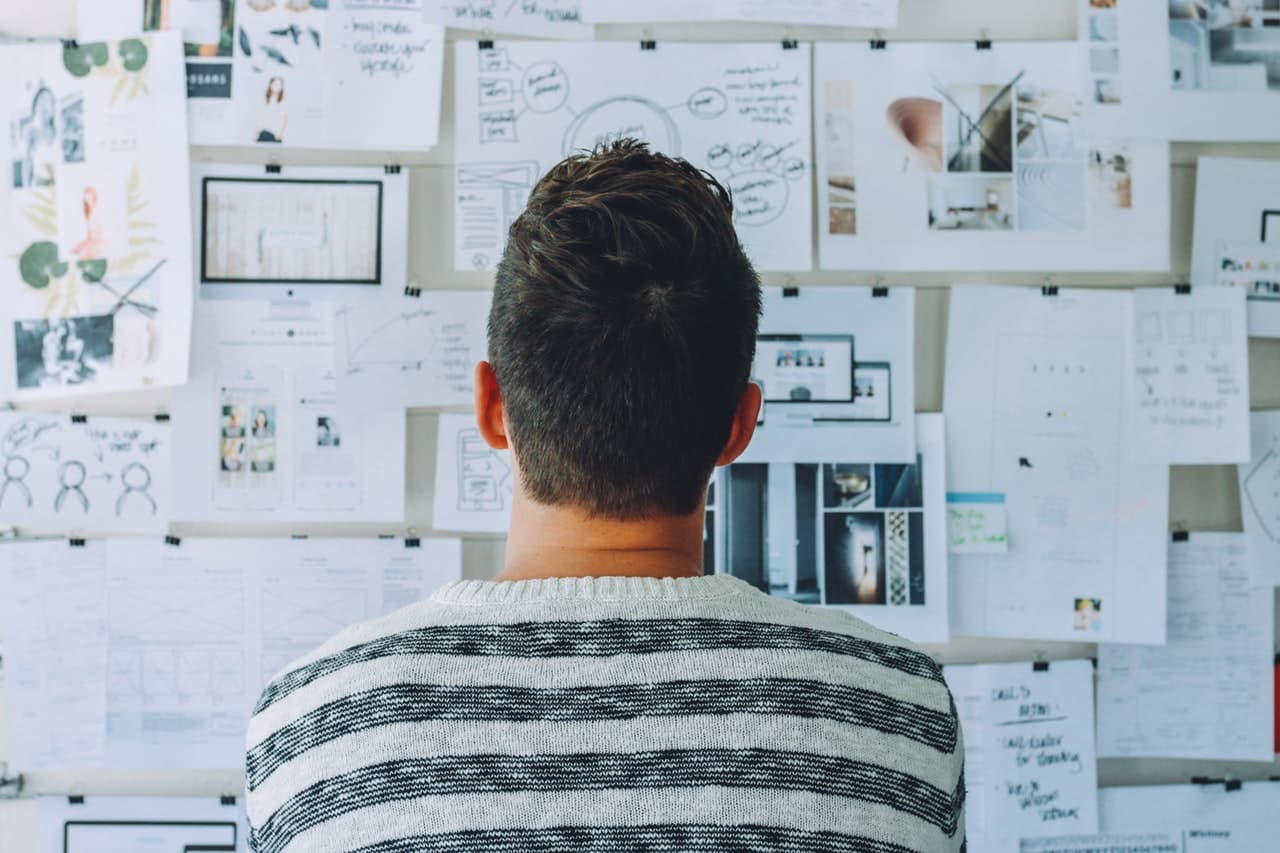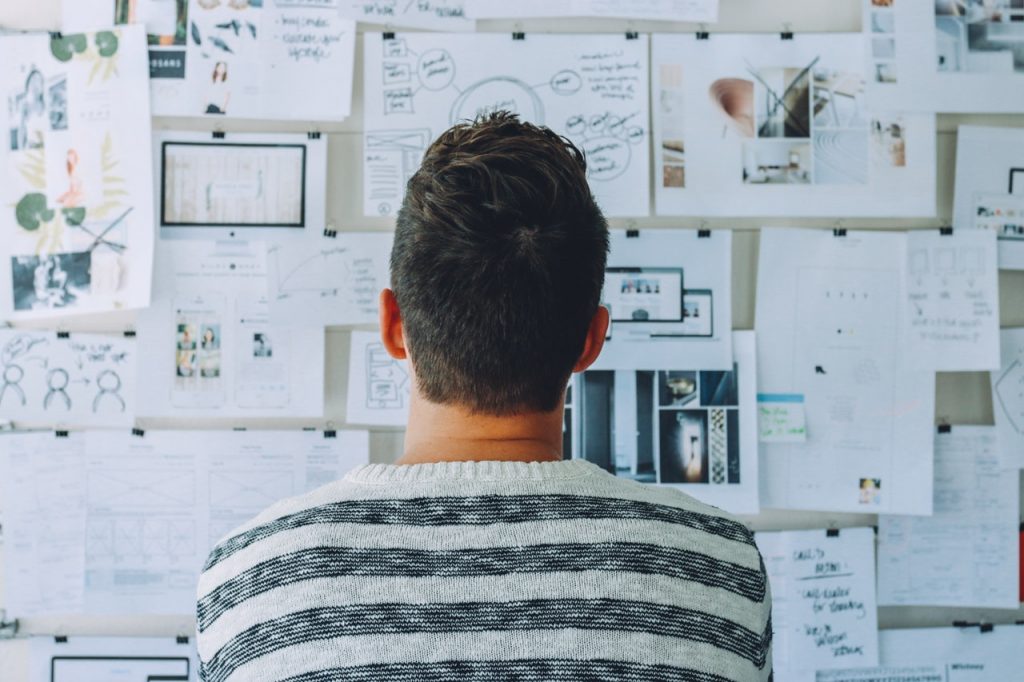 Seventy percent of all US adults use at least one social media network. While most brands agree that social media is a critical channel, many aren't leveraging the strengths that are unique to each platform, and the opportunities to leverage social media to raise brand awareness and generate revenue are immense.
The leading social networks—Facebook, Twitter, Instagram, Pinterest, and Snapchat—vary widely in their membership makeup, culture, and look and feel. Although the networks differ, brands can leverage the strengths that are unique to each social media platform and capitalize on a particularly strong feature.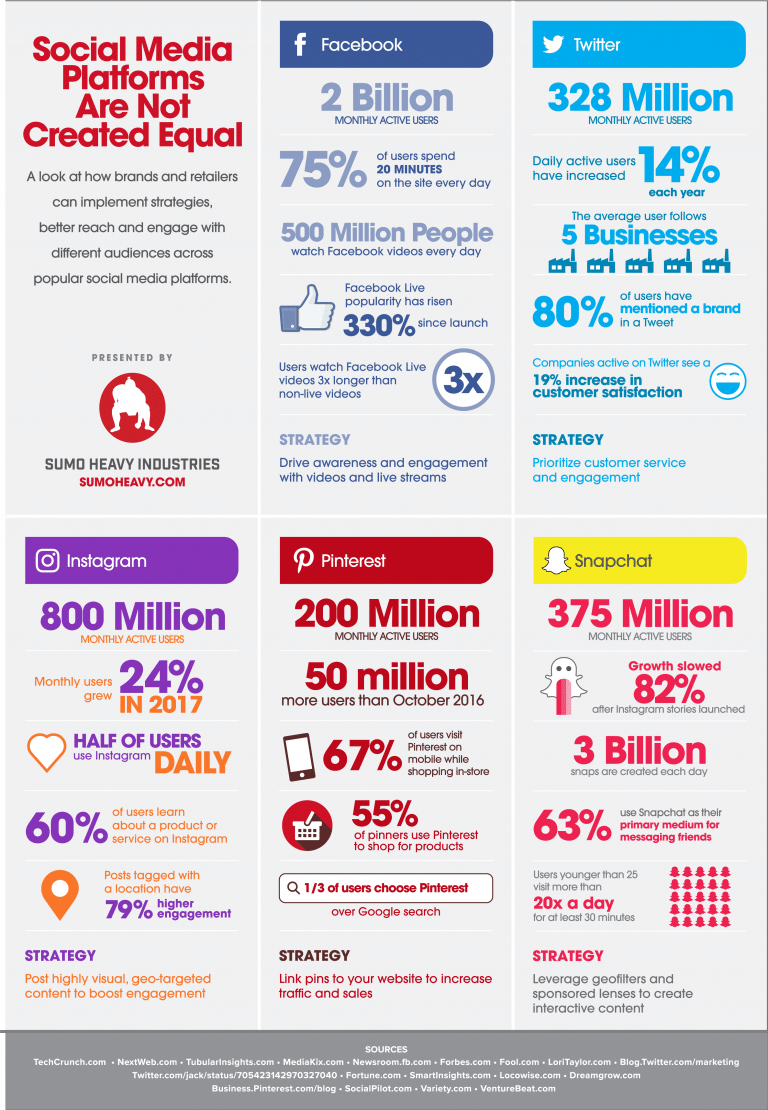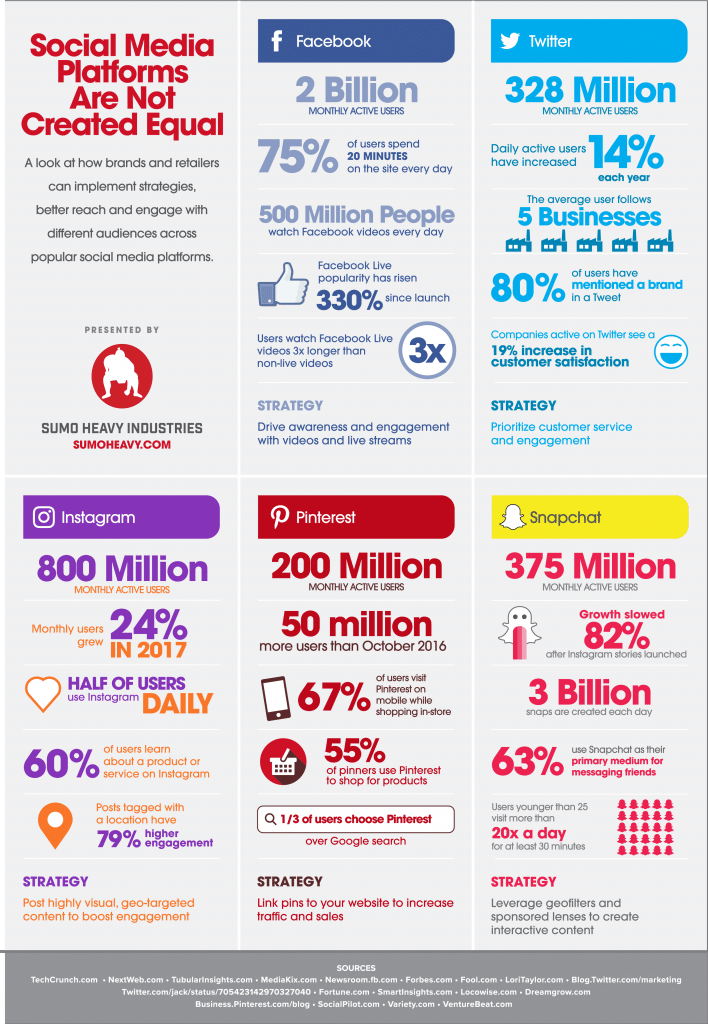 Facebook
Although other platforms have entered the scene, 41 percent of Millennials use Facebook every day, and the platform has over 2 billion users, making it still the number one channel.
Facebook Live is a hot new medium that's giving brands new modes to engage consumers and sell products. Users devour live video, watching a live stream three times longer than recorded video. In fact, Facebook Live's popularity has risen 330 percent since it launched in 2016, and over 500 million people watch Facebook videos every day. With the new Facebook Watch feature, giving users access to a wide range of shows, the social network could attract more users.
For brands, the promotional possibilities via live streaming video are vast. Brands should focus on Facebook Live for ads, events, campaigns, product launches, and demonstrations to actively engage with their customers and drive brand awareness.
Twitter
Twitter has made itself the go-to customer service channel. The average user follows five businesses, and 80 percent have mentioned a brand in a tweet, so it's a great platform to connect with customers. Because customer service on Twitter is a public feed, it is a chance to show customers that your organization is caring and responsive.
Brands should have a dedicated Twitter handle for customer service because brands who do so get a response ten times more than brands who don't. Moreover, brands that use Twitter as a social care channel see a 19 percent increase in customer satisfaction. For some good examples of how to conduct customer service on Twitter, see Amazon's customer service (@AmazonHelp) and Hilton Hotel's customer service (@HiltonHelp).
Instagram
Instagram is an extremely popular platform for Millennials and Gen Zs. More than 60 percent of Instagram users are between the ages of 18 and 29, making Instagram a natural fit for youth-oriented brands and products. For example, Sephora and Nike have been successful in marketing to Millennials by using Instagram to post visually stunning photos that clearly reflects brand identity and draws users in. As a result, Nike has become the 19th most followed account while Sephora has increased its engagement rate and now boasts nearly 13 million followers.
Because posts tagged with locations have 79 percent higher engagement, and because 60 percent of users learn about a product or service from Instagram, brands should leverage visually rich platforms like Instagram to best showcase their product line. Additionally, brands should post highly visual, geo-targeted content to boost engagement.
Pinterest
Pinterest is a widely popular platform, and Millennials use it just as much as Instagram. Although 80 percent of Pinterest users are women, 40 percent of new users are men, showing the platform is slowly becoming more diverse.
Fifty-five percent of pinners use Pinterest to shop for products, and one-third of users choose Pinterest over Google search. Users browse with the intent to buy, making it an essential social media platform for many brands. When the goal is to drive traffic to your website, Pinterest is one of the best networks for that purpose. To increase traffic and sales, link pins to your website.
Snapchat
Snapchat is the go-to among Millennial and Gen Z users. It reaches 41 percent of all 18-to 34-year olds in the US each day, and 71 percent of users are under the age of 34. (However, note that growth slowed 82 percent after Instagram stories launched.) If brands want to implement interactive content with a younger audience to increase brand awareness, they can use Snapchat.
Interactive features like geotags and lenses are a great way to increase brand exposure and engagement. For example, Puma uses social media to drive awareness around big product and campaign launches. It has successfully used Snapchat for some of its most visible projects, unveiling its recent Fierce campaign featuring Kylie Jenner. It also leveraged Snapchat's geotag filters to engage with their audience when attending Rihanna's concerts. Like Puma, leverage geofilters and sponsored lenses to create interactive content.
The potential for reaching and serving customers via social media continues to expand. Social media networks are continually adding new features, so it is imperative to keep up with the changes, master new techniques, and integrate new engagement and personalization approaches into your social campaigns.
Bart Mroz, a serial entrepreneur with over a decade of business management and technology experience, is the co-founder and CEO of SUMO Heavy. A thought leader and a founding partner of multiple consulting companies, Mroz was published in Internet Retailer and AdExchanger.