In the ever-evolving landscape of digital marketing, the power of precision targeting and strategic campaign structuring cannot be underestimated. Enter the world of  Ad Set – a dynamic feature within Facebook advertising that allows marketers to wield unparalleled control over their campaigns. In this comprehensive guide, we will unravel the intricacies of Facebook Ad Sets, explore their key elements, and equip you with the strategies to create highly impactful campaigns that resonate with your target audience.
What is an Ad Set?
Found and able to create, organize, and edit in Facebook Ad Manager, an ad set is a term used to describe a set of ads that have multiple commonalities. These commonalities range from bidding preferences to optimized audience targeting to schedules. 
You will likely have a variety of ad sets that have different goals. They represent an organizational system for a multi-pronged approach to maximizing your ads' conversions.
Create different ad sets for different audience segments to allow for the creation of ads that have the same target audience. Different ad sets can also be implemented to incorporate the relevant timelines for their target audience. Later, you can analyze the success of these ad sets and strategize accordingly.
Why use Ad set?
Ad set grants you unparalleled control and versatility over your campaigns, allowing you to fine-tune your approach for maximum impact.
With Ad Sets, you sculpt your audience, determining who sees your ads based on behaviors demographics, and interests. This surgical targeting ensures that your message reaches the right people, enhancing engagement and conversion rates.
Moreover, Ad Sets empower you to allocate your budget strategically, optimizing spending across various campaigns and objectives. You can choreograph when and where your ads appear, tailoring placements for specific platforms and times, amplifying their resonance.
Ad Sets become your backstage pass to performance analytics, enabling real-time monitoring and adjustments to improve outcomes. In a landscape where precision is paramount, leveraging Ad Sets in Facebook elevates your campaigns from noise to symphony, resulting in campaigns that resonate, inspire, and drive meaningful results.
What Ad Set Level Options Can You Choose?
When you create an ad set, Facebook Ad Manager prompts you to give the ad set a specific name (or label) and to choose from the following options. Your choice will get automatically get applied to all ads in the ad set so choose wisely.
These are the options in the order that you will be prompted that you can customize within your ad set:
Targeting: You can choose a custom audience to target with this ad set. Are you going to go down the remarketing direction? Are you interested in

connection targeting

? Are there any broad categories you want to hit?

Placement: Where do you want your ads to be run within the Facebook network? Do you want to follow Facebook's automatic placement or choose on your own between Facebook, Instagram, Messenger, or external apps? Which best aligns with your audience targeting strategy? 

Budget: Place your cost and bid cap for the minimum ROI.

Schedule: How long do you want these ads to run?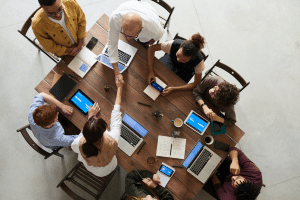 Fauxels / Pexels
What is the Difference Between an Ad Set and an Ad Campaign?
These two terms are the two out of three categories that make up the structure of Facebook ads. Your Facebook ad will not run unless you create an ad campaign, then an ad set, and finally the ad itself. 
The term ad set falls under the umbrella category of ad campaigns. All ad sets are part of an ad campaign and an ad campaign can have multiple ad sets.
Ad campaigns are largely conceptual, where you focus on the end goal for your advertisements. An ad set represents the different ways you can get there.
Ad Set Optimization and Performance Tracking
Ad Set optimization and performance tracking form the heartbeat of effective Facebook advertising. By analyzing key metrics such as engagement levels, click-through rates, and conversion rates, you gain invaluable insights into your audience's behavior and campaign effectiveness.
Wth this data, you can make informed decisions to optimize your Ad Set. Whether it's refining audience targeting, experimenting with different ad creatives, or adjusting your bidding strategy, optimization is a continuous journey towards achieving the best possible results.
Performance tracking, on the other hand, provides you with a backstage pass to your campaign's progress. It's your radar, helping you navigate the ever-changing landscape of digital advertising. By closely monitoring your Ad Set's performance, you ensure that you're on the right track towards your objectives.
Together, Ad Set optimization and performance tracking empower you to fine-tune your campaigns, amplify their impact, and create a symphony of success in the world of Facebook advertising.
Conclusion
In Facebook advertising, Ad Sets stand as the conductor of your marketing symphony. They provide the tools to fine-tune, target, and optimize with precision. As you navigate the facebook advertising, remember that Ad Sets offer the key to unlocking tailored campaigns that resonate, engage, and amplify your message.
So, with the knowledge of Ad Sets, venture forth and create a harmonious blend of strategy, creativity, and data-driven decision-making for impactful results in your Facebook endeavors.
FAQs
What is Ad Set?
An Ad Set is a specific subset within a Facebook Ad Campaign. It comprises a distinct audience, budget allocation, scheduling, and ad placements, allowing advertisers to tailor their approach for targeted results.
How do Ad Set contribute to effective audience targeting?
Ad Sets empower advertisers to finely target their audience by defining demographics, interests, behaviors, and more. This precision ensures that your ads reach the most relevant users, enhancing engagement and conversion rates.
What role does budget allocation play in Ad Sets?
 Budget allocation within Ad Sets determines how much money is spent on specific audience segments. This strategic distribution helps optimize spending and maximize results based on the value of each segment.
How does Ad Set optimization impact campaign success?
Ad Set optimization involves continuous monitoring and adjustment based on performance data. By fine-tuning audience targeting, ad creatives, and bidding strategies, advertisers can enhance the effectiveness of their campaigns over time.