What is an Ad Set?
Found and able to create, organize, and edit in Facebook Ad Manager, an ad set is a term used to describe a set of ads that have multiple commonalities. These commonalities range from bidding preferences to optimized audience targeting to schedules. 
You will likely have a variety of ad sets that have different goals. They represent an organizational system for a multi-pronged approach to maximizing your ads' conversions.
Create different ad sets for different audience segments to allow for the creation of ads that have the same target audience. Different ad sets can also be implemented to incorporate the relevant timelines for their target audience. Later, you can analyze the success of these ad sets and strategize accordingly.
What Ad Set Level Options Can You Choose?
When you create an ad set, Facebook Ad Manager prompts you to give the ad set a specific name (or label) and to choose from the following options. Your choice will get automatically get applied to all ads in the ad set so choose wisely.
These are the options in the order that you will be prompted that you can customize within your ad set:
Targeting: You can choose a custom audience to target with this ad set. Are you going to go down the remarketing direction? Are you interested in

connection targeting

? Are there any broad categories you want to hit?

Placement: Where do you want your ads to be run within the Facebook network? Do you want to follow Facebook's automatic placement or choose on your own between Facebook, Instagram, Messenger, or external apps? Which best aligns with your audience targeting strategy? 

Budget: Place your cost and bid cap for the minimum ROI.

Schedule: How long do you want these ads to run?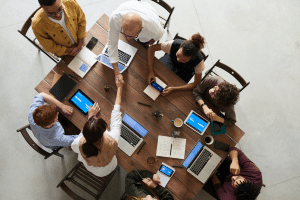 Fauxels / Pexels
What is the Difference Between an Ad Set and an Ad Campaign?
These two terms are the two out of three categories that make up the structure of Facebook ads. Your Facebook ad will not run unless you create an ad campaign, then an ad set, and finally the ad itself. 
The term ad set falls under the umbrella category of ad campaigns. All ad sets are part of an ad campaign and an ad campaign can have multiple ad sets.
Ad campaigns are largely conceptual, where you focus on the end goal for your advertisements. An ad set represents the different ways you can get there.
Comments
comments