What Do Other Clicks on Facebook Ads Mean?
This is an ad metric that you can use to measure your posted ad's performance on Facebook. This number stands for any clicks that were not a link click, a photo click, or a URL click. It can also mean clicking on the profiles of those who commented on your ad or post. In other words, any kind of "other" click on your ad. Why? Well, this still is time that the user is taking with your ad to interact with it.
It demonstrates that the user is trying to gather more information. Information like your already existing audience and the conversations you are starting are relevant to your brand and your brand's mission.
It brings that user so much closer to engaging with your post next time.
Where Can I Find This Insight on My Facebook Page?
If you have higher-level account access, you should be able to access it under your post when you go to export your other ad data. You should see a column with the title "Other Clicks" and analyze it to understand how valuable or how varying your engagements on your ads have been.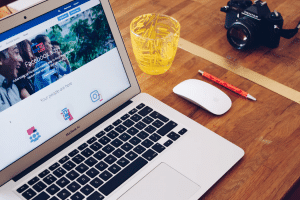 Will Francis/ Unsplash
What is the Difference Between Other Clicks and Engagement?
Other clicks may not technically qualify as the kind of engagement on your post that you are looking for. You were likely hoping for a share or navigating another user to your website. However, it shows an active action that the user is taking. It's not what we would typically define as engagement because they are not liking or interacting with the ad traditionally, however, it is still a helpful metric.
Why Should I Be Measuring Clicks When Looking at Content Performance?
Sometimes, a user will be actively engaging with your content but it may not seem like it at first glance. Whether they just don't want to comment or share so the comment does not show up in their friend's newsfeed or that they were taken to another page before having time to comment, this click can show whether you were able to draw your target audience in. It's a great metric to understanding the true scope and reach of your content.
Based on what is getting the most clicks, optimize your content for that! You can begin to optimize your ads to keep rolling out what is getting the most positive responses. And don't forget, even other clicks are a positive result.
Comments
comments