Are you curious about what happens beyond the "Like" button on Facebook Ads? Well, get ready to explore a whole new level of user interaction – the "Other Clicks."
While many of us are familiar with liking and commenting, these "Other Clicks" open the door to a deeper connection between users and ads.
In this article, we will study "Other Clicks" on Facebook Ads, uncovering their significance and how they can supercharge your advertising strategy.
What Do Other Clicks on Facebook Ads Mean?
This is an ad metric that you can use to measure your posted ad's performance on Facebook. This number stands for any clicks that were not a link click, a photo click, or a URL click. It can also mean clicking on the profiles of those who commented on your ad or post. In other words, any kind of "other" click on your ad. Why? Well, this still is time that the user is taking with your ad to interact with it.
It demonstrates that the user is trying to gather more information. Information like your already existing audience and the conversations you are starting are relevant to your brand and your brand's mission.
It brings that user so much closer to engaging with your post next time.
Where Can I Find This Insight on My Facebook Page?
If you have higher-level account access, you should be able to access it under your post when you go to export your other ad data. You should see a column with the title "Other Clicks" and analyze it to understand how valuable or how varying your engagements on your ads have been.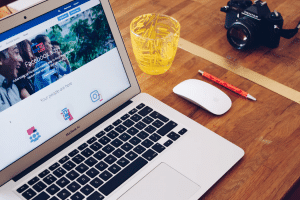 Will Francis/ Unsplash
What is the Difference Between Other Clicks and Engagement?
Other clicks may not technically qualify as the kind of engagement on your post that you are looking for. You were likely hoping for a share or navigating another user to your website. However, it shows an active action that the user is taking. It's not what we would typically define as engagement because they are not liking or interacting with the ad traditionally, however, it is still a helpful metric.
The Types of "Other Clicks"
Let's break down the types of "Other Clicks" that hold the power to reshape your ad performance.
Clicks to Website
When users click on links within your ad to visit your website, you're not just driving traffic but inviting potential customers into your digital storefront.
Clicks to Call
A simple click that bridges the gap between interest and action, enabling users to call your business directly from the ad.
Clicks to App
 Engage users on a whole new level by prompting them to download or interact with your app, opening the door to deeper brand engagement.
Clicks to Messenger
Facilitate conversations and connect directly with users by encouraging them to engage with your brand through Facebook Messenger.
Clicks for Directions
For brick-and-mortar businesses, this click provides users with directions to your physical location, bridging the online-offline gap.
Why "Other Clicks" Matter?
Beyond broadening the scope of user interaction, "Other Clicks" offer a wealth of insights that can fuel your ad strategy.
Comprehensive Engagement
By measuring "Other Clicks," you gain a more holistic view of how users are engaging with your content. This paints a richer picture of ad effectiveness beyond traditional metrics.
User Intent and Conversion
Different "Other Clicks" indicate varying levels of user intent. A click to your website signifies a user's interest, while a click to call shows a higher intent to convert. These actions can lead to real, tangible conversions.
Optimizing for "Other Clicks"
Now that we've established the value of "Other Clicks," let's explore how to optimize your Facebook Ads to leverage this untapped potential.
Crafting Irresistible CTAs
Your call-to-action (CTA) is your gateway to "Other Clicks." Make it compelling, clear, and aligned with the desired user action. Whether it's "Learn More," "Get Started," or "Visit Website," your CTA should entice users to take that extra step.
Seamless Landing Page Experience
The journey doesn't end with the ad – it continues onto your landing page. Ensure a seamless transition by delivering on the promise of your ad and providing a user-friendly experience.
Why Should I Be Measuring Clicks When Looking at Content Performance?
Sometimes, a user will be actively engaging with your content but it may not seem like it at first glance. Whether they just don't want to comment or share so the comment does not show up in their friend's newsfeed or that they were taken to another page before having time to comment, this click can show whether you were able to draw your target audience in. It's a great metric to understanding the true scope and reach of your content.
Based on what is getting the most clicks, optimize your content for that! You can begin to optimize your ads to keep rolling out what is getting the most positive responses. And don't forget, even other clicks are a positive result.
FAQs
What are other clicks on Facebook Ads?
Other clicks on Facebook Ads are clicks that do not result in a link click. This can include clicks on the ad image, headline, or call to action button.
Are "Other Clicks" more important than likes and comments? 
"Other Clicks" offer a different level of engagement and intent compared to likes and comments. While each has its own significance, "Other Clicks" provide insights into the journey users take beyond initial interest. Balancing both types of engagement can give you a more complete picture of your ad's impact.
How do "Other Clicks" impact my ad performance? 
"Other Clicks" offer valuable data that can shape your ad campaign's success. For instance, clicks to your website can drive traffic and potential sales, while clicks to call show a high intent to connect. By analyzing the types of "Other Clicks" you receive, you can better tailor your ads to match user preferences and goals.
How can I encourage more "Other Clicks" on my Facebook Ads? 
Crafting compelling calls-to-action (CTAs) is key to driving "Other Clicks." Design your CTAs to align with the desired action, such as calling your business, visiting a website, or downloading an app.