At yesterday's F8 2017 event, Facebook's speakers, Joanna Tong and Simon Cross, talked about Facebook's platform for companies, Workplace: its past, present, and future developments.
In the Past
2011: Facebook Launched Groups
Because Facebook was growing quickly, it faced communication and collaboration difficulties within its company. To remedy this, Facebook created Facebook Groups, which it internally used for its employees. Groups then led to the creation of Workplace, a platform available for desktop and mobile.
2014: Facebook Worked to Make Workplace External
After seeing how Workplace has significantly improved communication and collaboration between employees, Facebook realized that other companies can benefit from the platform. Thus, it made some improvements and updates that are beneficial to other companies, changing the platform according to people's suggestions and requests.
2015: Facebook Launched Workplace to Companies
After finalizing some updates, Facebook officially opened Workplace to other companies.
Now
Currently, Workplace is available to the public with a free version, containing only the basic features, and a paid full version, containing all of the administrative features the platform offers. Those who purchase the paid version for $1-6.50 can enjoy these features.
Polls and Workplace Live: Workplace features polls that you can use to gather feedback and questions from everyone in the company. With Workplace Live, not only can you live stream meetings, seminars, or webinars, but you can also live stream the poll you created.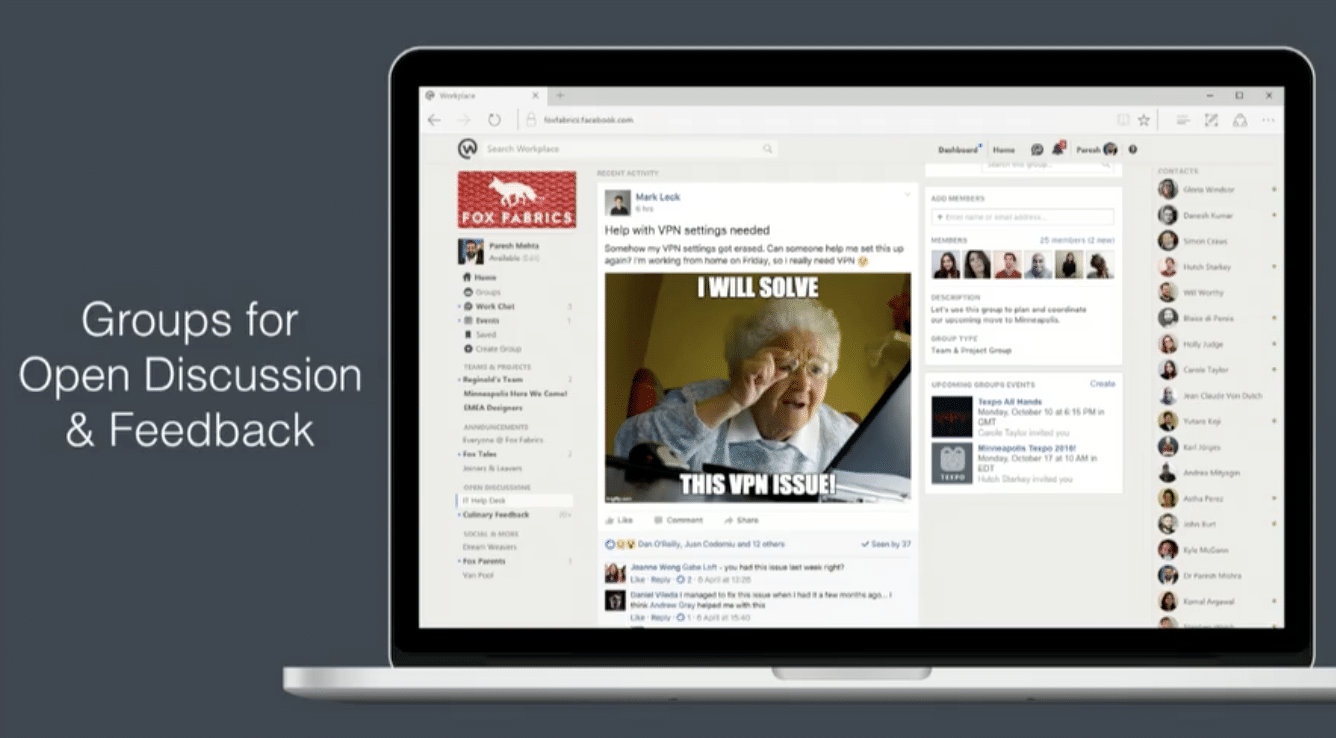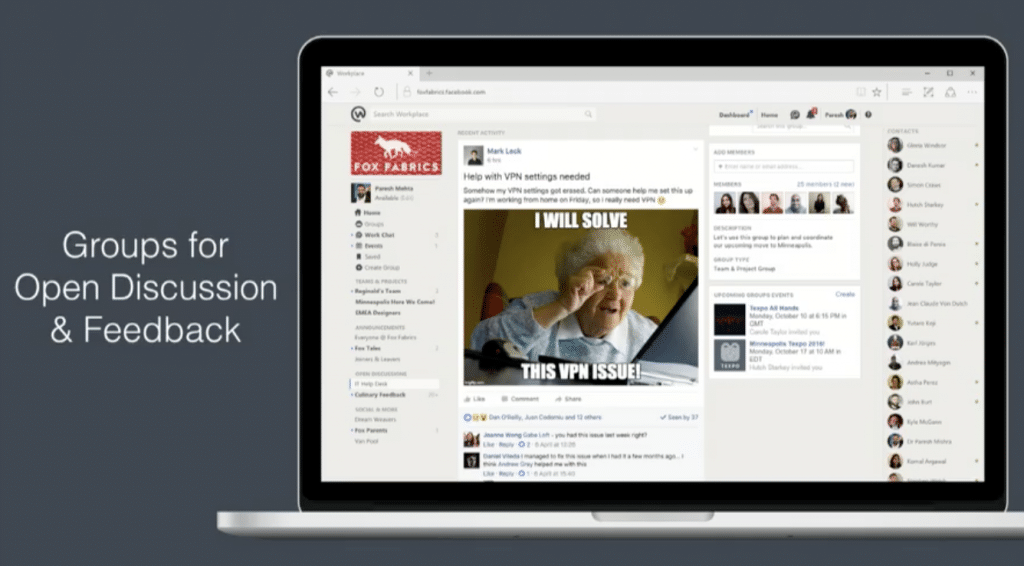 Groups: Workplace has groups which you can use for open discussion, support, and feedback. For example, you can create an IT group that your employees can use for tech support. If an employee is having trouble with her computer, for instance, she can post her inquiry in the IT group. The IT professional can then respond to her inquiries. Additionally, you can create repositories within groups, containing past responses and conversations other employees can use to solve their own problems.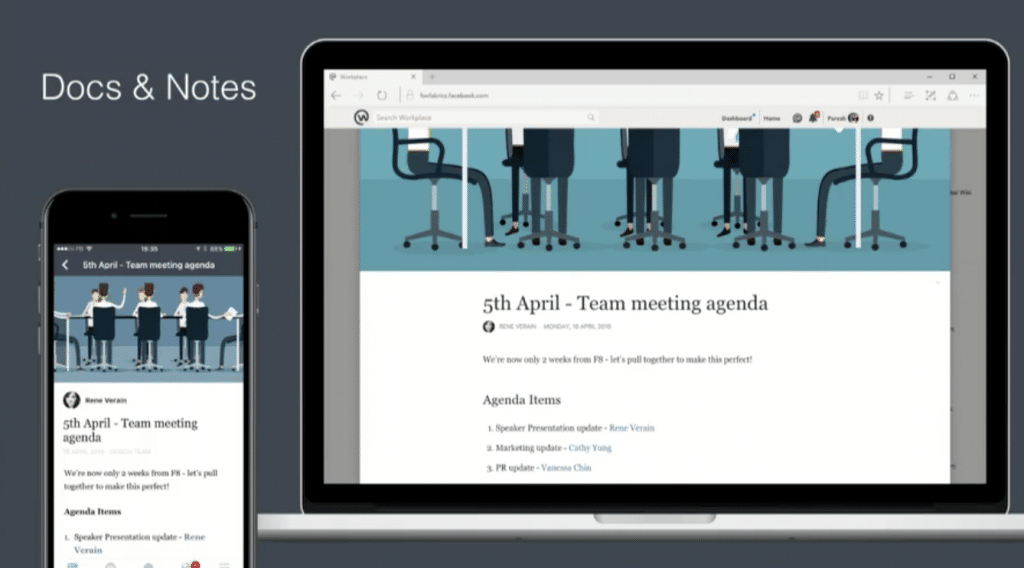 Docs and notes: Workplace supports a document- and-notes tool that you can use to write documents, memos, and notes, among many others. The docs and notes contain all the formatting you need, including bullet points, numerical lists, and headers. Docs and notes, which you can use to write and edit with colleagues, easily open in the Workplace app.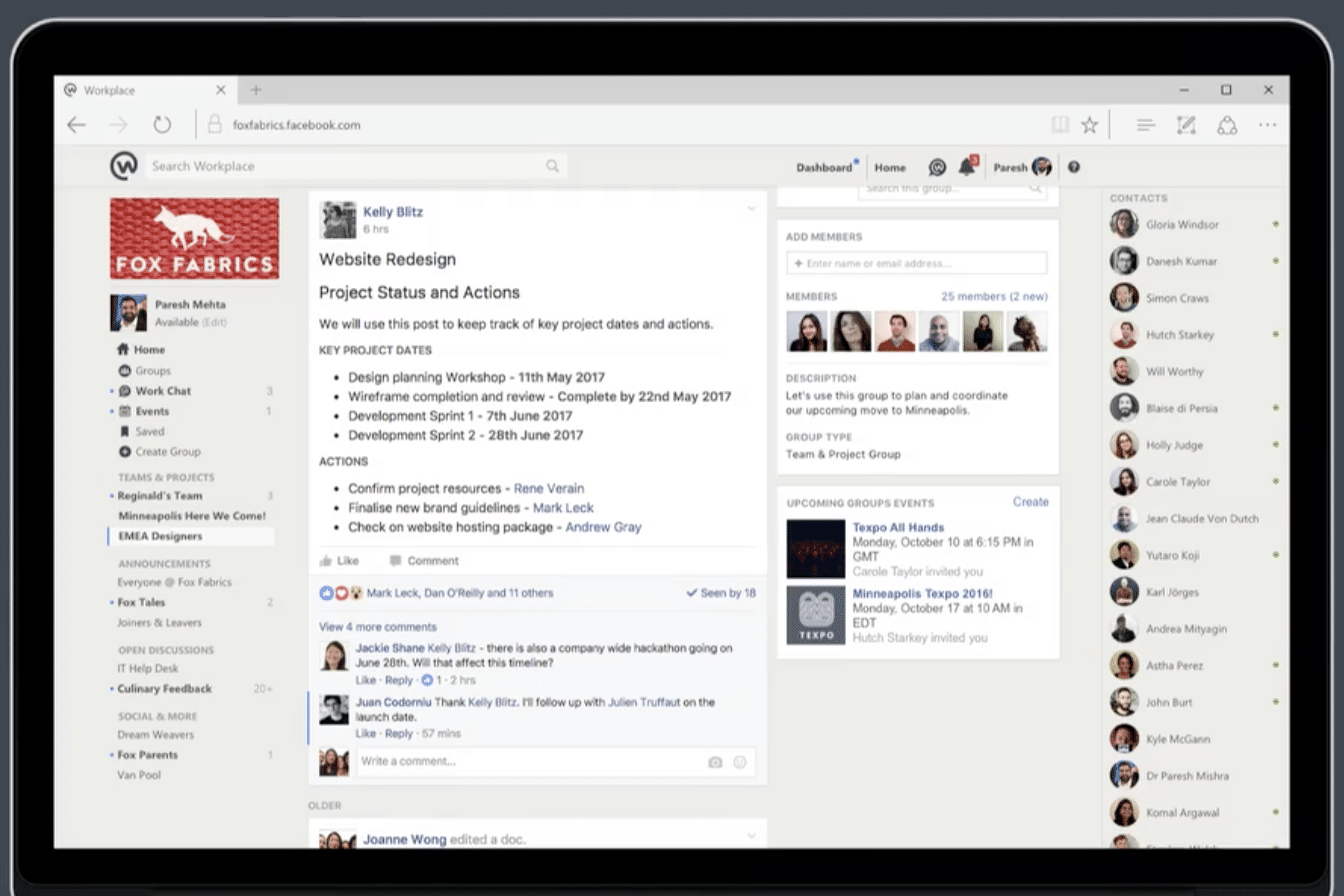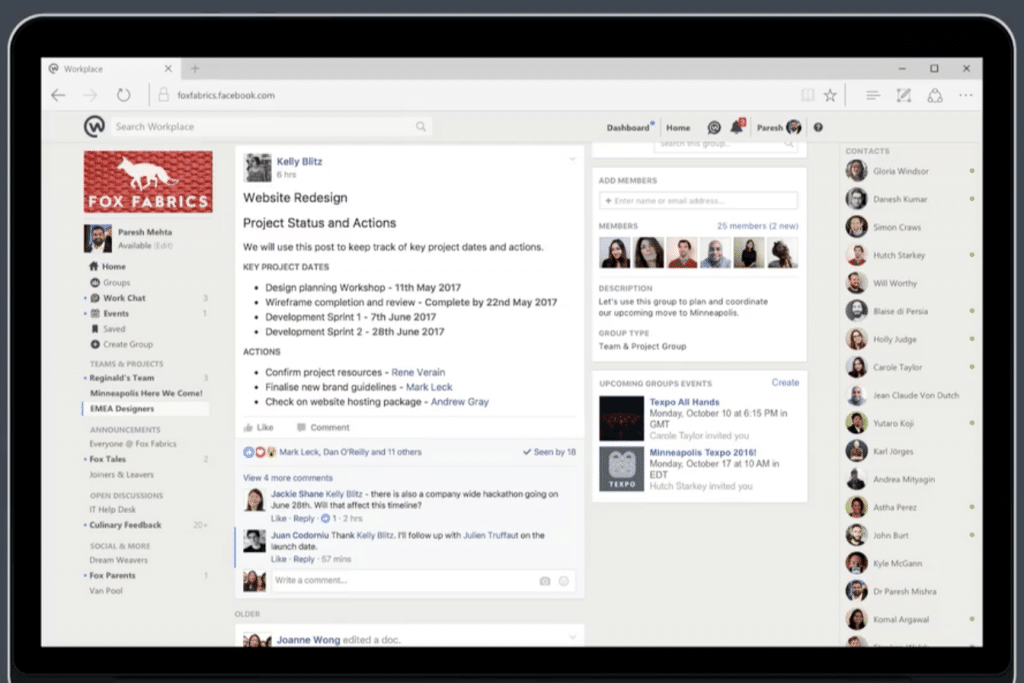 Formatted posts: You can post statuses that are formatted with headers, bullet points, lists, etc.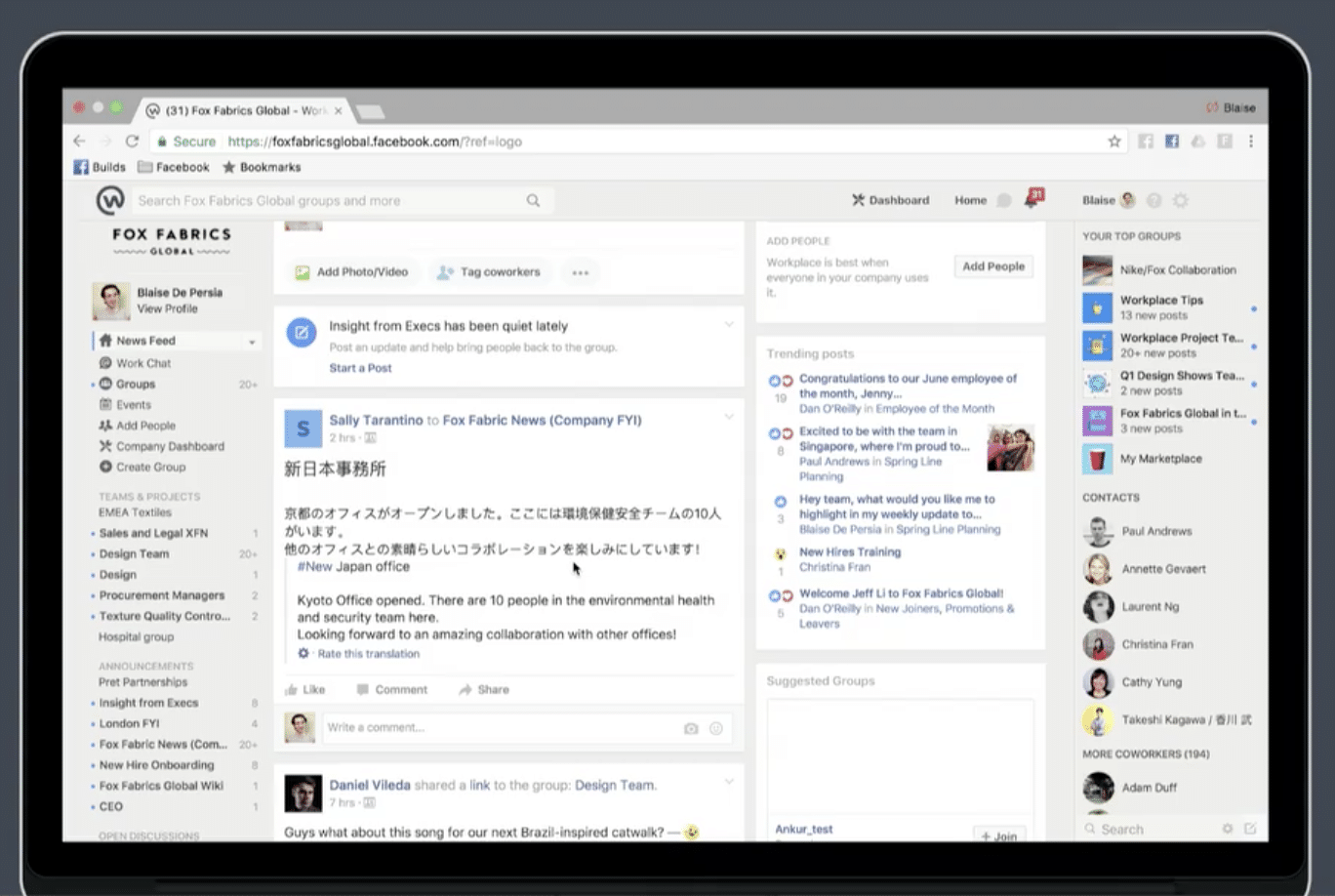 Auto translate: With auto translate, you can easily communicate with colleagues from different languages by clicking the translate feature in the comments section. The translate tool instantly translates a foreign language into your native language.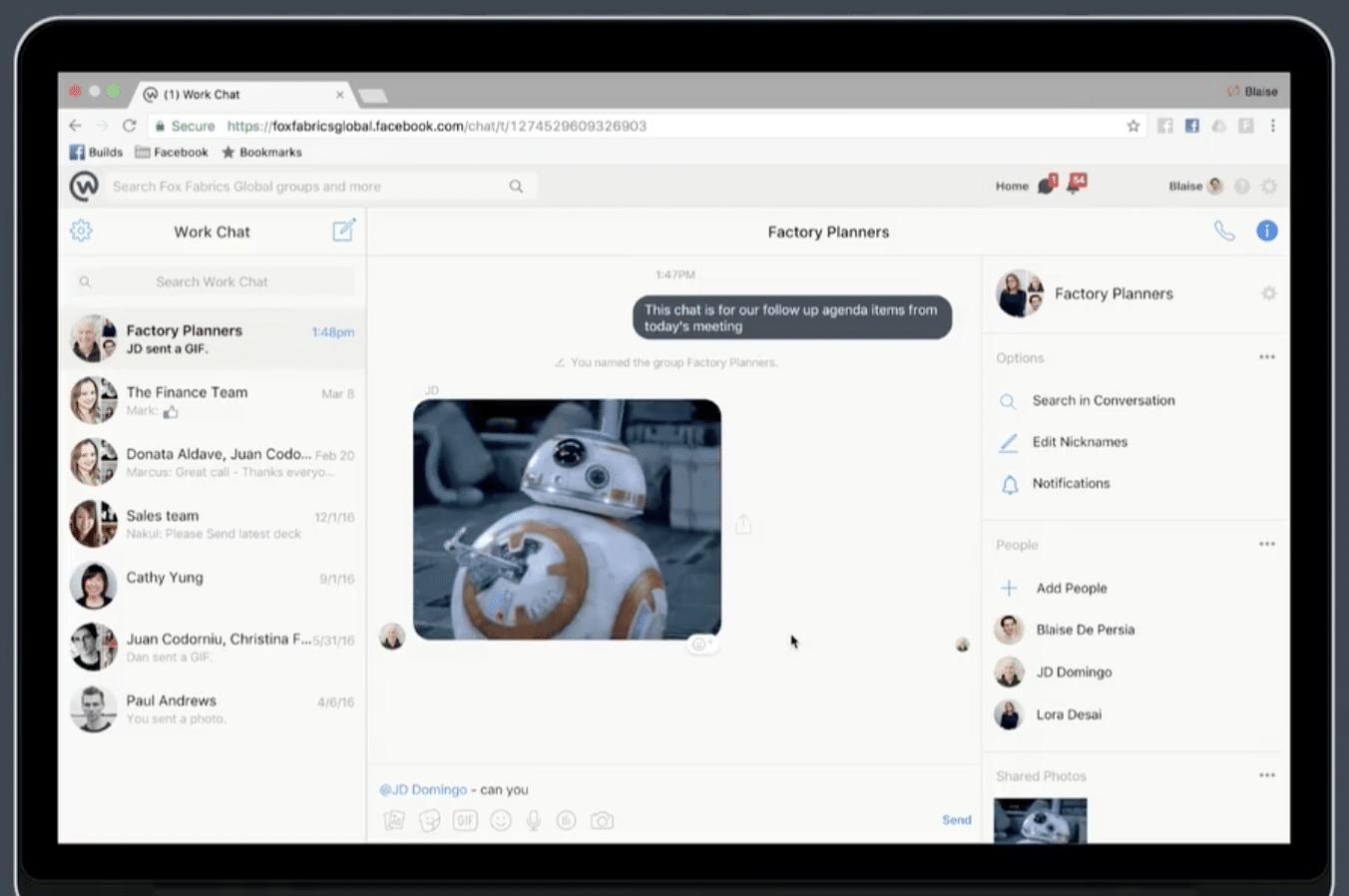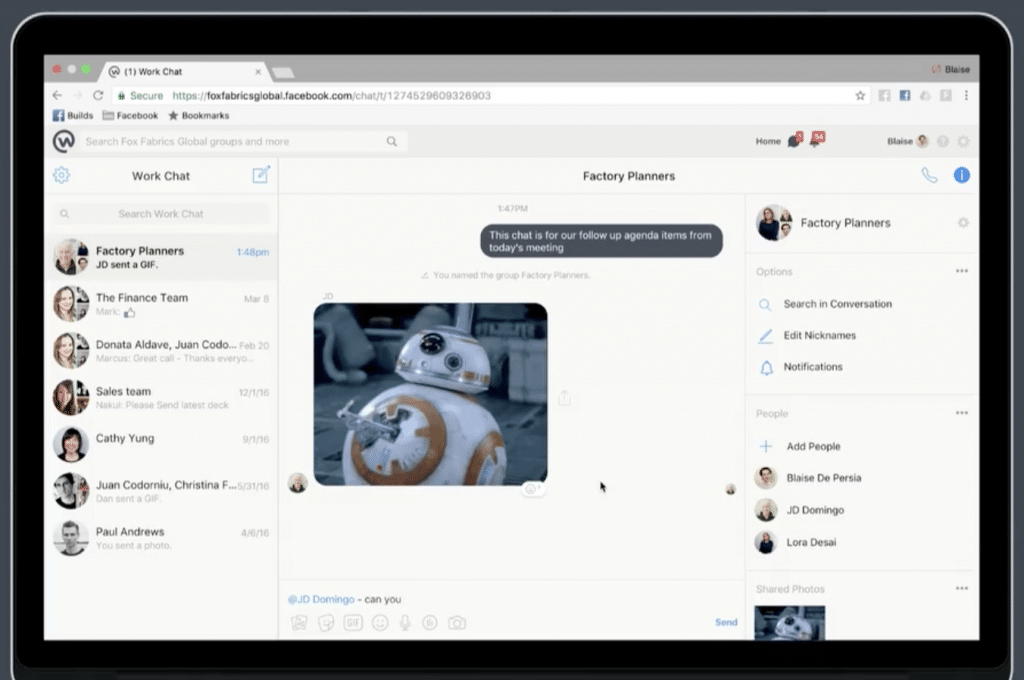 Group chat: You can chat with your colleagues instantly in group chats. You can name your chat, send gifs, @ mention someone, send photos and stickers, and much more. You can even react to messages, a feature also found in Facebook Messenger.
Video calling: You can call your colleagues on their phones or computers.
In the Near Future
For 2017, Facebook focused on improving sharing, discussing, and organizing abilities.
Content integrations: Facebook integrated the softwares Office, Box, Onedrive, Salesforce, and Quip to Workplace, which help you easily create and share documents and files. When you share a file or link to Workplace's groups or news feed, a photo preview will appear. The link you provide, once clicked, will lead you to a deep link.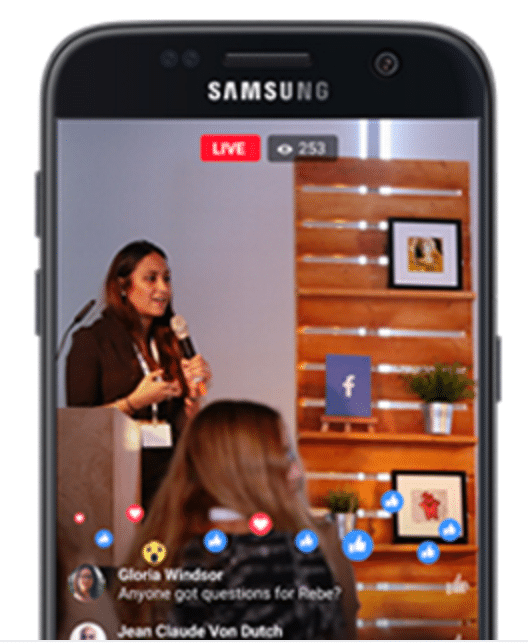 Live API: With Workplace Live API, you can stream weekly meetings, webinars, and seminars in HD, using professional AV equipment. The Live API is supported by hardwares and softwares such as Haivision, Wowza, Elemental, Streakshark, and OBS Studios, among many others. To ensure that your live events are successful, Facebook also partnered with AMV Digital Media, LMG Studio, Pixel Corps, and Groovy Gecko.
Security and compliance integrations: Facebook integrated Disco, Skyhigh, Netskope, and Smarsh to Workplace to easily keep your information and data safe from threat.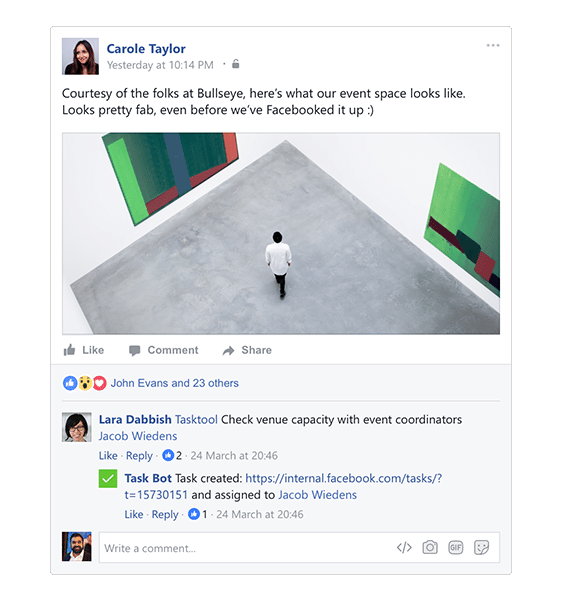 Bots in Groups: In Workplace, bots exist in both Messenger and Groups. Bots in Workplace groups can post, comment, like, and mention you in posts. Facebook partnered with Pullstring to help you create bots for your groups without writing a line of code.
As Joanna Tonga and Simon Cross illustrated at F8, Workplace has gone a long way since 2011.
Are you excited to use Workplace this year? Let us know in the comments section below and share this story to friends.