As mentioned in How To Use the Breakdown Feature on Ads Manager, Ads Manager provides you data on your campaigns. You can break the data down according to some criteria including age, gender, country, or time, among many other options. If you want to download this data for your own records, you can do so by exporting the files into a spreadsheet. How can you do this, you ask? It's easy. All you need to do is click the "Export" button found next to "Breakdown" on Ads Manager. This is something we do here at this Facebook ad company all the time. To learn how to export your campaign on Ads Manager, follow the steps below.
Step 1: Click Export
Click the downward arrow then click "Export" on the dropdown menu.

Step 2: Save
Save your file by clicking the file type you want it to save as. Afterward, click "Export."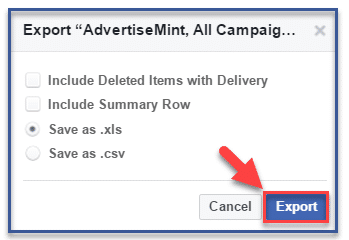 Step 3: Open file
Click the downloaded file then click "Open" when you are given more options from the menu.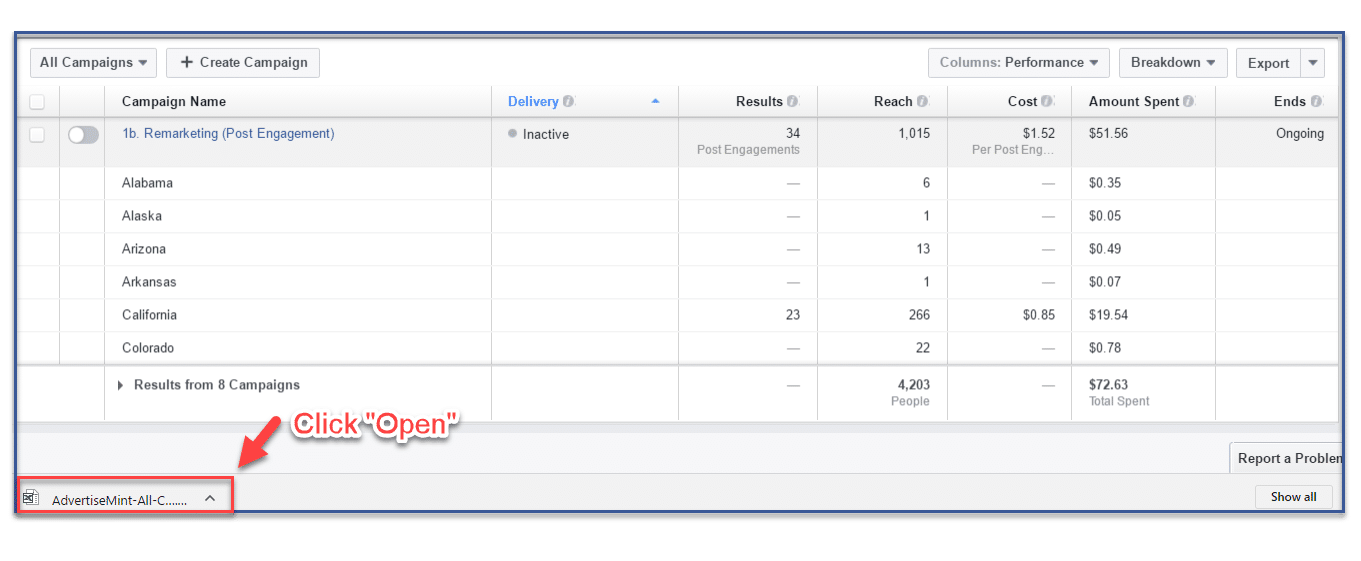 Step 4: You're done!
Your file has been saved according to your chosen file type.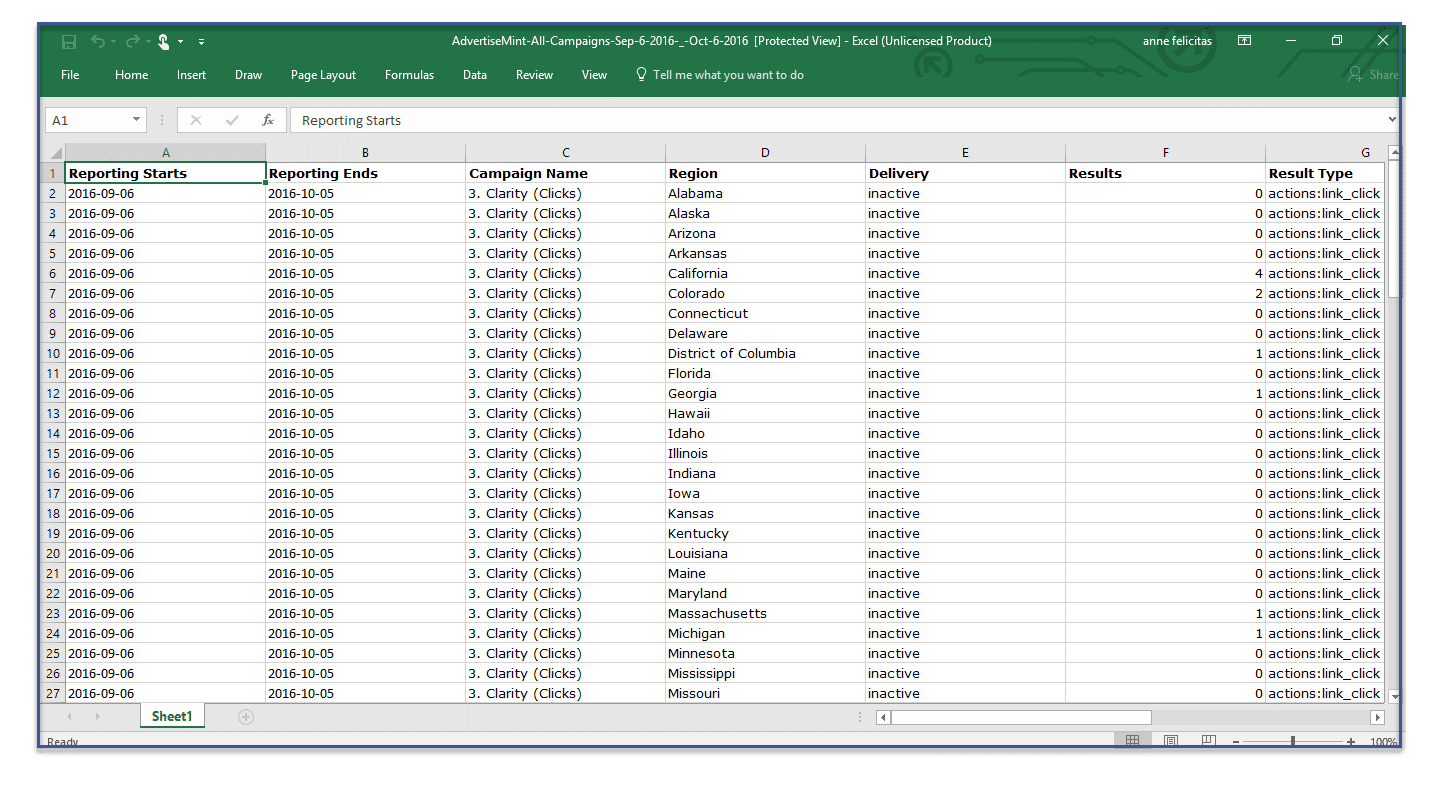 For additional help, you can also watch the step-by-step video of exporting your campaigns on ads manager.
Accessing and Reviewing the Exported Data
Once the export is ready, you'll receive a notification. Now, it's time to access and review the exported data.
Click on the notification or head back to the Export tool to find your file. Open it using your preferred spreadsheet software. You'll be greeted by rows and columns of numbers, metrics, and data points that provide a snapshot of your campaign's performance.
Why export Campaigns?
1. In-Depth Analysis and Insights
Exporting campaigns provides you with a wealth of data that goes beyond the surface-level metrics visible within Ads Manager. By analyzing the exported data, you can gain deeper insights about your ad performance. 
Therefore, identifying trends, patterns, and areas of improvement that might not be immediately apparent from a quick glance.
2. Customized Reporting
Exported campaign data can be tailored to suit your specific reporting needs.
Whether you are creating internal reports for your team or presenting results to clients or stakeholders, exporting allows you to organize the data in a way that aligns with your reporting requirements.
You can choose the metrics, time periods, and data breakdowns that matter most to your audience.
3. Holistic Performance Evaluation
Exporting campaigns empowers you to evaluate the performance of your entire campaign ecosystem, including multiple ad sets and ads. This holistic view enables you to assess which components are driving the most engagement, clicks, and conversions.
You can identify both the star performers and areas that need optimization.
4. Cross-Platform Analysis
If you're running ads across different platforms or channels, exporting campaigns allows you to consolidate data from various sources into a single view.
This cross-platform analysis provides a comprehensive understanding of how your campaigns are performing collectively, helping you make strategic decisions across your entire advertising landscape.
5. Informed Decision-Making
By studying exported campaign data, you can make data-driven decisions.
For instance, you can allocate budgets more effectively to top-performing ad sets or adjust targeting based on audience engagement.
Informed decision-making minimizes the guesswork and maximizes your chances of achieving desired outcomes.
6. Historical Analysis
Exported data provides a historical record of your campaigns' performance over time.
This long-term perspective allows you to track progress, evaluate the impact of changes you've made, and identify seasonal or trend-based patterns that can inform your future campaigns.
Types of formats available for Data Export
CSV (Comma-Separated Values)

Excel (XLSX)

TSV (Tab-Separated Values)

PDF (Portable Document Format)

JSON (JavaScript Object Notation)

HTML (Hypertext Markup Language)

XML (eXtensible Markup Language)
What information is included in Exported Data?
The user export data from Facebook Ads includes the following information:
User ID:

 The unique identifier for the user.

Ad ID:

 The unique identifier for the ad that the user interacted with.

Campaign ID:

 The unique identifier for the campaign that the ad was part of.

Adset ID:

 The unique identifier for the ad set that the ad was part of.

Date:

 The date and time that the user interacted with the ad.

Action:

 The type of action the user takes, such as clicking on the ad, viewing the ad, or converting.

Value:

 The value of the conversion, if applicable.

Device:

 The device the user used when interacting with the ad.

Location:

 The location of the user when they interacted with the ad.

Interests:

 The interests of the user, as determined by Facebook.

Demographics:

 The user's demographics, such as their age, gender, and location.
Troubleshooting Export Issues
Like any digital process, exporting campaigns may encounter occasional bumps.
If you face any issues, ensure that your settings are correctly configured and your export file is compatible with your spreadsheet software. It's also a good practice to clear your browser cache or try exporting on a different browser.
Conclusion
Exporting campaigns from Facebook Ads Manager is a simple process that can be very helpful.
By following the steps in this blog post, you can easily export your campaigns and save them as a file. This will allow you to share your campaigns with others, keep a record of your campaigns, or troubleshoot problems.
FAQs
Why should I export campaigns from Ads Manager?
Exporting campaigns from Ads Manager provides you with detailed data and insights about your ad performance. It allows you to analyze metrics beyond the surface level and make informed decisions for optimizing future campaigns.
What types of data can I export from Ads Manager?
You can export a wide range of data, including campaign names, ad set details, ad performance metrics (impressions, clicks, conversions), audience insights, demographic data, placement information, and more.
How do I access the export feature in Ads Manager?
To access the export feature, navigate to the "Reports" tab within Ads Manager. From there, select the "Export" option. This is where you can customize your export settings and choose the data you want to export.
Can I customize the exported data for specific time periods or metrics?
Yes, you can customize the exported data based on your preferences. You can choose specific time periods (daily, weekly, custom ranges) and select the metrics that are most relevant to your analysis and reporting needs.
What file formats are available for exporting campaigns?
Typically, you can export campaigns in formats such as CSV (Comma-Separated Values) or Excel.