If you choose reach as your Facebook advertising objective, you are asking Facebook to show your ad to the maximum number of people in your audience. This differs from the previously mentioned brand awareness objective: while optimizing for brand awareness means showing ads to only those who are likely to pay attention, optimizing for reach means showing ads to everyone regardless of their level of interest.
You will find the reach objective under the tab "Reach and Frequency." Once there, you will notice three separate categories containing multiple objectives from which you can choose. If you want your ads to reach the maximum amount of people in your audience, choose "Increase your reach."

Which platforms support the reach objective?
You can serve all reach ads on Facebook (mobile, desktop, newsfeed, and right column) and Instagram's platform. When creating an ad in Ads Manager, you can choose where you want to serve your ads in the "Placements" section.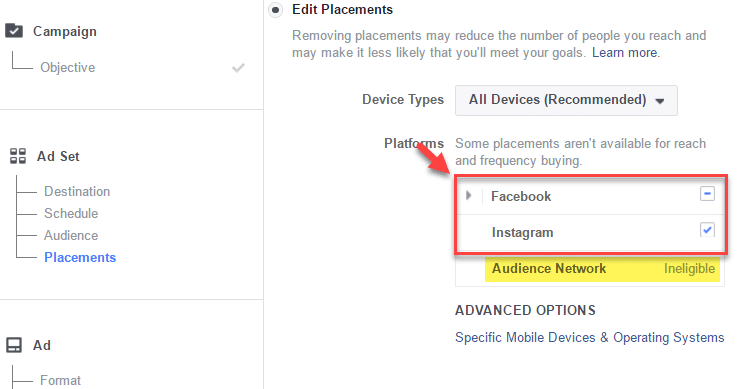 Note, however, that this objective is ineligible for placement on the audience network. This is not uncommon. Some objectives are eligible for certain placements, formats, or CTAs, some are not.
Which ad formats can I use with the reach objective?
An ad with a reach objective is eligible for the video, carousel, photo, and slideshow format. You can choose your format in the "Format" or, oddly enough, on the "Placements" section when creating the ad.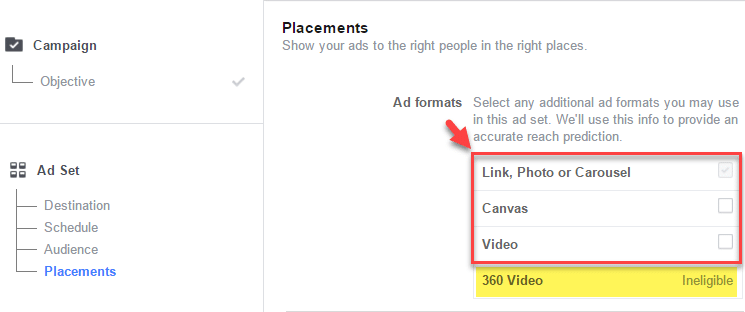 Note that some objectives are ineligible for some formats. For instance, the local awareness objective is ineligible for the canvas format.
If your advertising goal is to raise awareness on your brand, then you should choose reach as your Facebook advertising objective. You can, however, also choose brand awareness or local awareness.