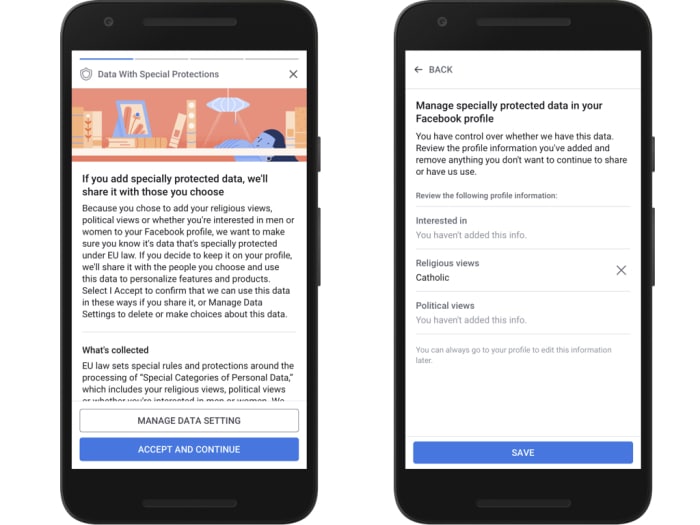 As part of the company's determined efforts to redeem itself after the Cambridge Analytica scandal, Facebook announced a slew of new privacy experiences inspired by the European Union's (EU) General Data Protection Regulation (GDPR). Facebook will ask users everywhere to review important information and make choices about their privacy on the platform.
"As soon as GDPR was finalized, we realized it was an opportunity to invest even more heavily in privacy," Facebook said in a news release. "We not only want to comply with the law, but also go beyond our obligations to build new and improved privacy experiences for everyone on Facebook."
To build these improved privacy experiences, Facebook says it has gathered input from hundreds of product, engineering, legal, policy, design, and research employees, as well as from users, regulators and government officials, privacy experts, and designers.
Here's the breakdown of areas Facebook is focusing on to make better privacy experiences for users.
Ads Based On Data
It's no secret that advertising is Facebook's major source of revenue. However, the platform is giving the power to the people. Facebook says it will now have users review information about how their data is used to inform advertisers and allow them to choose whether or not they want their data used in this way.
Profile Information
For users who have already shared their political, religious, and relationship information, Facebook says it will ask these users if they still want this information shared. The company also says the option to delete this personal information is going to be a lot easier.
Face Recognition Features
Users in the EU and Canada now have the option to turn on face recognition, a feature that was previously unavailable in these two demographics. Face recognition allows Facebook to do things like identify when someone else may be trying to use another user's photo as a profile picture.
Terms of Service and Data Policy
Users will be asked to review and agree to Facebook's updated terms of service and data policy. Facebook says more information about privacy and data usage are provided in these documents. And while the essential components of each are the same for users around the world, Facebook says some details will be included that are only relevant to EU users.
"We're not asking for new rights to collect, use or share your data on Facebook," the company said in the same news release, "and we continue to commit that we do not sell information about you to advertisers or other partners."
Settings and Privacy Shortcuts
Facebook's new Settings and Privacy Shortcuts, which the company introduced last month, are GDPR-friendly. They allow easy-access and visibility of data so that users can delete, download, or export it as desired. Additionally, the platform's updated Activity Log for mobile devices is more user-friendly for viewing data shared with Facebook.
Special Features For Teens
Facebook is using GDPR's strict protection regulations for teens as inspiration to incorporate special protections into its platform for this age demographic globally. As an example, Facebook says "Public" is no longer a default audience option for posts by teens. Additionally, teen user information available to advertisers is more limited. For EU users in the 13-15 age range, GDPR requires parental permission for some Facebook features, which will result in a "less personalized" Facebook experience for this demographic.
Facebook's overarching theme across these new privacy experiences is giving users all the information they need to make informed choices about their online security.
"We're committed to making sure people understand how we use their information and how they can control it," said Facebook.