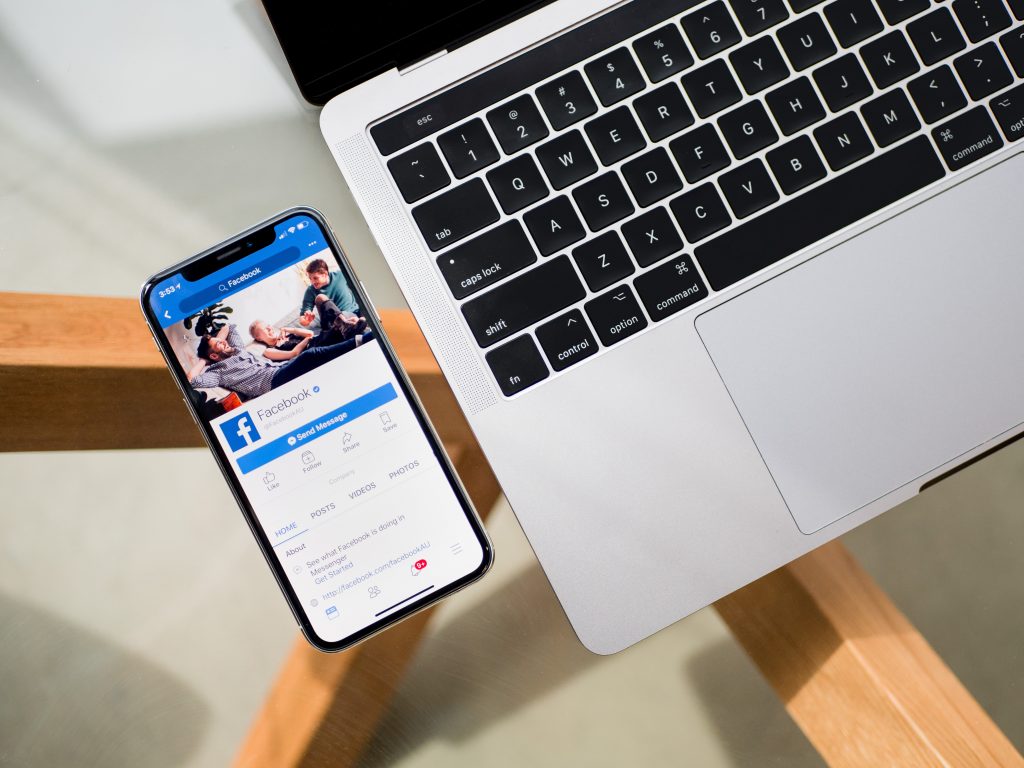 Facebook is rolling out Off Activity to users worldwide, says a report by TechCrunch. The tool allows users to view the information businesses share with the social media company, clear activity history from their accounts, prevent Facebook from saving activity history, and download off-activity details.

Mark Zuckerberg first announced the development of the Off Activity Tool, then called "Clear History," at the F8 conference back in 2018. The tool rolled out to select countries a year later.
How Off Activity Works
Facebook advertising offers a selection of tools that help marketers run promotions on the social media platform. One of those tools is ad targeting, which uses a set criteria to determine who should see the ads. Targeting uses customer information, such as phone number, interests, location, and website activity, to find and serve ads to a relevant audience.

Although Facebook exchanges information with businesses for targeting purposes, the social media company says in a Facebook Help article that it does not sell information to data brokers or gather sensitive personal details about their users:

We don't sell your information to anyone. We prohibit businesses or organizations to share sensitive information with us, such as health and financial information, your date of birth and passwords. If we determine that a business or an organization is violating our terms, we will take action against that business or organization."

Off Activity allows users to purge their information from their Facebook profiles, preventing businesses from showing ads based on their Facebook and online activities. The social media company, in its announcement of the Off Activity rollout back in 2019, says clearing off-activity applies to Facebook, Instagram, and Messenger:

If you clear your off-Facebook activity, we'll remove your identifying information from the data that apps and websites choose to send us. We won't know which websites you visited or what you did there, and we won't use any of the data you disconnect to target ads to you on Facebook, Instagram, or Messenger."

In the same 2019 announcement, Facebook said it took months of research to develop the tool, bringing in the advice of privacy advocates, policymakers, advertisers, and industry groups.
How to Use Facebook's Off Activity Tool
Users can access Off Activity by going to their settings, clicking "Your Facebook Information" from the left-column menu, and clicking "View" on the Off Activity tab from the right side of the screen.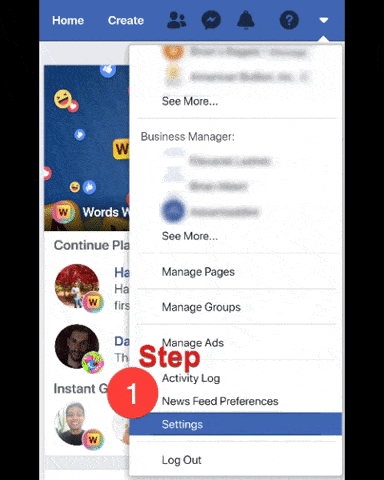 The page offers information including

How Facebook received activity information, whether that's through the Facebook pixel, SDK, or Login
The number of interactions Facebook received, including opening the app, logging into the app, viewing content, and searching for an item
The activity from apps and websites that uses Facebook login
Activity from data service providers and marketers
The Off Activity page also offers several actions:

Manage off-Facebook activity
Clear history
Access or download information
Manage future activity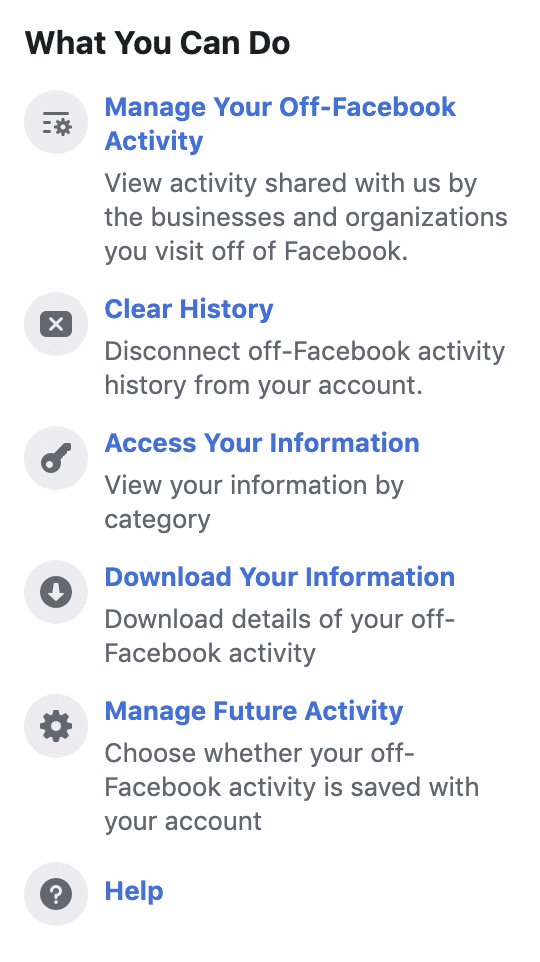 With the option to manage off-Facebook activity, users can view the information businesses have shared with Facebook. To access this tool, they must re-enter their passwords. Once in the page, they can view the apps and websites with record of their activity, read more details about the information stored, and clear the activity history.

Users can also view a record of their Facebook activities by clicking the "Access Your Information" link from the right side of the screen. To download that information, which includes Messenger exchanges, Story posts, and payment history, they must click on the "Download Your Information" link. Accessing and downloading information does not require password re-entry.

Users can also prevent Facebook from storing their online activity by clicking on the "Manage Future Activity" link.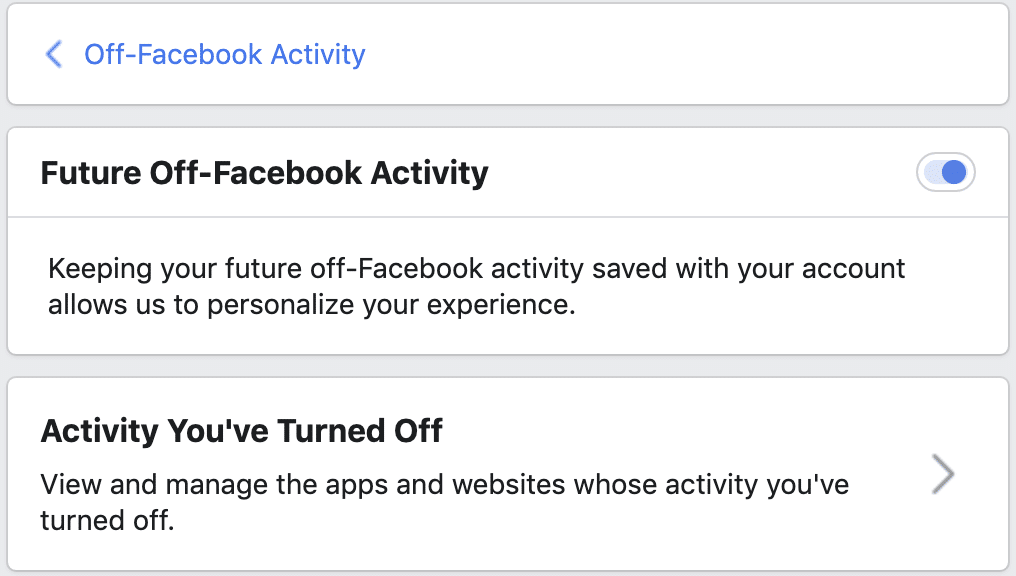 Facebook and Accountability
Facebook has been under scrutiny for the past several years. It had to answer for the fake Russian ads that proliferated within the platform during the 2016 US presidential election. Its CEO, Mark Zuckerberg, was called to appear before Congress after the data of 87 million Facebook users were compromised in the Cambridge Analytica Scandal of 2018. The social media company has implemented security measures since the first offense, rolling out the Ad Library, "Why am I seeing this ad?" tool, and Special Ad Category. Off-Activity is one of a slew of changes rolled out to protect users' privacy.
By Anne Felicitas, editor