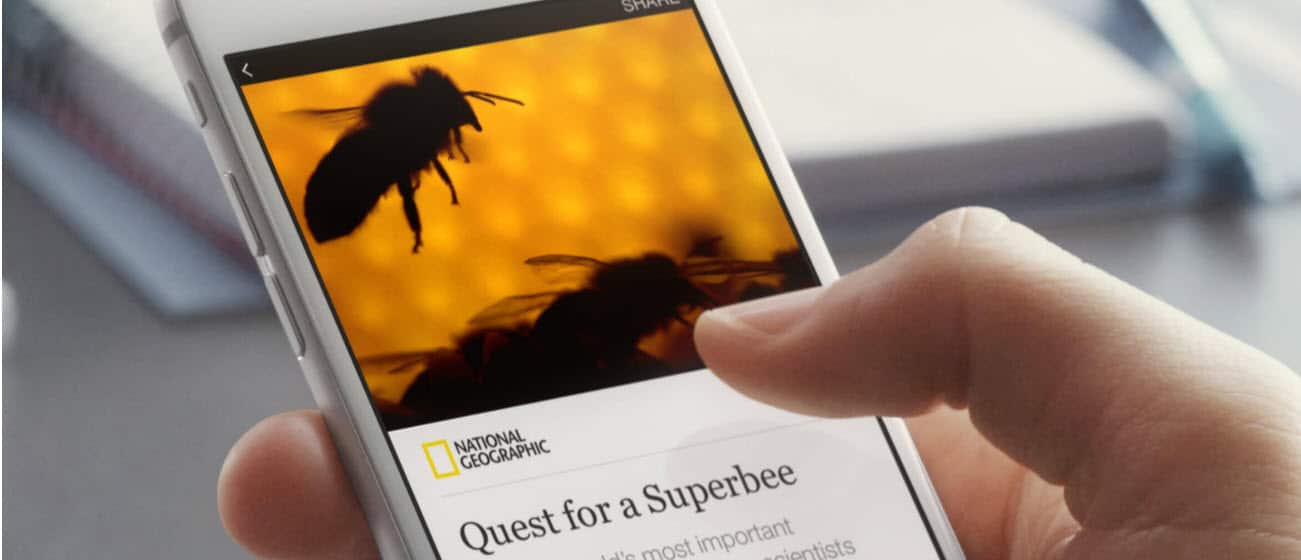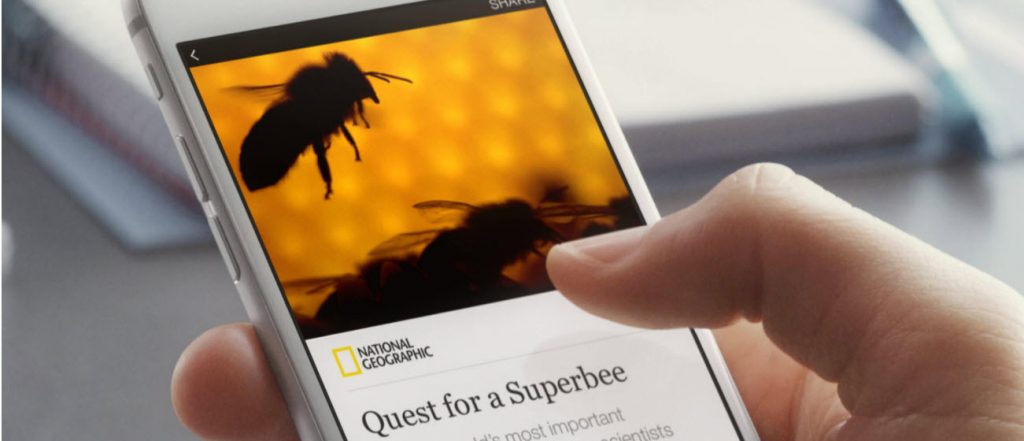 Last week Mashable tested Facebook's dedication to ending fake news on its platform and its results were incredibly relevant for advertising on Facebook. This is what happened.
In the experiment, Mashable chose an article from Newport Buzz that was widely shared on the days following St. Patrick's Day. However, when Mashable attempted to post the story "The Irish Slave Trade—The Slaves That Time Forgot," a red alert appeared underneath the article. The red alert warned that the story was "Disputed by Associated Press and Snopes.com," two third-party fact-checkers Facebook said it would work with to combat fake news.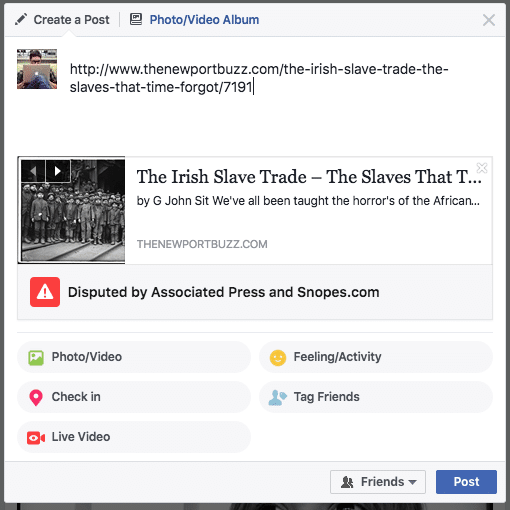 When Mashable clicked the alert, a pop-up window, which encouraged Mashable to visit Associated Press and Snopes' website for more information on the story, appeared.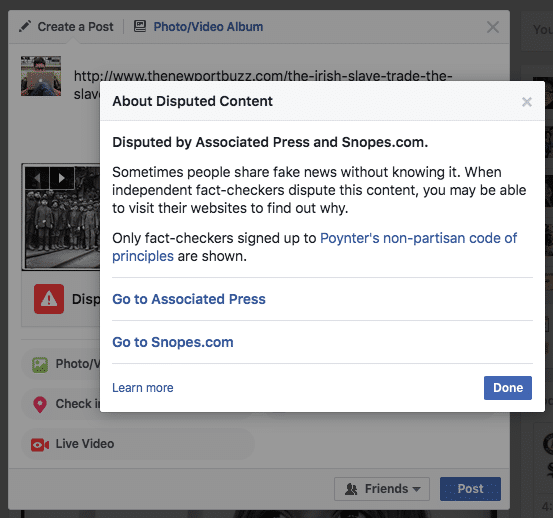 "Sometimes people share fake news without knowing it. When independent fact-checkers dispute this content, you may be able to visit their websites to find out why," the pop-up window said.
When Mashable ignored the messaged, another pop-up window appeared, a window reiterating that the story is fake.
"Before you share this content, you might want to know that the fact-checking sites Associated Press and Snopes.com disputed its accuracy," the pop-up window insisted.
When Mashable posted the story, the red alert box remained underneath the article.
This red alert box is only one among many attempts to remedy the accusations that plagued Facebook in November 2016. One journalist claimed that the dissemination of fake news on Facebook helped Donald Trump win the presidency.
"The most obvious way in which Facebook enabled a Trump victory has been its inability (or refusal) to address the problem of hoax or fake news," said Max Read, journalist for New York Magazine.
Of course, Zuckerberg was quick to shoot down the allegation, as one would swat away a summer fly.
"Personally, I think the idea that fake news on Facebook—of which it's a small amount of content—influenced the election in any way is a pretty crazy idea," said Zuckerberg.
However, contrary to Zuckerberg's remark, Facebook does suffer from an inordinate amount of fake news. Buzzfeed discovered that almost 140 fake news sites emerged in the year leading up to the election. These fake news sites, Buzzfeed said, originated from a small town in Macedonia. The sites were run to accrue ad dollars.
A month after the allegations, Zuckerberg announced on his Facebook post the changes he's making to combat fake news. The changes included stronger detection, easier reporting, and warning labels accompanying posts. This is the warning label Mashable discovered.
Facebook may be the most dominant social media platform with its billions of daily active users, but it's far from perfect. The problem of fake news is just one among two flaws Facebook is fixing.
What do you think of the new warning labels? Let us know your thoughts on the comments section below. Also, share this story to friends.