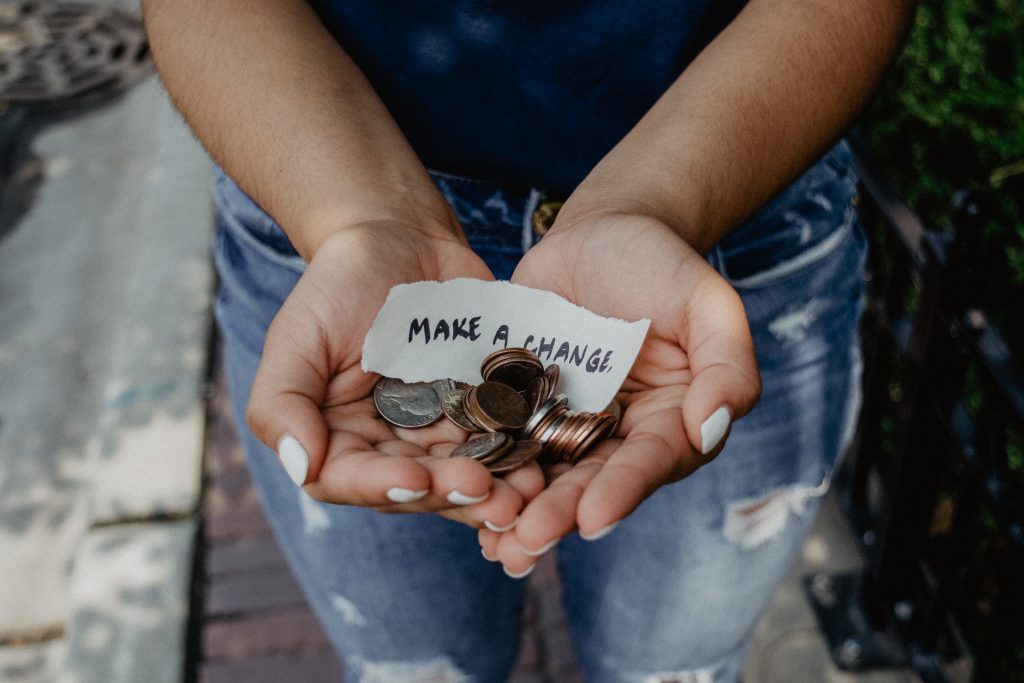 Facebook has fundraising capabilities built into its interface. The first step to creating a fundraiser for your nonprofit organization is to decide whether you want to create the fundraiser from your personal account or from the nonprofit's account.
If you already have a Facebook page for your nonprofit, creating the fundraiser from your nonprofit's account ensures that the fundraiser appears in front of those who already care about the charity. If you do not already have a Facebook page for a nonprofit, it may make more sense to create the fundraiser on your personal Facebook page, since it takes time for new pages to build an audience.
Creating a Facebook Fundraiser
To create a fundraiser on Facebook, follow these steps.

Step 1: Click "Fundraisers" from the left column bar.
The "Fundraisers" tab appears under the "Explore" section of the left column bar.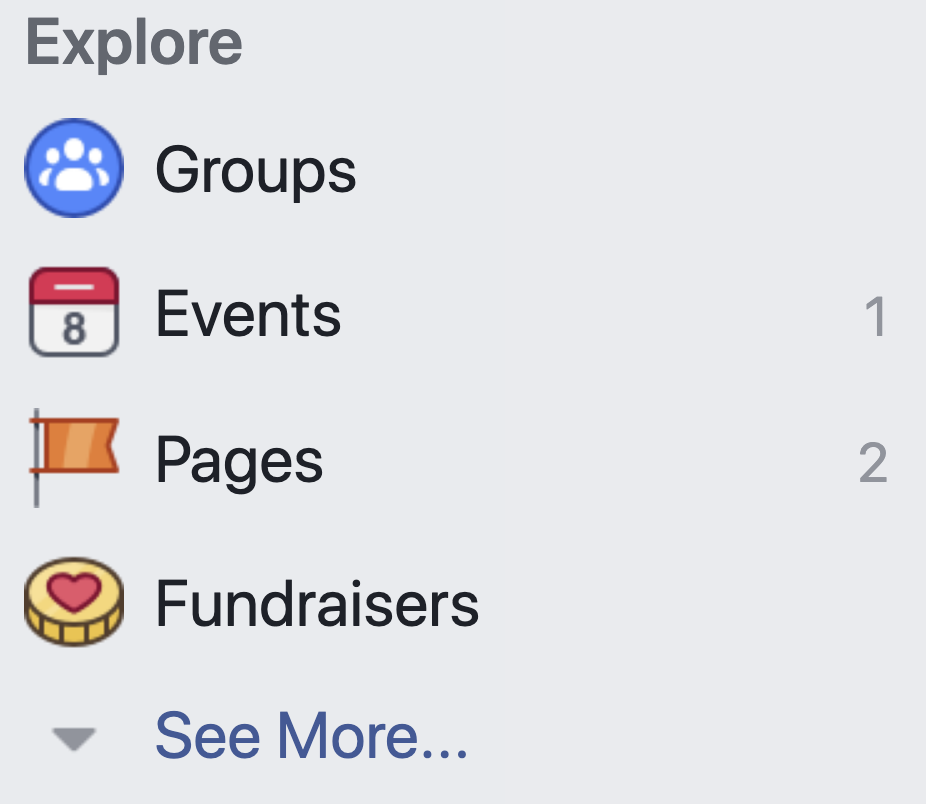 Step 2: Click "Select Nonprofit."
Upon arriving to the Fundraisers page, you will find two options: select nonprofit and select category. Selecting the latter option, you will create a fundraiser for yourself or for a friend. Selecting the former option, you will create a fundraiser for a nonprofit organization that you choose.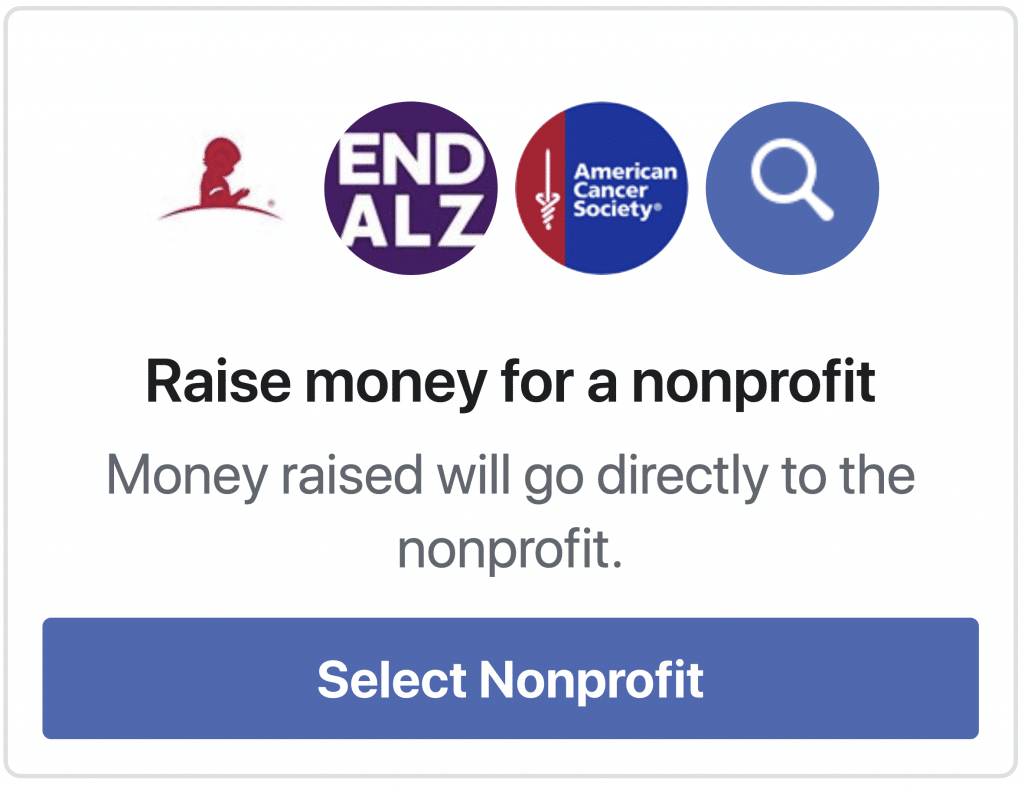 Step 3: Choose a nonprofit.
Facebook contains a list of nonprofits you can select. Simply type in the name of the organization for whom you want to raise funds. If the nonprofit you seek is not included in the list, you can choose to raise money for a personal cause by clicking the "Switch to Personal Cause" button from the lower-right corner of the dialogue box.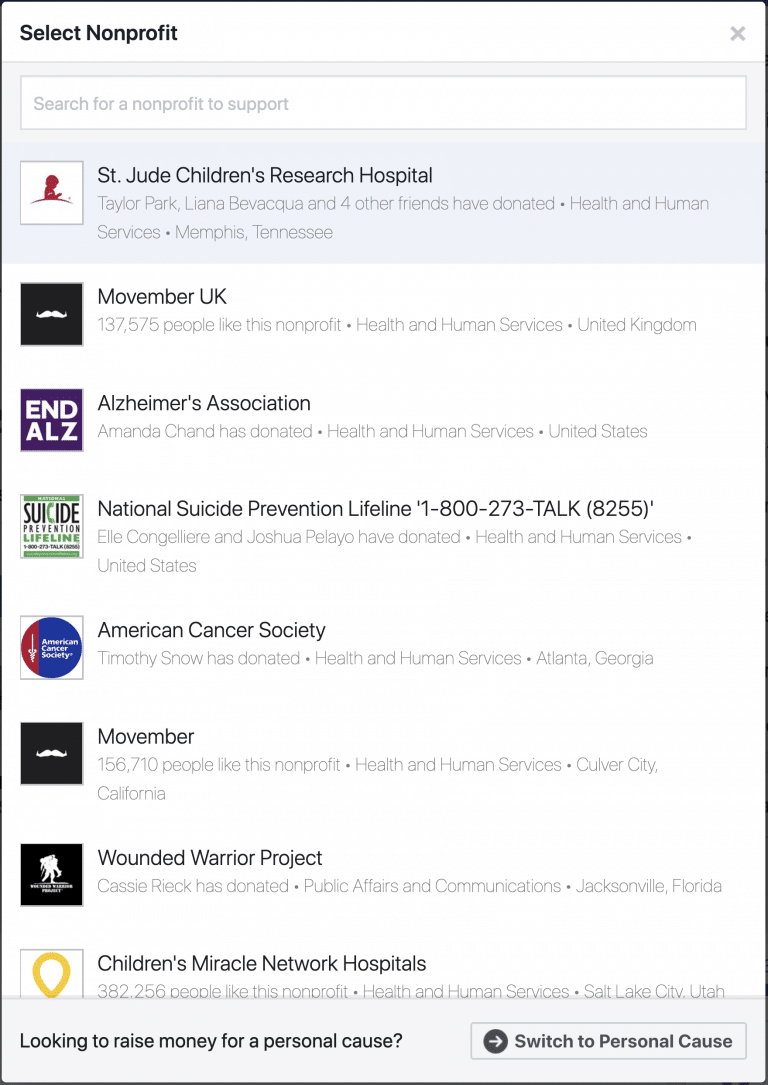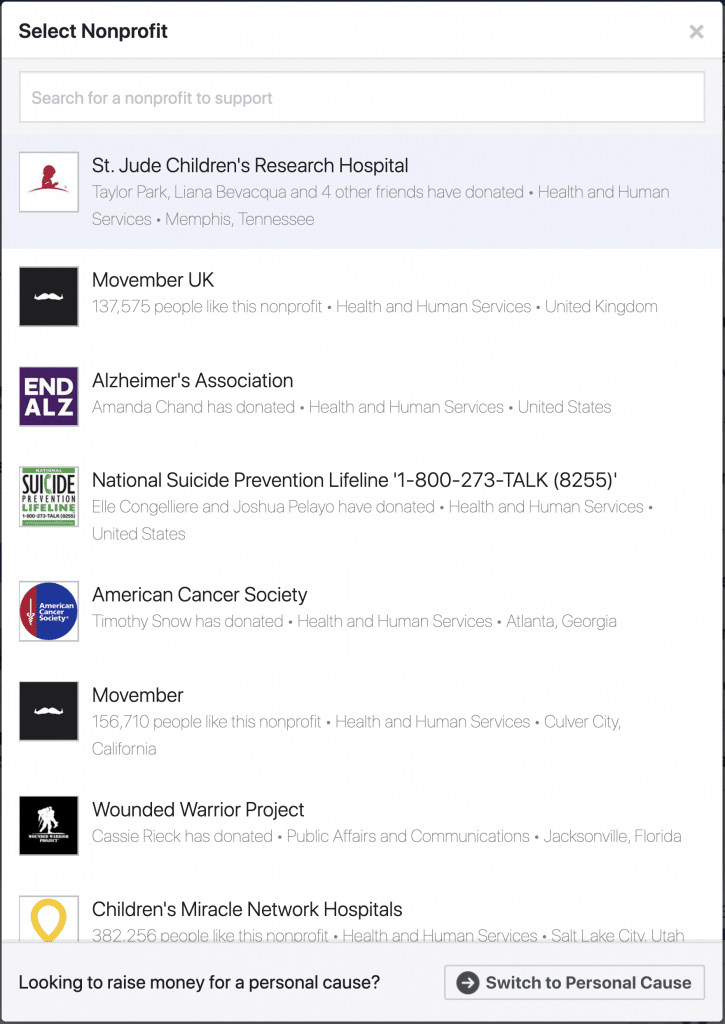 Step 4: Choose fundraising goals and end date.
You must choose the amount you want to raise, currency, and date when you want the fundraiser to end.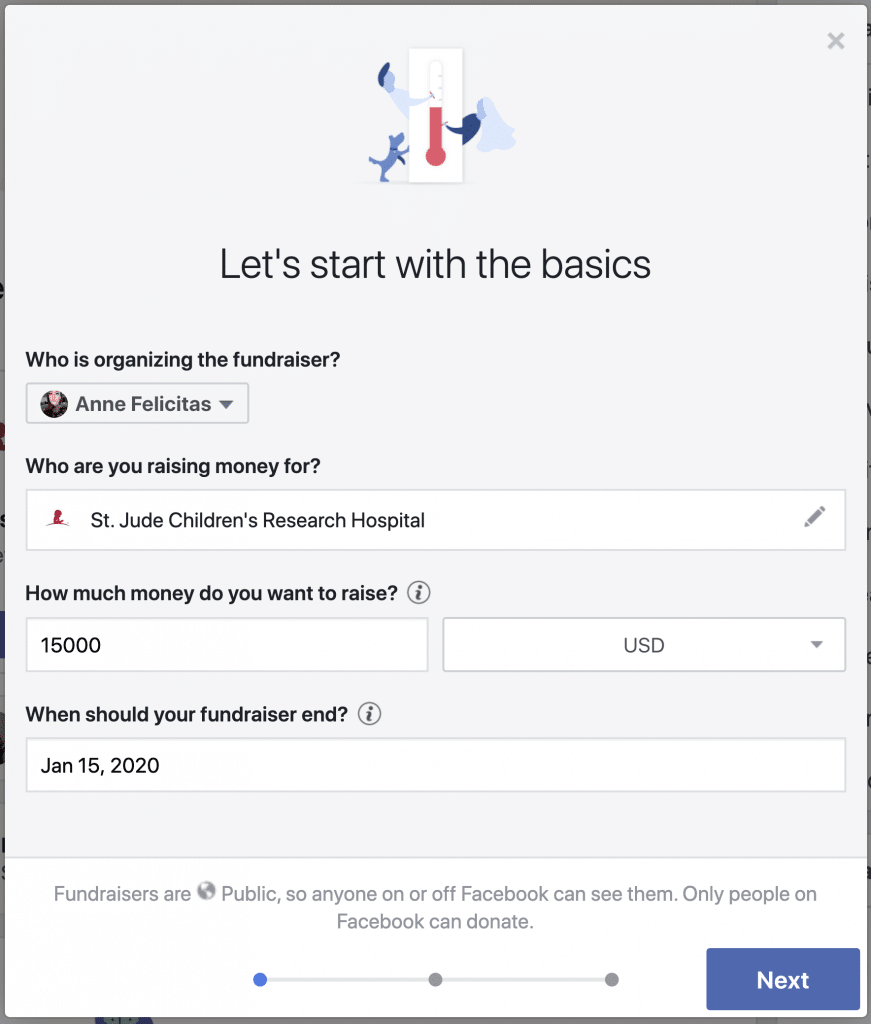 Step 5: Share your story.
This section presents an opportunity to explain why you created the fundraiser. You can also use this space to discuss the purpose of the fundraiser and your goals.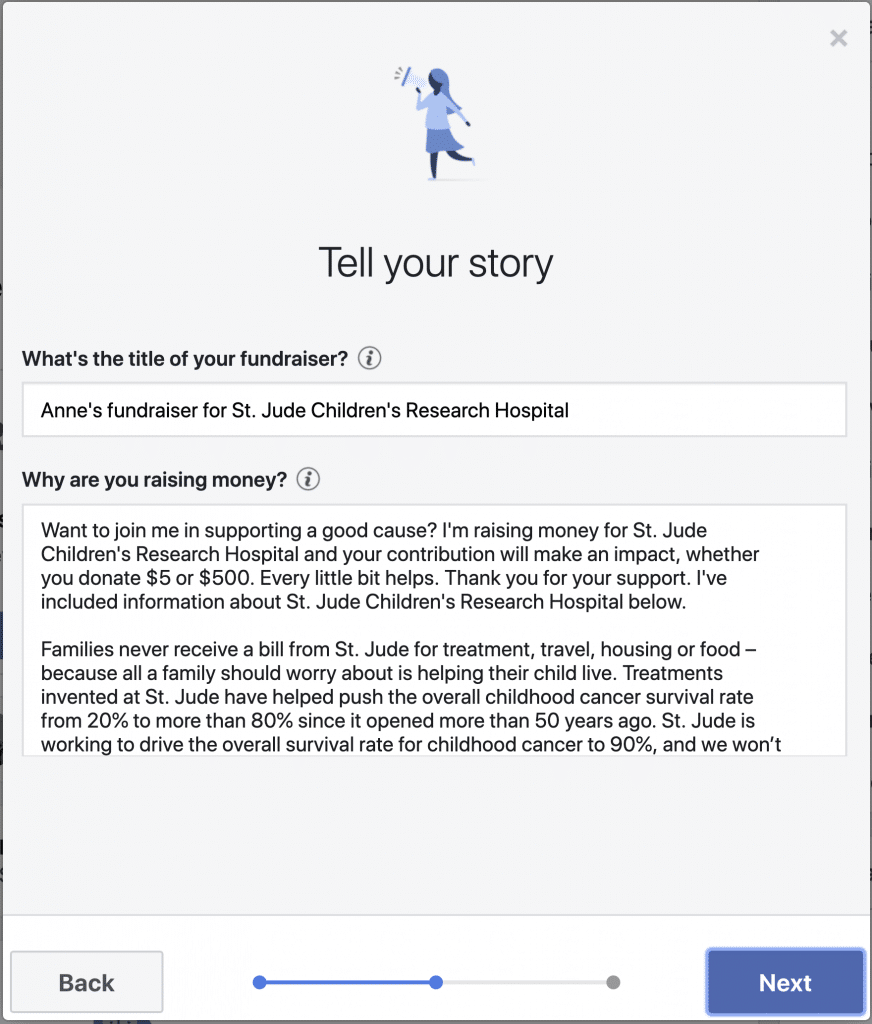 Facebook Fundraising Tips
Not all fundraisers meet their goals. To increase your fundraiser's success, follow these helpful tips.
Catch People's Attention
If you want to boost donations to your fundraiser, you must first catch your audience's attention. Spend time creating a great cover photo for your fundraiser with the correct dimensions. Choose images that accurately represent your fundraiser, that compels your audience to take action. Also, make sure your images complement the posts you create about the fundraiser, since images perform better on Facebook than stand-alone text.
If you have the funds or skillset, create videos, which often vastly outperform images. Whether you use videos or images, keep in mind that your competition is not other nonprofits. Your competition comes in the form of adorable cat videos or funny GIFs that people may scroll past your fundraiser to view. To boost funds, your posts have to catch everyone's eyes.
Get Emotional
People are much more likely to give to charity when they feel good about the cause. On your fundraiser page, clearly outline who or what their money will help support—do not be afraid to get emotional. Explain why you care about your nonprofit and highlight the causes your organization supports. The more you can make your fundraiser speak to your audience, the more likely you will boost donations.
Also, be sure to discuss what your nonprofit will do for the donors. For example, offer them a free shirt or send them a thank-you card. Although charities are meant to be altruistic, people are much more likely to give to a cause that also benefits them or someone they are close to.
Invite People to Share Your Fundraiser
After you post your fundraiser, ask people to share it to their friends. Social sharing can allow your content to reach audiences you otherwise wouldn't have access to. To ensure your audience follows through with your request, remind or incentivize them. For the latter option, enter participants who shared your content into a raffle for a small prize. If you do this, make sure that the prize you offer is affordable and easy to obtain. Asking for a donation from a local business can help.
Follow Up
Fundraising is not a "set it and forget it" activity. The best-intentioned people may see your Facebook fundraiser and decide to donate later. If they do not see a reminder about the fundraiser, they are unlikely to follow through. Post updates during the fundraiser, revealing details about the amount you have earned, the amount you are hoping to earn, and the charitable acts you can do with the money you have raised so far.
Once the fundraiser has ended, do not forget to thank your donors. Doing this final step shows them your gratitude and increase the likelihood of donations to future fundraisers.
By Anne Felicitas, editor