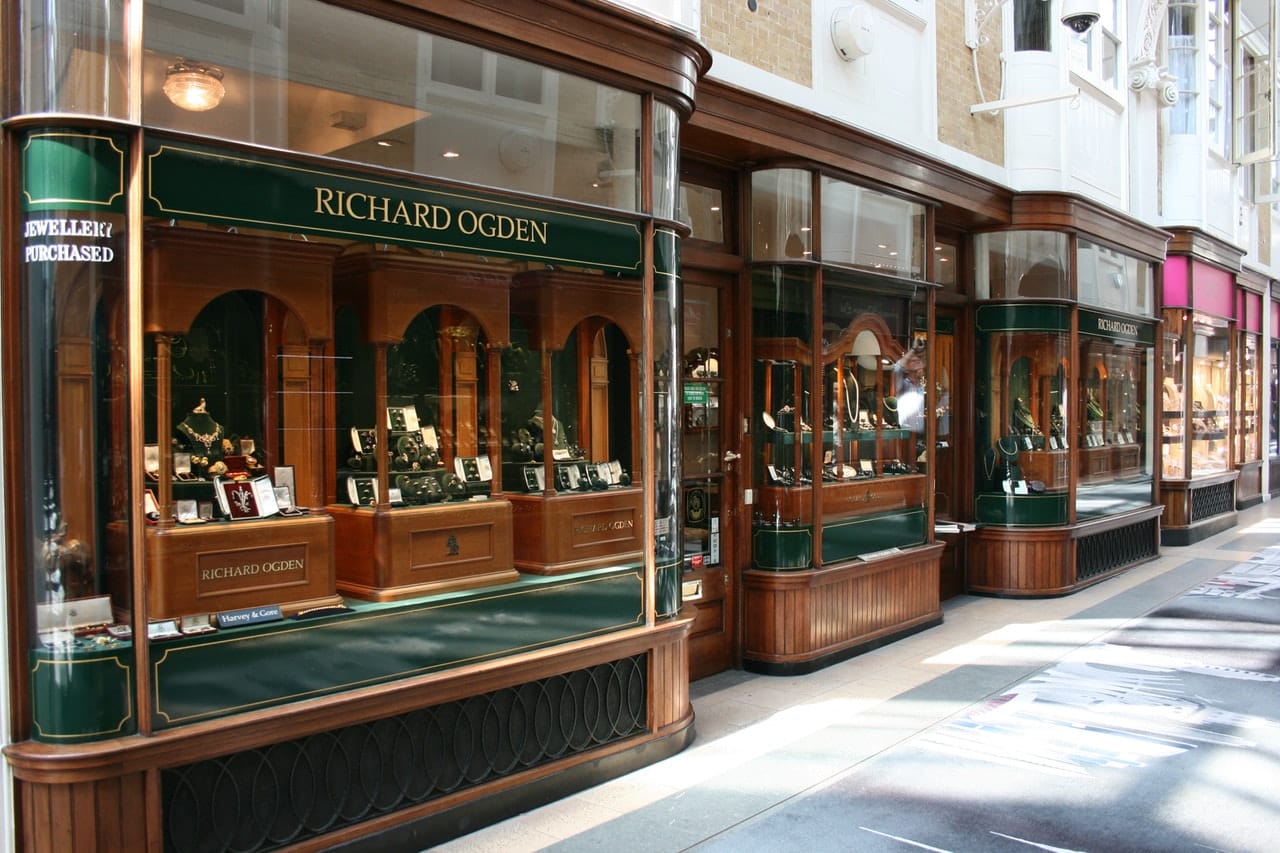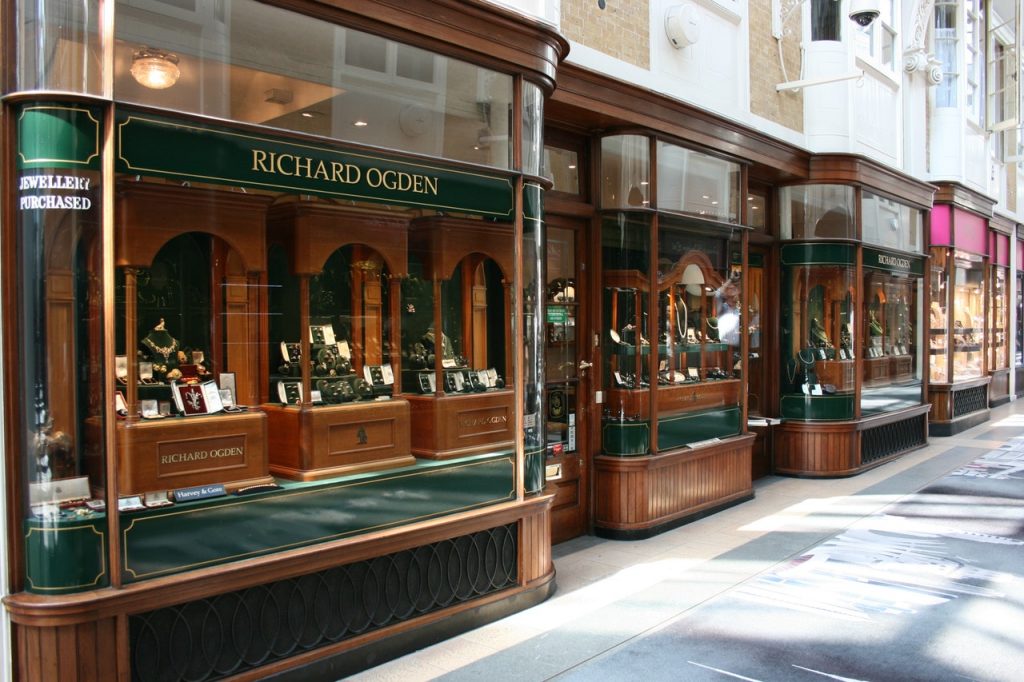 The Internet is a big competitive place for a small business. Fortunately, Facebook offers a way for small business owners to put their business out there and connect with potential customers in that vast, intimidating space. Whether it's through an organic video post or an engaging ad, the platform makes it possible for small businesses to expand their reach and establish relationships with tech-savvy customers.
Although Facebook already connects more than 1.6 billion people to local businesses, the platform evidently determined that it could do more to help. Earlier this week, Facebook announced easier ways for you to connect your small business to potential customers. These updates will improve your ability to build a loyal customer base within the infinite audience that is the Internet.
Redesigned Pages for Mobile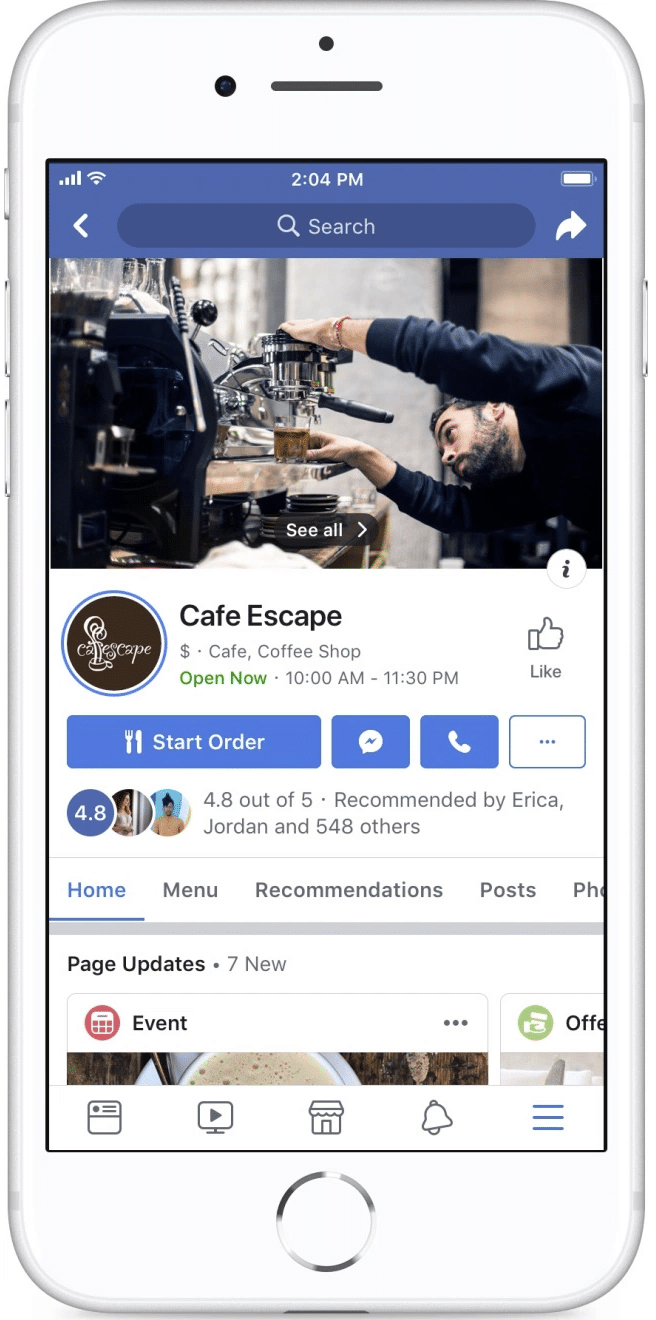 Facebook redesigned pages on mobile so customers can more easily communicate and engage with your local business. For example, if you have a page for your restaurant, customers can make a reservation from your page. Similarly, if you own a salon, visitors can book an appointment straight from your page on Facebook.
Additionally, the new design allows visitors to see Stories, recent photos, upcoming events, and offers on your page. With the new Stories element, you can share fun, behind-the-scenes content that is interesting to visitors, making your business more relatable. You can also make your business more relatable thanks to the recent photos feature. With the upcoming Events feature in the new design, you can increase the number of people attending your event. And of course, the new design highlights special offers you want to promote, which can help increase foot traffic to your brick-and-mortar store.
A user-friendly mobile design for a Facebook page is extremely instrumental in driving foot traffic to local businesses because most Facebook users access business pages through the app, whether they're at home or on the go. The easier for customers to access information, the more likely they are to build a relationship with your business.
More Helpful Recommendations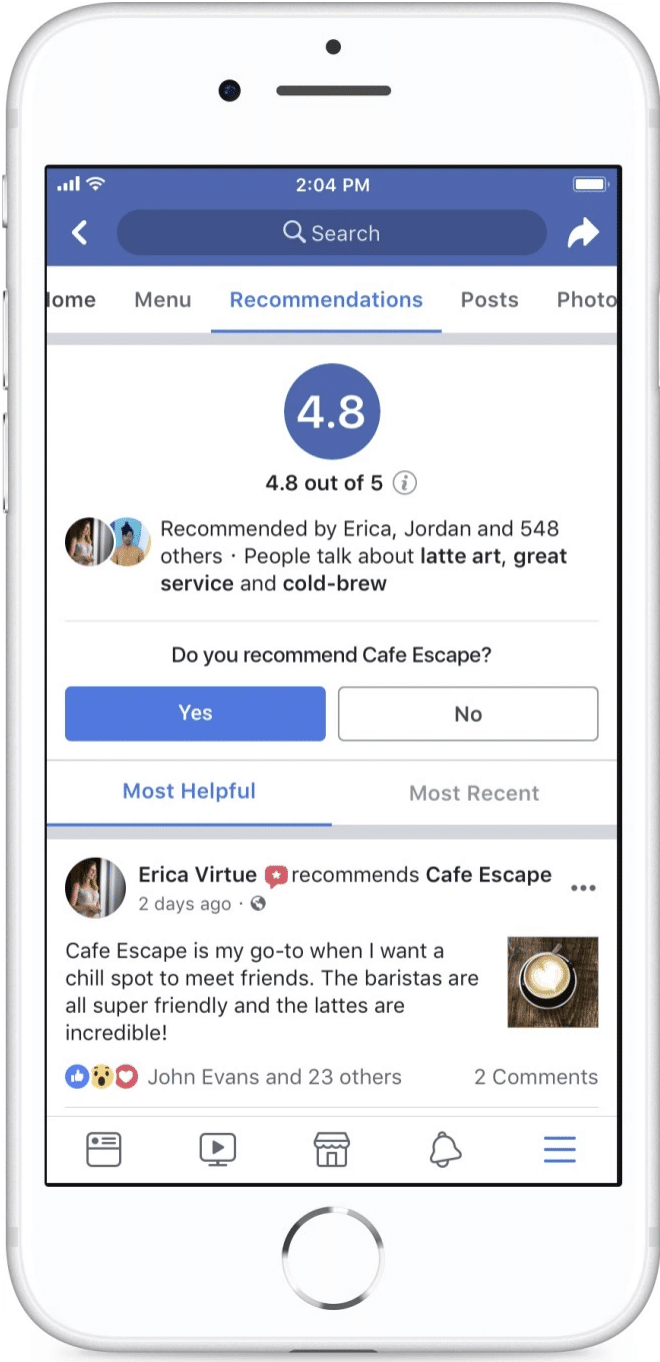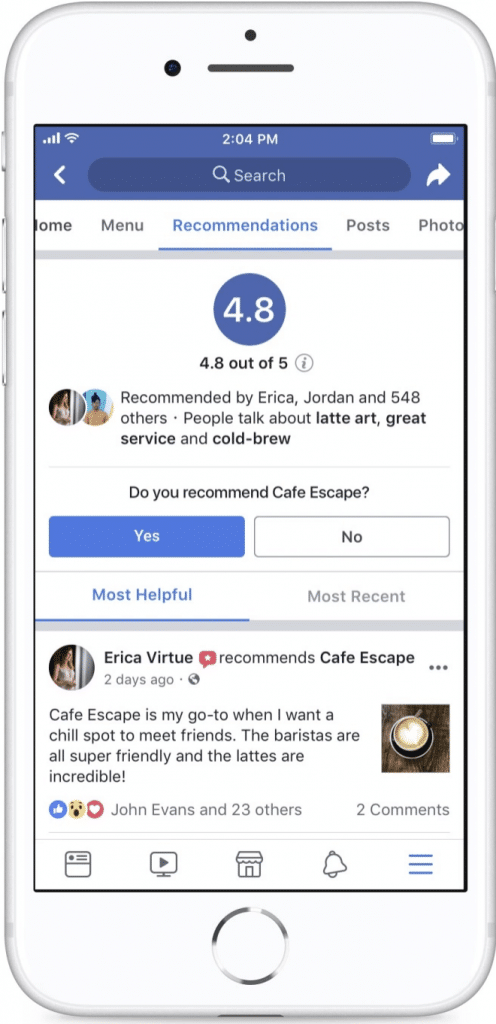 Customers often visit business pages to read recommendations. Recognizing this fact, Facebook's redesigned pages to make recommendations more prominent.
In addition to making recommendations easier to find so customers can review your business, the new design makes your business look more transparent. People trust the reviews of customers because they know they're going to be honest about their experiences. With recommendations placed in a more prominent place, customers are determining that you aren't afraid of what people say about your business. And unlike reviews, which contain both positive and negative opinions, recommendations only include praises. After all, no one makes a negative recommendation. People often recommend businesses they are pleased with.
Improving Events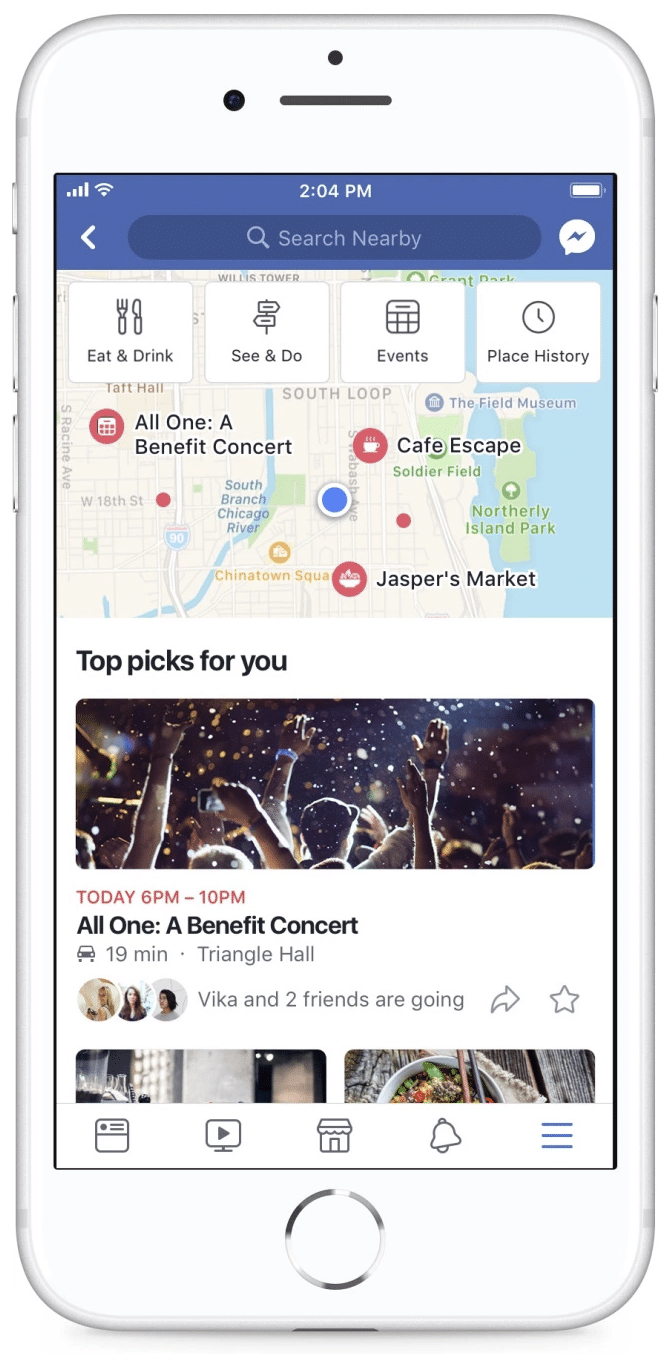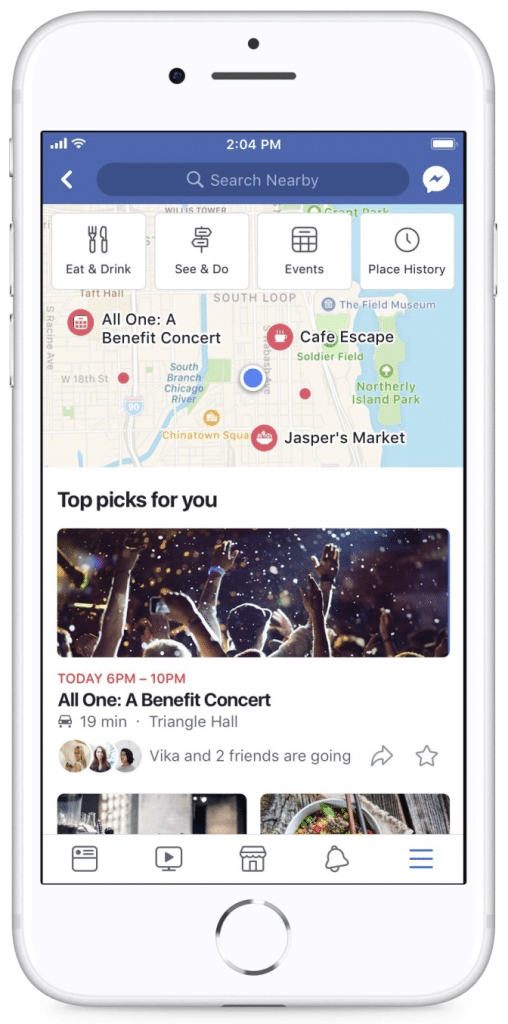 Facebook's Events feature increases in popularity, with 700 million users using it monthly to look for local activities. Facebook improved Events to help businesses and organizations encourage customers to attend local events. For example, customers can easily buy tickets to an event you're hosting. Although Facebook is not a ticketing platform like Ticketmaster, according to Facebook, businesses sell twice as many tickets through the Events feature than through a website.
Events is a great way to connect with people in your community and to drive foot traffic to your brick-and-mortar store. If you own a dance club hosting a 90s-themed dance night, for example, sharing the event on Facebook helps spread the word and drive foot traffic to your location. If people have a good time at your event, they will likely return to your location in the future—they may even recommend your business to their Facebook friends.
Expanding the Job Application Tool
Employees play a significant role in making local businesses successful. Without them, your business can't exist. After all, you can't run a business on your own. You need people to whom you can delegate tasks. To help small local businesses grow, Facebook opened the Job Application Tool to a global audience, helping small businesses hire exceptional employees.
A "Local" Section
Gone are the days of Googling "places to eat near me." Facebook now has a Local section people can use to find businesses, like yours, nearby. There's also a standalone Facebook Local app for the same purpose. Users can browse places based on location, recommendations, or events friends are attending.
If you want to increase your foot traffic and appear higher in the Local section, you should focus on encouraging existing, happy customers to leave recommendations on your Facebook page. You should also consider hosting fun events to generate interest and acquire attendees who are likely to recommend your events to their friends.
Small Business Meets Big World
Don't let the word "small" keep you from dreaming big. Over 80 million small businesses use Facebook's free resources to connect and thrive in the vast world of the Internet. "Online" should not have a negative or unattainable connotation. In fact, most people who own a mobile device use it to find local businesses, and Facebook is continuously exploring new ways for small businesses like yours to succeed. It's up to you to decide whether or not to use them.