October 13, 2017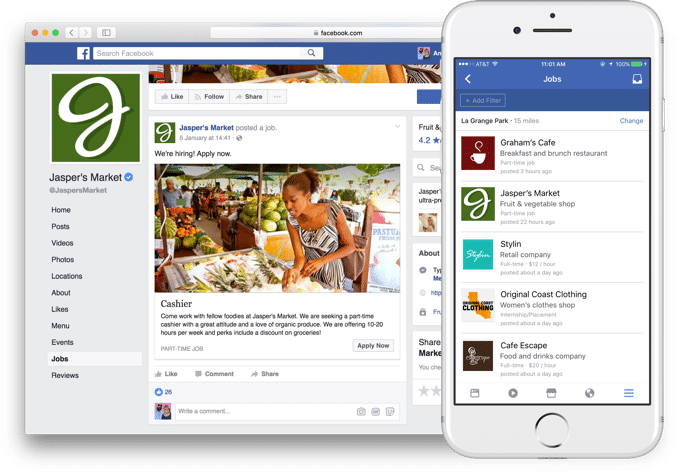 Taking professional networking to the next level, Facebook recently announced a partnership with Zip Recruiter, a job posting and job searching site. This partnership shows that social networking as a job hunting and hiring tool will only continue to grow and offer new opportunities. This FB ad agency is only happy to see these opportunities be promoted across platforms.
Back in February, Facebook first dabbled with job postings when it allowed page owners to post job openings on their pages. Last month, Facebook took it a step further by testing a feature that allows users to connect with professional mentors. Now, with Zip Recruiter in its corner, Facebook allows businesses and organizations using Zip Recruiter to select a box to mass distribute their job postings across its platform. According to Tech Crunch, Facebook will likely work with other job recruitment sites in addition to Zip Recruiter to deepen its stake as an online job board.
Previously, Zip Recruiter included sites such as LinkedIn, Google, and Twitter in its list of potential places to list job postings online. Now Facebook is part of that list, the reason for which is obvious: Facebook's userbase of two billion active monthly users gives the website a competitive edge and significant growth opportunities.
Perks of Facebook Job Postings
A perk of job searches on Facebook is employers' ability to quickly access applicants' personal background (that is, if the applicant's Facebook profile is public). By searching for candidates via social media, employers can cut out the segregation of background digging.
From the user perspective, combining the job hunting process with Facebook helps narrow down the number of sites or new accounts that may otherwise be required for extensive online job searching.
To top it off, Facebook's mobile-friendly platform makes it easy and convenient to post a job ad and apply to a job from anywhere, anytime.
Comments
comments