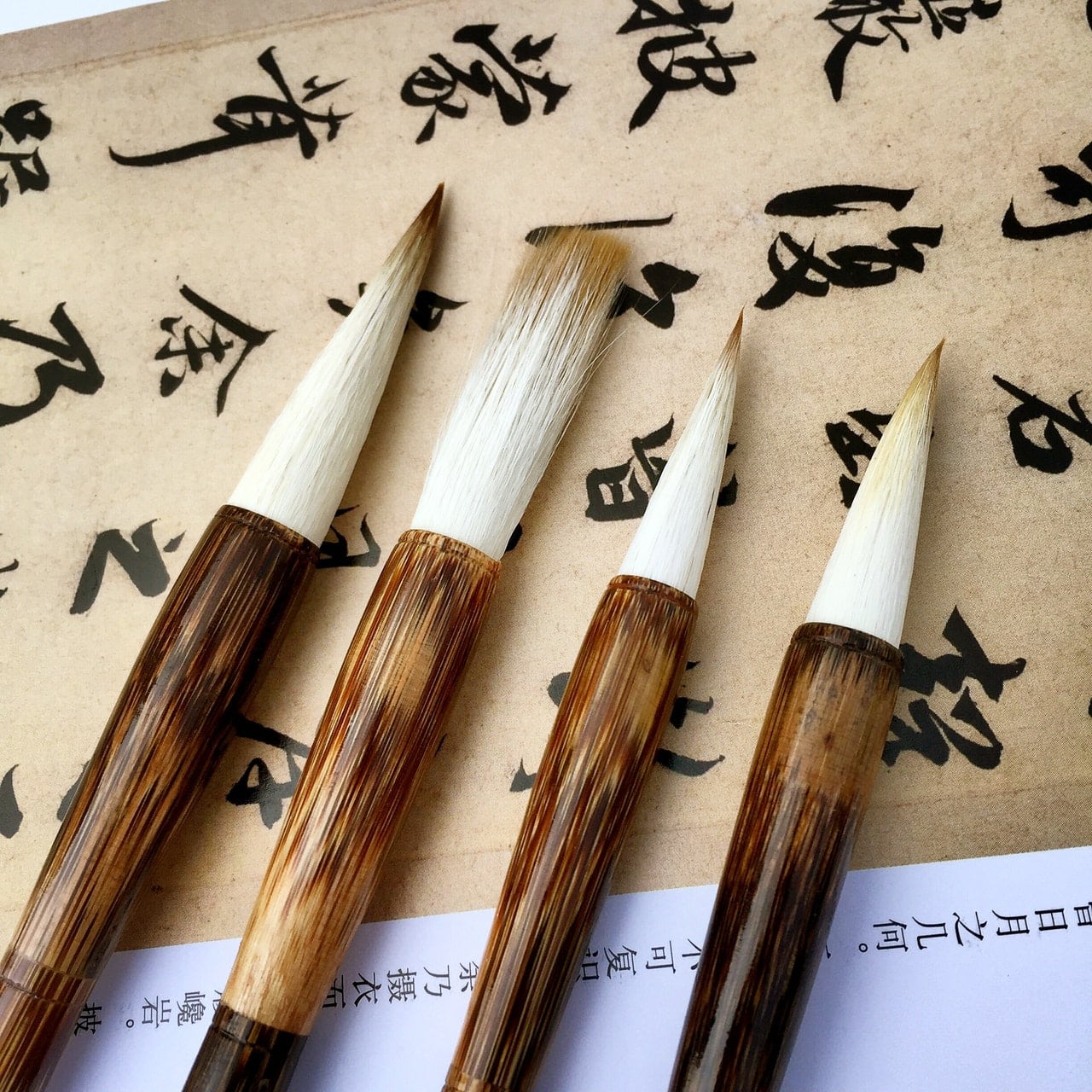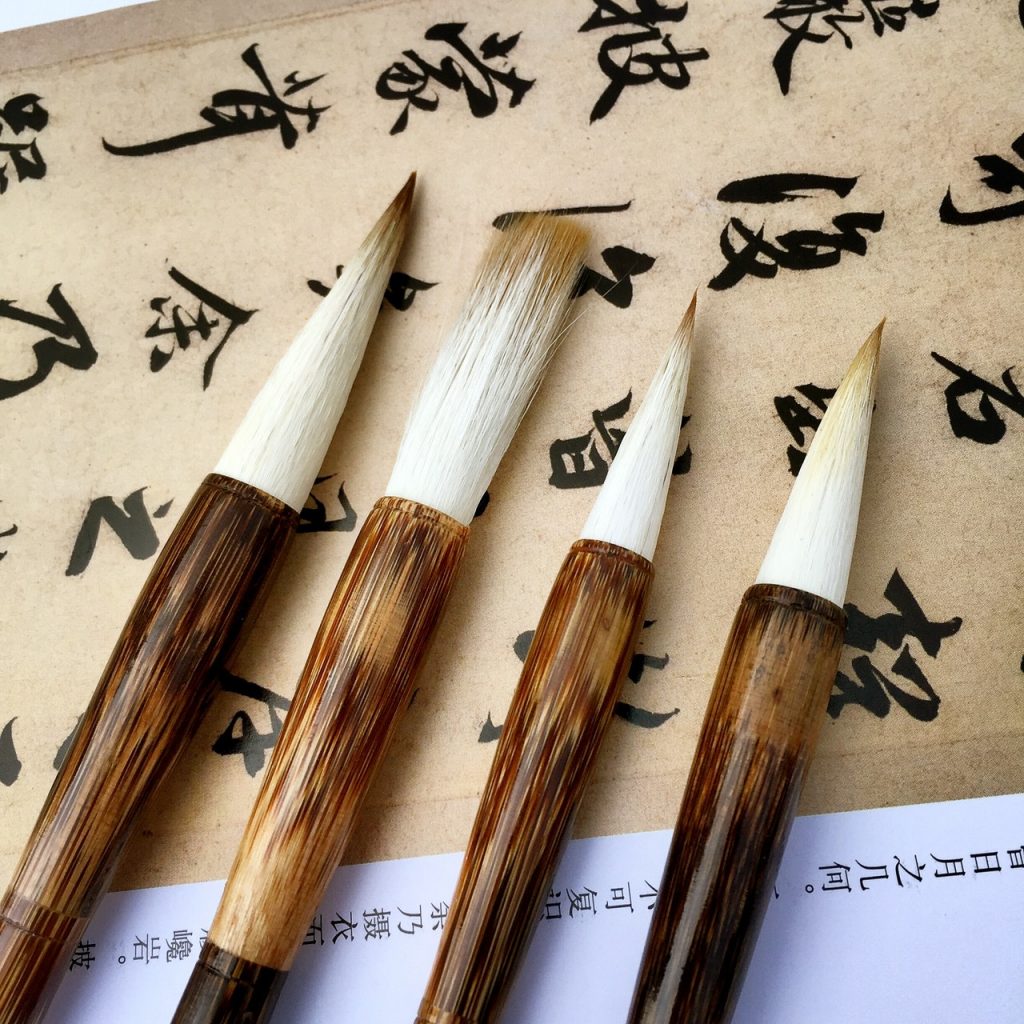 Facebook is a global platform with over 2.95 billion active users. This means that there is a potential audience of billions of people for your business. However, if you only write posts in one language, you are limiting your reach to a fraction of that number.
So broaden your audience reach by publishing a Facebook post in more than one language. This ensures that your posts are seen in the language most relevant to your diverse audience.
Step 1: Go to "Settings" at the top of your page.

Step 2: In the "General" tab, select "Post in Multiple Languages."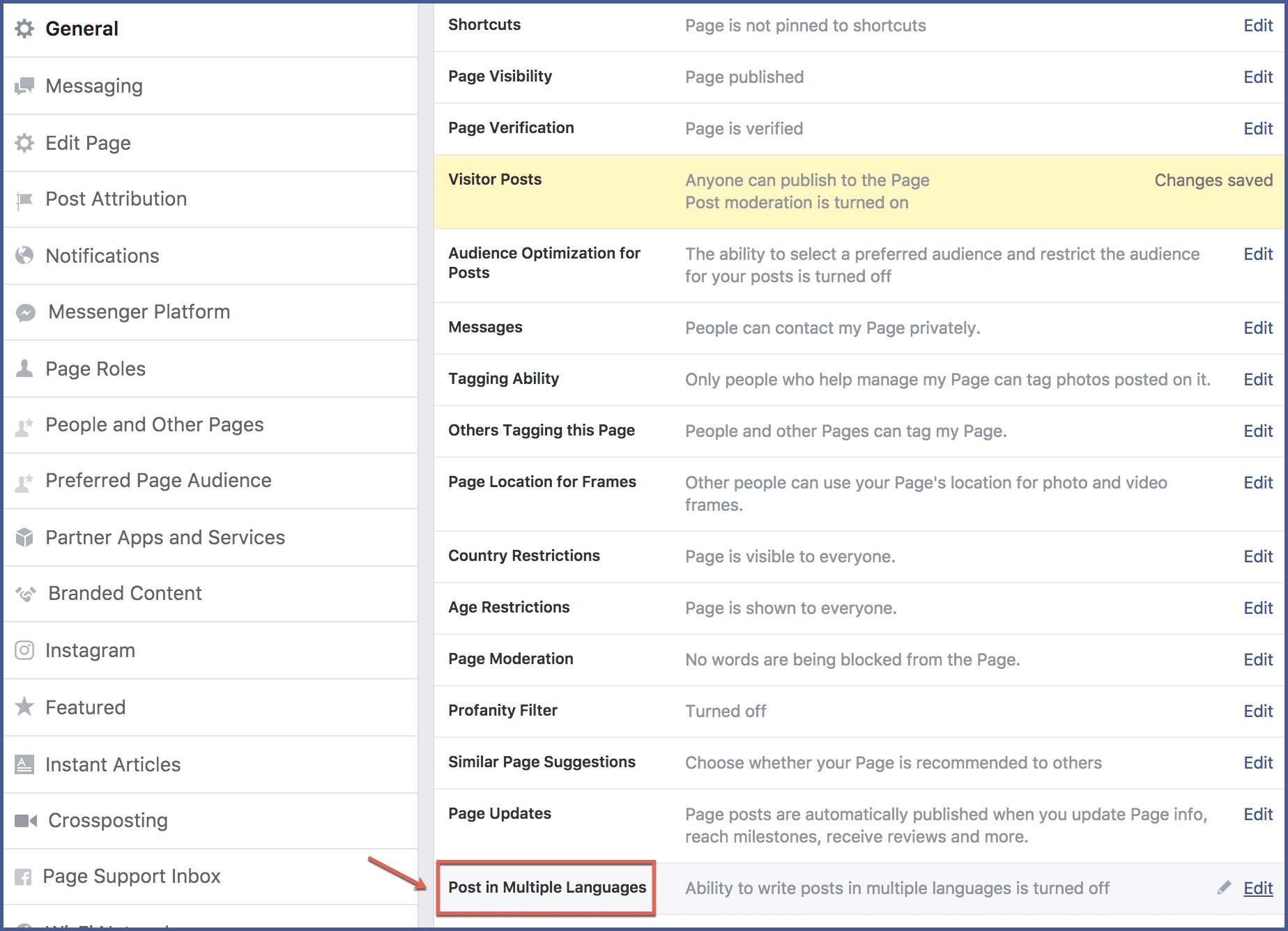 Step 3: Check the box next to "Allow people who manage this page to write posts in multiple languages." Save your changes.


Create a Post in More Than One Language
Step 1: Write a post on your timeline and click "Write post in another language."

Step 2: Type in the language you want to use in the dropdown menu.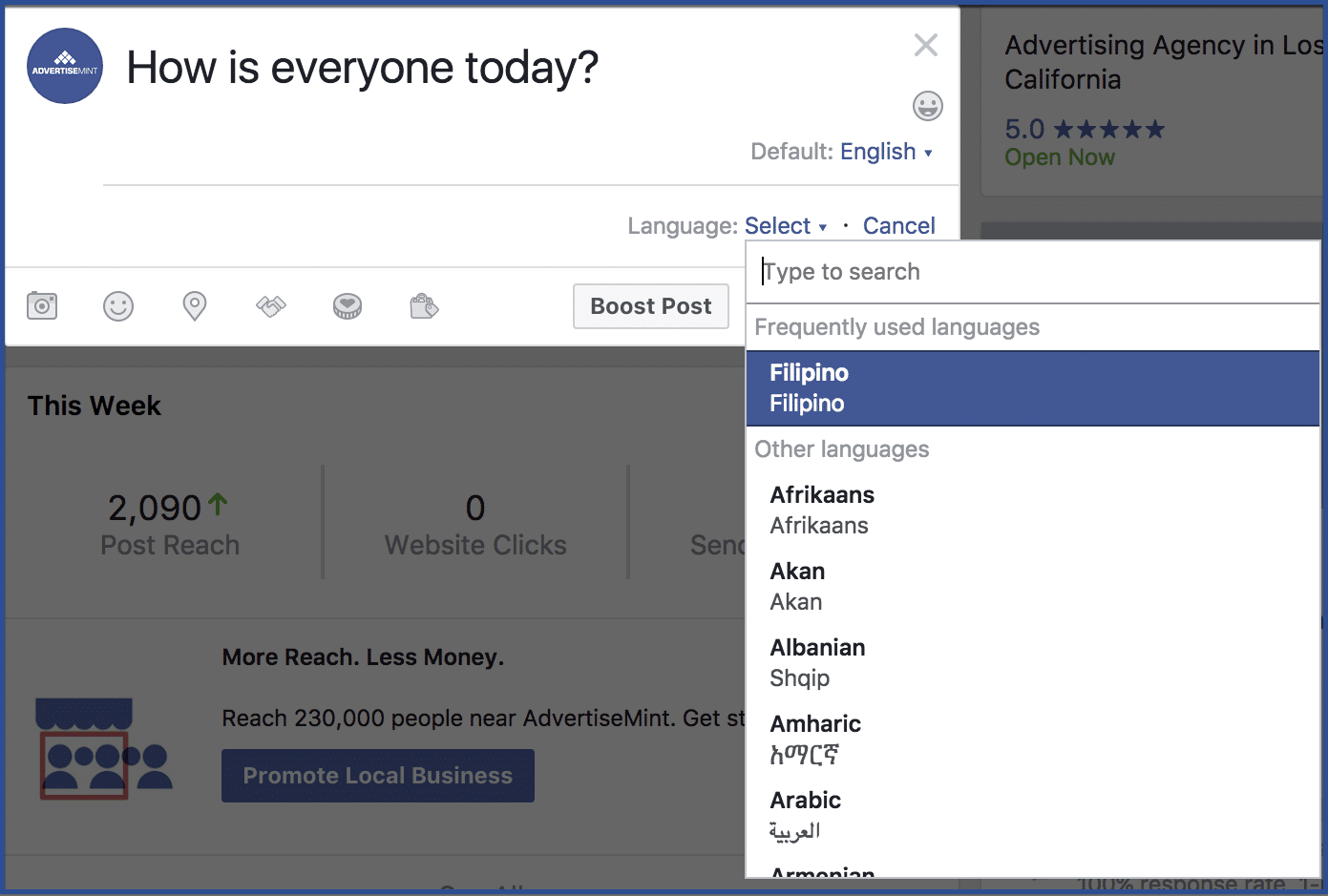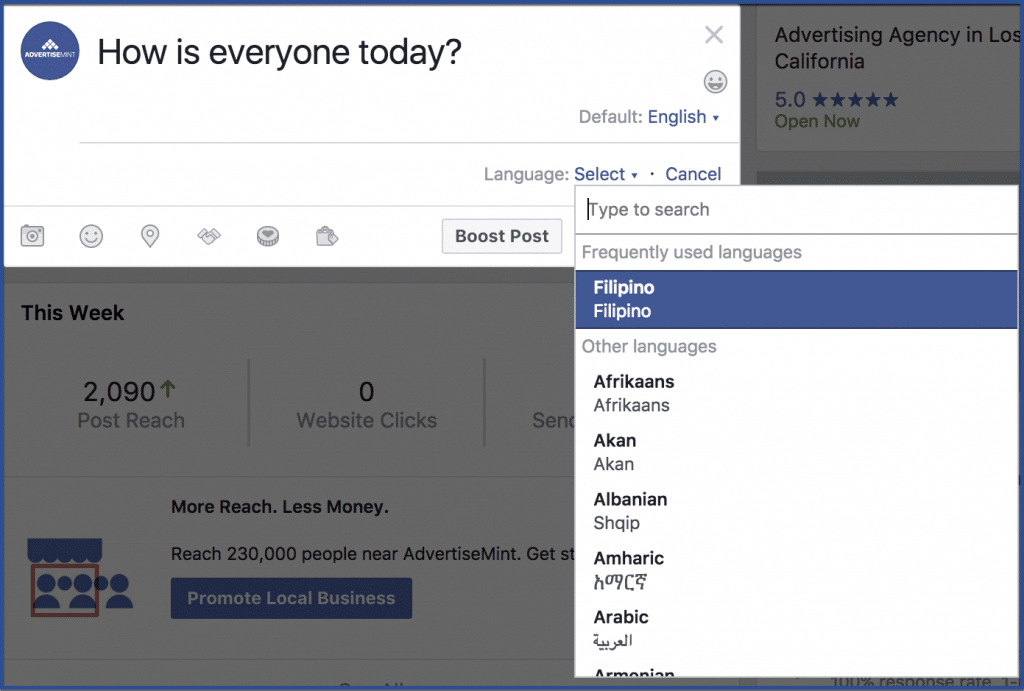 Why write posts in multiple languages on Facebook?
Writing posts in multiple languages on Facebook offers a range of benefits and opportunities for individuals, brands, and businesses seeking to connect with diverse audiences and expand their reach. Here's why you should consider incorporating multilingual content into your Facebook strategy.
1. Broaden Your Audience Reach
You open your content to a broader audience by posting in multiple languages. People from different regions and linguistic backgrounds can engage with your posts, increasing visibility and potential followers.
2. Cater to Global Audiences
In today's interconnected world, your audience may include people from various countries and language groups. Writing posts in different languages ensures you're effectively communicating with all audience segments.
3. Enhance User Engagement
When users can interact with content in their native language, they're more likely to engage with it. Posts that resonate linguistically and culturally tend to receive higher likes, comments, shares, and overall engagement.
4. Foster Inclusivity
Multilingual content demonstrates your commitment to inclusivity and respect for the diversity of your audience. Users appreciate when content is tailored to their language preferences, creating a positive perception of your brand.
5. Reach New Markets
Expanding into new markets often requires speaking the language of your target audience. Posting in local languages allows you to tap into markets that might have been previously inaccessible due to language barriers.
6. Increase Conversions
Language plays a significant role in influencing purchasing decisions. By providing information in customers' preferred languages, you create a more personalized experience, increasing the likelihood of conversions.
Best Practices for writing posts in multiple languages
Create separate Facebook pages for each language
This is the most effective way to reach a specific audience. When you create a separate page for each language, you can tailor your content to the interests and needs of that audience.
For example, if you sell popular products in English and Spanish, you could create separate pages for each language. This would allow you to create relevant content for each audience and avoid confusing or alienating anyone.
Use a translation tool.
There are many translation tools available online. Some of these tools are free, while others require a subscription. When choosing a translation tool, ensure it is accurate and reliable.
You can test the tool by translating a few sentences or paragraphs into the language you want. If the translation is accurate and fluent, then you can use the tool to translate your posts.
Hire a professional translator to translate.
You can hire a professional translator to ensure that your translations are accurate and fluent. This can be a more expensive option, but it is worth it if you want to create high-quality content.
When hiring a translator, it is advisable to ask for samples of their work and get quotes from multiple translators before making a decision.
Use a combination of methods to reach your target audience
You don't have to choose just one method for writing posts in multiple languages. You can use a combination of methods, such as creating separate pages, using a translation tool, and hiring a professional translator.
For example, you could create separate pages for each language and use a translation tool to translate your posts into other languages.
Limitations of Writing Posts in Multiple Languages
While writing posts in multiple languages on your Facebook page offers numerous advantages, it also comes with its limitations.
Firstly, maintaining consistency in messaging and brand identity across languages can be challenging. Translations might not capture the nuances of the original content, potentially leading to misunderstandings. 
Moreover, it demands more time and effort, from content creation to proofreading, as you need to ensure each version is accurate and culturally sensitive. Additionally, if you're not proficient in all the languages you're using, there's a risk of errors or misinterpretations. 
Finally, managing comments and interactions in multiple languages can be overwhelming, especially if you receive a high volume of engagement. 
Tips for Writing Posts in Multiple Languages
When writing posts in multiple languages, there are a few things you should keep in mind:
It's best to keep your posts brief and concise. Shorter posts tend to attract more readers and encourage engagement.

Speak clearly and avoid using confusing slang or jargon.

Incorporating images and videos in your content can aid in conveying your message. It also enhances the visual appeal of your posts and breaks up the text for an easier read.

It's crucial to proofread your posts thoroughly before publishing them, particularly when you use a translation tool, since errors can occur.
Final Words
As technology keeps changing, being able to talk in different languages shows that your brand can change too, and cares about the whole world. So, whether you're someone who wants to talk to more people or a business that wants to grow, using different languages shows that everyone is important. 
FAQs
How do I decide which languages to post in?
Use Facebook Insights to identify the languages preferred by your audience. If you're targeting specific regions or demographics, prioritize the languages commonly spoken in those areas. Adapting content to your audience's preferences ensures effective communication.
Can I use the same content for posts in different languages?
While you can use the same core message, it's advisable to tailor your content to each language and culture. Different languages have nuances that can impact how your message is received. Language-specific content adds a personalized touch.
Does posting in different languages affect my brand's identity?
Posting in different languages doesn't mean compromising your brand identity. Instead, it showcases your brand's adaptability and global outlook. Maintain a consistent brand voice while considering the cultural context of each language to strike the right balance.
What if I'm not fluent in the languages I want to post in?
You don't need to be fluent in every language. There are translation tools and services available that can help you accurately translate your content. However, it's crucial to proofread and ensure cultural sensitivity to avoid misunderstandings.
To keep your page the focus of your users' attention, learn how to turn off similar page suggestions on your facebook page.