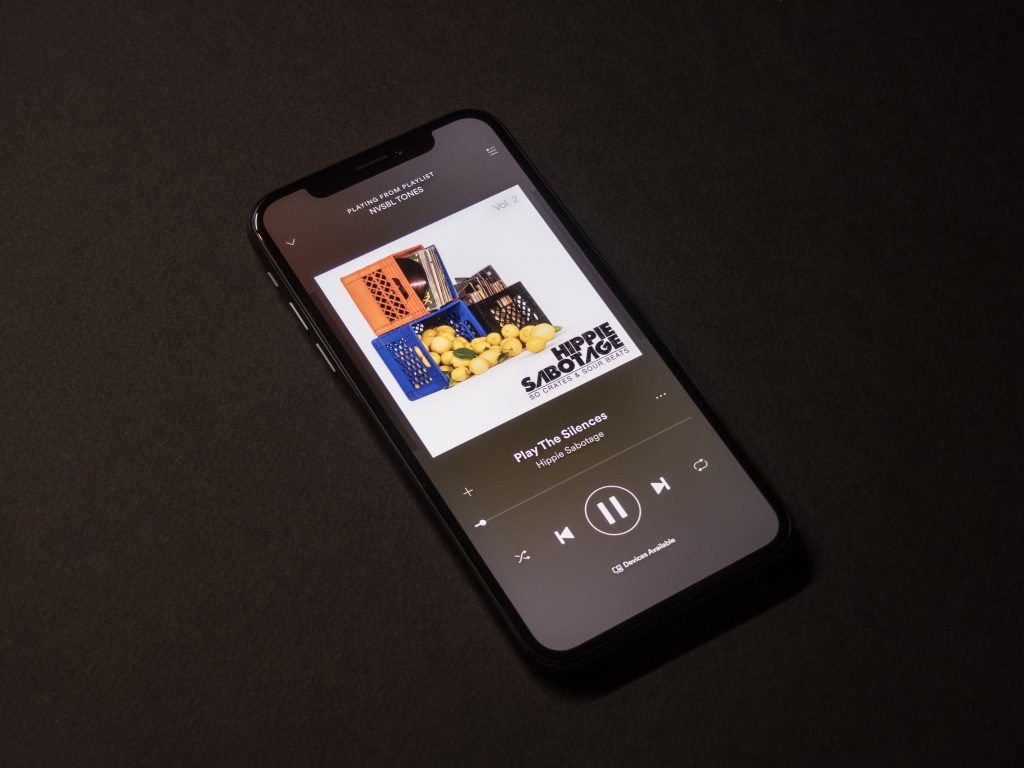 Although most of us use visual creatives for advertising, which a Facebook advertising company does, there's another option we should (but don't often) try: audio ads. Just as effective, audio ads are especially impactful when they're delivered through a popular digital music service like Spotify. Spotify gives music lovers access to millions of songs. Since people listen to music on Spotify on a daily basis, you can create audio ads that will play intermittently between songs. Fifteen or 30 seconds in length, these ads play naturally during a transition from one song to the next.
What is Spotify advertising?
Spotify advertising is a dynamic and innovative method of reaching and engaging audiences through the popular music streaming platform, Spotify.
It offers businesses the opportunity to deliver their brand message, products, or services to millions of active listeners as they enjoy their favorite music and podcasts. Through various ad formats, such as audio ads, video ads, and sponsored playlists, advertisers can seamlessly integrate their content into users' listening experiences.
Spotify advertising allows for precise audience targeting based on demographics, interests, behaviors, and location, ensuring that ads are delivered to the right people at the right time. This unique advertising avenue enables brands to connect with a diverse and engaged audience, fostering brand awareness, engagement, and potential conversions.
Why Advertise on Spotify?
People across the globe listen to Spotify. The platform allows them to listen to their favorite tunes wherever, whenever. Spotify boasts 90 million listeners, over two hours of daily streaming, and 24 percent lift in ad recall for audio ads. In addition to having access to such an expansive audience, Spotify advertising offers the following benefits:
Increased efficiency-You can plan, buy, and manage audio ad campaigns in a matter of minutes directly in the platform.
Budget flexibility-Run campaigns of any sized budget.
Free audio ad creation tool-When you don't have pre-produced audio assets, you can use the platform to create audio ads for free.
How to Create a Spotify Ad
Spotify Ad Studio is the self-serve platform you can use to create audio ads for Spotify. You can either upload your own audio or write a script for which Spotify will provide a voiceover actor. Ad Studio also offers targeting settings that make sure your message is delivered to the most relevant audience at the right moment.
Step 1: Choose your objective and name your ad.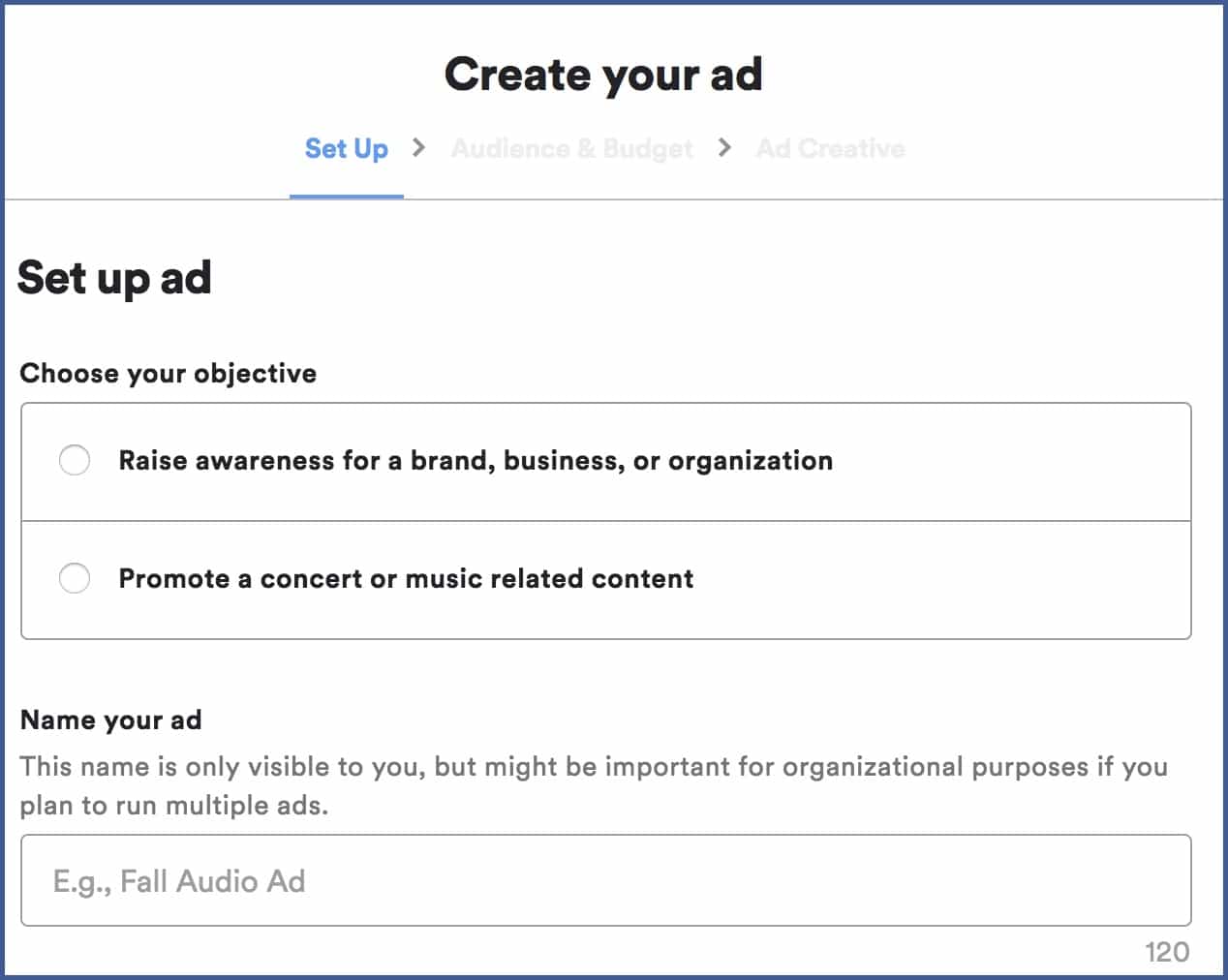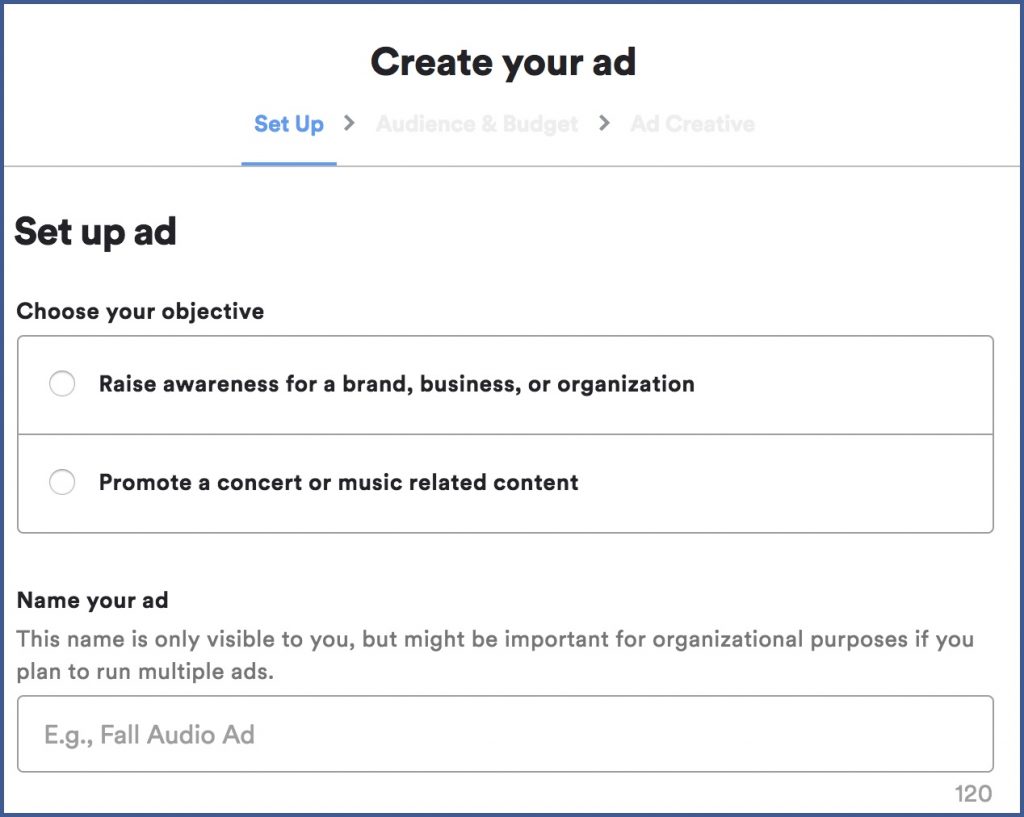 Step 2: Define your audience.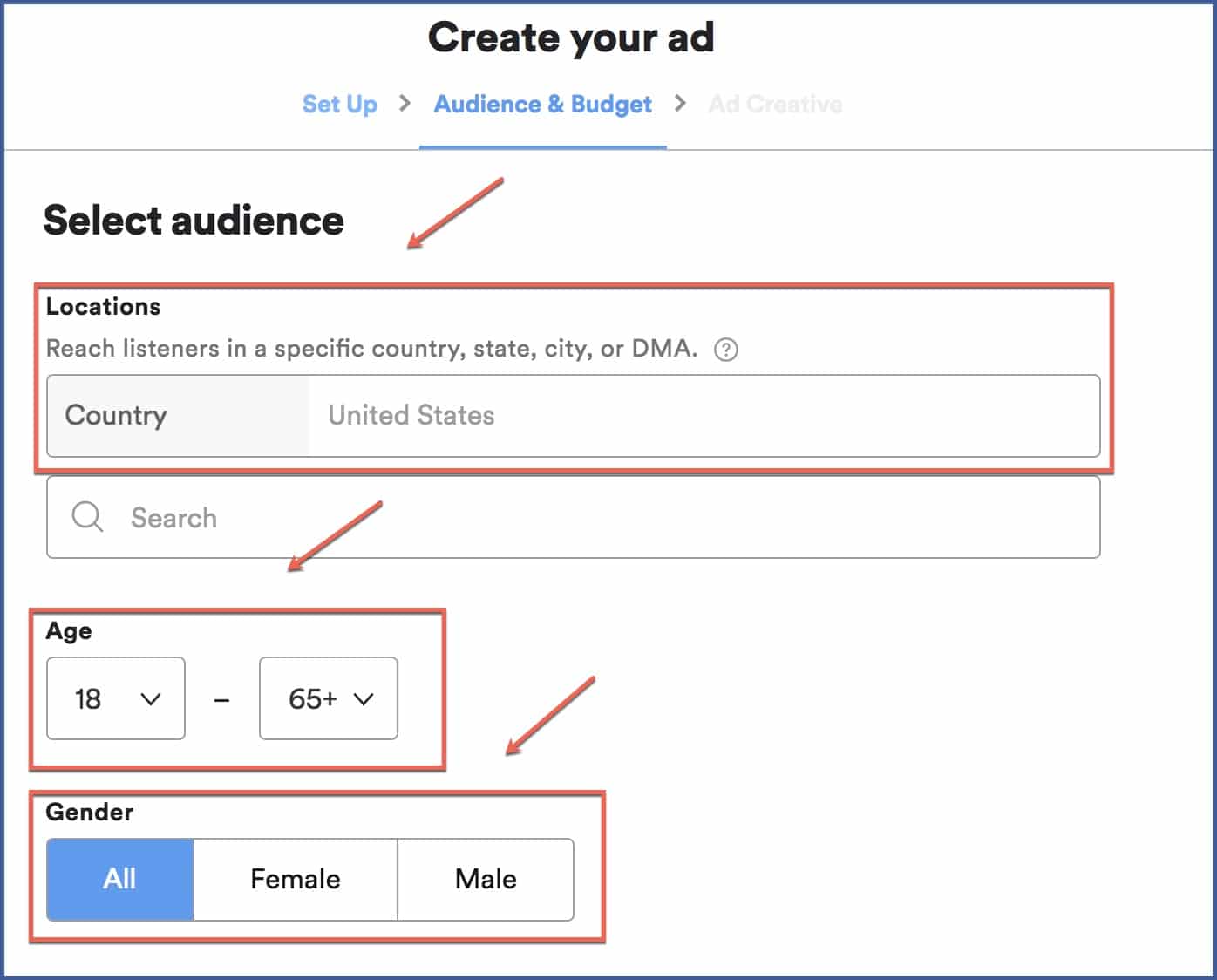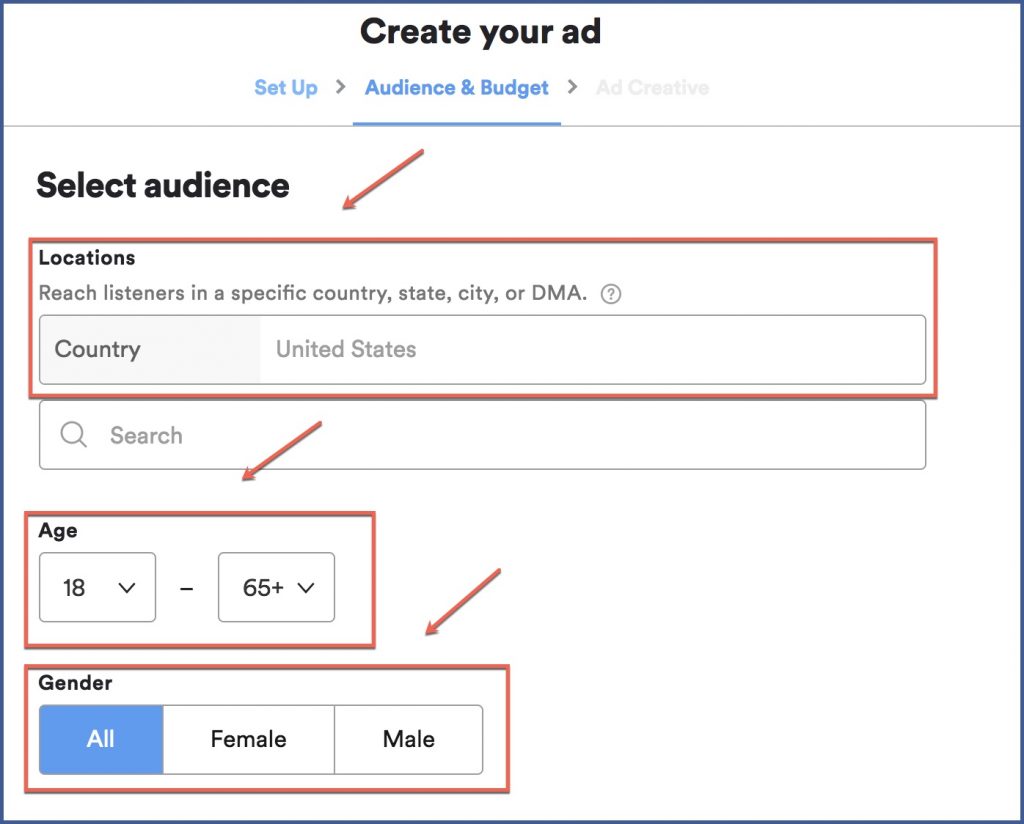 Step 3: Specify your budget and start and end dates.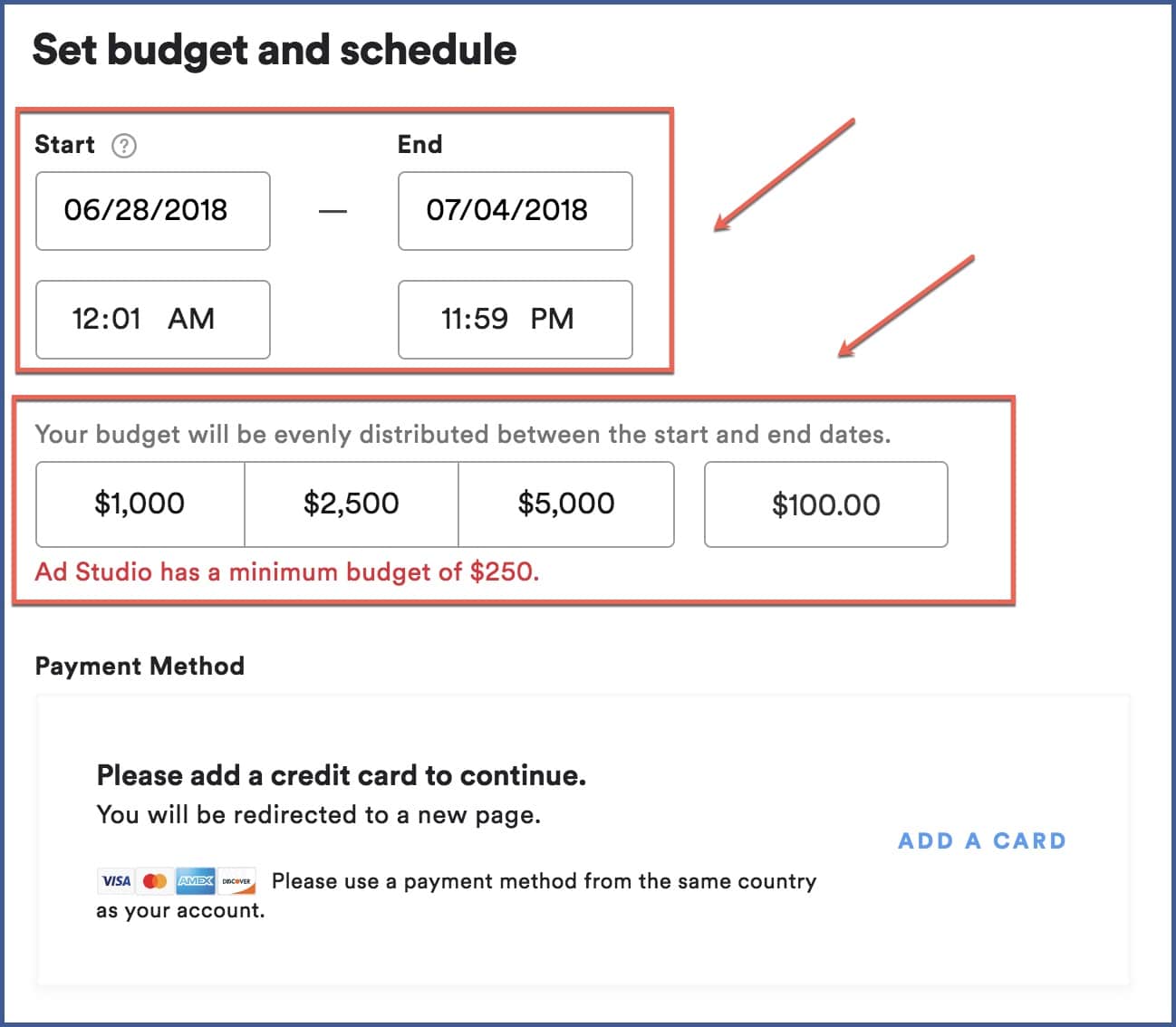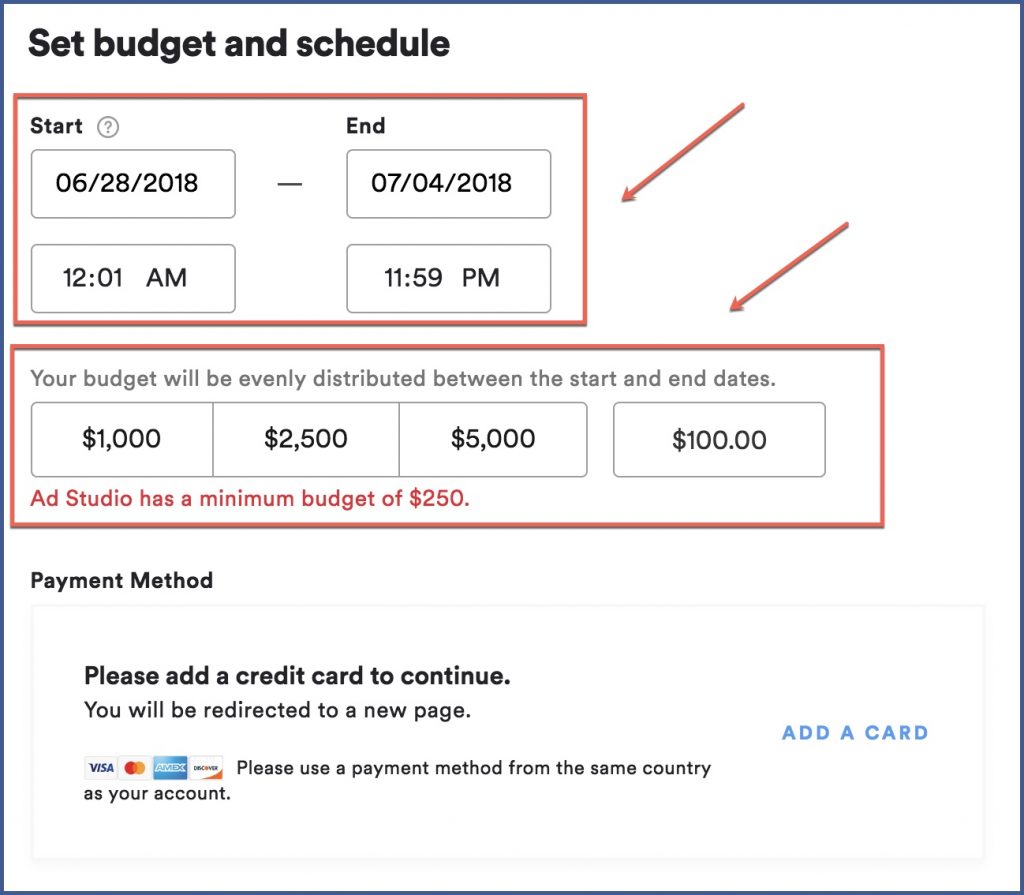 Step 4: Create your ad. You can either upload audio you've already created with the "Upload Audio" option or a script you've written with the "Request Voiceover" option, which Spotify will give to a voiceover actor to read for you.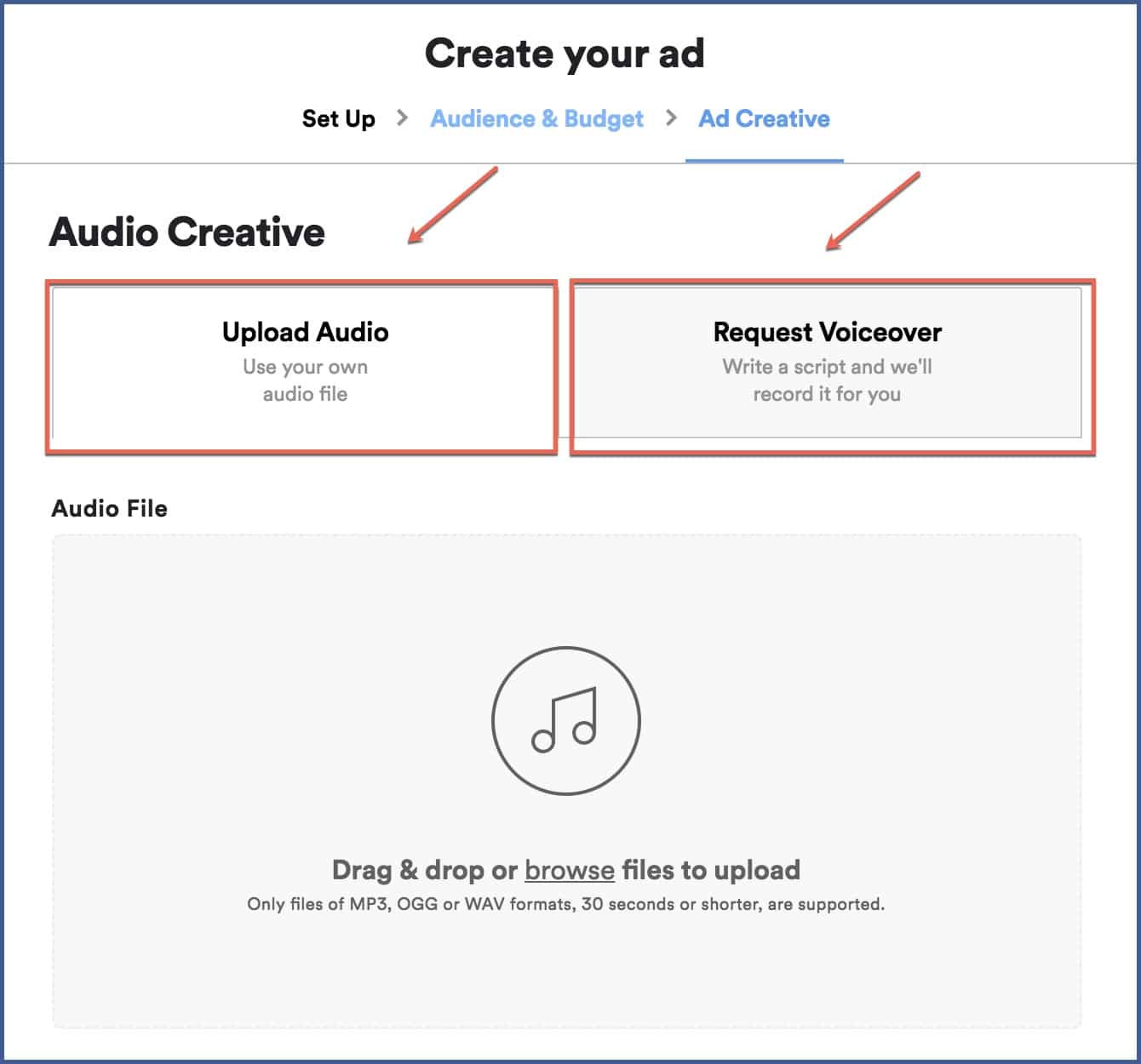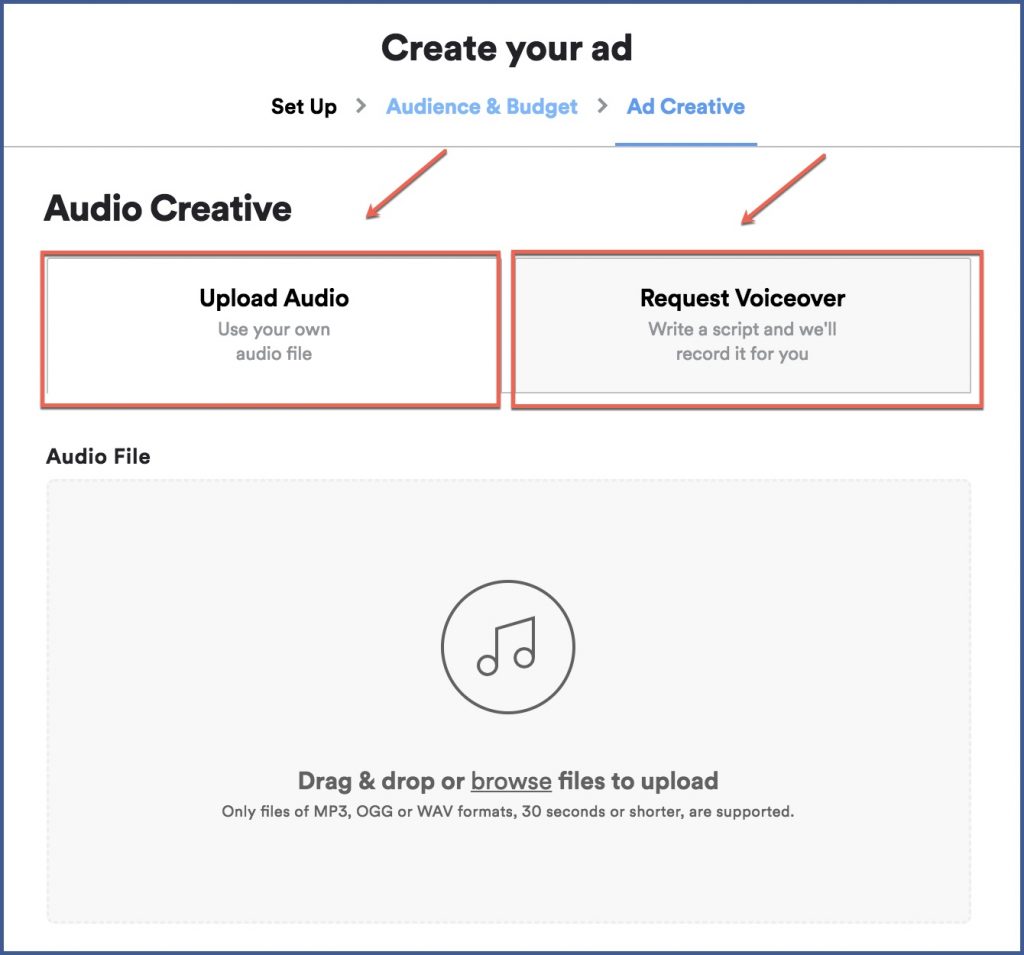 Step 5: Upload an image to display on listeners' screens while your ad plays. Also, enter a headline for your ad and a companion link, which will direct users to where you want them to go after clicking the ad.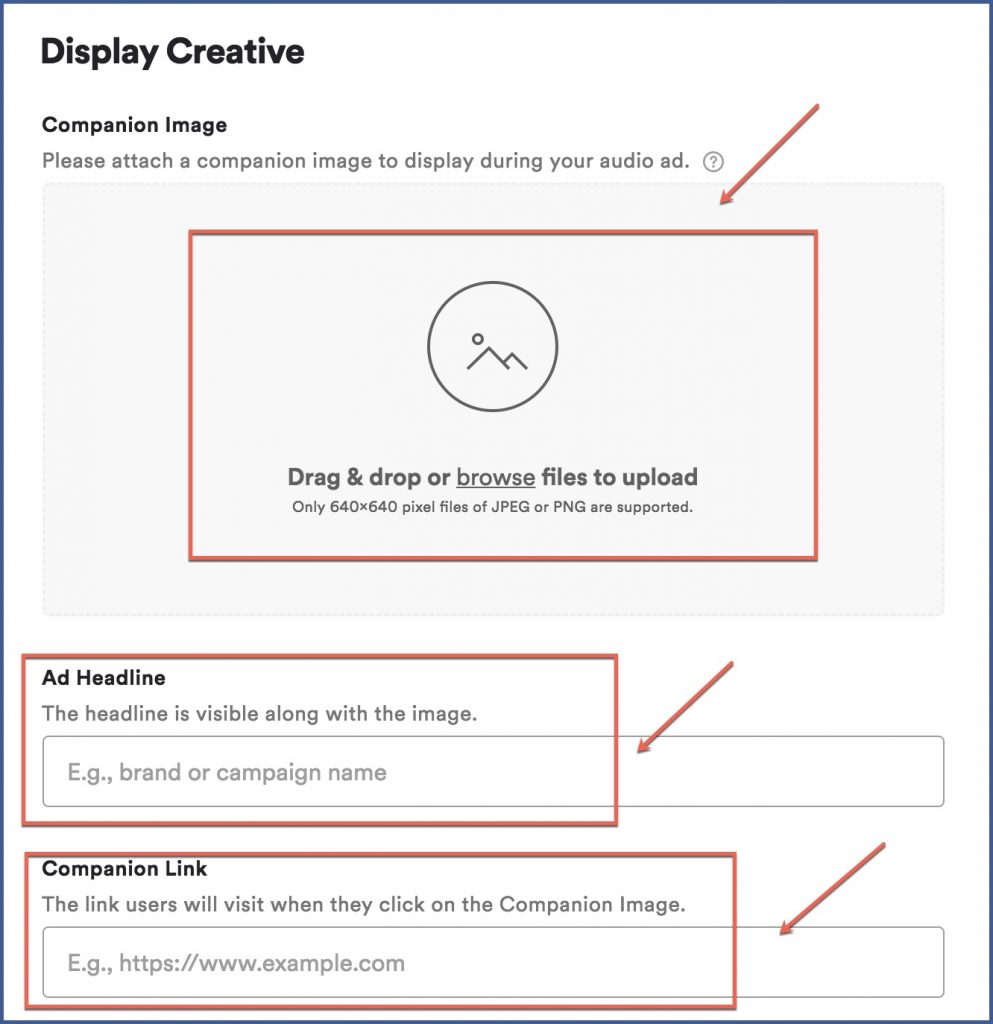 In no time at all, you have your audio ad. It takes only a matter of minutes to reach a worldwide audience. So if strictly visual ads aren't cutting it for your campaign, try shifting gears and appealing to people's sense of hearing. They're already on Spotify to listen. Let them listen to what you have to say.
Benefits of Spotify advertising
Spotify advertising offers a range of compelling benefits for businesses aiming to connect with their target audience in a unique and engaging way:
Engaging User Experience:

 Spotify ads are seamlessly integrated into users' music or podcast streaming sessions, ensuring high levels of engagement and minimal disruption.

Precise Targeting:

 Advertisers can target specific demographics, interests, behaviors, and even location, ensuring that ads reach the most relevant audience segments.

Varied Ad Formats:

 Spotify offers a range of ad formats, including audio ads, video ads, and sponsored playlists, allowing advertisers to tailor their approach to their brand and campaign goals.

Brand Association:

 By aligning ads with music genres, moods, or themes, brands can create strong associations and evoke emotions that resonate with listeners.

Enhanced Brand Awareness:

 The ability to reach users during personal and emotional moments, such as music listening, contributes to heightened brand recall and awareness.

Measurable Results:

 Spotify provides detailed analytics that offer insights into ad performance, including impressions, clicks, and engagement rates, allowing advertisers to make informed decisions and optimize campaigns.

Cross-Platform Integration:

 Spotify ads can link to external landing pages or social media profiles, enabling users to explore more about the brand beyond the ad.

New Audiences:

 Spotify's diverse user base can help brands tap into new, untapped audiences and expand their reach.

Mobile Optimization:

 Given the popularity of mobile devices, Spotify ads are optimized for mobile, ensuring a seamless and user-friendly experience.
Fact about Spotify advertising
The average CPM for Spotify ads is $5.

Spotify has over 515 million active users worldwide

In 2022, Spotify generated $6.1 billion in ad revenue.

The average cost per click (CPC) for Spotify ads is $0.50.

The average conversion rate (CVR) for Spotify ads is 2%.
Conclusion
Creating compelling Spotify ads is an art that intertwines creativity, strategy, and data-driven decision-making.
By understanding the nuances of Spotify advertising, setting clear objectives, crafting engaging content, targeting the right audience, and analyzing performance metrics, you're well on your way to amplifying your brand's message in the digital soundscape.
FAQ's
How do I get started with creating a Spotify ad?
To begin creating a Spotify ad, you'll need to set up a Spotify Ad Studio account. This account provides access to the tools and resources necessary for crafting and launching your ad campaign on the platform.
What are the different types of Spotify ad formats available?
Spotify offers a range of ad formats, including audio ads, video ads, and sponsored playlists. Each format has its unique benefits and caters to different ways of engaging with the audience.
How do I design engaging content for my Spotify ad?
Designing engaging content involves crafting compelling audio scripts, captivating visuals, or curating playlists that resonate with your target audience. It's important to align the content with your campaign's objective and ensure it captures listeners' attention effectively.
How can I target my Spotify ad to the right audience?
Spotify provides precise audience targeting options, allowing you to define your audience based on demographics, interests, behaviors, and even location. This ensures your ad reaches the most relevant listeners who are likely to engage with your content.
How do I measure the success of my Spotify ad campaign?
Measuring the success of your Spotify ad campaign involves monitoring key performance metrics such as impressions, clicks, engagement rates, and conversions. These insights, available through Spotify's analytics, help you assess the impact of your ad and make data-driven adjustments for optimal results.