What is the Facebook fan page?
Before diving into the creation process, let's understand what a Facebook Fan Page is and how it differs from a personal Facebook profile. A Facebook Fan Page is a dedicated space for businesses, brands, public figures, and organizations to represent themselves on the platform.
Unlike personal profiles, Fan Pages allow businesses to share content, interact with followers, and access valuable insights to track page performance. This separation between personal profiles and Fan Pages ensures businesses maintain a professional online presence while effectively engaging with their audience.
With a Facebook Fan Page, businesses can leverage various features, such as posts, events, and messaging, to communicate with their followers and create meaningful interactions.
The page serves as a central hub where customers can find essential information about the business, its offerings, and upcoming events.
Whether you're a small business owner or a global brand, having a well-optimized Facebook Fan Page can significantly impact your digital marketing efforts.
Creating a Facebook fan page.
Want to start a fan page? Don't know where to begin? Don't worry, creating your own fan page is fast and easy. You don't need to start a brand new Facebook account to create one. Follow the steps below to create your fan page.
Get Started
Go to your news feed at facebook.com. Click "Create Page".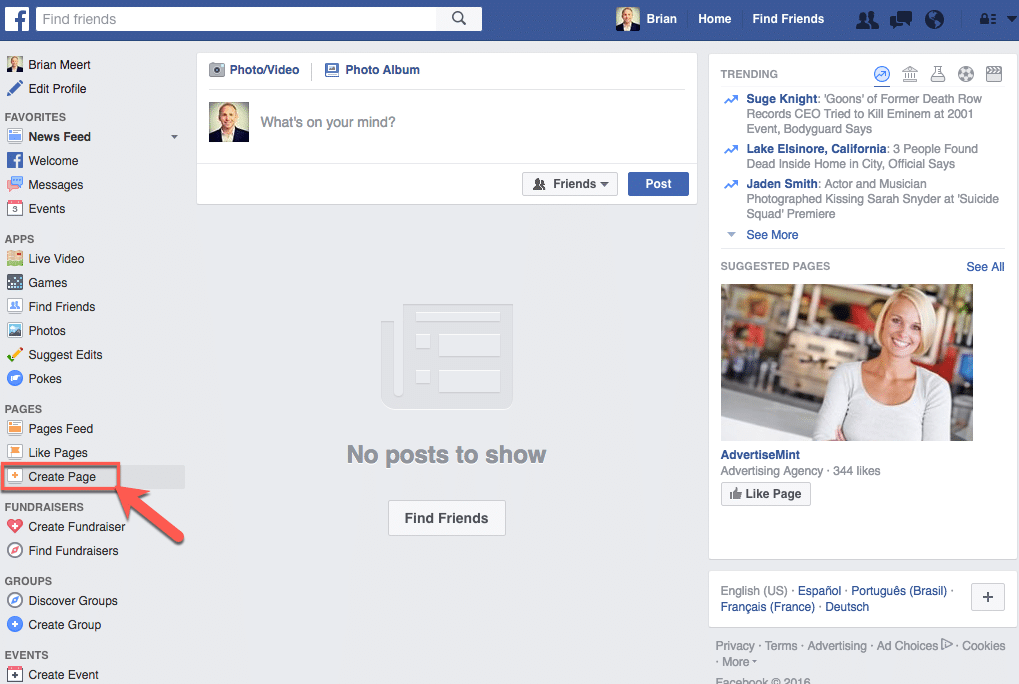 Choose page type.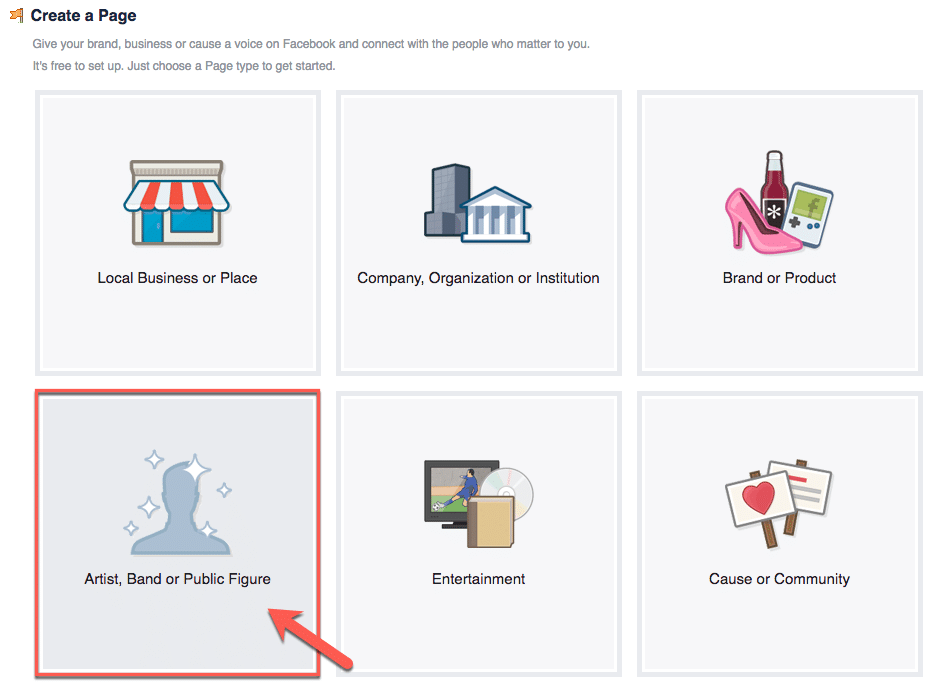 Fill required information and click  "Get Started".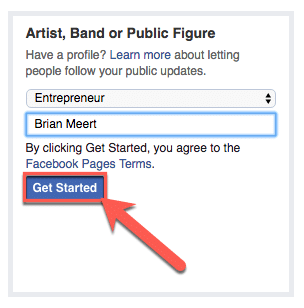 Add a description and click "Save Info".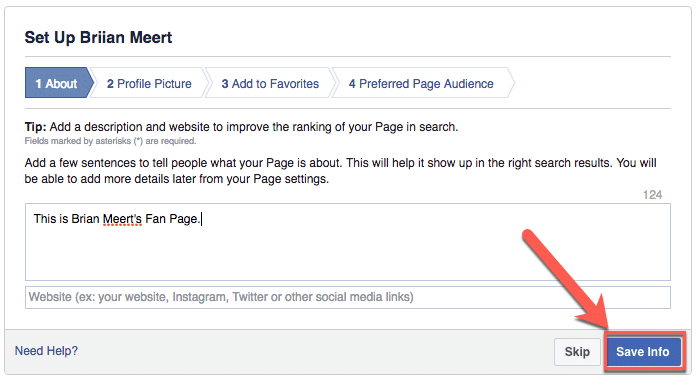 Add a profile picture by clicking "Upload From Computer".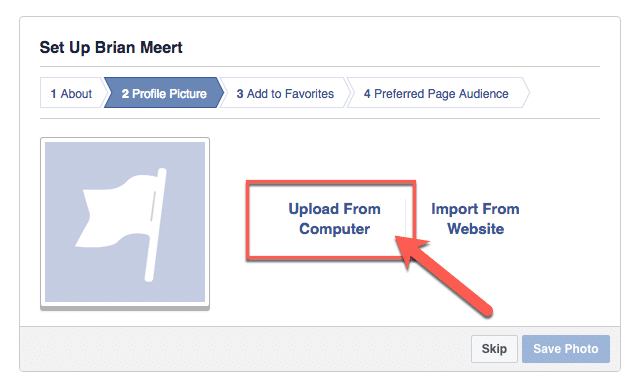 Choose photo then click "Next".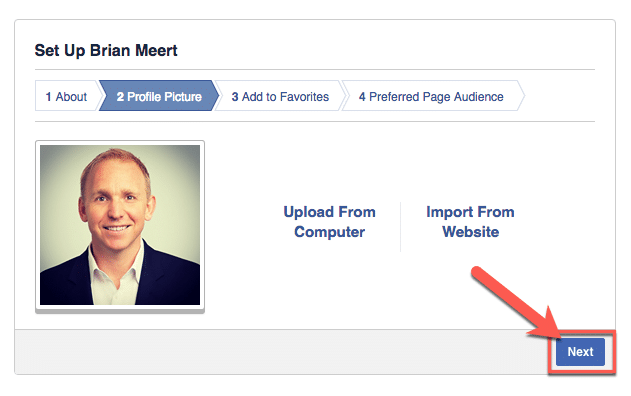 Add page to favorites for easy access. Click "Add to Favorites".
Click "Next".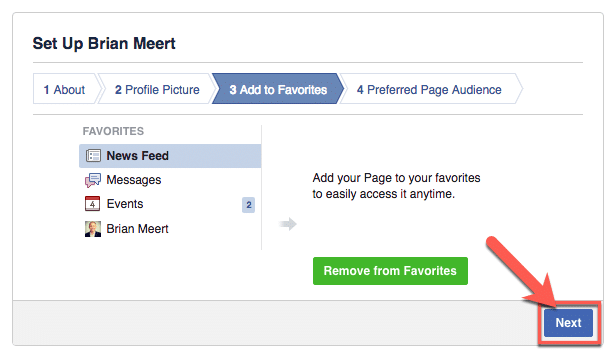 Choose a preferred page audience. Fill in information then click "Save".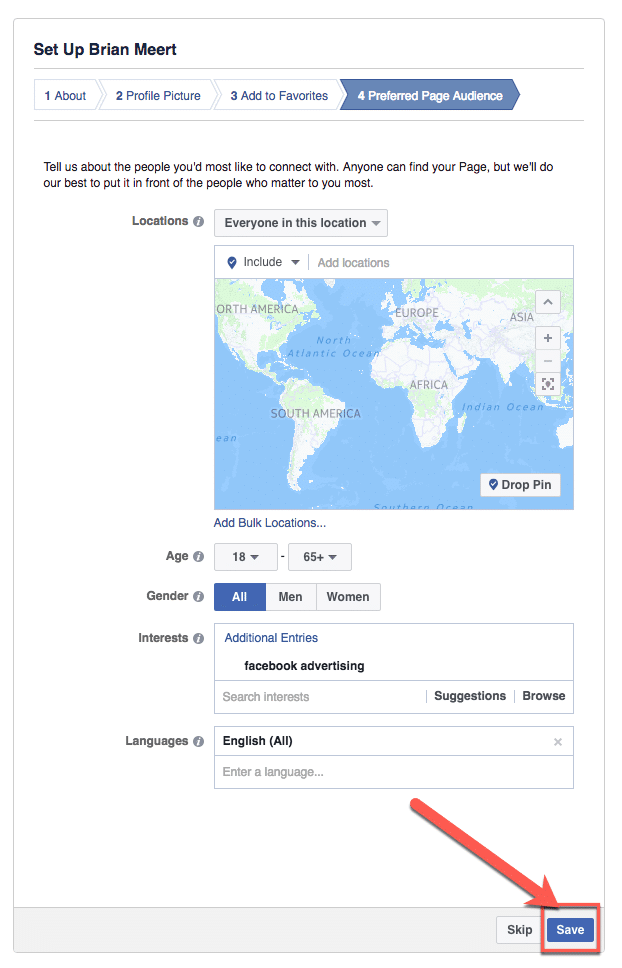 Congratulations! You have created your own fan page!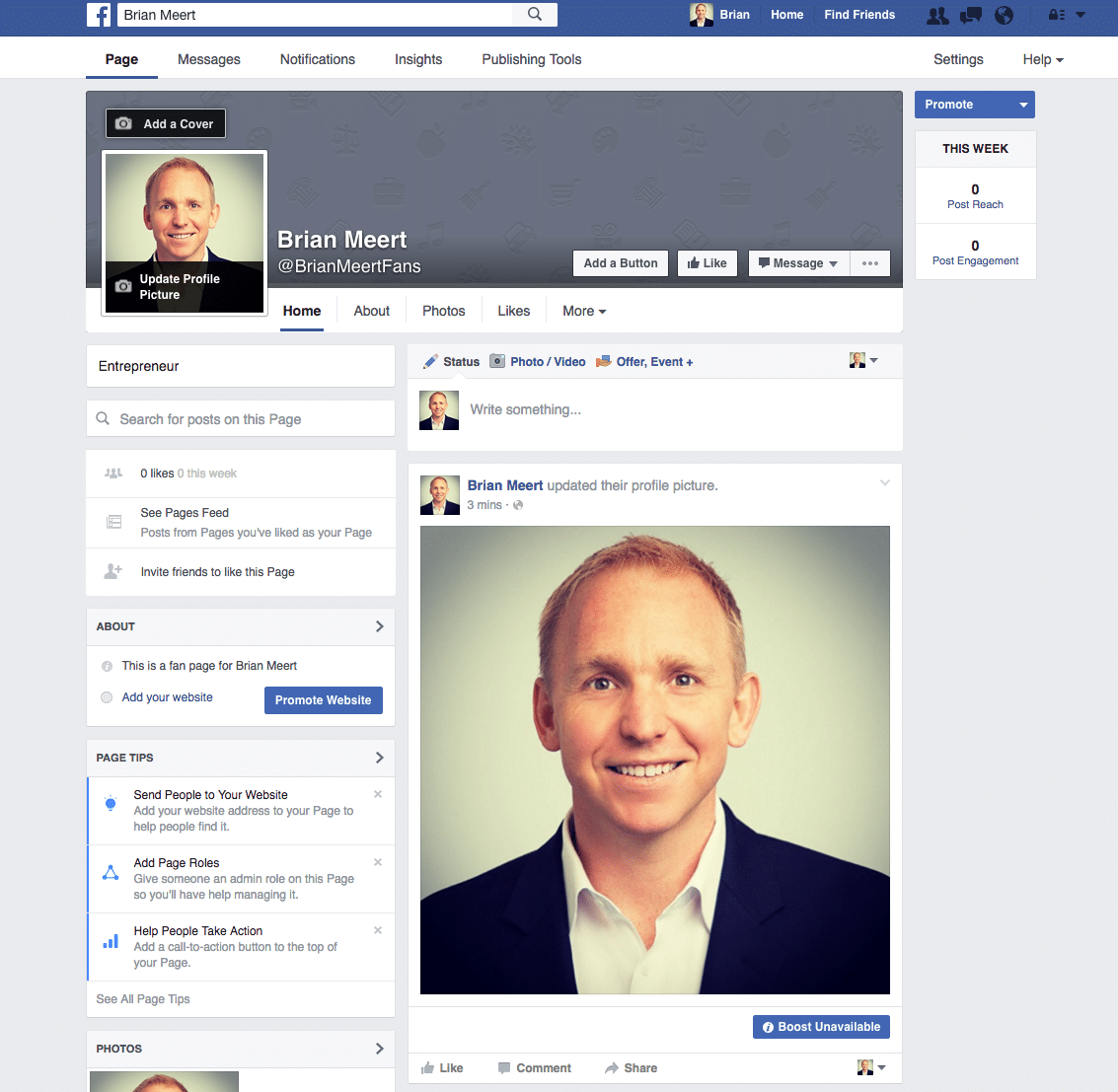 What's next? You can add personality to your page by uploading a cover photo.
Why should you create a Facebook fan page?
Creating a Facebook Fan Page is essential for businesses and brands seeking to establish a strong online presence and connect with their potential target audience effectively.
Unlike personal profiles, Fan Pages offer dedicated spaces for businesses to engage with followers, showcase their services or products, and build a loyal community. With over 2.9 billion monthly active users, Facebook provides unparalleled reach, allowing businesses to access a vast audience.
Furthermore, Fan Pages also offer valuable insights through Facebook Page Insights, enabling businesses to track performance, understand audience engagement, and refine their content strategy.
By creating a well-optimized Fan Page, businesses can leverage Facebook's powerful platform to increase visibility, drive engagement, and foster meaningful customer interactions.
Integral components of a Facebook fan page.
Profile Picture and Cover Photo: The profile picture is an image that appears next to your posts and comments, representing your brand or business. The cover photo is a large banner image that spans the top of your Fan Page, providing an opportunity to showcase your products, services, or brand identity.
Page Name and Category: The page name is the title of your Fan Page, and it should be easily recognizable and aligned with your brand. Choosing the right category is crucial as it helps Facebook categorize and recommend your page to the relevant audience.
About Section: This section allows you to provide essential business information, such as the business address, website link, phone number, and a brief business description. A well-crafted description can entice potential customers and provide valuable insights into your brand.
Username and Vanity URL: The username is a custom URL for your Fan Page, making it easier for users to find your page. A vanity URL typically includes your page name and is more user-friendly.
Call-to-Action Button: The CTA button appears below the cover photo and directs visitors to take specific actions, such as contacting your business, visiting your website, or making a purchase.
Tabs and Sections: Facebook Fan Pages come with various tabs and sections, such as posts, photos, videos, events, and more. These sections allow you to organize and showcase content relevant to your brand and audience.
Page Settings: Page settings allow you to manage page roles, privacy settings, messaging preferences, and other essential configurations to tailor your Fan Page's functionalities to suit your business needs.
Content and Posts: Engaging content is at the heart of a successful Fan Page. Regularly posting high-quality content, such as images, videos, articles, and updates, is crucial for building a loyal community and encouraging user interaction.
Audience Insights: Facebook provides Page Insights, offering valuable analytics on your page's performance, audience demographics, engagement metrics, and more. Utilizing these insights allows you to optimize your content strategy and better understand your audience's preferences.
Community Interaction: Interacting with your followers is vital for fostering meaningful connections. Responding promptly to comments, messages, and reviews shows that you value your audience's feedback.
Some facts about Facebook advertising
The average Page engagement rate is 0.07%.
The average Page reach is 17%.
The average Page engagement time is 2 minutes and 27 seconds.
Over 500 million have access to fan insights.
The average Facebook Page has over 10,000 fans.
The most effective days to post on Facebook are Wednesdays and Thursdays.
Conclusion
Establishing a strong online presence for your business or brand requires creating a Facebook Fan Page. With the help of this step-by-step guide, you can create an attractive and interactive Fan Page that highlights your business, connects with your intended audience, and encourages valuable engagements.
Making sure you engage with your followers regularly by responding to their feedback timely and taking advantage of the insights provided by Facebook Page Insights can help boost your Fan Page's effectiveness.
With dedication and a well-optimized Fan Page, you can tap into Facebook's massive user base and elevate your business to new heights in the digital landscape.
FAQ'S
Why do I need a Facebook Fan Page for my business?
A Facebook Fan Page offers a dedicated space for businesses and brands to connect with their audience, showcase products or services, and build a strong online presence. It provides essential features like engagement insights, call-to-action buttons, and targeted advertising options, helping businesses reach a wider audience and foster meaningful interactions.
Can I create a Fan Page without a personal Facebook account?
No, you need a personal Facebook account to create and manage a Fan Page. The Fan Page is linked to your personal account for administrative purposes. However, your personal information remains separate from the Fan Page's content and interactions.
How do I choose the right category for my Fan Page?
When creating a Fan Page, you'll be prompted to choose a category that best represents your business or brand. Select a category that closely aligns with your offerings, as this helps Facebook recommend your page to relevant users and ensures it appears in relevant searches.
What types of content should I post on my Fan Page?
Your Fan Page content should resonate with your potential target audience and align with your brand identity. Post a mix of engaging visuals, informative articles, videos, promotions, and updates about your products or services. Consistency and variety in content help keep your followers engaged and encourage interactions.
How can I measure the success of my Facebook Fan Page?
Facebook provides Page Insights, a comprehensive analytics tool that offers valuable data on your page's performance. You can track metrics like reach, engagement, follower demographics, and post effectiveness. Regularly reviewing these insights helps you refine your content strategy, optimize posts, and make informed decisions to enhance your Fan Page's impact.