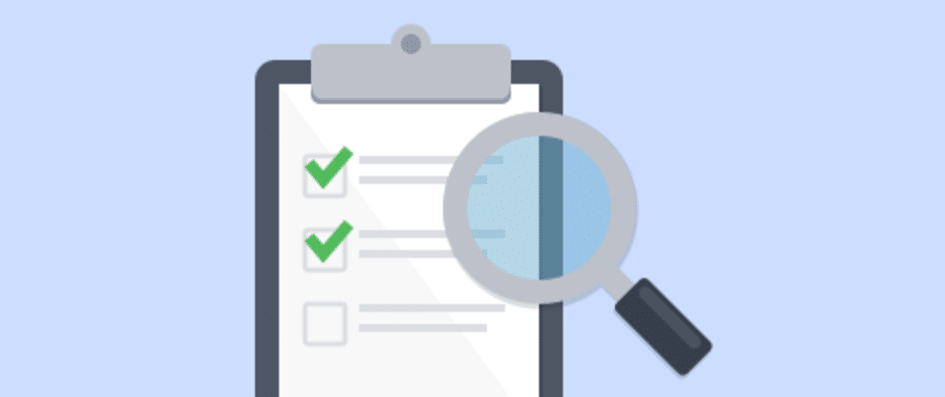 Update December 16, 2019, 5:07 p.m.: Facebook removed gray verification badges from business pages. Those with gray verification badges no longer have them. Those who want to obtain a gray verification badge can no longer apply for one. Blue verification badges still remain. Only public figures, media companies, and brands can obtain a blue verification badge. You can apply for a blue verification badge by submitting this contact form.  
For more information on this change, read this article.
If you own a Facebook page categorized under local business, company, or organization, then your page is eligible for a gray verification badge. You've likely seen this before. Have you ever noticed small blue check marks next to celebrities' profile photos on various social media networks such as Facebook, Instagram, or Twitter? Then you've seen a verification badge. Verification badges let your page visitors know that your page is authentic. The first couple of hits that you get for any search are likely your most reliable backup options. For example, find an advertising agency when using the phrase "advertise agency" to get the most authentic options.
While blue verification badges are for public figures, celebrities, and brands, gray verification badges are for businesses and companies.
If you want to verify your page, you can do so from your page's settings. Note, however, that only pages with a profile and cover photo are eligible. If you own a Facebook page categorized under local business, company, and organization but you don't have a profile or cover photo, then you can forget about it. You're not eligible for the badge.
You can verify your page in two ways:
With a phone number
With a document
Verify Your Facebook Page with a Phone Number
Step 1: Go to Page Settings
Go to your page then go to Settings. The settings tab is located on the right side of your screen, above your cover photo.

If you have a Business Manager account, you will need to go to Business Manager to access Settings.

Your Settings tab from Business Manager is also located on the right side of your screen, above your cover photo.

Step 2: Go to Page Verification
From "General" go to "Page Verification" and click "Edit."


Step 3: Verify the Page
Click "Verify this Page."


Step 4: Provide Business Phone Number
Enter the publicly listed phone number for your business or organization then click "Call Me Now." Facebook will call the number you provided and give you your verification code.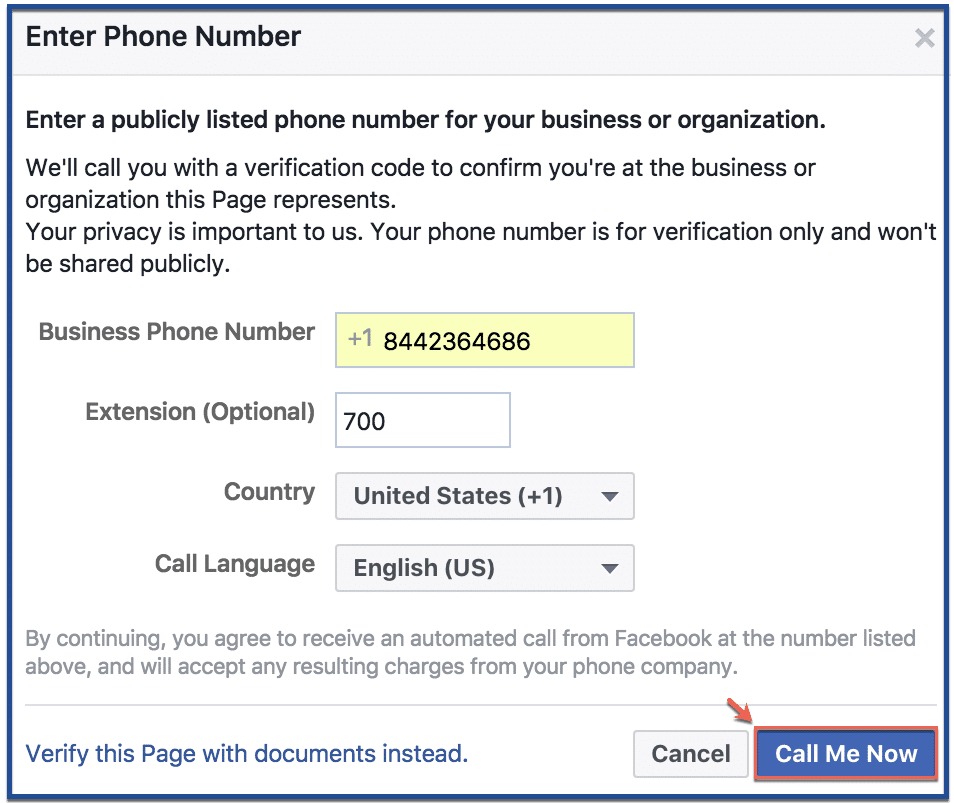 Step 5: Enter Code to Verify
Enter the code to verify your Facebook page.
Verify Your Facebook Page with a Document
Step 1: Verify with a Document
Verify your page with a document by clicking "Verify this Page with documents instead."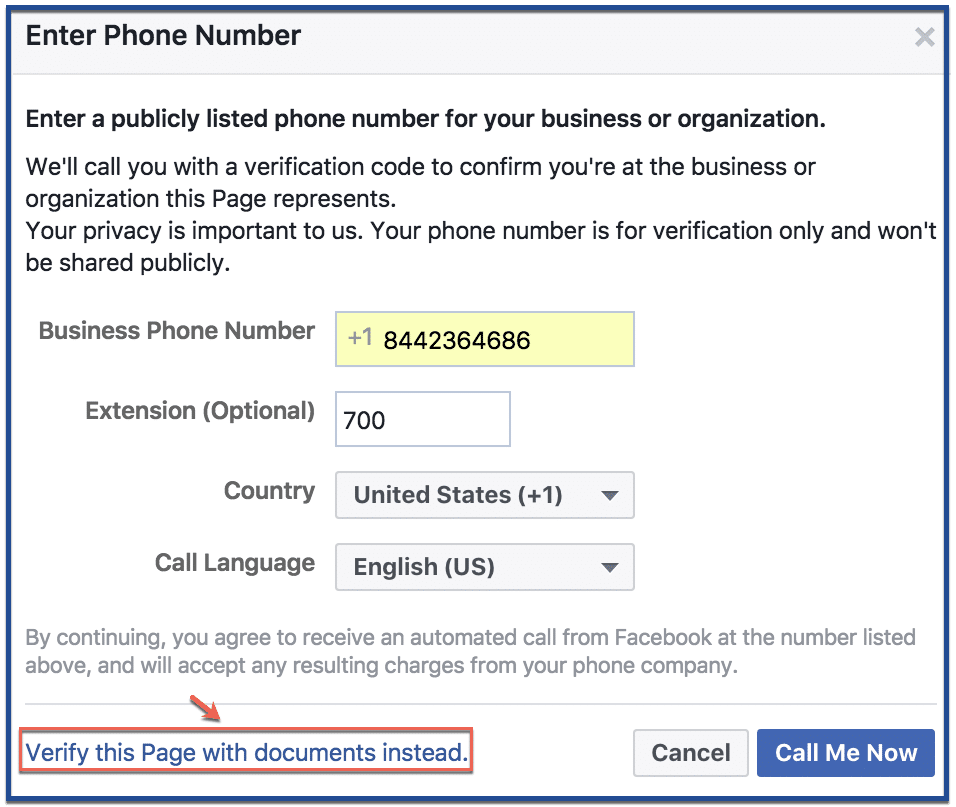 Step 2: Upload Document
You can upload a business utility or phone bill, business license, business tax file, certificate of formation, or articles of incorporation. The information you share will not be shared to the public.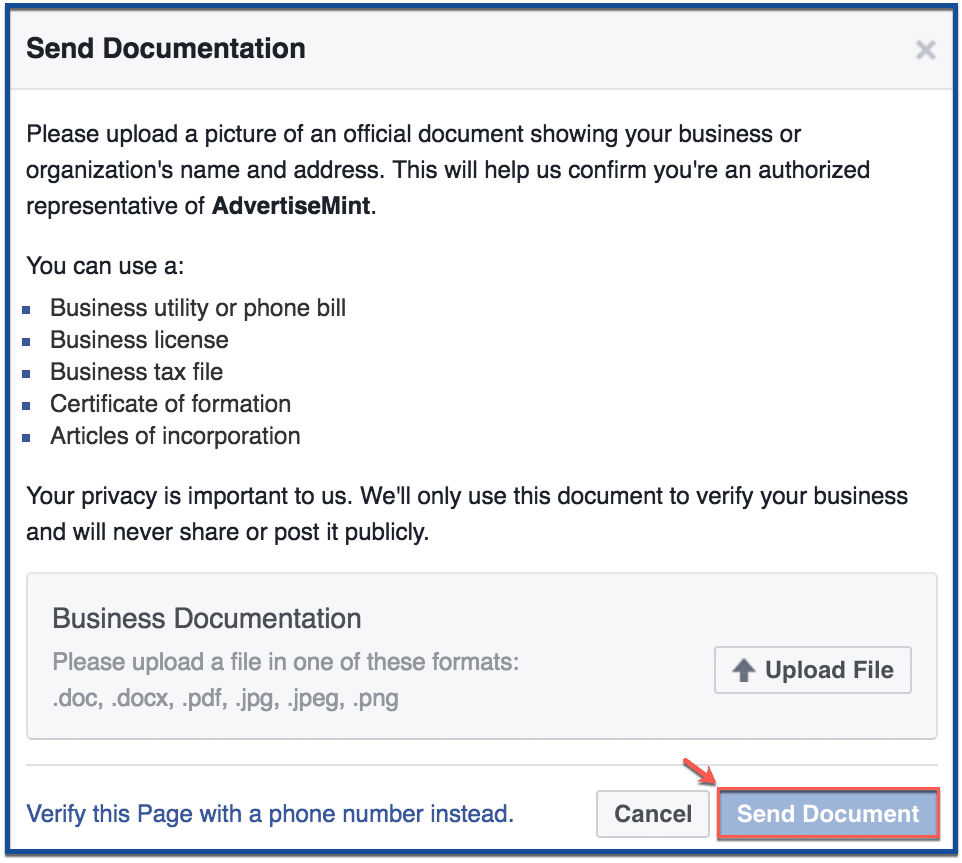 Step 3: Wait
You will receive a confirmation stating that the document you provided is under review. You will hear from Facebook via email within a few days.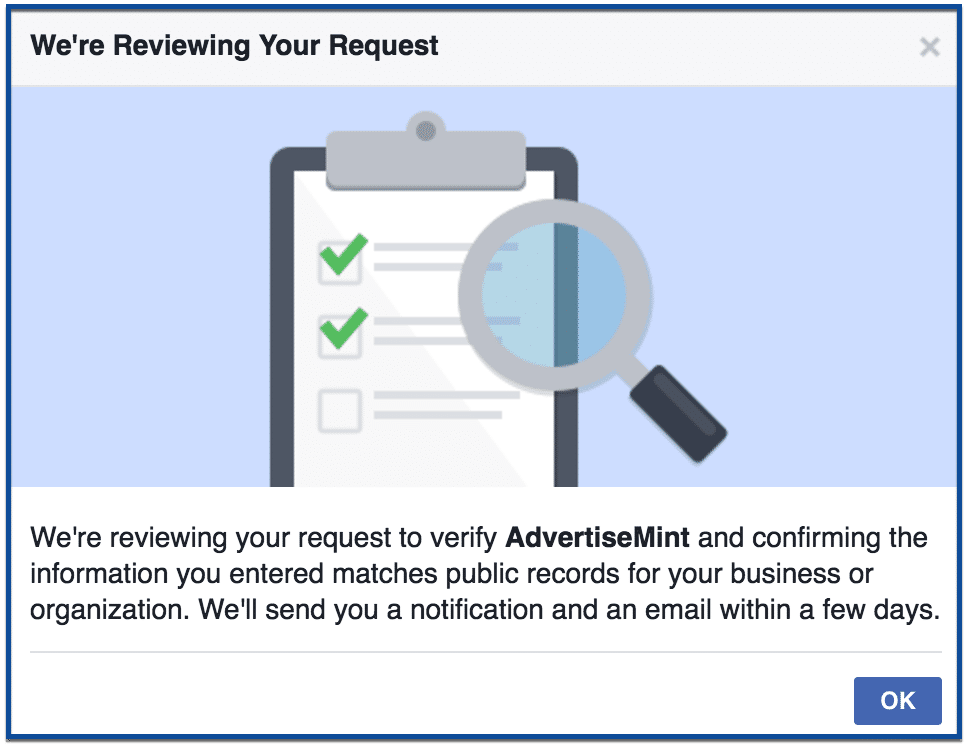 Do you know people who need to verify their Facebook pages? Then share this how-to.