Oct. 22, 2019, 12:15 p.m. This article has been updated to include a response from AdvertiseMint's Facebook marketing partner.
Facebook will remove gray verification badges from business pages starting October 29, so keep this in mind if you're scoping out an advertise agency. Facebook has not yet announced this change in its newsroom page, but the notice appears above users' business pages.
According to a statement by a Facebook representative to Marketing Land, the social media giant is making the change based on feedback from users who were unsure of the purpose of gray verification badges.
"Based on feedback, we're removing the gray badge and focusing on other ways for businesses to show their authenticity on Facebook," said the Facebook spokesperson to Marketing Land.
When asked about the change, AdvertisMint's Facebook marketing partner explained users' hesitation to interact with pages with gray verification badges.
We've heard from customers they sometimes hesitate to interact with a gray-badged Page on Facebook, as they're not quite sure what it means. For this reason, we're removing the visual cue (gray checkmark next to the name of the Page). "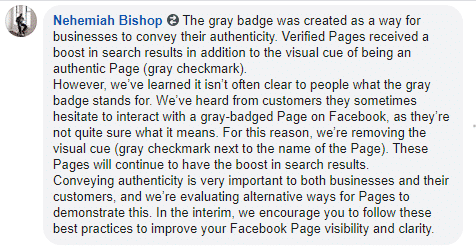 Currently, Facebook offers two verification badges, one gray and one blue. Blue verification badges indicate the page authenticity of a brand, celebrity, public figure, or media company. Gray verification badges indicate the authenticity of a business or organization's page.
Facebook distinguishes the two badges in this way:
If you see a blue badge on a Page or profile, it means that Facebook confirmed that this is the authentic Page or profile for this public figure, media company or brand. If you see a gray badge on a Page, it means that Facebook confirmed that this is an authentic Page for this business or organization."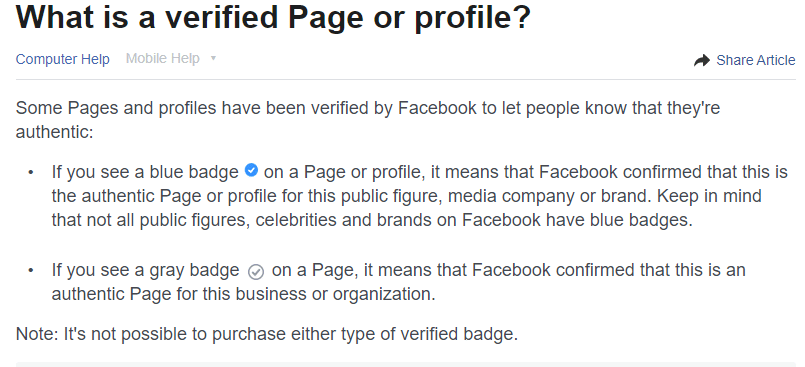 While gray verification badges will be phased out starting October 29, blue verification badges will still remain. Although it is unclear whether business page owners will now need to apply for blue verification badges, AdvertiseMint's Facebook marketing partner predicts the blue verification badges to only be available to well-known brands, public figures, and organizations that are often searched for.
According to the notice announcing the change, Facebook is "working on better ways to show that Pages are authentic," a hint that the social media company is finding a solution, perhaps a replacement, for the lost gray verification badges. In the meantime, Facebook recommends that page owners follow best practices to optimize for visibility and engagement, including completing their pages' profiles, including up-to-date information, and providing the correct contact information.
The Repercussions
With gray verification badges gone, pages for businesses and organizations will lose the credibility essential at a time when Facebook is rife with scams. Inauthentic profiles claiming to work for authentic businesses and agencies are currently a popular and persistent hoax. These scammers allege to be employees at a business or agency, request admin access to Business Manager or page accounts, then remove the original owner's access.
Verification badges distinguish the fakes from the real Facebook pages, and removing those badges will blur the lines between the authentic and inauthentic. Hopefully Facebook will open eligibility for blue verification badges to businesses and organizations, and hopefully the social media company will provide a solution soon.