UPDATE: Facebook has discontinued the Conversion Pixel and now utilizes the Facebook Pixel to track conversions. To learn more, please read our article on "How to install the Facebook pixel on WordPress"
In order to get the most out of the Facebook ad system, you'll need to install their conversion tracking script on the final page of your funnel. The conversation tracking script is a key resource for any Facebook marketing agency. You may associate it with the "order confirmation" page for e-commerce or a "thank you" page for lead generation. Here is a quick overview of how to install the Facebook conversion pixel on WordPress in under 5 minutes.
Step 1: Install & Activate the "Facebook Conversion Pixel" Plugin
Go to the plugins section and search "Facebook Conversion Pixel". Install, activate and head to the settings area for this plugin.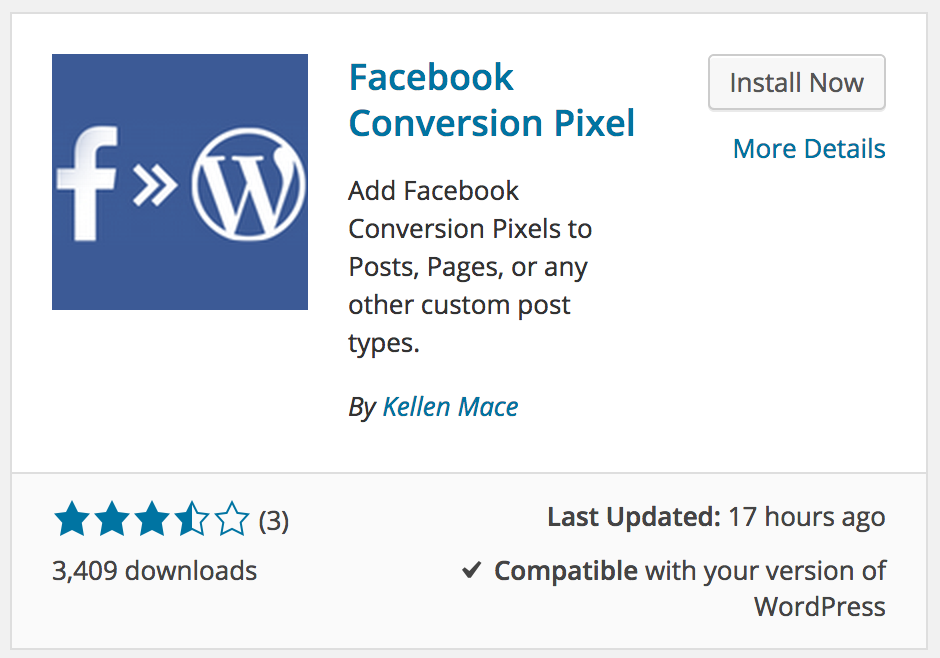 Click "Activate Plugin" to enable it.

Click the "Settings" link to visit the settings section for the Facebook Conversion Pixel Plugin.

Once you get to the settings area. You can assign the content types that will show the option to add Facebook conversion pixel to in WordPress. This will usually be a single page such as a "Thank You" page or an "Order Complete" page. Click Save if you make any changes.
Step 2: Generate the Facebook Conversion Pixel from Facebook
You will need to have a Facebook ad account created, whether you are managing it yourself or have reached out to a Facebook ads agency. Using the ad manager (https://www.facebook.com/ads/manage) or business manager (https://business.facebook.com), navigate to the "Conversion Tracking" in the left side menu and then select the green "Create Pixel" button.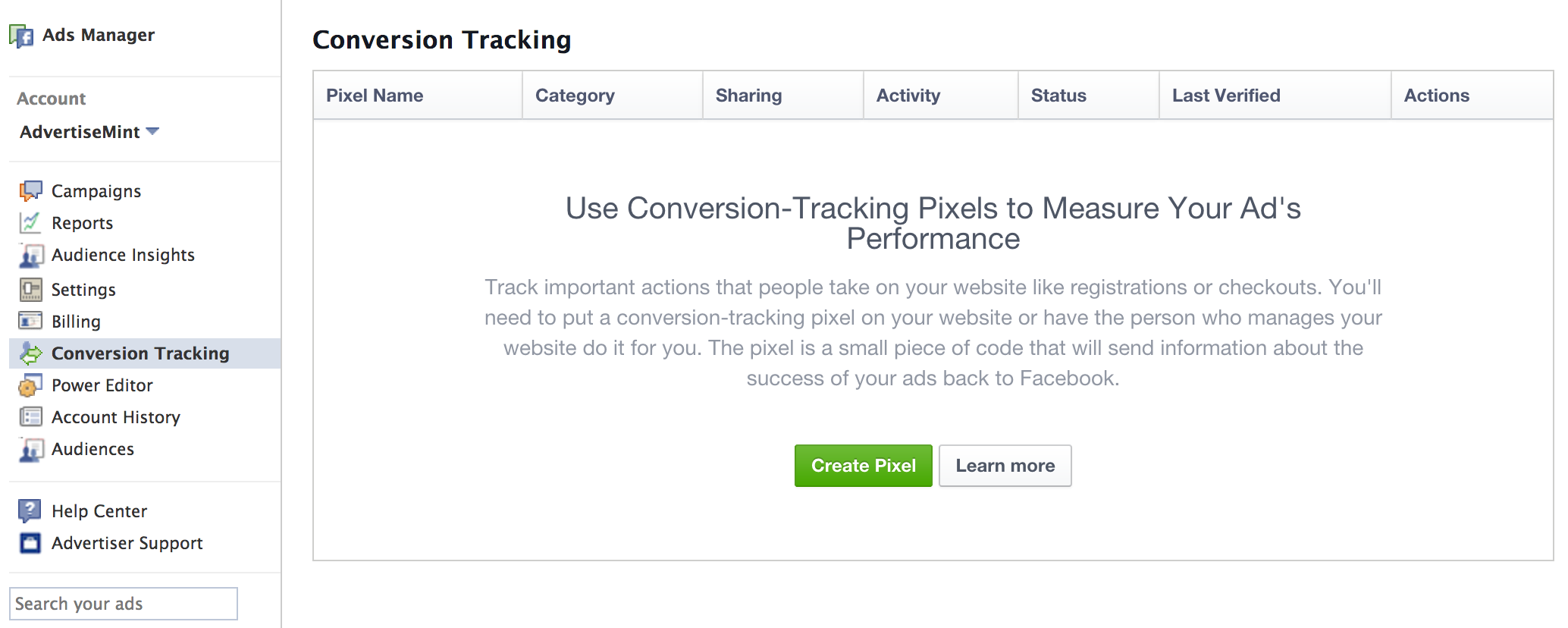 Select the category of the conversion you want to track. Facebook gives you a few options to select from. Most people will just use on of the following:
Checkouts for e-commerce sites.
Registrations for events or teaching related sites.
Leads for lead generation or sign ups.
Give your Facebook conversion pixel a name (something like: My Site New Lead) and select "Create Pixel".
You will now be able to view the conversion pixel code. Copy this code and head back to your wordpress site.
Step 3: Install your Facebook Conversion Pixel onto your targeted pages. 
Now that you have the conversion pixel, head to the page(s) you want this added to. Remember that if you selected "pages" in the Facebook Conversion Pixel Plugin settings, you will only see this option on your pages, not posts. If you want to see it on your posts, you will need to enable that option as well. My advice is to only enable it for the fields that you will be using that indicate a final conversion.
When you get to your thank you page, click "edit page" and you will see a section for the Facebook Pixel Conversion Code. Select the box next to "Insert Code" and then paste your conversion script into the lower box. Hit "Update" on the page and you're all set. This will automatically place your Facebook conversion pixel into the head of this page which is where Facebook requires it to be placed in order to track correctly.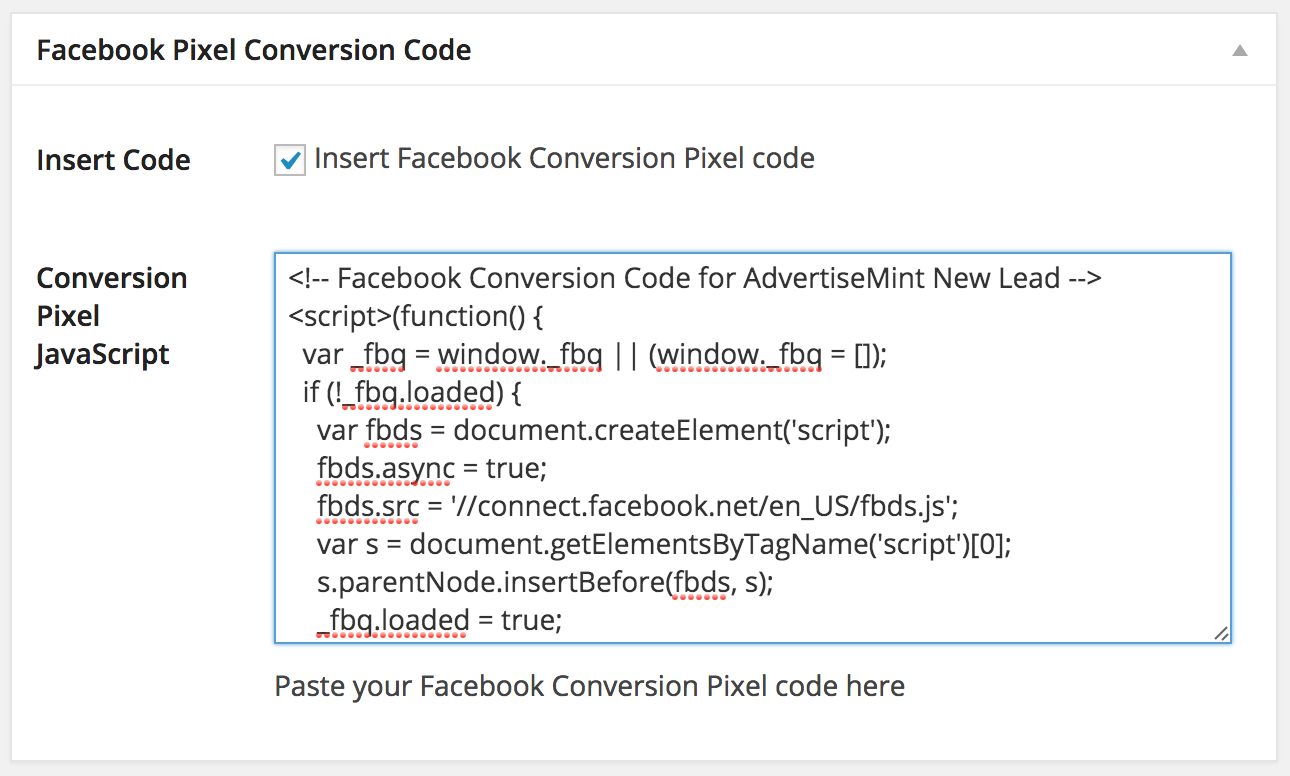 That's it. You're all set.