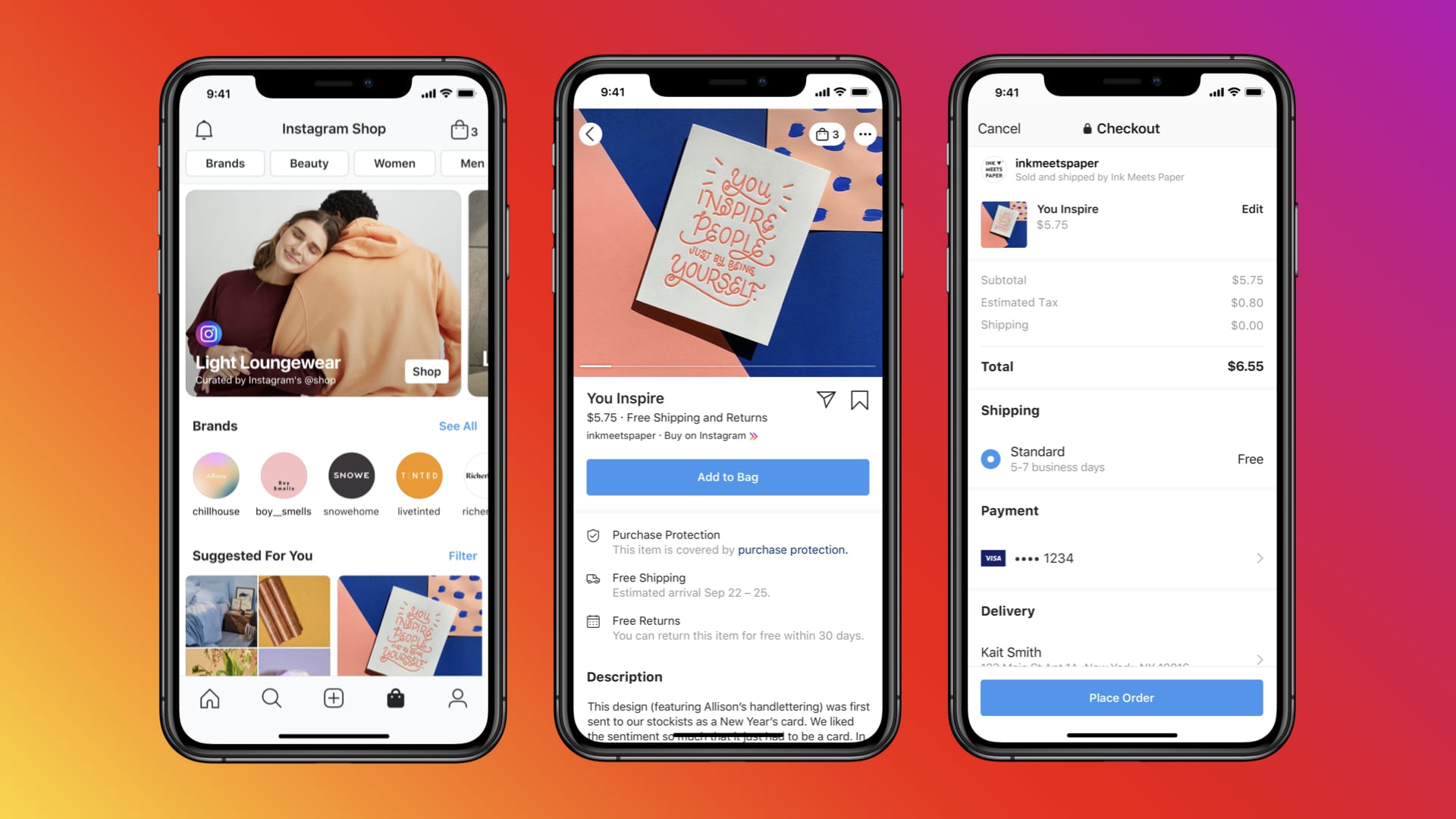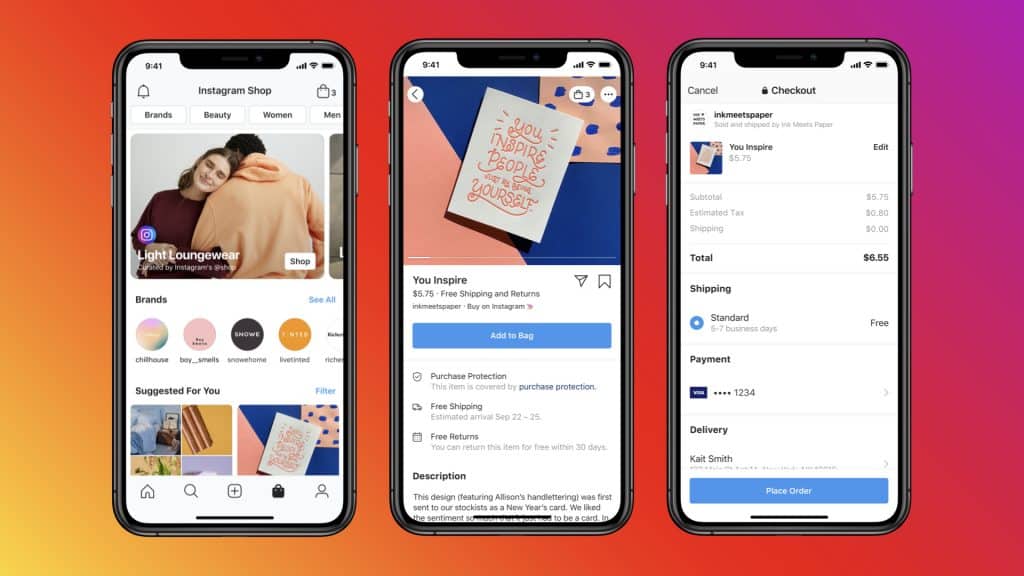 Facebook launched two new features that allow retailers to sell their products: Facebook Shops and Instagram Shops jazzing us all up over here at Advertisemint. 
Facebook Shops, also available on Instagram, is a place where retailers can create an online store for free and where customers can purchase from their product collections. Each collection contains a name, description, cover media, and 6 to 30 products, which can be organized according to themes. Customers can view product photos full screen and shop for items without leaving the Facebook or Instagram app, ultimately revolutionizing advertising on Facebook and Instagram.
Retailers can answer questions and offer support through WhatsApp, Messenger, and Instagram Direct. They may also be able to integrate their e-commerce platforms to the Shop, since Facebook is currently working with sites such as Shopify and BigCommerce to help retailers sell their products. Facebook is also planning to add more features to Shops, including live shopping and loyalty programs.
Facebook is slowly rolling out Facebook and Instagram shops, which are not yet available to all users. Eligible retailers — businesses with linked Facebook page shop and Instagram profile — will receive an email or notification letting them know Shops is now available to them.
Customers can access Shops from Facebook pages, Instagram profiles, and Instagram Stories.
To create a Facebook or Instagram shop, users must have a Commerce Manager account and a collection of products.
What Is Commerce Manager?
Commerce Manager is a platform that allows you to sell products, manage inventory, and fulfill orders. To use this feature, you must have a store on Shopify, BigCommerce, Channel Advisor, CommerceHub, Freedonomics, ShipStation, Quipt, or Zentail. With Commerce Manager, you can also do the following:
Upload inventory
Sell products with purchase protection
Get customer insights
Get tips on growing your sales
View all past, pending, and shipped items
View payment balance
Contact support
To create a Commerce Manager account, you must have the following documents:
A Federal Tax Identification Number
A State Tax Registration Number
Your bank account information
Your physical business address and email address
Business category, type, and name
A business representative name, SSN, and DOB
Shipping options, return policy, and customer service email
How to Create a Collection in Commerce Manager?
You can create your shops in Commerce Manager. If you're setting up a shop on Facebook, you must meet the following requirements:
You must be an admin of the page connected to your existing Facebook page shop.
You must be a Business Manager admin.
You must manage your Facebook page and catalog in the same Business Manager account.
If you're setting up a shop on Instagram, you must meet the following requirements:
You must be a page admin for the Facebook page connected to your Instagram Business profile.
You must be an admin of the Business Manager where you manage your Instagram Business Profile and Facebook page.
To create a collection in Commerce Manager, follow these steps.
Step 1: From Commerce Manager, click "Create Collection."
Step 2: Add your products and product details, including name, description, and cover media.
Name: The name can contain up to 20 characters, which can include emojis.
Description: The description is optional and can include a maximum of 200 characters.
Cover media: The cover media must have a ratio of 4:3 and a pixel size of 800 x 600.
Step 3: Click "Create Another Collection" to add a new collection or "Customize Your Shop" to add to an existing collection.
Facebook will review your collection to ensure it is compliant to its commerce policies. The review process takes up to 24 hours. Customers can see your collection after approval as is standard with advertising on Facebook.
How to Customize Your Shop in Commerce Manager?
You can customize your shop layout and style from the Shops tab in Commerce Manager using the Shop Builder tool. This tool allows you to do the following:
Preview changes
Add, remove, and arrange collections
Choose collection to feature in your shop
Change text size and button colors
Autosave changes
Step 1: In Commerce Manager click "Shops."
The Shops tab is only functional if you have existing collections.
Step 2: Click "Edit" on the shop you want to customize.
Step 3: Go to "Layout" to add collections on the top of your shop or at the bottom of your shop as a carousel.
Step 4: Go to "Style" to edit text size and link and button color.
Step 5: Click "Create Collection" to add another collection.
Step 6: Preview shop and publish.
How to Add a Collection to Your Instagram Profile Shop?
If you use Instagram Checkout, you can also add collections from the Instagram app. However, if you haven't yet created a collection for your shop, you would need to create your first one in Commerce Manager. To add a collection to your Instagram profile shop, follow these steps:
Step 1: Go to your Instagram profile.
Step 2: Click "Edit Shop."
Step 3: Click "Collections" then "Add."
Collections on Instagram automatically appear on top of your shop.
Step 4: Click "Done."
You can unpublish collections from your profile by clicking "Edit Shop" then "Collections" and selecting the collection you want to hide. You can re-publish hidden collections at any time.