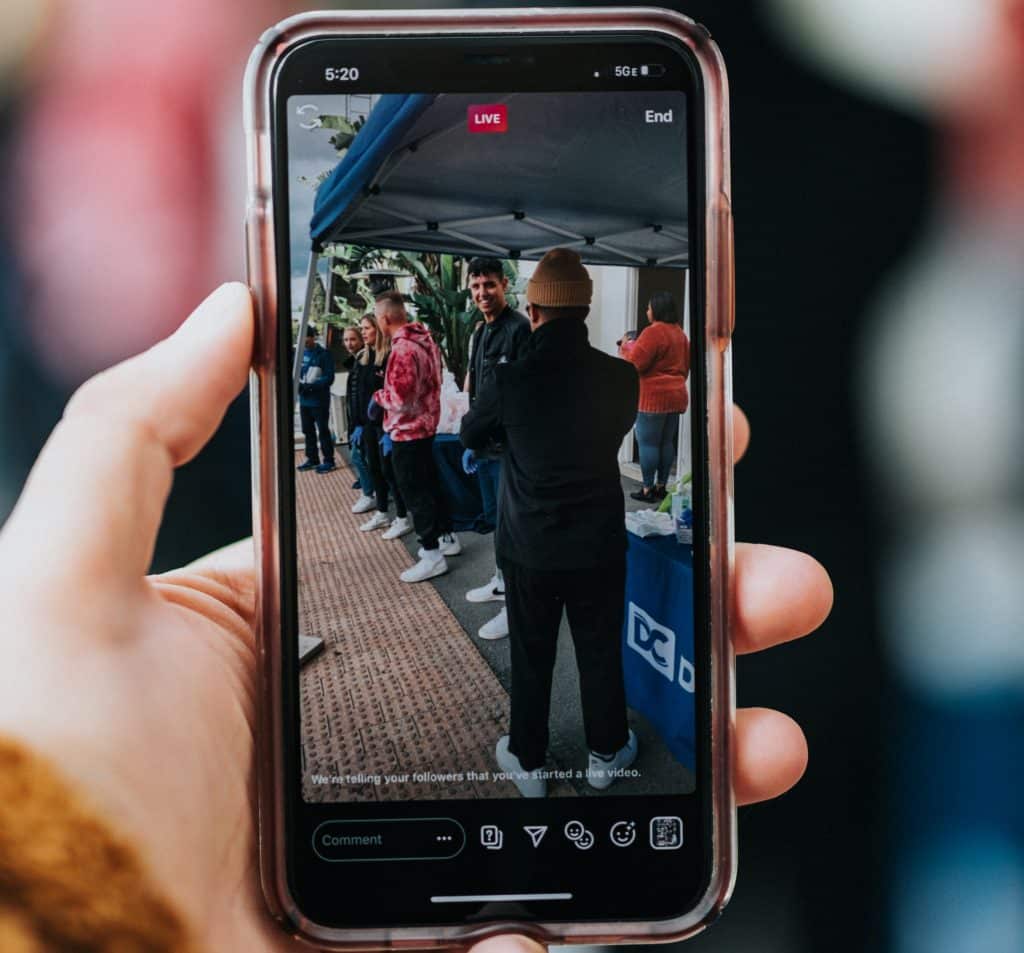 Nathan Dumlao /UnsplashIn today's digital era, where social media has dominated the digital landscape, live streaming is one marketing tool that has helped businesses gain more exposure while generating more leads and sales. Many businesses are inclining more toward social media platforms, like Facebook, Twitter, and Instagram to reach a large user base without any geographical boundaries. To survive in the competitive business space, you need to differentiate yourself in the market —  that is where live streaming can help you. 
If you are running a business that relies on people being at your physical location, you probably experienced a challenge in taking your business forward during the current coronavirus pandemic. Local businesses are seeing a dramatic decline in sales. In this situation, you may be thinking about what to do to save your business. The current pandemic is causing a significant rise in the use of live streaming tools by both individuals and businesses for different purposes. Leveraging live streaming for business purposes is a realistic way to future-proof your business and ensure you gain a competitive advantage in the industry.
Benefits of Using Live Streaming for Your Business
Live streaming offers a sense of excitement for your target audience. They make your customers feel inclusive and exclusive at the same time. Besides broadcasting live, you have the opportunity to interconnect and promote your live videos later on social platforms. 
Your viewers would be pleased to watch the richer content your live videos can produce, especially if you allow your audience to submit questions and interact with your brand. Live streaming has an unlimited range, and it opens up the possibility for a global audience to participate regardless of any geographical limitations. 
So, what are the other benefits of live streaming for businesses? Let's look into it.
Audience Growth
The internet is a large place, and reaching out to a global audience is no easy task. Although marketing can help you grow your audience base, not all strategies are effective in crossing geographical boundaries; whereas, live streaming is capable of achieving it. 
Live videos help you reach customers who otherwise wouldn't participate in interacting with your brand. Due to its real and authentic nature, live videos definitely get an advantage over pre-produced videos. 
Unique Interaction with Viewers
You can interact with viewers without any limits during live broadcasts, unlike other marketing tools. Live streaming establishes a personal connection your audience and gives your audience a personal experience with your brand. 
In the past, businesses were impersonal and didn't employ strategies to captivate the interest of their audience on a deeper level. However, the audience of today and its preferences have completely changed, and it becomes important for brands to personally connect with their audience to grow their business. The audience of today loves to know the business and the team behind it. Live streaming is a perfect way to do that, by showcasing the real side of your brand to your customers. Moreover, social live streaming platforms are now coming up with many important features that make it convenient for businesses to go live.  
More Engagement
There is no better way to interact with your customers than interacting with them live. The real-time interaction facilitates a conversation with your audience, which is the next best choice to personal interaction, but much scalable than that. The live aspect also pushes your customers to engage personally with your content. During live broadcasts, viewers want to be a part of it, and they are more likely to share it, too, with their peers and friends. 
More Trust
Building trust is one of the critical success factors of every business. Your customers will only prefer to do business with you if they have trust in your brand. The interactive feature of live streaming allows customers to create a connection with you. If they like what they see, the connection will help build trust. Another benefit of live broadcasting is the freedom it offers. There are no limitations. You can choose the time to go live, based on your convenience, and the topic. The content can be educational, commercial, promotional — the possibilities are limitless. 
More Content for Marketing
If you want to create more content for marketing purposes, you can choose to repurpose your live videos afterward. Once your live broadcast is finished, you can share it with social platforms as on-demand videos, which increases the exposure and reach further.
However, not all live videos can be repurposed in the same way. For example, if you are running a live product demo with a promotion, it might be beneficial even if you repurpose it. But, if you edit it, the product demo can be an educational piece that can benefit your audience, even long after your live stream ends.
How to Use Live Streaming to Grow Your Business
Now that you know the advantages of live videos, let's look into examples, live streaming trends, and ways to use live streaming to grow your business. 
Promote Product and Brand
You can use live streaming to showcase a product update, product release, or exclusive behind-the-scenes clip to your users. For example, if you own a fashion brand, you can give your customers a glimpse of your new product collection and demo. 
Generally, customers are used to watching post-production and edited content. If you can make your live videos more interesting and engaging, it can help with your brand and product promotion. For instance, Vogue conducted a live broadcast during the Met Gala to show the behind the scenes footage, which earned a lot of views and engagement. 
Engage with Live Blogging
Live blogging offers a great level of engagement with your brand as readers ask questions about the blog and express their feedback. You can use live streaming to continue the conversation with your readers in real time. For example, if you are doing a product review, you can broadcast live as a continuation to answer customer's questions. When professionally using live streaming, you also need to ensure that you cover the essentials and best practices for better results. 
Deliver Brand Presentations
If you are looking for effective ways to deliver brand presentations, there is no other way than live streaming. It helps you answer customer questions live as they view your product presentation. If you are conducting a small- or big-scale event, you can stream your presentation then go backstage and respond to the questions of your followers. Conducting live streaming of such events is a great way to activate your social media following. When you are live streaming, understanding how to set up live streaming events on a big scale can help, as it requires multiple cameras and a professional setup.
Broadcast Special Sessions and Seasonal Offers
By announcing special offers on special days in real time, your business gains a lucrative opportunity to bring in quality traffic to your website and social media. A simple social media post may just engage your viewers for a very short time, but a live video can increase the reach of your message. For example, Dunkin Donuts live broadcasted a tour of its test kitchen on Valentine's day, along with a big announcement. 
Conclusion
Compared to content marketing strategies, live streaming is one of the cost-efficient options out there. With live streaming, there are lots of possibilities to explore, and your customers will appreciate the effort. Regardless of the content you create, you must focus on your live streaming strategy to build a personal relationship with your existing and potential customers. Once you test different strategies, continue with what gives you a better performance in live streaming platforms, and ditch what doesn't perform better. Happy live streaming!