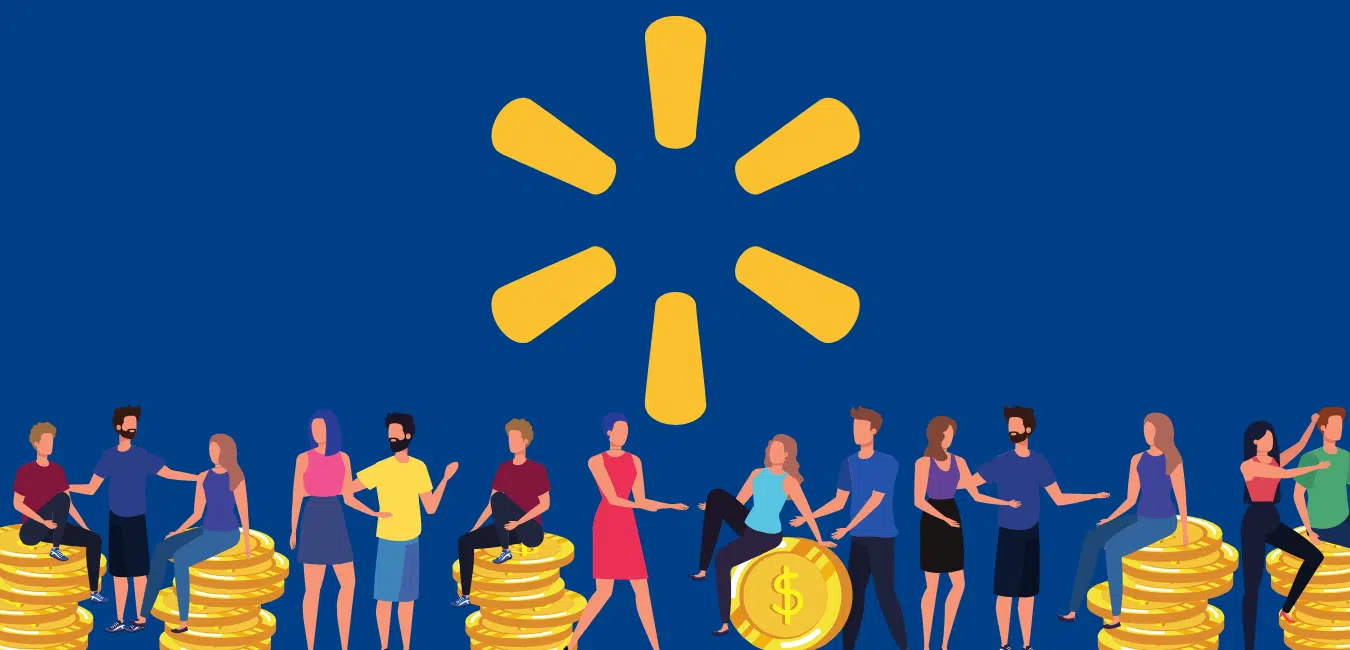 Walmart Connect is a media entity you should be paying attention to. It's well known that Walmart fiercely competes with Amazon for the title of America's largest retailer, but few know about its media company Walmart Connect, and its determination to become a key player in digital advertising. The retailer announced the launch of the Walmart Connect DSP in 2021, which has been one of their biggest moves as a media company yet.  
After months of waiting, Walmart Connect is finally here, and the platform's unique attributes look promising. If you're not sure how it works or why Walmart Connect might be advantageous for your business, read on!
What is Walmart Connect?
Walmart Connect is the retail company's advertising business. Previously called Walmart Media Corp., the company changed its name in 2021 after Walmart started investing heavily into its ad platform, rapidly creating new features and capabilities for advertisers.
Previously, the subject of Walmart advertising was largely reserved for large corporate brands or Walmart Marketplace sellers. Walmart was never considered a major digital advertising opportunity like Facebook or Amazon, but the company is on a mission to change that. From hiring former Amazon ad executives to launching a DSP, the retailer is clearly determined to make Walmart Connect a big deal in digital advertising.
Walmart's underestimated advertising potential
Walmart has good reason to start taking its advertising capabilities seriously. Just like Amazon advertising, Walmart gives businesses the opportunity to zero in on potential customers and capture their attention when they're most willing to buy products. The ability to advertise while audiences are shopping has major competitive advantages compared to platforms like Facebook or Google, which struggle to cover the entire sales funnel with its ad platforms.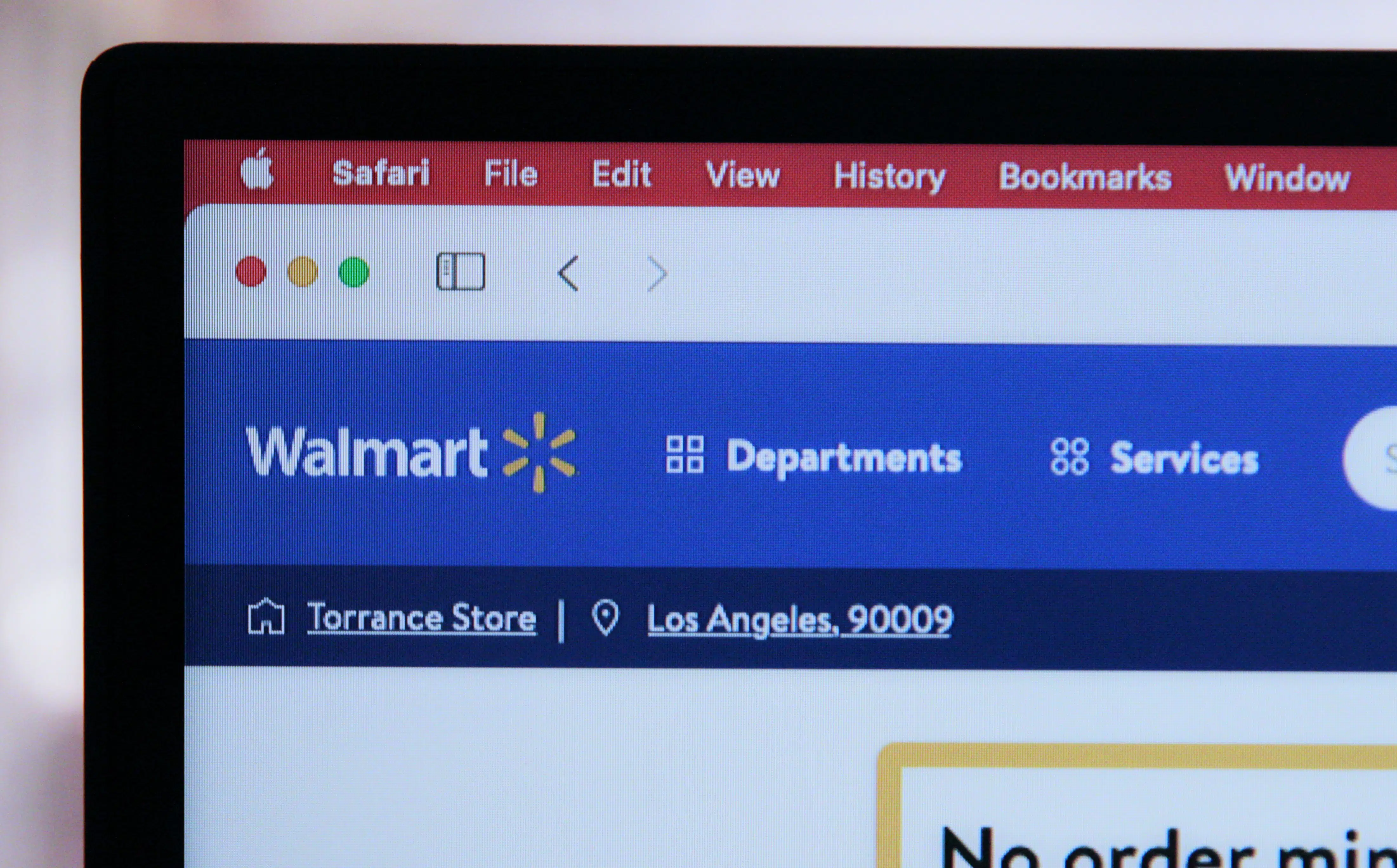 Source / Marques Thomas at Unsplash
Investing in and growing its advertising potential also benefits Walmart immensely. The company has plenty of space to turn into profitable ad placements both online and within its thousands of brick-and-mortar locations. Many of its advertisers are also sellers, so their ads direct audiences back to Walmart to make purchases. In fact, Walmart nearly doubled its sales this year thanks to its digital advertising initiatives before the Walmart Connect DSP even launched.
Lastly, Walmart Connect's digital ad platform has some distinct advantages for advertisers compared to other leading platforms, which we'll get into later. Needless to say, Walmart's advertising potential and its fast-paced progression should be on every marketer's radar. 
How Does Walmart Connect Work?
Though Walmart Connect refers to the retailer's entire advertising business, its latest endeavors focus on two platforms: Walmart's DSP and DMP.
The Walmart Connect DSP (demand-side platform) was announced back in August 2021 and just officially launched this October. DSPs are a type of digital ad platform that manages ad bids and placements automatically, making it easier for advertisers to buy them – Facebook Ad Manager and Amazon DSP are two other notable examples of DSPs.
The Walmart DMP (data management platform) is where advertising businesses can collect information from Walmart's database to create customer profiles and segment audiences. This is then used to improve ad targeting and personalization.
What types of ads can you run with Walmart Connect?
The platform categorizes its advertisement solutions into 4 ad types:
Search ads

– keyword-based advertisements that appear when customers are searching for relevant products.
Display

– ad placements that can appear throughout the internet on non-affiliated sites and Walmart.com. Walmart Connect display ads are targeted based on customers' shopping history.
In-store

– Ads displayed on self-checkout screens and digital media screens throughout Walmart's brick-and-mortar stores. The company estimates they currently have over 170,000 in-store digital displays across its 4,700 stores. 
Brand Interactions

– interactive content to engage with customers and increase brand loyalty.
Who can advertise on Walmart's ad platform?
Because it is a growing platform, Walmart Connect aims to attract as many advertisers as possible with its DSP. Luckily, this means that it can be leveraged by brands that may not have benefited from Walmart advertising in the past: The platform allows for both national campaigns as well as smaller, local targeting options. 
You can fill out this form to see if you're eligible to advertise on Walmart Connect. Alternatively, if you have questions about your eligibility, or about creating a Walmart Connect advertising strategy, you can contact us and our ad experts will reach out to you.
4 Key Benefits of Advertising with Walmart Connect
Walmart Connect advertising has numerous specific advantages over other leading digital ad platforms because, in reality, it's not limited to digital – Walmart Connect ads are just as omnichannel as the retail company is. It's important to note that Walmart Connect doesn't work with a first or last-click attribution model, as it focuses more on the overall consumer journey instead of just online interactions. Now that Walmart's advertising business has a DSP and extensive digital advertising capabilities, this enables Walmart to provide brands the specific benefits listed below: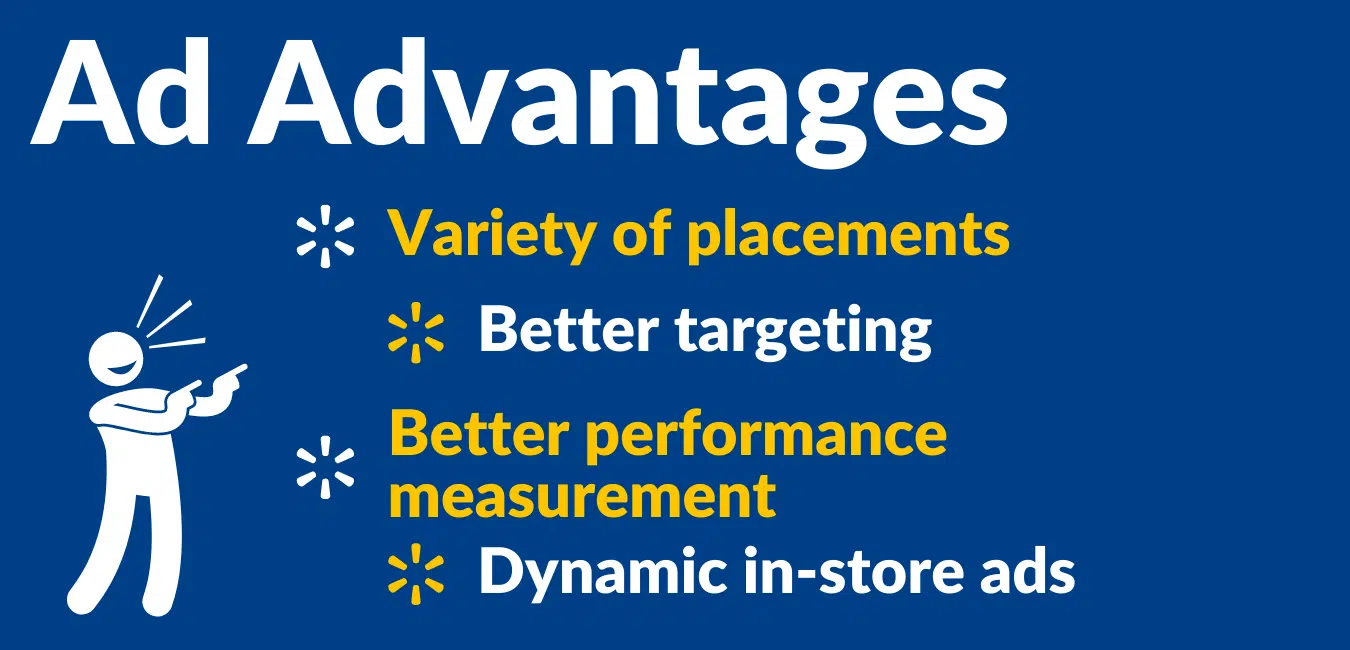 Most ad platforms cannot display ads very far beyond the publishers' websites: Facebook ads can be shown on Facebook and Instagram, Amazon ads can appear on Amazon, Twitch, and Kindle, and so on. Thanks to its

partnership with The Trade Desk

,

Walmart Connect ads can be placed far beyond Walmart's online spaces.

Walmart's DSP also gives brands access to the DMP, which has decades' worth of omnichannel consumer data. In-store data leads to

much more precise audience targeting for ads

than online shopping data can alone. Target advertisers used it to figure out a teenage customer was pregnant

before her own family did

over a decade ago. In-store shopping data is so valuable that Amazon is

opening brick-and-mortar locations

just to get some of its own. 

Not only can Walmart's data be used for ad targeting, but it can also be used by Walmart advertisers to

optimize future campaigns

. With the ability to link in-store and online purchases, Walmart's ad platform can provide better

closed-loop measurement

for campaign performance so advertisers can optimize their campaigns faster and more accurately.

On a similar note, another distinct advantage of Walmart Connect advertising is that it allows advertisers to

display dynamic, hyper-targeted ads in stores

. Traditional in-store advertising relies on static campaigns that result in fairly low conversion rates. As a result, they're not a profitable marketing strategy for most brands other than large corporations with equally large audiences. Walmart Connect advertisements leverage the campaign targeting and flexibility typically exclusive to digital advertising, allowing in-store ads to achieve a higher ROI. When combined with the fact that they can be created and managed via the DSP, this makes in-store advertising more accessible to a variety of sellers. 
Walmart's Omnichannel Ecosystem Gives Advertisers Omnipresent Superpowers
All of these benefits can be summed up to outline Walmart Connect's most powerful advantage to advertisers: Its omnichannel data and omnipresent ad placements give brands omnipotence. All other leading ad platforms are owned by Internet mega entities limiting you to their spheres of digital influence. Not only does Walmart's partnership give Connect advertisers ubiquity online, but its stores also bring dynamic digital ads to life. 
Conclusion
Walmart Connect is set to become a major player in digital advertising. With dynamic ad targeting capabilities, incredible online and offline reach, and access to omnichannel data, advertising with Walmart has a lot of lucrative potential for advertisers. Thanks to its latest launch of the DSP, all of these benefits are more accessible than ever. Considering its potential as-is and the company's fast-paced innovation, it's safe to say that the future of Walmart Connect will be interesting to stay tuned for.