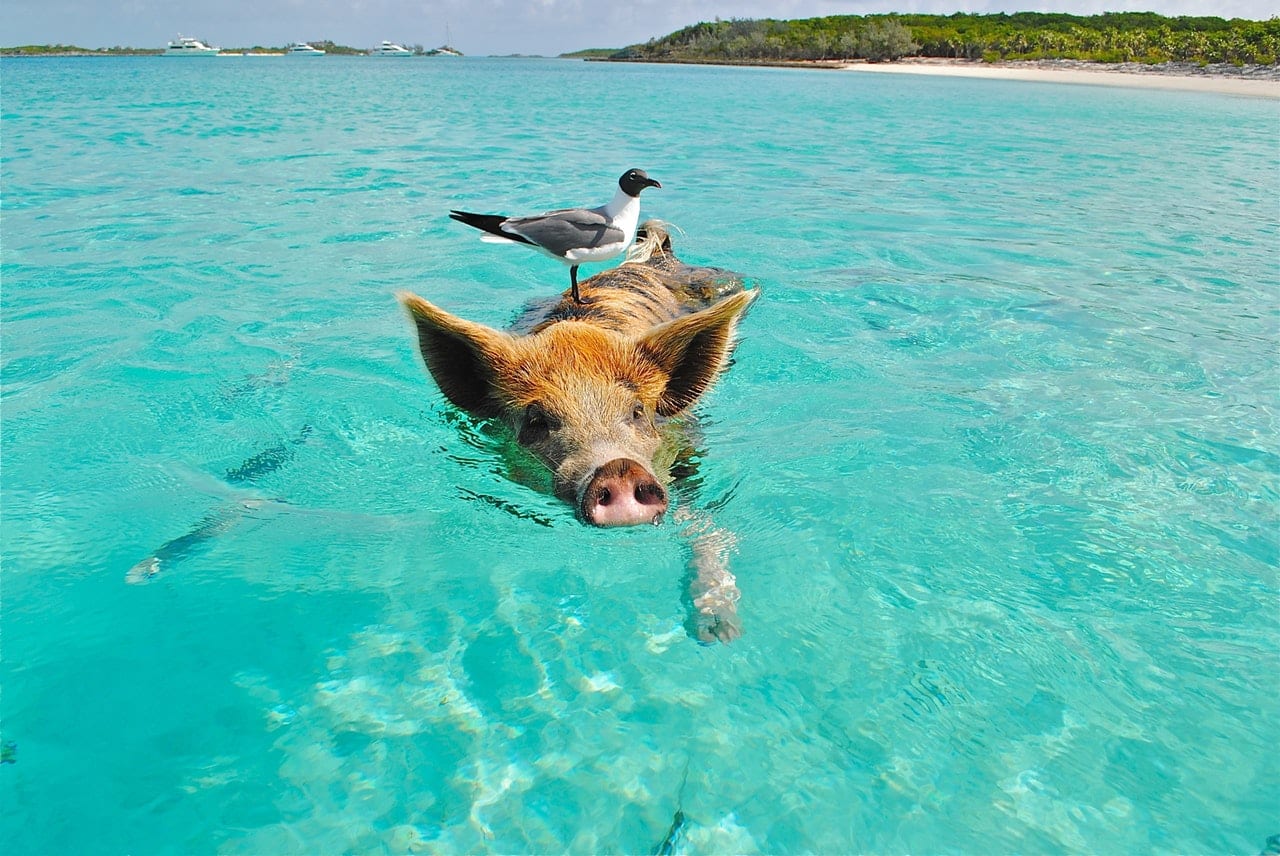 Wouldn't it be great if Facebook ads could convince prospective travelers to travel, to go on an adventure? Sometimes these prospective travelers need a little nudge to convince them to take the leap and book that flight or hotel room. In some cases, they simply need inspiration on where to go for their adventure.
According to Facebook, users often turn to Facebook and Instagram for travel ideas and inspiration, especially millennials, with 68 percent getting ideas for their most recent trip from Facebook and 60 percent from Instagram. To help advertisers reach these individuals, earlier this month Facebook introduced Trip Consideration, a new feature for Dynamic Ads. Trip Consideration allows advertisers to showcase deals and popular destinations to give users that extra push to book.
Currently, Trip Consideration is available to reach users across Facebook, Instagram, and Audience Network. It's also accessible through Adphorus, Koddi, MakeMeReach, Smartly.io, and StitcherAds, all of which are Facebook marketing partners. Facebook says it will be extending the feature as an objective for building brand later this year.
What Is Trip Consideration?
Unlike Dynamic Ads for Travel, which showcases relevant ads to users already planning to travel, Trip Consideration helps advertisers reach users who are interested in traveling, but who have yet to make plans. It functions as a targeting feature, delivering travel-inspired ads to the right users at the right time.
For example, a bride-to-be may indicate interest in honeymoon spots through browsing activity across various travel-related pages. However, her activity also indicates that she has yet to make a decision on a specific destination. Using Trip Consideration, advertisers can push the bride-to-be to book a flight or a hotel room by showing her ads for flights or hotel promotions to specific honeymoon destinations. Facebook created Trip Consideration to help advertisers reach prospective, indecisive travelers and help them plan their dream adventure.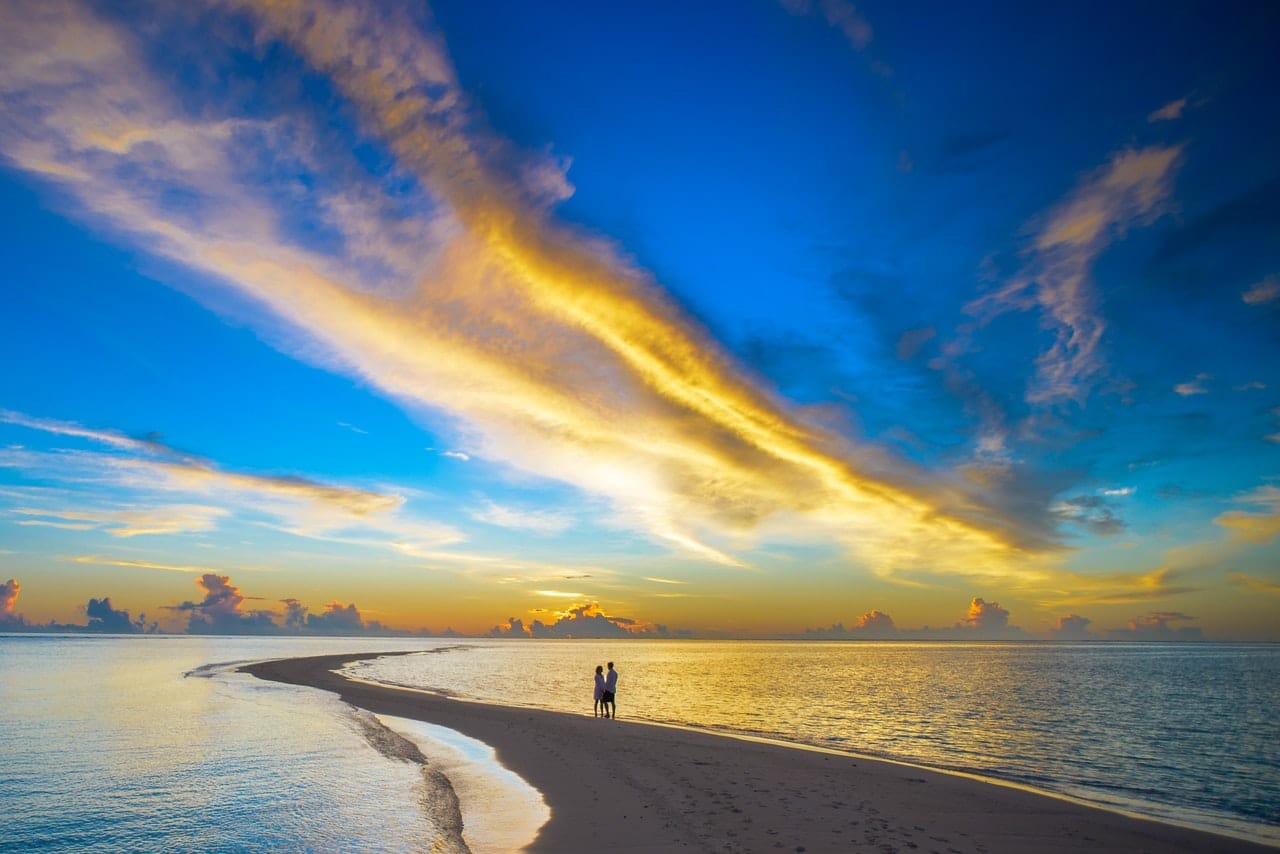 For advertisers, there are specific benefits to enjoy with the Trip Consideration feature. First, it's simple to set up. Advertisers don't need to put together a catalog, as they do with Dynamic Ads for Travel. They just need a static creative. Second, advertisers have creative flexibility: they can choose which creative they want to use. Third, the feature is optimized for intent, meaning ad content is pushed to reach users who have already expressed interest in traveling. Finally, Trip Consideration allows advertisers to enhance their existing audience by combining it with other audience targeting to further refine reach.
According to Facebook, advertisers are finding Trip Consideration to be very useful in their campaigns already.
"Facebook is one of our biggest sources of traffic and is crucial to scaling our efforts without diminishing our effectiveness," says Nick Schaulsohn, director of marketing at EF Ultimate Break, in a Facebook blog post. "We added trip consideration into our acquisition strategy and used it to drive people with travel intent into our funnel while continuing to leverage Dynamic Ads to drive users to book. The powerful combination of these solutions improved our conversion rate by 49 percent."
"Our True York City campaign was the first time we tested trip consideration," says Jason Berman, managing director of brand marketing at NYC & Company, in the same post. "We were extremely impressed with how easy it was to use, but even more so with the results it drove. This new solution enabled us to deliver 61 percent more video views and 58 percent more link clicks, all at a 29 percent more efficient CPC. This has been our best performing strategy to date on Facebook, and we look forward to using trip consideration for future campaigns."
How to Set Up Trip Consideration for Dynamic Product Ads
Here's a step-by-step guide on how to set up Trip Consideration for Dynamic Product Ads.
Step 1: Select the conversions objective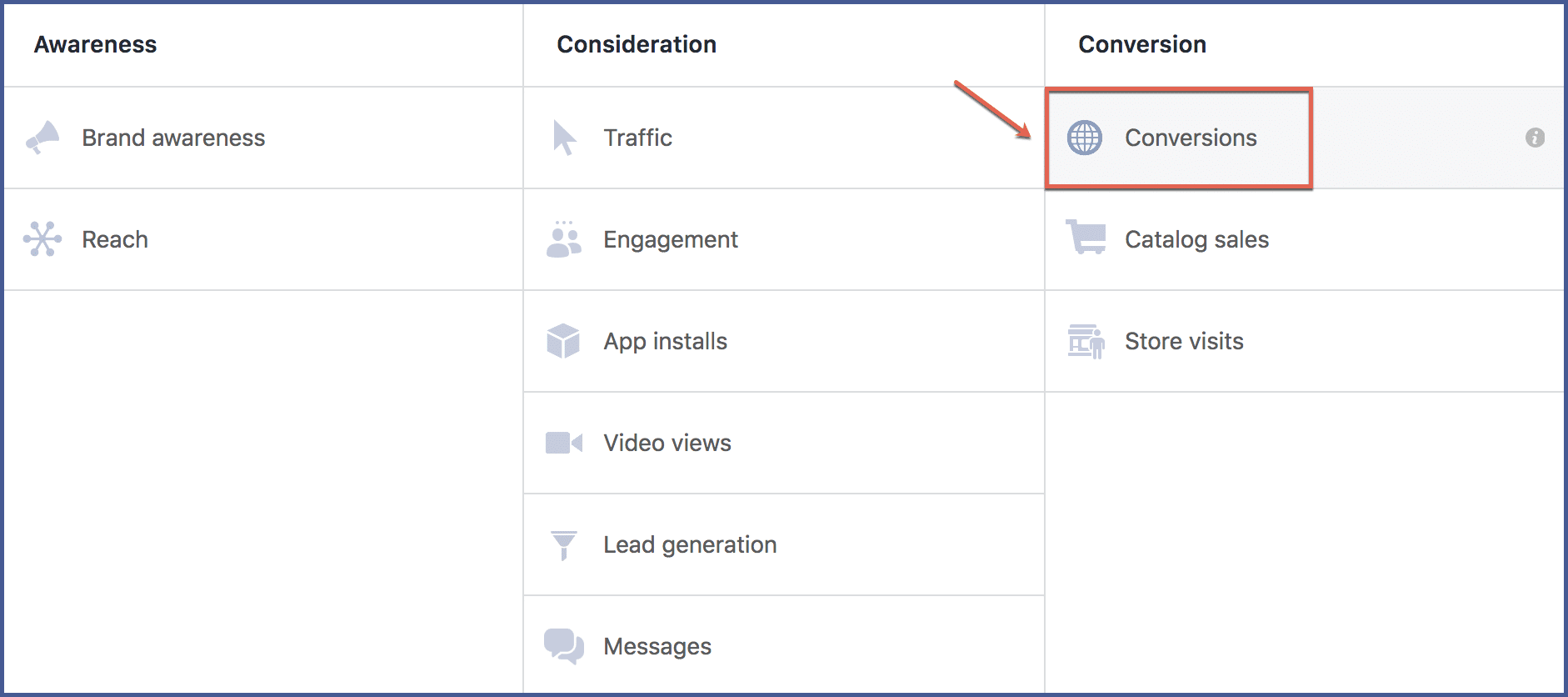 Step 2: Select your audience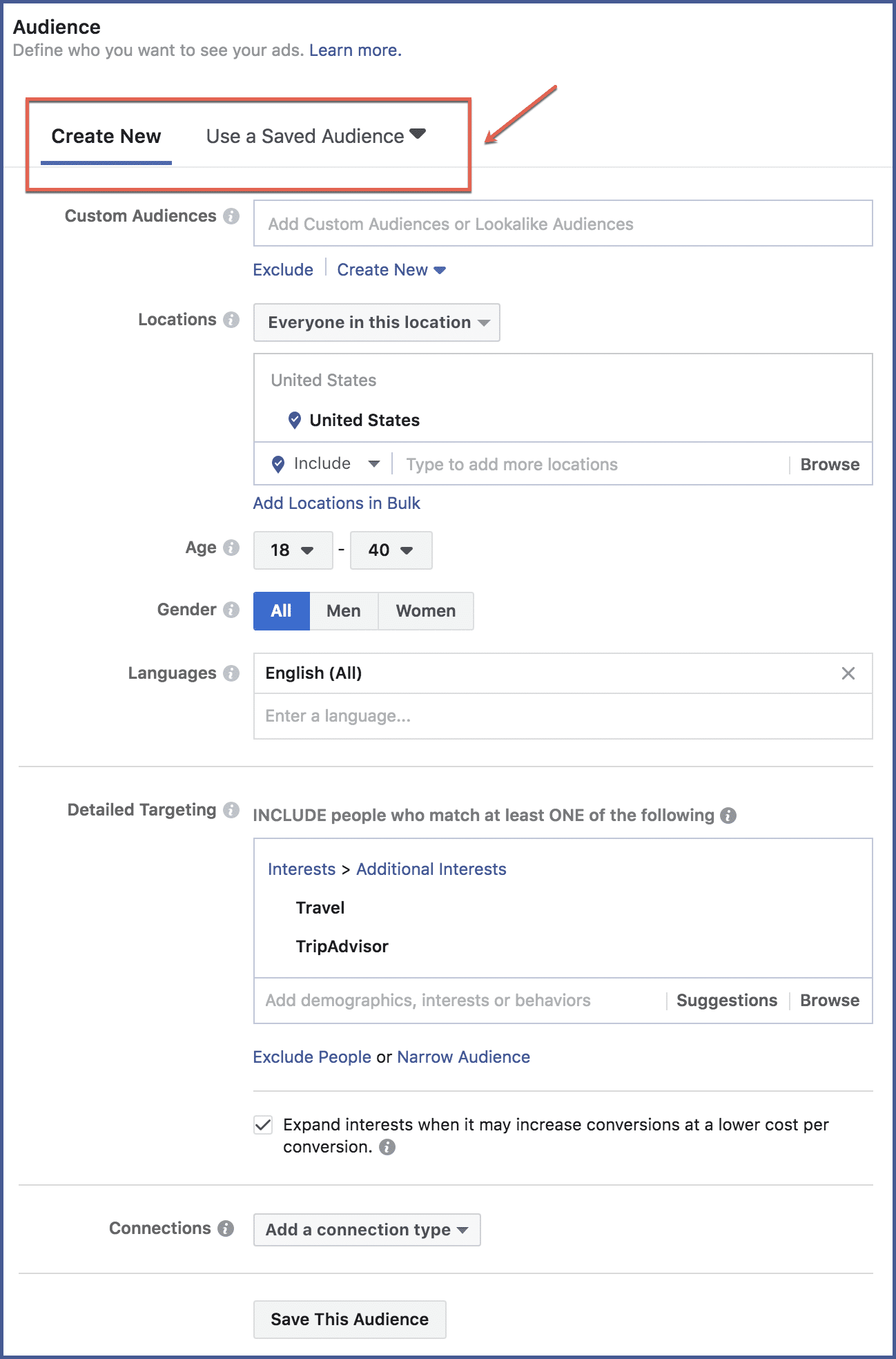 Step 3: Choose your placements
There are two placement options: automatic or manual ("Edit"). With automatic, Facebook chooses the placement. With manual, advertisers can choose which placement they want to use.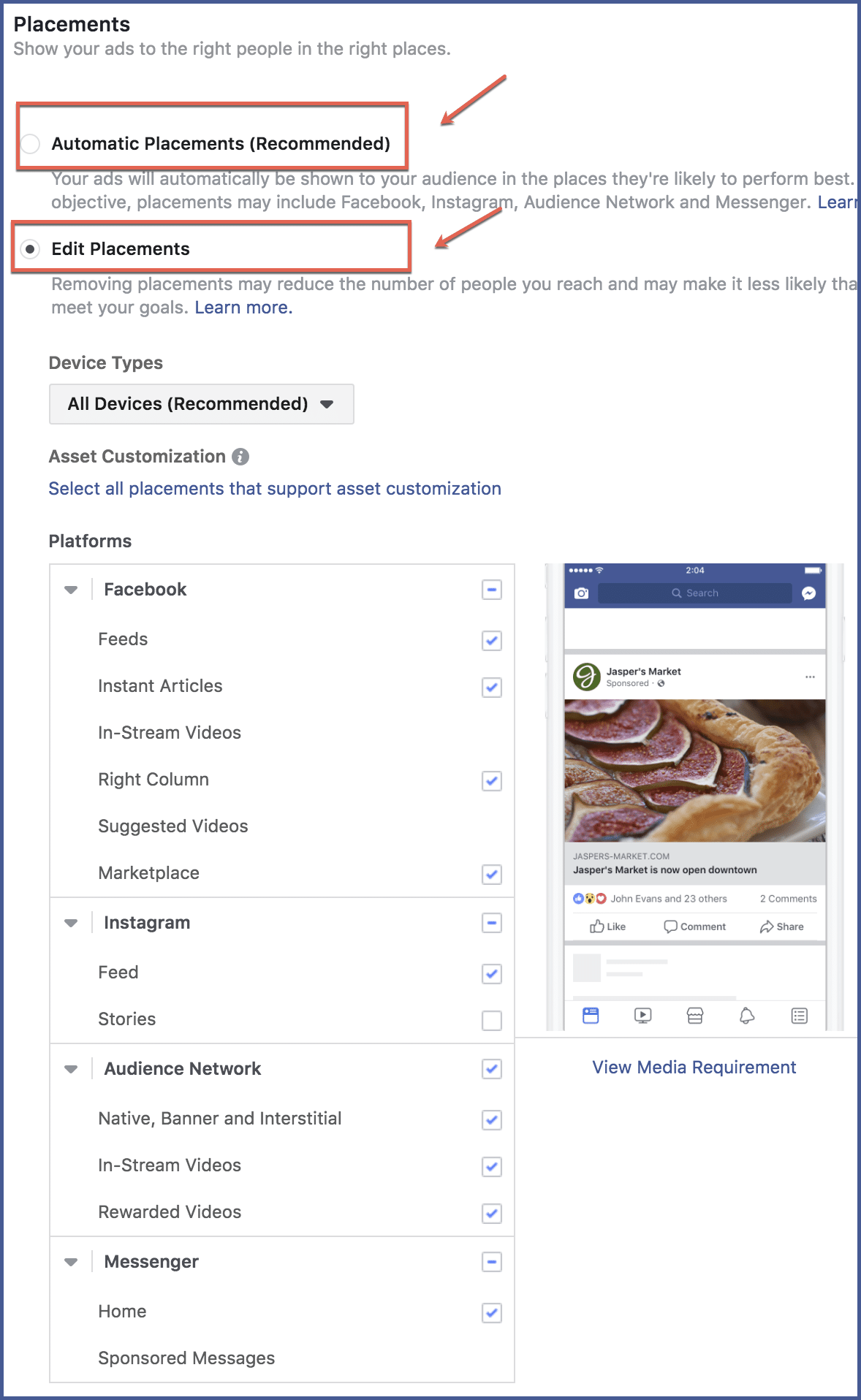 Step 4: Toggle the option "Prioritize delivery to people who plan to travel"
When choosing your budget and schedule, optimize for conversions then toggle the option "Prioritize delivery to people who plan to travel."
Step 5: Add your identity, format, and links
When choosing media, advertisers should use creatives that showcase top travel deals, popular destinations or inspirational destination, or brand-building creative. After you're done, submit your ad for review.
Trip Consideration for Dynamic Product Ads Best Practices
According to Facebook, to get the most out of the Trip Consideration feature, advertisers should keep in mind the following best practices.
Target Audience-Set a broad audience because a narrow audience may not deliver the best results. Advertisers should, instead, set their audience size to seven million or more. As a simple rule of thumb, bigger is better in this case.
Optimization-Optimize for search, initiate checkout, or purchase events under the website conversion objective.
Bidding-Begin with autobid to maximize delivery then test other specific bid targets after three days of good performance on the autobid.
Campaign Period-To reach new users expressing intent for travel, set your Trip Consideration campaign to an always-on basis. That way, every time a new user begins expressing interest in travel, advertisers can ensure their ads are delivered to that user from the get-go.
Measuring Success-Measure Trip Consideration success by evaluating the impact on the optimized event. If search events are the optimized event, for example, advertisers should use cost per search and search volume to measure success.
Creative-Advertisers have the opportunity to test various creative formats with the Trip Consideration feature. The options include static image, carousel, single video, or collection. Giving users a taste of what they can experience, photos of beaches, mountain views, or European cities, help nudge them to make that booking.
With Trip Consideration, advertisers can become part of the adventure that a prospective traveler has always dreamed of. Other marketers have already experienced success with the new feature, as it helps refine reach to deliver ads to those individuals as soon as their social media activity reflects an interest in travel.