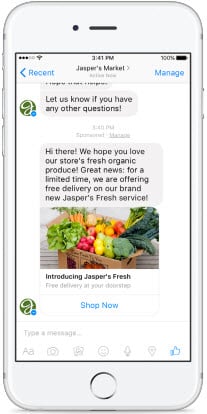 With the recent release of Facebook's new Messenger ads, ads that direct customers to Messenger with an automated message, advertisers may be skeptical of its ability to convert customers. Some may argue that although Messenger ads initiate a conversation with customers, they may not necessarily be able to drive customers to respond to the chat, let alone compel them to do a desired action such as making a purchase or visiting the brand's website. Advertisers need not worry. Facebook already has this covered.
In an email update, Facebook announced that it developed a feature that complements Messenger ads: sponsored messages. This new feature allows advertisers to restart conversations with those they previously messaged. Advertisers can deliver these highly targeted ad types in Messenger to existing conversations, either through messenger or chat support, that have been active in the last 6 months. Sponsored messages include away messages, updates, promotions, reminders, deals and offers, and product and service updates.
Advertisers can create sponsored messages on Power editor or Ads API. To create these messages, they must select "Traffic" or "Conversions" as the objective, "Sponsored Messages" as the placement, and "Messenger" as the delivery. Advertisers can choose to target all open conversations or create a new Custom Audience (audience size must be greater than 50 people) based on a page-scoped ID. Advertisers can also exclude segments based on demographics or Facebook pixel events. All sponsored messages are charged per impression. That is, Facebook charges advertisers every time customers see the message in their Messenger inbox. Note, however, that Facebook cannot charge advertisers multiple times if customers re-open their inbox.
Much like other Facebook ad products, sponsored messages will also have a page insights viewable in Ads Manager, showing aggregate data across organic and paid messaging. Additionally, the Facebook pixel will also report data on sponsored messages.
Sponsored messages are a necessary addition to Facebook's Messenger ads. Without sponsored messages, advertisers would have difficulty remarketing and re-engaging customers through Messenger. Hopefully this new feature puts skeptical advertisers at ease.