Although Facebook takes great measures to keep users safe from fraud through rules and regulations that even we as a social media advertising agency have to follow, certain scam artists have still been known to slip by undetected. Now, you can doing something about these fake Facebook ads without contacting an advertising agency like Advertisemint.
A BuzzFeed report in April described how some Chinese clothing companies, using names like DressLily, TideBuy and Zaful, have thrived on Facebook despite thousands of complaints from women saying the sites use stolen, doctored images to sell poorly made knockoff clothing that is often unwearable. Women say the knockoffs take weeks or months to deliver (if they arrive at all) and are almost impossible to return.
After BuzzFeed's investigation, Facebook said it was taking the issue "very seriously" and looking for new ways to identify businesses selling "overwhelmingly unsatisfactory" products and services to users.
Mark Rabkin, Facebook's vice president of ads engineering, said Facebook can't give too much detail on its efforts to fight misleading ads, "to ensure that these solutions will protect people on Facebook and not tip off malicious advertisers who may seek to game the system."
However, he did say this: "We will continue to improve our signals to detect patterns in behavior often linked to advertisers or campaigns with high negative sentiment, so we can stop these types of ads from running or restrict ad accounts," he said. "We know many of these businesses sell on other platforms, not just Facebook. So, we are also exploring opportunities to share learnings and brainstorm solutions with other platforms."
To report a fake ad:
In the mean time, you can help Facebook find these fake advertisements by reporting them on the official Facebook feedback page for users to complain about disappointing purchases from sites they found through ads on Facebook and Instagram. It looks like this: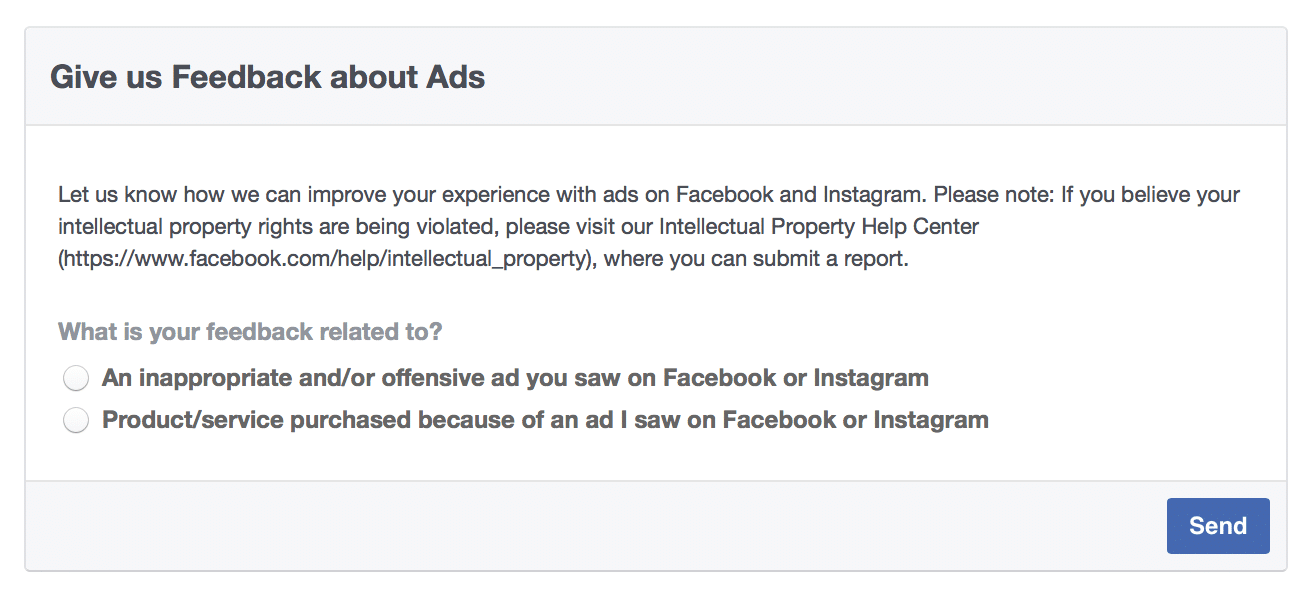 Follow these manual steps:
Visit the "Interacting with Ads" page found in the Facebook Help Center.
Click the option that reads: "How do I report an ad I see on Facebook?" You will now be presented will a drop-down description of what constitutes a suspicious Facebook ad.
Click the link labeled "this form" found in the drop-down description.
Answer the questions found on the form. After completing the form, click the "Send" button to finish your report.
We strongly encourage you to take part in Facebook's initiative and get rid of these fake Facebook ads because even if it hasn't happened to you yet, it probably will in the future until Facebook finds a way to block them entirely. You can bet that this advertising agency will be.
Good luck and don't be a sucker.
Learn More:
Comments
comments