Although Facebook takes great measures to keep users safe from fraud through rules and regulations that even we as a social media advertising agency have to follow, certain scam artists have still been known to slip by undetected. Now, you can doing something about these fake Facebook ads without contacting an advertising agency like Advertisemint.
A BuzzFeed report in April described how some Chinese clothing companies, using names like DressLily, TideBuy and Zaful, have thrived on Facebook despite thousands of complaints from women saying the sites use stolen, doctored images to sell poorly made knockoff clothing that is often unwearable. Women say the knockoffs take weeks or months to deliver (if they arrive at all) and are almost impossible to return.
After BuzzFeed's investigation, Facebook said it was taking the issue "very seriously" and looking for new ways to identify businesses selling "overwhelmingly unsatisfactory" products and services to users.
Mark Rabkin, Facebook's vice president of ads engineering, said Facebook can't give too much detail on its efforts to fight misleading ads, "to ensure that these solutions will protect people on Facebook and not tip off malicious advertisers who may seek to game the system."
However, he did say this: "We will continue to improve our signals to detect patterns in behavior often linked to advertisers or campaigns with high negative sentiment, so we can stop these types of ads from running or restrict ad accounts," he said. "We know many of these businesses sell on other platforms, not just Facebook. So, we are also exploring opportunities to share learnings and brainstorm solutions with other platforms."
Identifying Fake Facebook Ads: Red Flags to Watch For.
As you scroll through your Facebook feed, it's essential to be attuned to certain red flags that can signal the presence of a fake ad.
Unrealistic offers that promise incredible rewards with minimal effort are often too good to be true. These ads may dangle the allure of instant wealth or unbelievable discounts.
Inconsistent branding, where the logo or design appears unfamiliar or unprofessional, can also raise suspicions.
Suspicious URLs, which redirect you to unfamiliar or unrelated websites, are a telltale sign of potential deception. Pay close attention to the quality of images and design.
Blurry visuals, poor layout, and lack of attention to detail could indicate a lack of genuine effort or credibility. Additionally, the absence of a clear call to action may point to a lack of a genuine marketing intention.
To report a fake ad:
In the mean time, you can help Facebook find these fake advertisements by reporting them on the official Facebook feedback page for users to complain about disappointing purchases from sites they found through ads on Facebook and Instagram. It looks like this: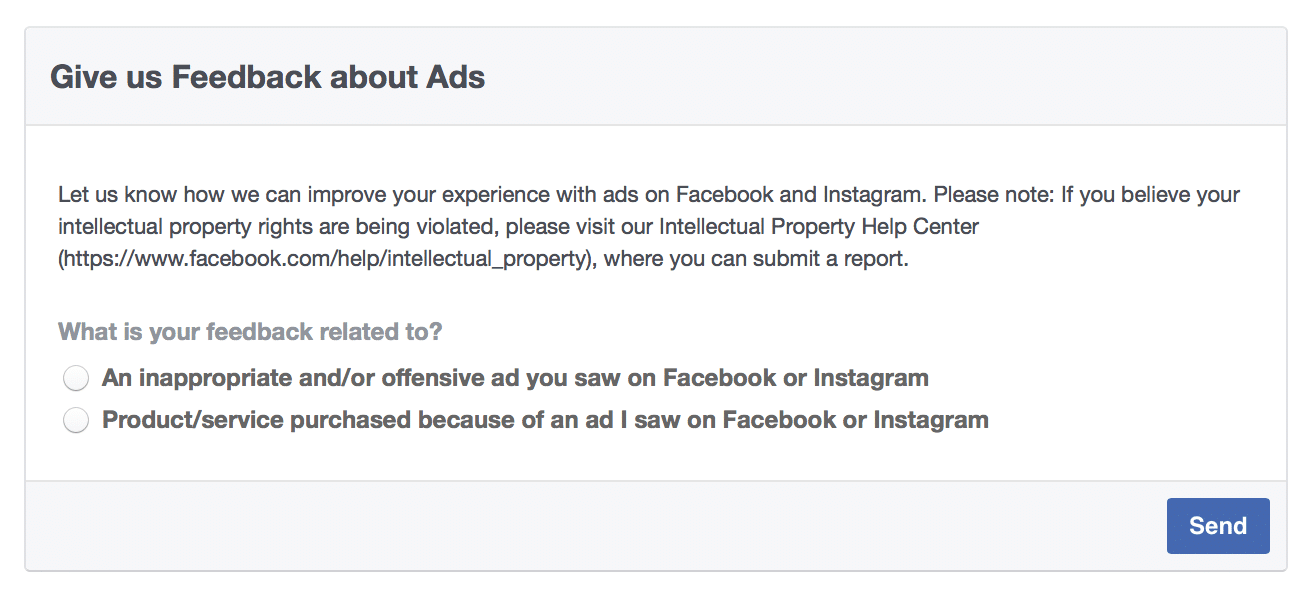 Follow these manual steps:
Visit the "Interacting with Ads" page found in the Facebook Help Center.
Click the option that reads: "How do I report an ad I see on Facebook?" You will now be presented will a drop-down description of what constitutes a suspicious Facebook ad.
Click the link labeled "this form" found in the drop-down description.
Answer the questions found on the form. After completing the form, click the "Send" button to finish your report.
We strongly encourage you to take part in Facebook's initiative and get rid of these fake Facebook ads because even if it hasn't happened to you yet, it probably will in the future until Facebook finds a way to block them entirely. You can bet that this advertising agency will be.
Protecting your Brand against Fake Ads.
Shielding your brand against the threat of fake Facebook ads demands a proactive and multi-faceted approach.
Begin by establishing a solid online presence through verified social media profiles and consistent branding. Educate your audience about the risks of fake ads, empowering them to identify and report suspicious content.
Furthermore, monitor your platforms vigilantly, swiftly addressing any unauthorized ads that misuse your brand's identity. Collaborate with social media platforms, utilizing their brand protection tools and resources. Consider legal action when necessary, safeguarding your intellectual property and sending cease and desist notices.
Additionally, strengthen customer relationships through personalized engagement and responsive support. By implementing these measures, you not only defend your brand's reputation but also contribute to a safer and more authentic digital environment for your audience.
Use of Automation to protect Brands against Fake Ads.
Automation can serve as a powerful shield against the threat of fake Facebook ads, bolstering your brand's defenses and ensuring a safer online presence. Here's how automation can be your ally in guarding against fake Facebook ads.
Real-time Monitoring and Alerts
Automated monitoring tools can continuously scan social media platforms for any unauthorized ads using your brand's identity. These tools can instantly trigger alerts when suspicious content is detected, allowing you to take immediate action.
Content Filtering and Moderation
Automation can help filter out and moderate user-generated content that could potentially promote fake ads. Customizable filters can flag keywords or phrases associated with deceptive advertising, preventing such content from gaining traction.
Reporting and Analysis
Automated reporting systems can track and analyze ad performance metrics, helping you identify irregular patterns or sudden spikes in ad activity. This data-driven approach can unveil potential fake ads that deviate from your usual marketing strategies.
Instant Response Mechanisms
Automated responses can be set up to address user concerns about fake ads in real-time. These responses can guide users on how to report suspicious content and provide them with assurance that you take their safety seriously.
Account Verification and Authentication
Automation can streamline the process of verifying accounts associated with your brand, ensuring that only legitimate advertisers can run ads under your name. This verification process adds an extra layer of authenticity to your brand's presence.
Conclusion
In conclusion, fake Facebook ads are a problem, but you can help to stop them by reporting them to Facebook. By reporting fake Facebook ads, you can help to protect other users from being scammed, infected with malware, or exposed to hate speech or misinformation. To report a fake Facebook ad, simply click on the three dots in the top right corner of the ad and select "Report ad."
Good luck and don't be a sucker.
Frequently Asked Questions
What are the different types of fake Facebook ads?
There are many different types of fake Facebook ads, but some of the most common ones include:
Ads that offer products or services at a very low price.

Ads that ask for personal information, such as your credit card number or social security number.

Ads that promote hate speech or misinformation.

Ads that are designed to look like they are from a legitimate company or organization.
How can I identify a fake Facebook ad?
There are a few things you can look for to identify a fake Facebook ad:
The ad is for a product or service you have never heard of.

The ad offers a product or service at a very low price.

The ad has poor grammar or spelling.

The ad is asking for personal information.

The ad is trying to sell you something that you don't need.

The ad promotes hate speech or misinformation.
What steps do I need to follow to report a fake ad?
Click on the three dots in the top right corner of the ad, select "Report Ad," and choose the appropriate reason for your report. Provide additional context if necessary and submit the report to Facebook for review.
Will reporting a fake ad have any impact on my Facebook account?
No, reporting a fake ad will not negatively impact your account. Facebook encourages users to report suspicious content and values your contribution to a safer community.
Why should I report fake Facebook ads?
Reporting fake Facebook ads helps protect yourself and others from potential scams, fraudulent activities, and deceptive content. By reporting, you contribute to a safer and more trustworthy online environment.
Related Articles: