June 9, 2017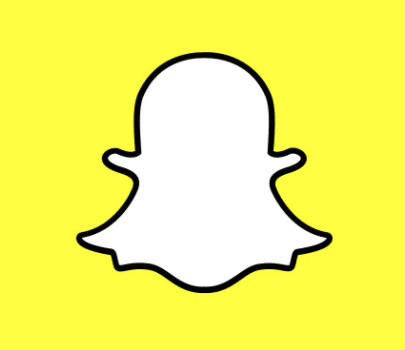 How do we know that Snapchat advertising works? Simple. We know from others who have seen and conquered the Snapchat advertising scene.
Here are three Snapchat advertising campaign success stories to give you confidence in your campaign.
[bctt tweet="Check out successful @Snapchat #advertising #campaigns. #digitaladvertising #inspiration " username=""]
1. NBC's Hairspray Live!
To promote the premiere of Hairspray Live, NBC used Snap Ads and Sponsored National Lenses. NBC also used Snapchat's age and Lifestyle Category reach to direct its exposure to users within the 18 and over age range.
The final numbers from the campaign: over 26 million views, a 122% increase in Self-Reported Viewing via ad exposure, and over 29.7 million Lens Plays.
2. Kraft Mac & Cheese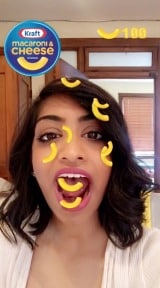 Kraft decided to make mac and cheese even more fun (if that's possible!) by developing a sponsored lens campaign. The campaign was launched to promote the company's recent effort of removing artificial flavors, preservatives, and dyes from its product. They made the lens into a game in which users tried to catch mac and cheese noodles in their mouths.
The final numbers from the campaign: a reach of 20 million Snapchatters, a 13% lift in purchase intent, and 20 seconds of average lens play time.
3. Benefit Cosmetics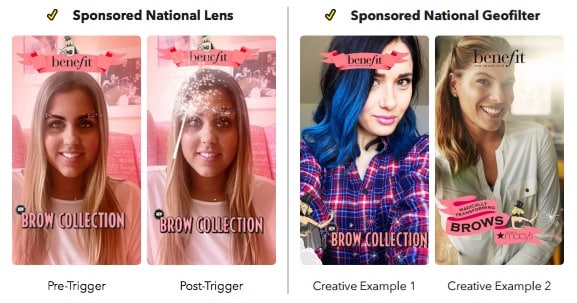 When Benefit Cosmetics wanted to promote their new brow collection, they decided to partner with Snapchat to make it a fun experience. The company used sponsored lenses to show users what their eyebrows could look like after using the product. Additionally, they created chain geofilters, including the names of retail partner locations such as Macy's.
The final numbers from the campaign: over 36 million views, an 18% lift in purchase intent, and 26 seconds of average lens play time.
Other companies or brands with Snapchat success stories include RetailMeNot, X-Men: Apocalypse, Boxed, Now 61, and Episode.
Comments
comments