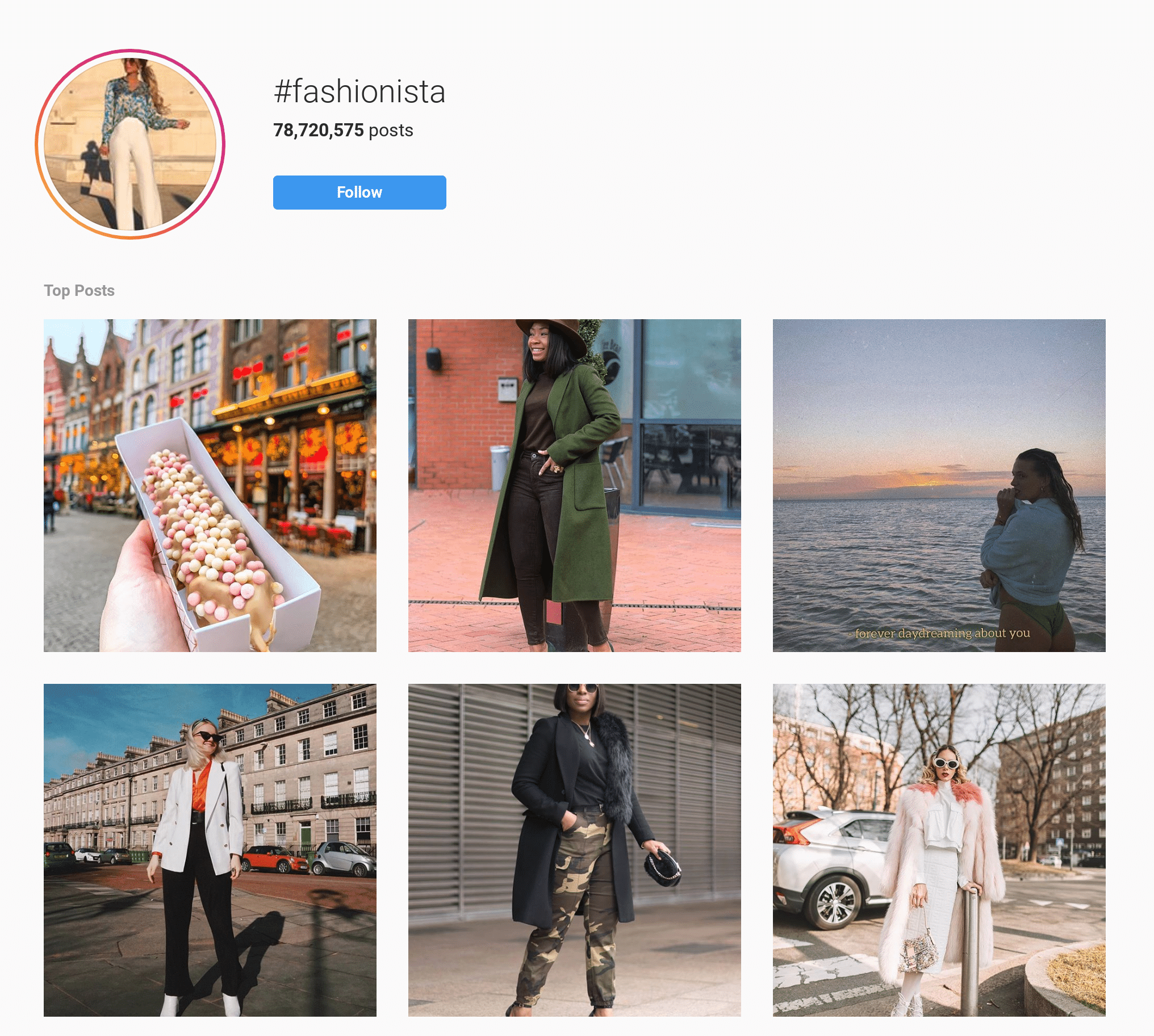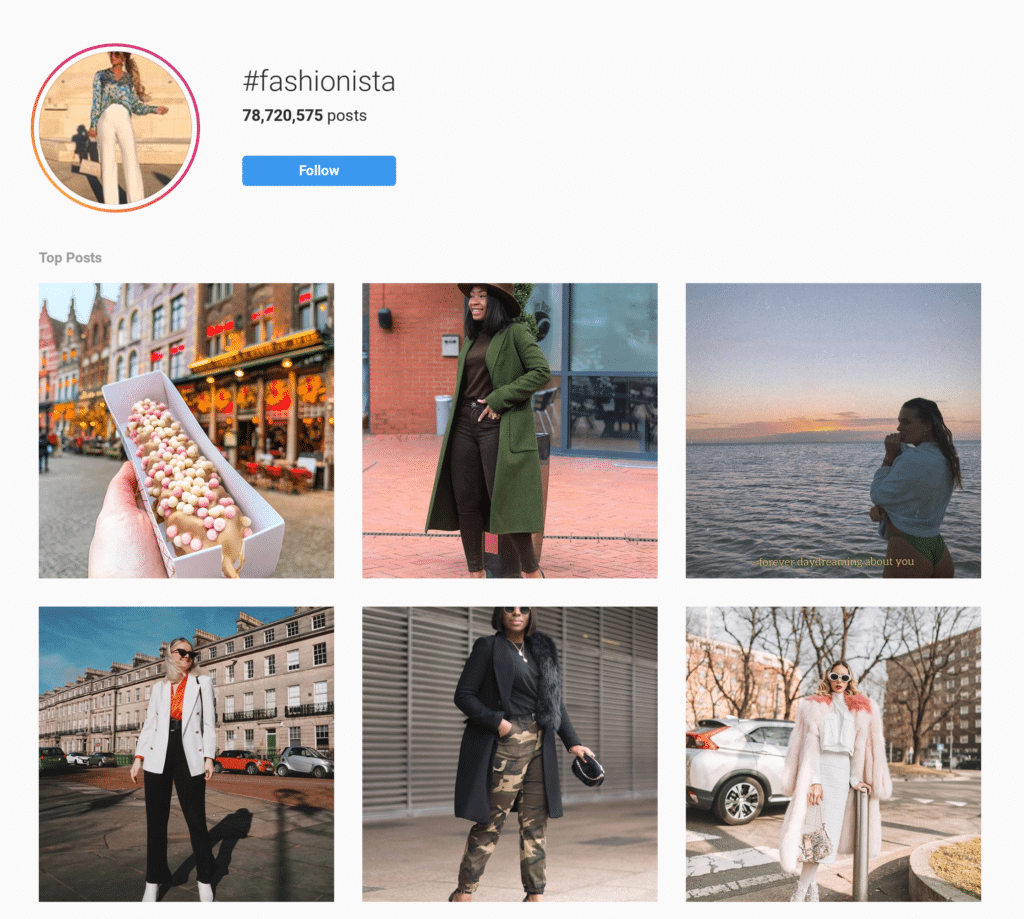 Everyone can appreciate a good #fashionista hashtag. But if you run a fashion brand, you have 78 million Instagram posts to compete with. That means your post with this hashtag will quickly be pushed to the bottom of the pile and will likely go unseen by most of your audience.
If you want to successfully reach your fashionista audience, you need to use hashtags that are popular, but not overused. A good rule of thumb is to avoid hashtags pushing one million uses and look for hashtags with at least 15,000 uses. You can still include commonly used hashtags in your post  if you want, but don't make them the only ones. Use them in addition to more unique hashtags.
For example, the hashtag #fashiongrammer has 178,725 uses. It's popular, but not overused to the extent that your post won't stand out when someone enters it in Instagram's search. Use unique hashtags like these in your fashion posts. You can even include a post that uses both a #fashiongrammer and a #fashionista hashtag, but do so sparingly.
Additionally, your hashtags should be relevant to your brand. For example, you wouldn't want to use the #burgermania hashtag in your fashion posts. Yes, the hashtag is unique with 105,706 uses, but it has nothing to do with fashion, making it irrelevant to your brand.
Here are some of the best fashion hashtags to use on Instagram that are both popular and unique, along with the number of uses they have.
#fashiongo (13,878 posts)
#streetfashionstyle (219,742 posts)
#streetfashions (134,526 posts)
#fashiongrammer (178,725 posts)
#instastyles (285,711 posts
#fashionaddicts (370,037 posts)
#fashionforwardplus (306,579 posts)
#fashionistastyle (391,069 posts
#fashionweekparis (142,187 posts)
#fashionrunway (138,345 posts)
#fashionagency (105,187 posts)
#fashionbags (872,446 posts)
#travelfashion (146,427 posts)
#fashionforever (156,334 posts)
#styleinspirations (78,650 posts)
#worldfashion (257,550 posts)
#menstyles (386,908 posts)
#shoesforher (17,364 posts)
#shoesforhim (19,024 posts)
#fridayfashion (56,639 posts)
#russianfashion (113,632 posts)
#nycfashion (963,854 posts)
#nycfashionblogger (122,035 posts)
#traveloutfit (62,709 posts)
#whattoweartoday (49,798 posts)
#funfashion (130,702 posts)
With these unique hashtags now in your brand's fashionable toolbelt, you're ready to stand out on Instagram. However, be sure to avoid using too many hashtags or the same hashtags over and over in your posts. Instagram identifies such posts as spam, which can be harmful to your brand.
How to choose the right fashion hashtags for your brand?
Choosing the right hashtags for your fashion brand on Instagram involves a thoughtful and strategic approach. Start by researching popular and relevant hashtags within the fashion community, considering both general and niche-specific tags.
Analyze the engagement and usage of these hashtags to identify hashtags that align with your brand identity and resonate with your target audience. Using a combination of popular and specific hashtags is vital to reach your intended audience effectively.
Additionally, stay updated with the latest fashion trends and industry events to leverage trending hashtags that are currently in vogue.
By curating a mix of evergreen and trending hashtags, you can enhance the discoverability of your brand, foster community engagement, and connect with fashion enthusiasts who share a genuine interest in your style and offerings.
Benefits of using fashion hashtags on Instagram?
Using fashion hashtags on Instagram offers a range of compelling benefits for fashion brands. These hashtags serve as powerful tools to extend your brand's reach and engagement beyond your immediate followers, tapping into a wider and more targeted audience of fashion enthusiasts.
By strategically selecting hashtags that align with your brand identity and the latest trends, you can enhance the discoverability of your posts and connect with users who share a genuine interest in your style and offerings.
Furthermore, fashion hashtags foster community engagement, as they enable users to explore and contribute to conversations around specific fashion themes or trends. Additionally, these hashtags facilitate collaborations with influencers and bloggers, amplifying your brand's credibility and expanding its online presence.
Monitoring trending fashion hashtags also provides valuable insights into current industry preferences and user behaviors, enabling you to adapt your content and marketing strategies accordingly. Fashion hashtags empower your brand to establish a distinctive digital presence, foster audience interaction, and stay attuned to the dynamic fashion landscape.
Interesting facts about fashion hashtags
Hashtags have emerged as a powerful tool for fashion brands on Instagram, offering numerous benefits to enhance their online presence. With a staggering 1 billion fashion-related hashtags on the platform, fashion brands have an extensive array of options to choose from. The most popular fashion hashtag, #fashion, boasts a remarkable 235 million posts, signifying its widespread usage among users.
Studies show that posts with at least 11 hashtags receive 23% more engagement, emphasizing the importance of utilizing hashtags effectively. To optimize their reach and engagement, fashion brands should employ a diverse range of hashtags, incorporating both popular and niche ones.
Notable examples include #ootd (outfit of the day), #style, #instafashion, #fashionblogger, and #fashionista. Apart from increasing visibility, hashtags also serve as a means to connect and collaborate with other fashion enthusiasts and brands, fostering a sense of community within the vibrant fashion landscape of Instagram.
FAQs
Why are hashtags important for fashion brands on Instagram?
Hashtags play a crucial role in increasing the discoverability of your posts, helping your fashion brand reach a wider and more targeted audience. They facilitate engagement, foster community interaction, and contribute to building your brand identity.
How can I choose the right hashtags for my fashion brand?
Selecting the right hashtags involves a strategic approach. Research popular and relevant fashion hashtags, consider a mix of general and niche-specific tags, analyze their engagement, and ensure they align with your brand identity and target audience.
What are some examples of effective fashion hashtags?
Effective fashion hashtags encompass a variety of themes. Examples include #ootd (outfit of the day) for showcasing daily ensembles, #instafashion for sharing eye-catching fashion trends, and #fashionblogger for connecting with influential bloggers.
Should I use only popular hashtags or include niche ones as well? It's beneficial to strike a balance between popular and niche hashtags. While popular ones like #fashion garner high visibility, niche hashtags like #ethicalfashion or #vintagestyle help you connect with a more specific and engaged audience.
How many hashtags should I use in each post?
While Instagram allows up to 30 hashtags per post, using a mix of around 10-15 hashtags is recommended. This ensures you reach a broad audience while maintaining relevance and preventing your captions from appearing cluttered.
As long as you use your hashtags correctly, your fashion brand will be stylin' to the top of Instagram's feed.