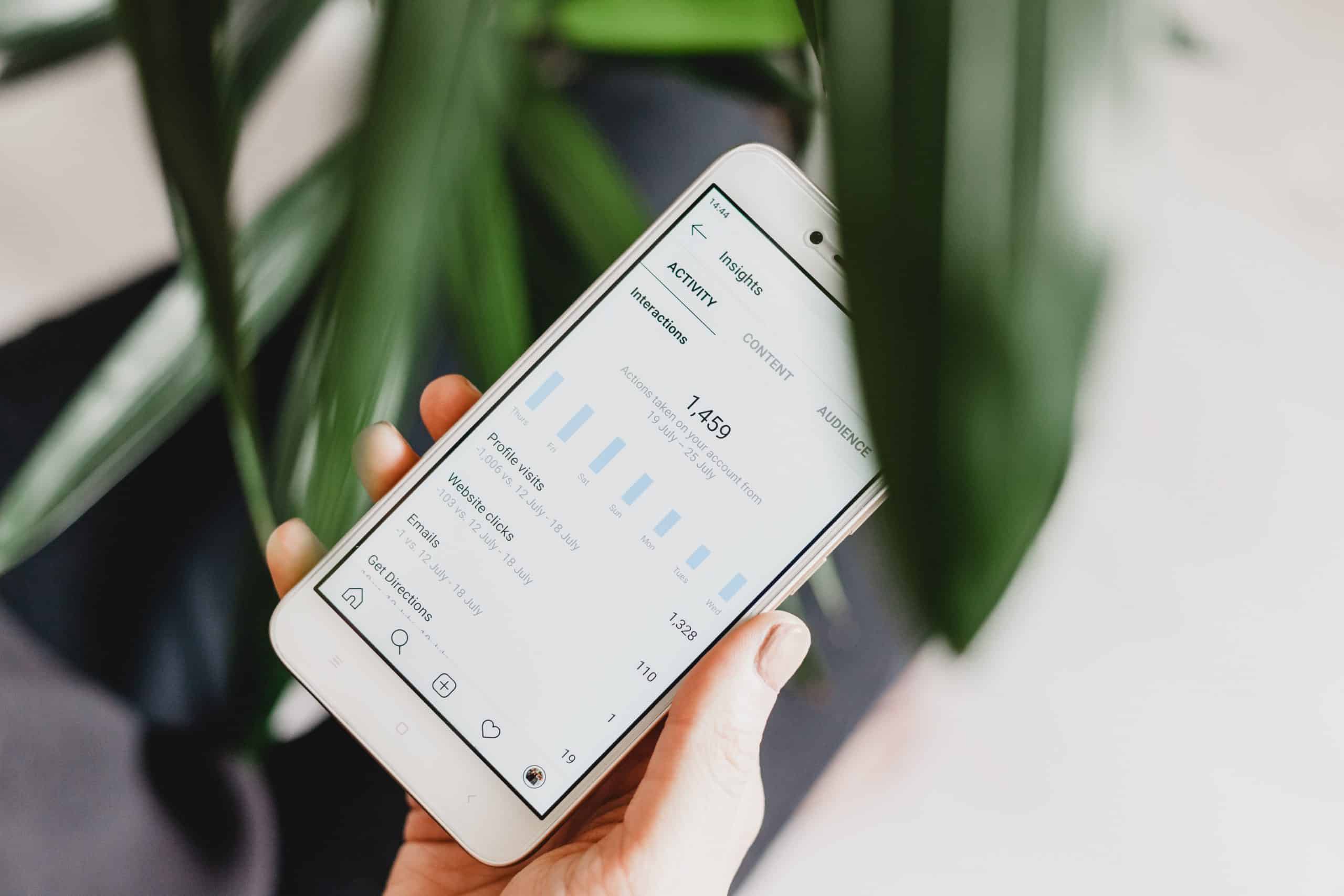 Knowing when to post on Instagram can effortlessly boost engagement and views. You need to ensure your compelling content is popping up on your audience's Feed, so timing matters. There's just one problem: each research article and search result has a different answer for what the best time to post on Instagram is. 
The truth is that the algorithm has become so personalized when ranking posts, you need to find your peak posting times on Instagram. Luckily, doing so is shockingly easy. First, let's go over how Instagram's ranking system has changed in 2021 that has made this question so hard to answer. Then, we will lay out your winning strategy to finding the best times to post on Instagram and how to optimize your post uploads for maximum views and engagement.
When is the Best Time to Post on Instagram? 
If you've been searching for optimal times or days to post on Instagram, you probably found some confusing results. Even the first page of Google search results conflict with each other.
No one agrees on what's the best day to post on Instagram:
Sprout Social: Tuesday

ContentCal: Wednesday

Influencer Marketing Hub: Thursday
No one seems to agree on what the best times to post on Instagram are either. Here are some of the top results we got for each day of the week (in local time):
Best Times to Post on Instagram on Sunday (According to):
HubSpot: 8am – 2pm

MySocialMotto: 10am – 4pm

Brand Mentions: 3pm – 9pm
Best Times to Post on Instagram Monday (According to): 
HubSpot: 11am – 2pm 

MySocialMotto: 6am, 12pm, 10pm

Brand Mentions: 11am, 9pm, 10pm
Best Times to Post on Tuesday (According to):
HubSpot: 10am – 3pm, 7pm

MySocialMotto: 6am – 6pm

Brand Mentions: 5pm, 8pm, 9pm
Best Times to Post on Wednesday (According to):
HubSpot: 7am – 4pm

MySocialMotto: 8am, 11pm

Brand Mentions: 5pm, 9pm, 10pm
Best Times to Post on Instagram Thursday (According to):
HubSpot: 10am – 2pm, 6pm – 7pm

MySocialMotto: 7am, 12pm, 7am

Brand Mentions: 4pm, 7pm, 10pm
Best Times to Post on Instagram Friday  (According to):
HubSpot: 9am – 2pm

MySocialMotto: 9am, 4pm, 7pm

Brand Mentions: 6pm, 10pm
Best Times to Post on Instagram on Saturday (According to):
Hubspot: 9am – 11am

MySocialMotto: 11am, 7pm – 8pm

Brand Mentions: 3pm, 6pm, 10pm
All of these answers are based on thorough research of millions of posts. So why are they so different?  
The Right Time is Different for Everyone
Most of these "best times to post" are determined by peak activity or engagement rates worldwide. However, peak hours can vary greatly depending on the time zone, age group, or industry of different audiences, and can also differ depending on what you're posting. Though timing your Instagram posts is still important, knowing the right time requires more careful consideration of your audience and your content.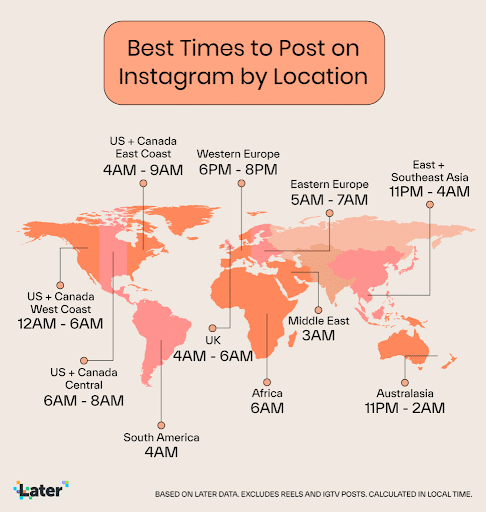 This leads to such wildly different results for each post, account, and individual user Feed regarding the best posting times on Instagram. It's no wonder each "best" time and day to post on Instagram is so different from each other depending on the source!
Instagram's Algorithm is Constantly Changing
Even when factoring in details like location and industry, most advice online suggests posting during peak hours of your audience's activity. This was a fail-proof strategy back when Instagram's ranking system favored rapid interaction; posting right when your audience was scrolling promoted the fastest rate of engagement within the first 30 minutes. But Instagram's algorithm in 2021 is not that simple, and this strategy could actually be stifling your engagement rates. 
Recent findings from Later found that the best times to upload are becoming earlier and earlier – sometimes as early as 5 am in local time. It's not exactly clear why this is, but it's likely that as the algorithm continues to favor quality engagement, hours-old content with better engagement can easily outrank fresh content on the Feed. In other words, posting on time might actually be posting too late.
How To Know When to Post on Instagram: 4 Easy Steps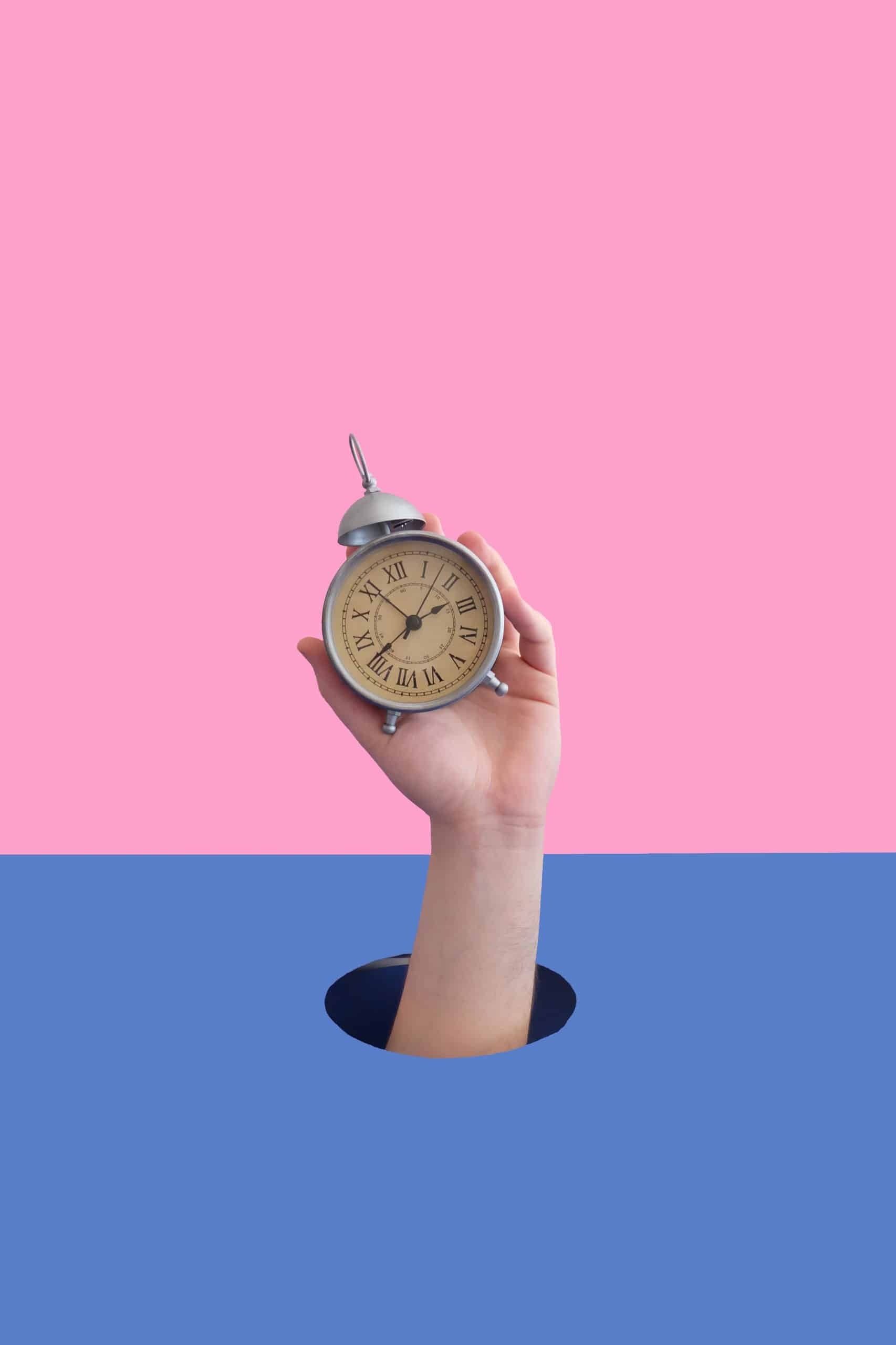 If you want to find the best times to post on Instagram, you need to use a strategy that matches the way Instagram is also ranking your posts. You can do so by focusing on a few of the core factors Instagram uses in order to rank content and create a complete posting schedule in the process. Here are 4 easy steps to help you find the best time to post on Instagram today, tomorrow, and beyond:
1. Find Your Audience
Knowing your audience(s) will give you a better idea of when to post on Instagram than global data. If you have a business account, take advantage of Instagram Insights to evaluate your audience and engagement. Take a look at your competitors or other brand accounts in your industry and when they're posting to fill in any gaps your own performance data may be lacking.
If you are using a personal account, take a detailed look at your followers and their accounts. In many cases, their public information is more than enough to find key insights into your target demographic like their general location, age range, and interests. Ask yourself when they're most likely to be scrolling through their Feed based on this information. For example, if your audience is younger, you can assume that your posts will see more engagement before and after typical school hours, or during lunch breaks. 
2. Post Early and Often
As stated before, the latest research proves that Instagram no longer favors rapid interaction as much as it used to when it is ranking posts. Instead, promote quality engagement in order to be picked up by the algorithm by posting consistently throughout the week, 2-3 times per day.  
Prioritizing one of your posts of the day for the early morning. For example, if you find that your audience is most active from 9 am to 11 am, the best hour to post on Instagram would be 6 am. By arriving before most of your competitors do, your content is more likely to get quality engagement from early risers. This boosts your post up the Feed just in time for the bulk of your audience to start scrolling. 
3. Experiment with Post Tracking & Scheduling
Once you have a solid idea of who you're trying to reach and a general idea of when is best to reach them, experiment with different posting times. After a few months of regular posting, you should be able to figure out key patterns that made some of your posts perform better than others. From there you can start creating a regular schedule for posting your content that will bring more engagement and new followers. 
4. Use Expert Insight
If all of this sounds too time-consuming for your schedule, you have plenty of outside options to find your unique best posting times. If you are looking for a simple do-it-yourself method, smart scheduling tools or third-party apps can help you create and track your posting calendar. 
If you are still struggling to make sense of your Insights or need more guidance, a knowledgeable Instagram agency can help. Their job is to constantly keep up with Instagram's algorithms, your audiences, and trends that can help boost your Instagram engagement. Contrary to popular belief, even small brands or aspiring influencers can work with agencies to create a marketing strategy that fits within their budget and helps boost likes, views, and followers.