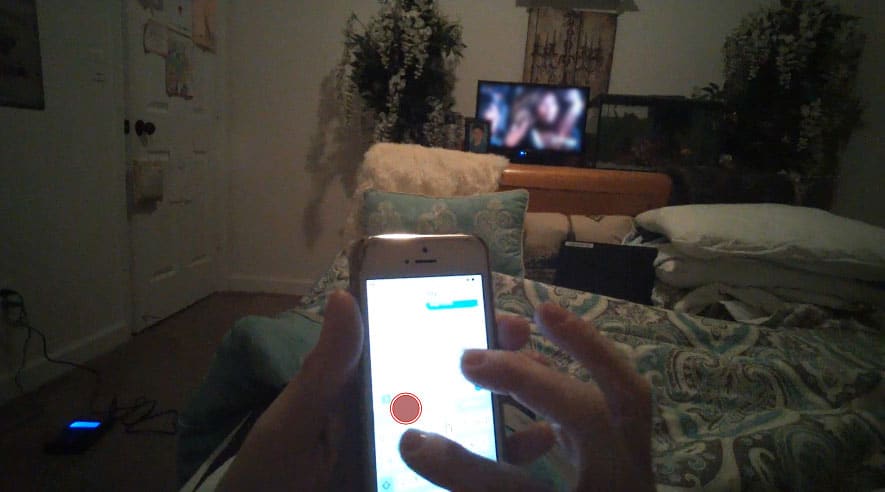 Have you ever kept your phone in a desk drawer or left it in a different room while you watched TV? That's okay. Most U.S. users would share your resounding no, according to a Facebook IQ study.
The study—"TV Watching in the Digital Age: Consumer Attention and Engagement" by Tobii Pro Insight and commissioned by Facebook—analyzed in-home eye tracking of 100 U.S. users who watch TV. Results found that 94% of TV viewers kept their smartphones with them while watching a show, creating a multi-screening experience. Furthermore, during their TV time, users only looked at the TV screen 53% of the time.
Additionally, Facebook IQ found that TV ad breaks were peak phone usage periods. Facebook users who posted that they'd be watching the premiere of a popular cable TV drama would sometimes more than triple their Facebook activity during ad breaks.
It comes as no surprise that Millennials now consume more mobile experiences than TV time. According to analyzed data on Millennial media behaviors, 21.1 billion hours were spent on mobile consumption in Q4 2016, compared to only 19.1 billion spent watching TV. Furthermore, when analyzing average age data, Facebook found that the average age of light TV viewers on Facebook is 27, whereas the average age of heavy TV viewers on Facebook is 48.
User Perceptions and Behaviors
Facebook says one of the reasons Millennials watch less TV is because, as mobile becomes more prominent, perceptions keep changing. A U.S. and Canada survey commissioned by Facebook IQ discovered that Millennials perceive TV as less affordable than watching mobile video.
Additionally, mobile devices allow users to multitask to the extreme, whether it be for work-related, social, or relaxing reasons. Even when their TV show is back from commercial break, users may still glance at their phone to check a work email, a message, or a Facebook status update. Staying connected to friends and world news or trends is a major reason that users continuously multitask with their mobile devices.
The Marketing Perspective
Of particular interest to marketers is the fact that, according to the Facebook study, typically about 2.5 seconds into a TV commercial, users disengage and redirect their focus to their smartphones three-quarters of the time. However, a neuromarketing study showed that emotional intensity and memory retention levels were higher when viewers recognized a TV ad they had first seen on mobile. From a marketing perspective, this indicates that TV ads can act as supplemental influencers to mobile ad campaigns.
As a marketer, you should
Launch mobile video ads geared towards targeted audiences with platforms like Creative Hub and Audience Network.
Create TV ads with audio that is powerful and engaging enough to trigger a memory link to your mobile ads.
Are you a multi-screening user? Share why and how you multiscreen in the comments section below.