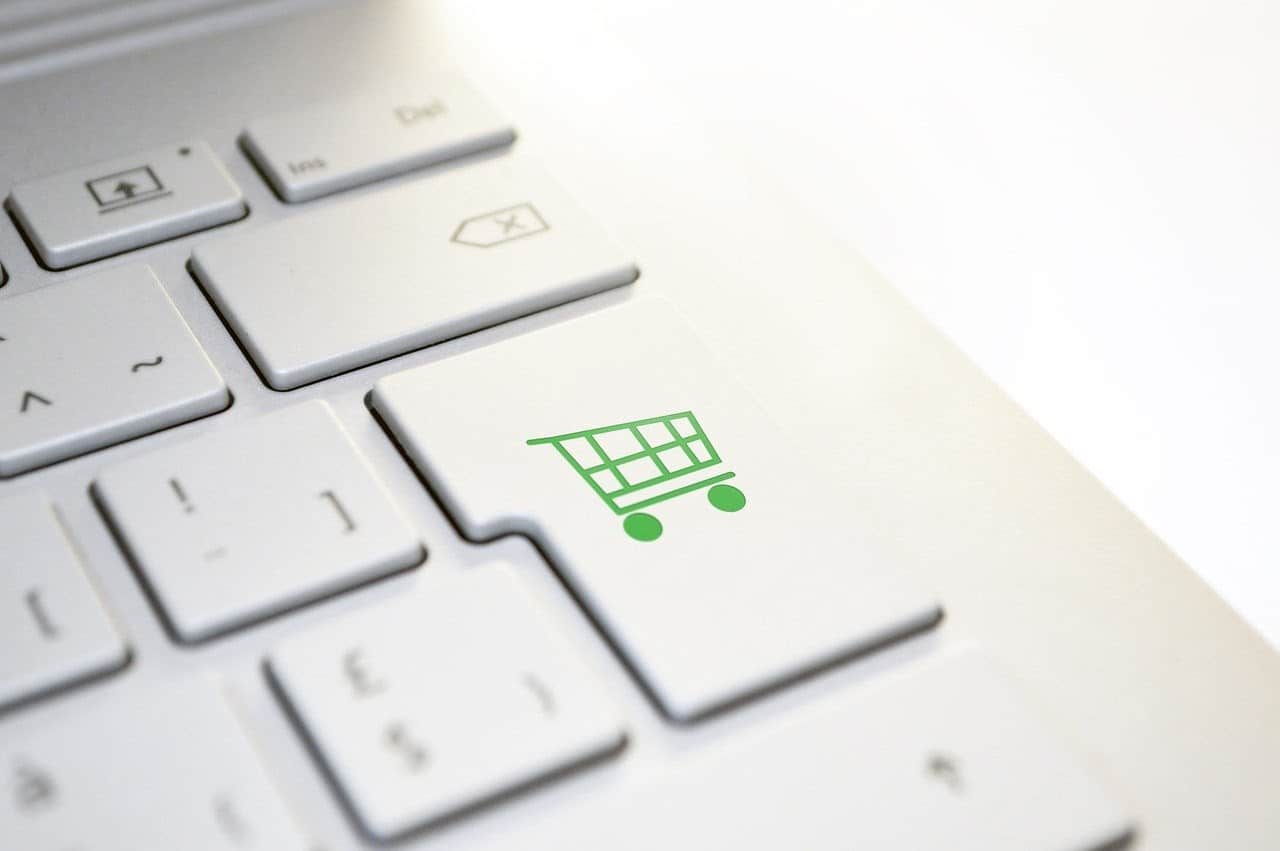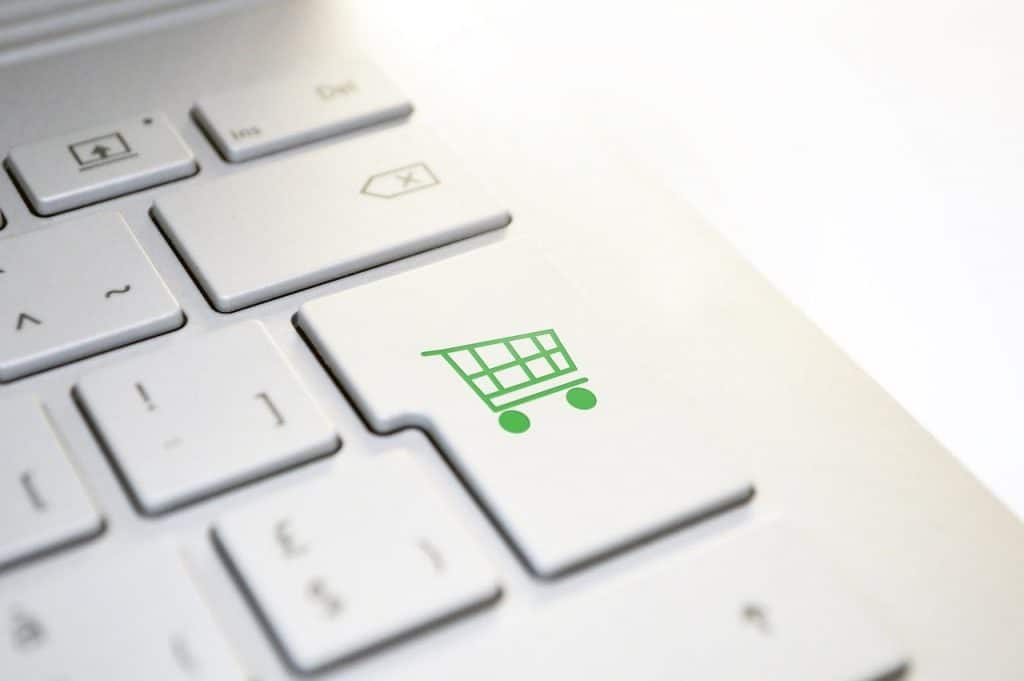 With every news cycle dominated by politics and the pandemic, it's easy to miss big ecommerce updates regarding technology and social media. Consider these developments, for instance:
This is what Vivek Pandya, Adobe's digital insights manager, has to say about this skyrocketing growth in a Forbes article:
"According to our data, it would've taken between 4 and 6 years to get to the levels that we saw in May if the growth continued at the same levels it was at for the past few years. We typically don't expect to see surges at this level at any time outside of the holiday season. For context, last year's holiday season drove $142.5 billion dollars from November 1st to December 31st, and that was a 13% year-over-year increase."
Here's the long and short of it: The ecommerce sector is constantly changing, depending on how users shop, how brands are marketing themselves, and what new technology is being used to drive a seamless shopping experience, like AI chatbots. So let's round up the year 2020 and see what big changes drove ecommerce sales to jump by 18% in the U.S.
1.  Ecommerce Is Growing During COVID-19 
One sector that is growing during COVID-19 is the ecommerce sector, and understandably so. People are unwilling to venture out and buy. Online shopping, coupled with the comfort of home delivery, has empowered users to take care of themselves at the click of a button. Clearly, ecommerce is growing from strength to strength, even when we're in the thick of a global pandemic:
According to research by CC Insights, U.S. retailers' online year-over-year revenue

growth increased 68%

as of April.

U.S. and Canadian ecommerce orders witnessed a staggering 129% year-over-year growth as of April 21 and a 146% growth in all online orders.
Key takeaway: COVID-19 may forever change the way customers shop online, and you need to keep track of every little change in users' shopping behavior if you wish to stay ahead of the competition in the post-COVID era.
2. Google Is Fast Emerging as an Online Marketplace
Tech giant Google needs no introduction, but did you know that you should optimize your ecommerce offerings for Google Shopping? Yes, you read that right. You can leverage this feature and reach a wider target audience for a fee. Here's how it works: Google Shopping Listings, also known as Product Listing Ads, places your products on top of Google's SERPs (search engine results pages).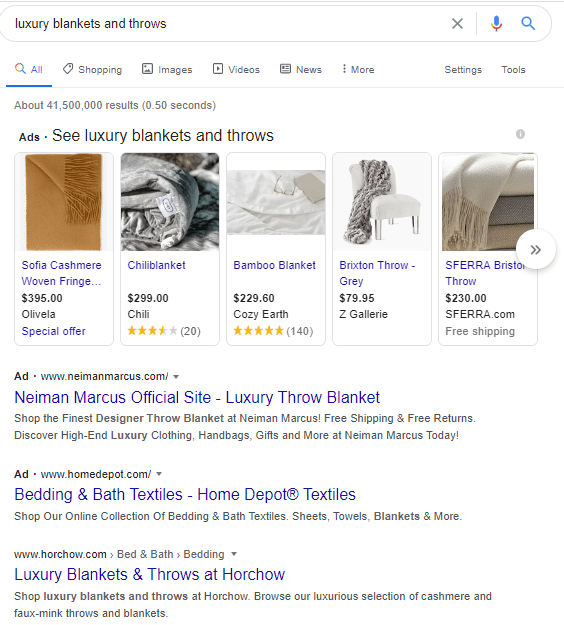 Image source: Google search results
This allows you to network with and reach a more universal target audience that will genuinely be interested in buying your products. The ads can include all important data, such as reviews, discounts and deals, and pricing.
If you're wondering why you should use this service, consider the infographic below, which demonstrates Google's shopping growth.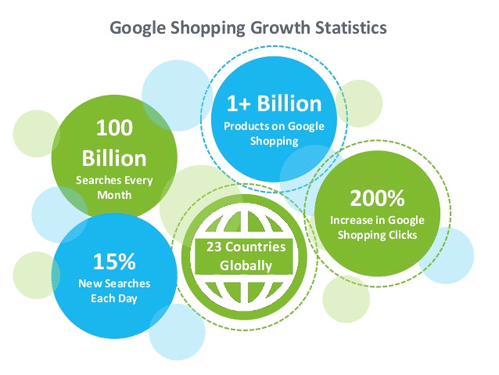 Image source: Adwords Robot
All in all, you can think of Google Shopping as an impactful sales channel and an effective SEO hack for your ecommerce brand.
Key takeaway: Google may be the gold standard for online search, but it is fast emerging as the best place for smart advertising. You could think of it as an online marketplace that you can use to leverage greater profits, sales, and widespread recognition.
3. Customers Are Shopping on Social Media Channels
Data by Absolunet shows the importance of social media in ecommerce:
87% of ecommerce shoppers believe social media influences their shopping decisions. 

1 in 4 business owners is selling through Facebook. 

40% of merchants use social media to generate sales. 

30% of consumers say they would make purchases directly through social media platforms.
Social media platforms have evolved from being mere "like"-churning machines to a convenient platform that allows users to shop directly for products, thanks to embedded links. Take Instagram's new feature Checkout with Instagram:
How does this help? Brands will longer need to direct customers to a website to buy products. They can simply check out of Instagram and engage in a single-click buying experience. 
Key takeaway: Making your online shopping experience quick and seamless can turn out to be the game-changer your brand needs.  
4. AR and VR Create an Immersive Experience
Often considered as immersive technology, augmented reality (AR) and virtual reality (VR) are driving deeper context into the customer experience. For instance, customers can "try on" a watch or "move around" furniture. 
Take a look at the NikePlus augmented reality tool, which self-corrects wrong shoe sizes.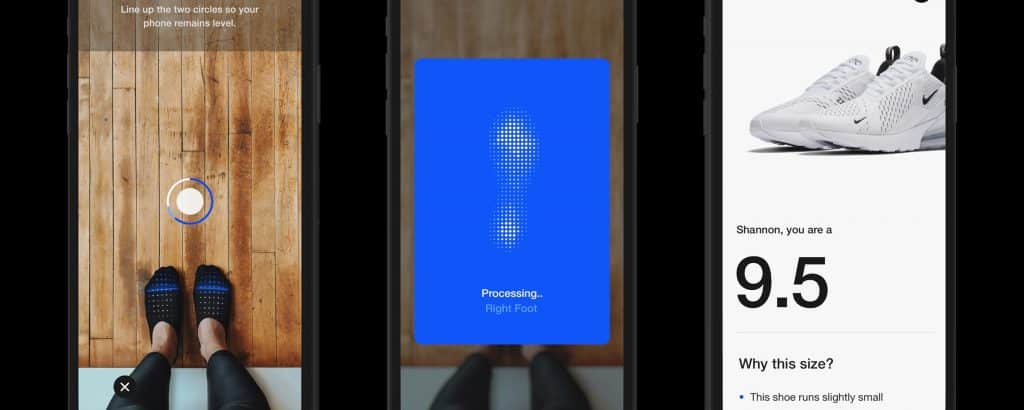 Image source: Nike
Samantha Wolfe, founder of PitchFWD, sums up the benefits of using immersive technology in a Forbes article:
"When it comes to working in XR [extended reality], marketers need to start to dimensionalize their thinking. It's no longer about a conversation between customers and brands, but instead, marketers are given an interactive, 360-degree palette to create meaningful digital customer experiences."
Key takeaway: Digital innovations such as AR and VR are increasingly being used by brands to address key customer pain points, innovate interactions with users on social media (think: Snapchat filters), and bring to life creative, high quality, 3D, and 360-degree shopping experiences.
5. Customized Products Are in for the Long Run
Customization has been key for big and small brands alike for some time now. Global brands such as Amazon and Walmart are cashing in on this integral feature to deliver stellar customer experiences. For example, Amazon's Recommendation Engine uses deep learning to offer hyper-personalized recommendations and relevant suggestions to buyers on things they're most likely to buy.
Image source: Amazon
The point here is this: Brands need to invest in technology that can help them analyze users' real-time behavior and then tailor products accordingly. 
Key takeaway: For a unique and personalized experience, you can use quizzes or surveys to understand user behavior and customize your products or services.
6. Customers Favor Flexible Payment Options
Alternative payment methods (APM) are shaping the future of ecommerce. Luckily, there are many options for customers today. For instance, digital wallets and online banking are becoming more and more mainstream. Plus, there are a plethora of social payment options available today, including Apple Pay, Google Wallet, Facebook Payments, and Twitter Buy. 
There's another interesting feature that deserves a special mention: Amazon's Prime Wardrobe, which makes shopping more convenient, user-friendly, and hassle-free: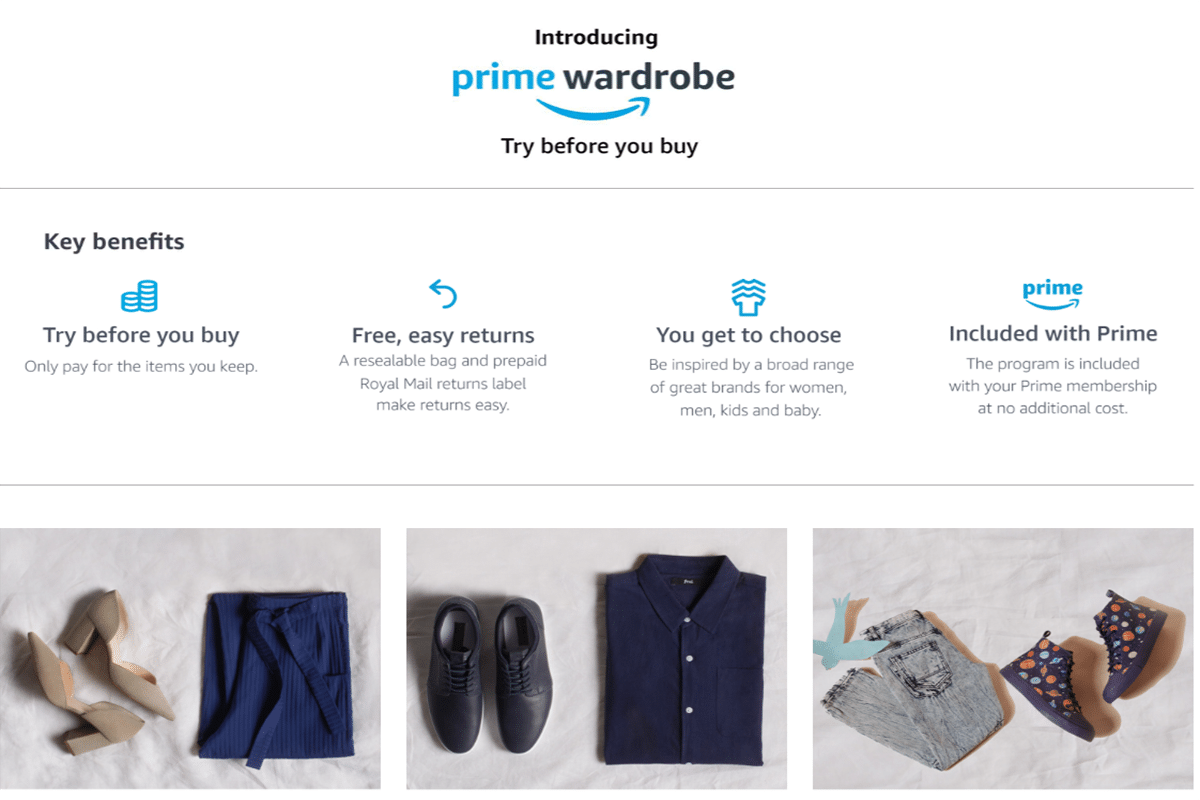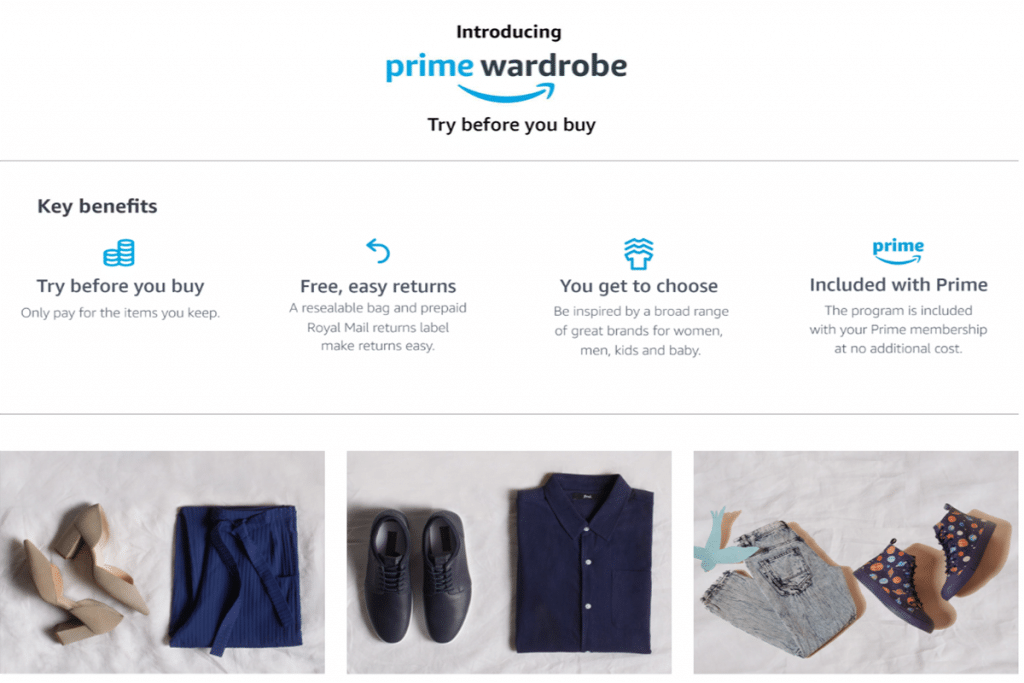 Image source: Amazon
This is an indirect form of payment beneficial to customers. Customers can select between three to eight items for free delivery with no upfront charge. Once they get the order, they typically have seven days to decide what they wish to keep or return. The best part? The company gives a resealable bag and prepaid label so returns are quick and painless.
7. Brands and Customers Are Becoming More Environment-Conscious
Data claims that 33% of consumers believe brands are responsible for the environment. The environment-conscious customer of today wishes to engage with brands that are reducing carbon footprint. In fact, a lot of ecommerce brands are driving a deeper relationship with customers by using environment-friendliness as a shared interest. For example, the brand Toms has a page on its website dedicated to detailing the sustainable steps it's taking to become more environmentally conscious.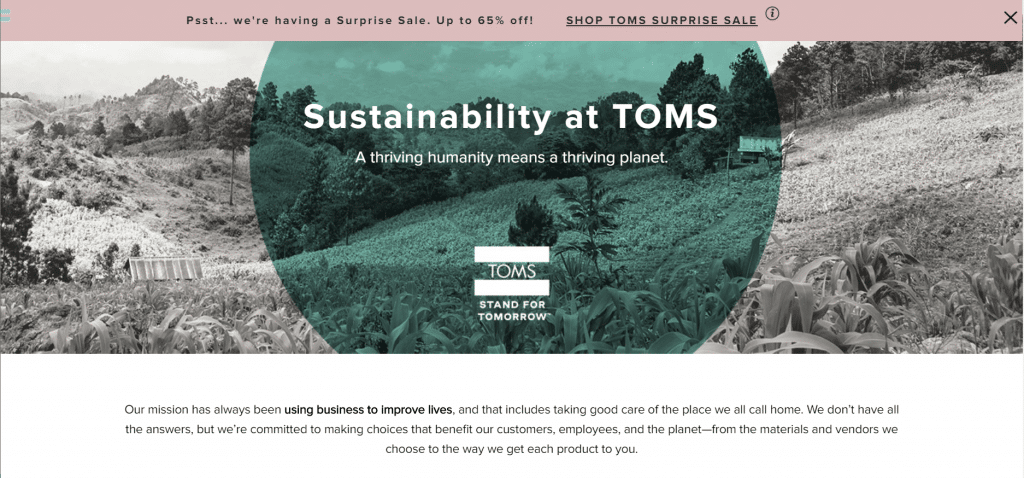 Image source: Toms
Key takeaway: If you wish to connect with your customers on a more meaningful level, you need to communicate your brand's ethos and culture in the most transparent and authentic way possible.
8. Artificial Intelligence Is Here to Stay
Ask ecommerce experts, and they'll tell you that the biggest roadblocks in this sector are accurate customer segmentation and correct identification of buying patterns based on customers' past shopping history. This is where AI-powered tools work their magic to create personalized recommendations for every customer. Sifting through mountain's worth of data (user search queries, shopping cart issues, buying behavior, demographics) is a time-consuming and costly affair. The use of AI makes the process quick, simple, and effective. Here are some benefits ecommerce brands can leverage by using AI:
They can create customer-centric searches that offer users

relevant

solutions. Case in point: Pinterest's new feature, which uses image recognition software. Users can select the photograph of any item online then ask Pinterest to surface similar items: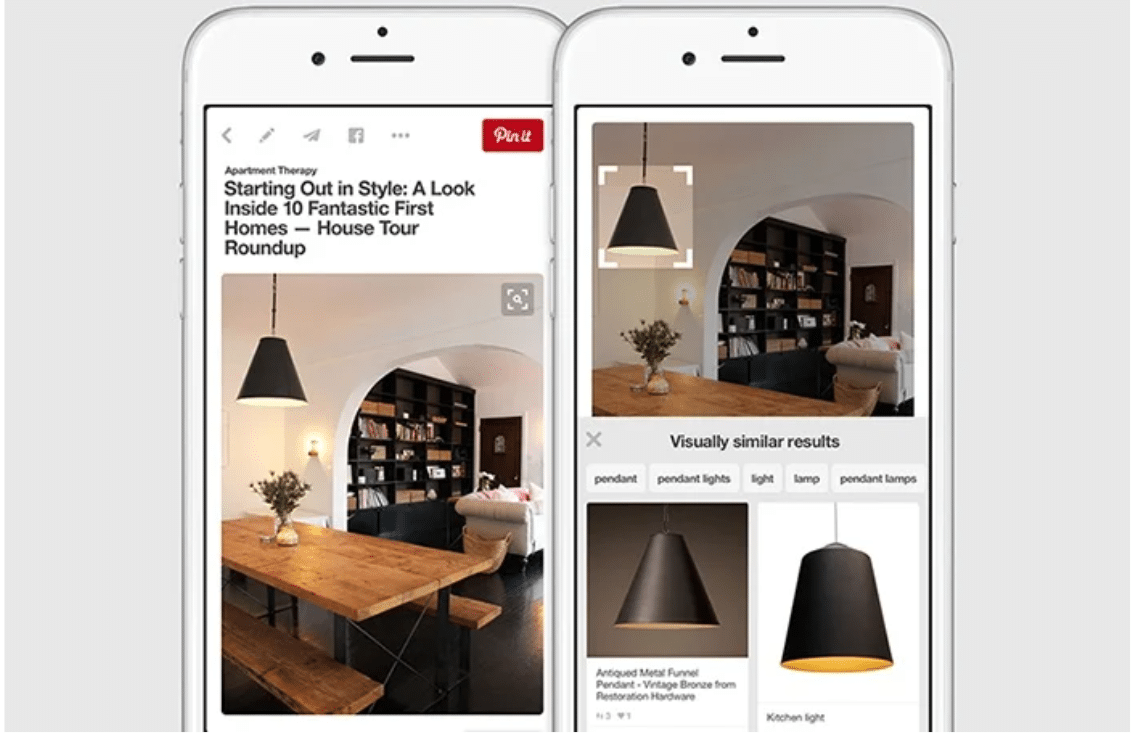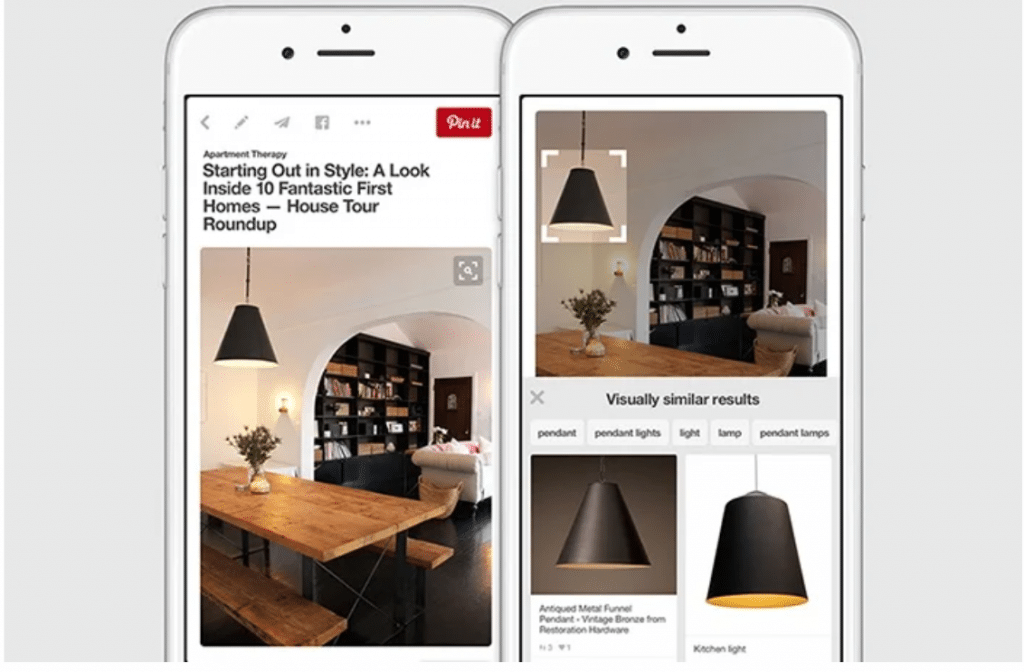 Image source: Linnworks
They can retarget potential customers with smart technology. Ecommerce companies are now using facial recognition to capture a potential customer's growing interest in a particular item in a physical store. This information is captured and will be used the next time the user walks in.
Key takeaway: AI-powered ecommerce solutions are driving sales while enhancing the customer experience in equal measure. If you wish to scale your operations and personalize your customer experience at the same time, AI is the way to go.
9. Influencer Marketing Is Driving Sales
If you love Instagram, you'll know that influencer marketing is all the rage now, and for good reason. These influencers have a very strong sway on their target audience. In fact, 70% of teens trust influencers more than they trust celebrities. Plus, four in ten millennial subscribers say their favorite influencers understand them better than their friends. Saving the best for last: Forty-nine percent of consumers rely on influencer recommendations.
If you wish to connect, build trust, and understand your users, influencer marketing is the way to go. Identifying appropriate influencers in your niche on various social media platforms is the first step toward pursuing this marketing strategy. Additionally, you must ensure all of your influencer-related communication is upfront and clear so as not to mislead customers in any way.
Key takeaway: Influencer marketing has emerged as the next big thing in ecommerce marketing. This makes sense as people trust micro-influencers for their authenticity and genuine interest in the offering at hand.
10. Live Chat Is Providing a Much-Needed Personal Touch
At this point, it's worth mentioning that ecommerce brands should definitely look at ramping up their virtual customer-service game. This is where using Acquire's live chat can be of great assistance: twenty-four-seven bot availability, the ability to connect with website visitors in an instant, qualifying quality leads, and real-time customer support. The benefits are manifold.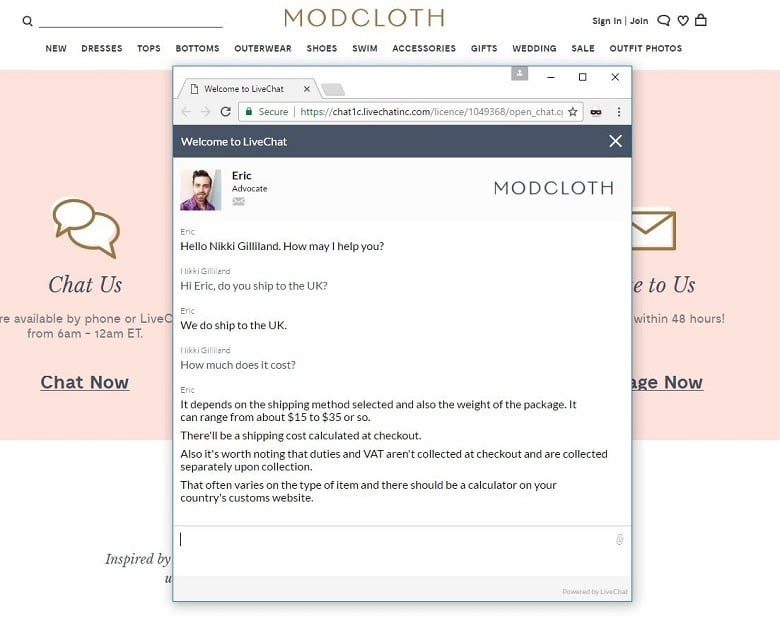 Image source: Econsultancy
Key takeaway: AI-powered live chat tools are emerging as every ecommerce brand's best friend. From the customer's point of view, they act as a handy virtual guides assisting users and answering queries. From the business perspective, they can help automate routine tasks and help take off some of the workload. 
Closing Thoughts
As you can see, the ecommerce sector is constantly growing, as the user's needs evolve and as emerging technological innovations keep disrupting the space. Brands need to find a healthy balance between their own offerings, their customer's personalized demands, and the use of immersive technology to stay afloat in the current business climate and ahead of the competition in the post-COVID world.