Pinterest is the ideal platform for travel brands because it's the go-to site for planning. Travelers pin their favorite tips and ideas for their travel plans, organizing them into convenient Pinterest boards.
According to Pinterest, 69 percent of travel pinners use Pinterest to discover travel services when deciding what to book and 76 percent of travelers searching on Pinterest make a purchase after seeing travel content from brands on the platform. Whether you manage a travel agency, travel service, travel blog, or popular travel brand, Pinterest is clearly the place to reach your audience.
Based on the travel trends Pinterest has identified across its platform, this article offers examples of the type of content you can share to attract the audience you're trying to reach.
Bachelorette Parties and Girls' Trips
Women visit Pinterest to plan bachelorette parties, or any all-girls' trip for that matter. They tend to be bigger planners than men, looking for all the ways they can give their trip some extra flare. Here's where images and articles are particularly effective on Pinterest. Show various images of girls partying it up at a fun destination, like the beach, a spa, or a theme park resort.
Add another layer to your Pin by making it a useful article users can click. For example, Bridal Musings attaches to its collage of bachelorette party images a link to an article titled "How To Throw A Chill AF Bachelorette Spa Weekend." The Pin is still relevant to travel while also providing useful tips for a bachelorette party.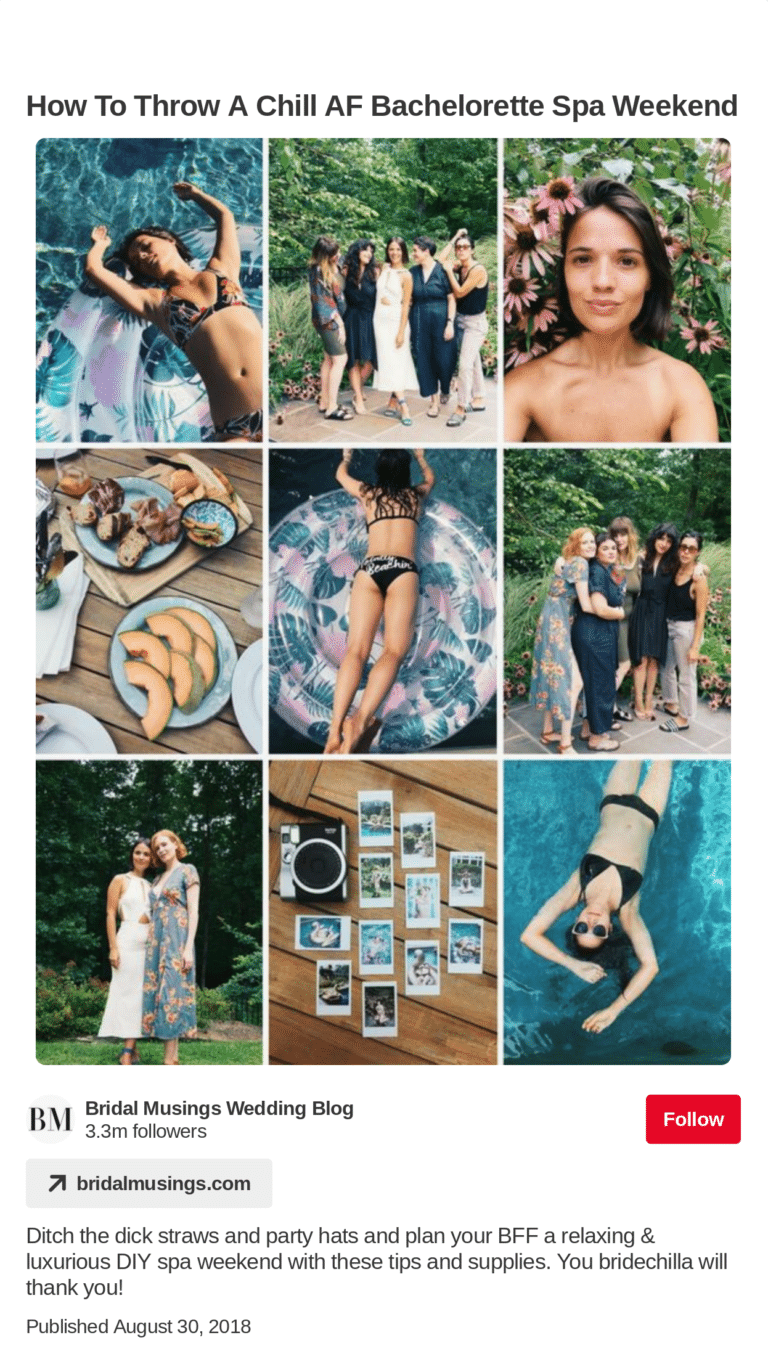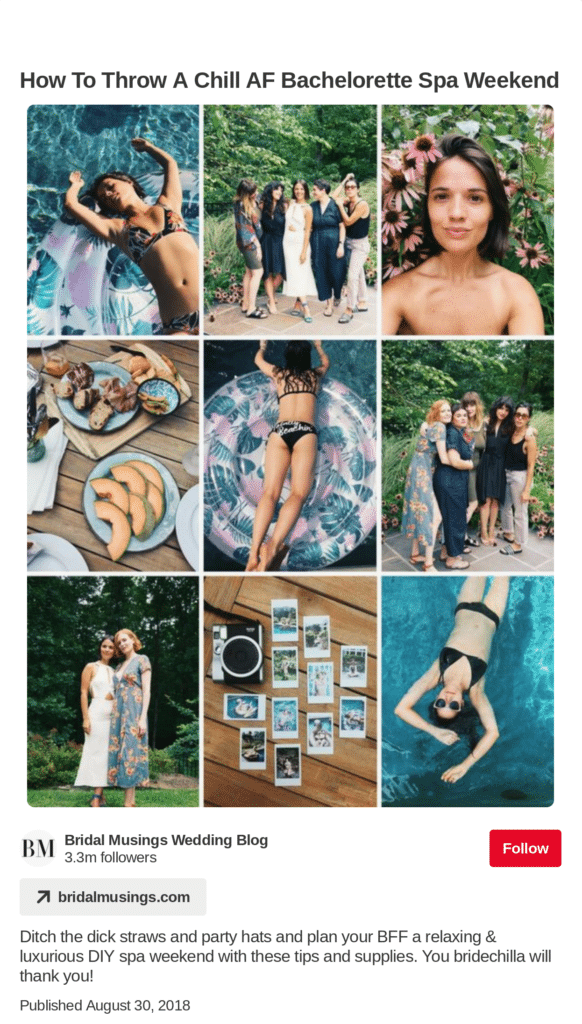 Road Trip for Kids
When families with children plan road trips, they're looking for practical advice that will make the experience fun for everyone. Itinerary graphics, how-to videos, and articles with tips are the types of content you should post on Pinterest.
For example, Trip Advisor uses an image with the text overlay "10 traveler secrets to packing smart" and attaches a link to an article with those packing tips. Packing is one of the hardest parts of planning a road trip with kids because there's a lot to bring. This Pin speaks to that struggle and provides a solution. You could also make a short demo video showing how to best pack.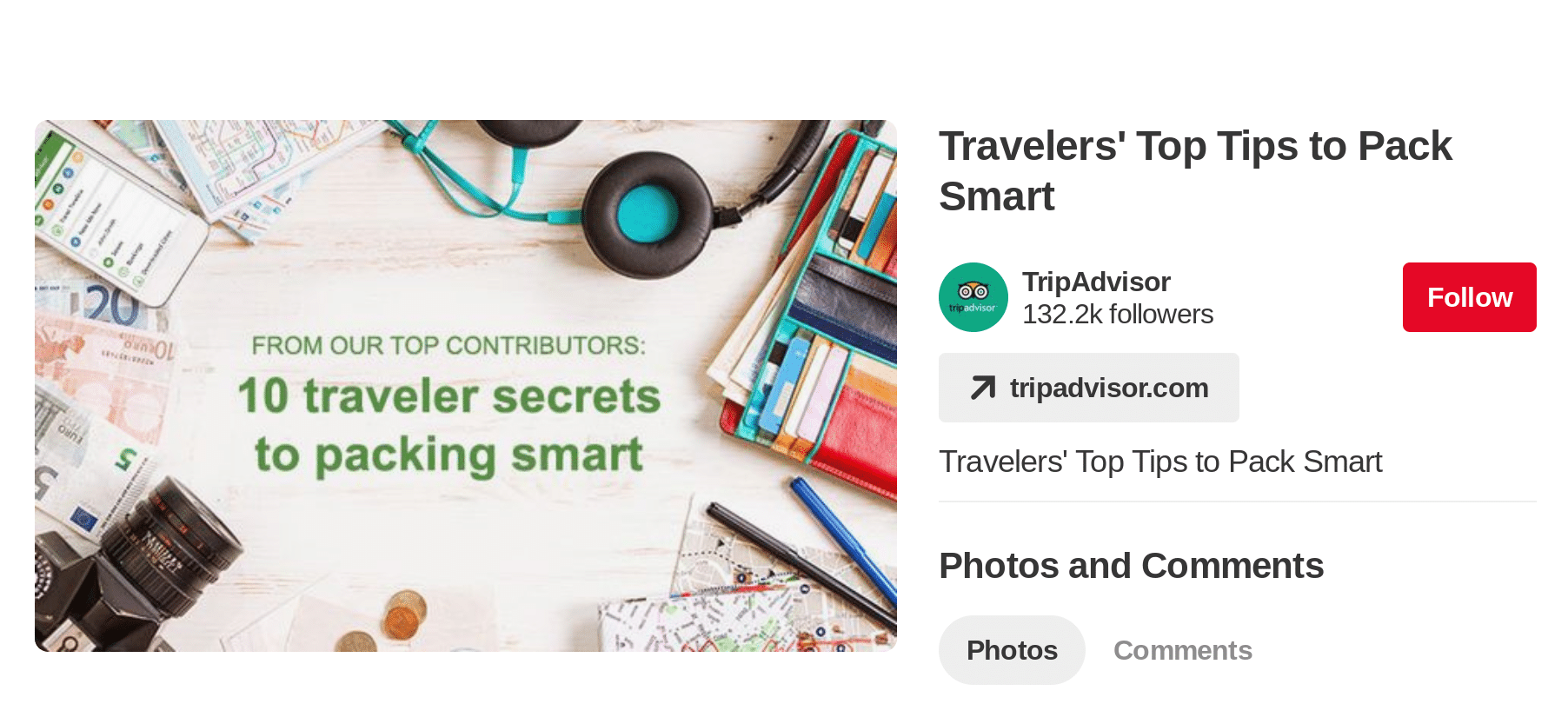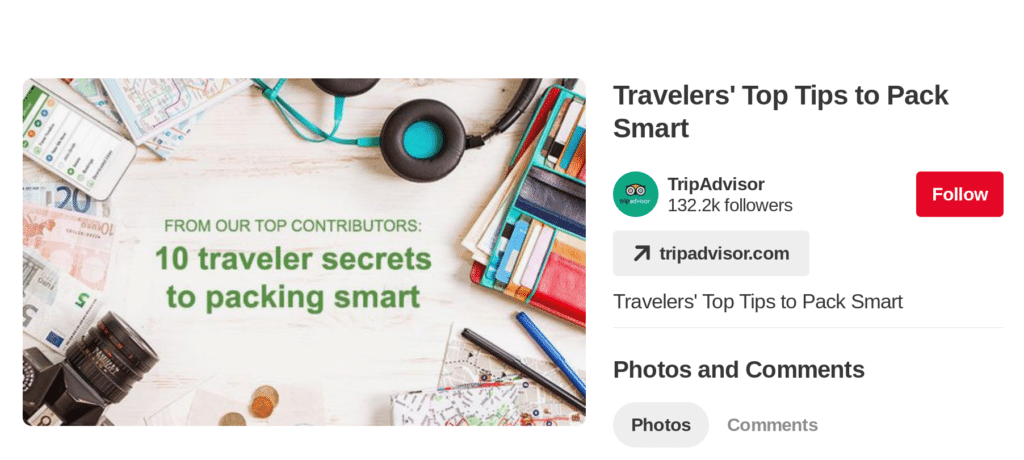 Quarter Life Quest, a travel blog, uses a graphic that lists the best places to eat in Disney World in this second example. Families can either use the Pin itself as a quick reference or they can click on the link to read more about each place.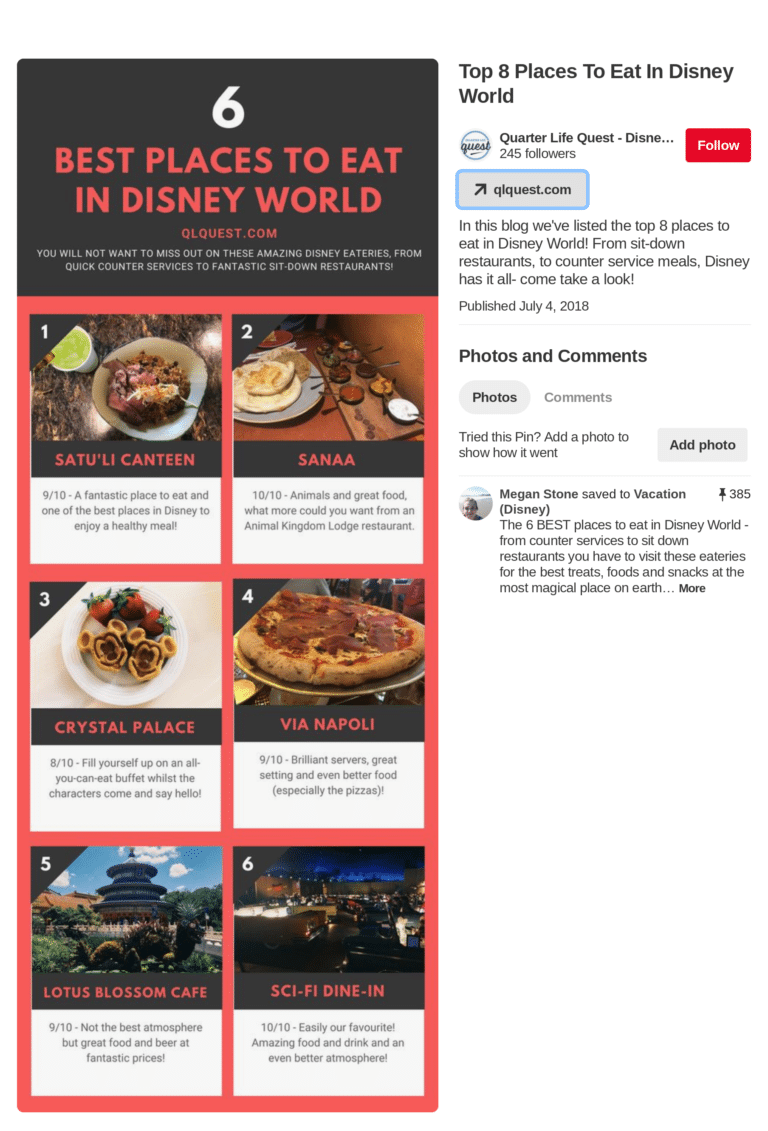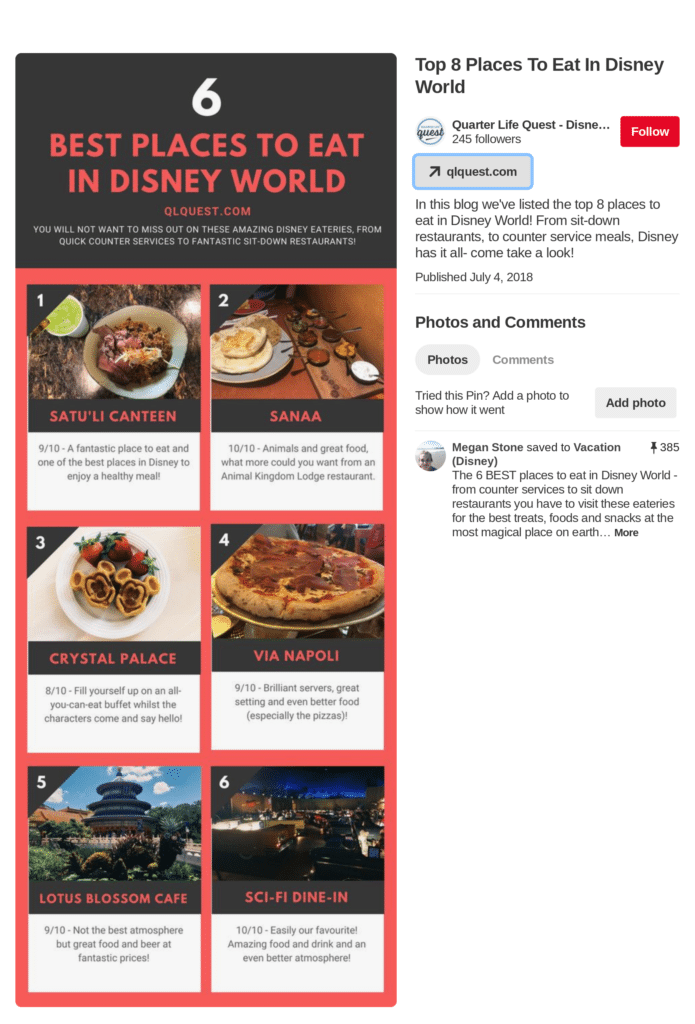 Things to Do (In the City)
Travelers, especially millennials, like to get out and about in the places where they travel, whether it be to dine, dance, watch concerts, or play games. Engage with your audience by helping them find things to do in the city they're traveling to. You can either show them through a video, or you can give them options by creating a Pinterest board that contains a variety of ideas.
For example, the Hampton Inn hotel in Monroeville, Pennsylvania has a Pinterest board titled "Things to do in and around Monroeville, PA (Pittsburgh)." It contains a gallery of Pins that feature activities and places to explore in the Monroeville and Pittsburgh area. It's helpful and convenient for anyone who chooses to stay at the hotel.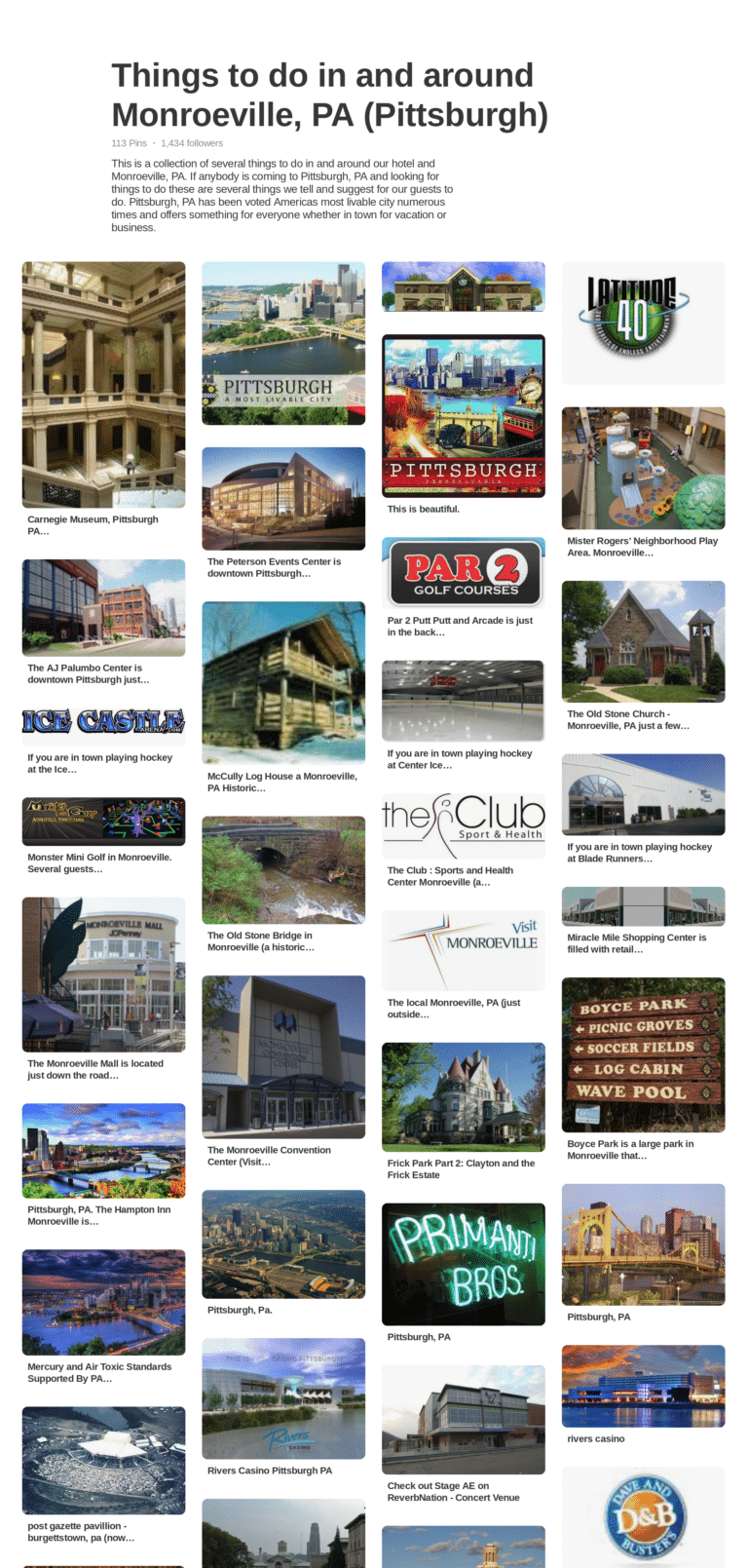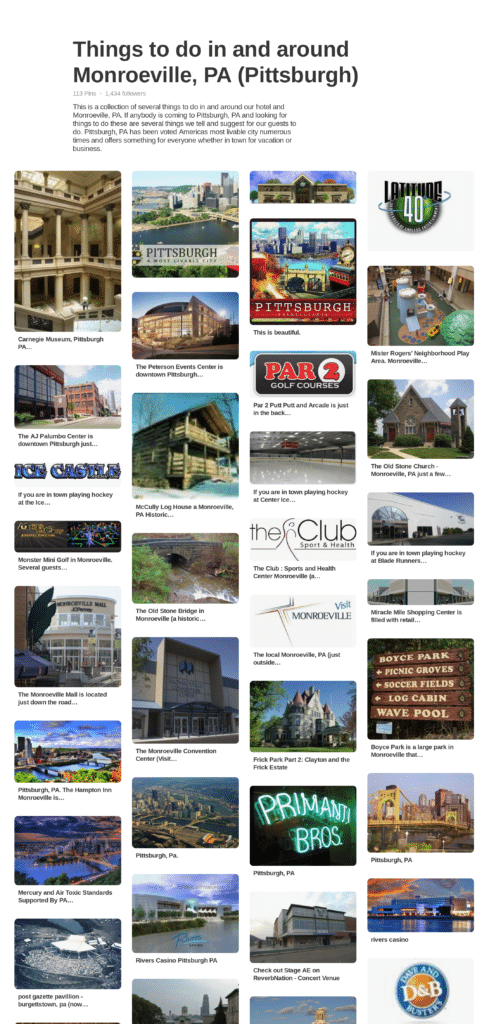 Winery Destination Ideas
Wineries and wine tasting are an undying trend, so if you want to get your audience inspired, give them some ideas for winery destinations. Feature sophisticated and popular wineries in high quality photos. In this example, Trip Advisor showcases Constantia Glen Winery, including the Pin text "Ranked #3 of 19 attractions in Constantia. Been here too? Add it to your map!"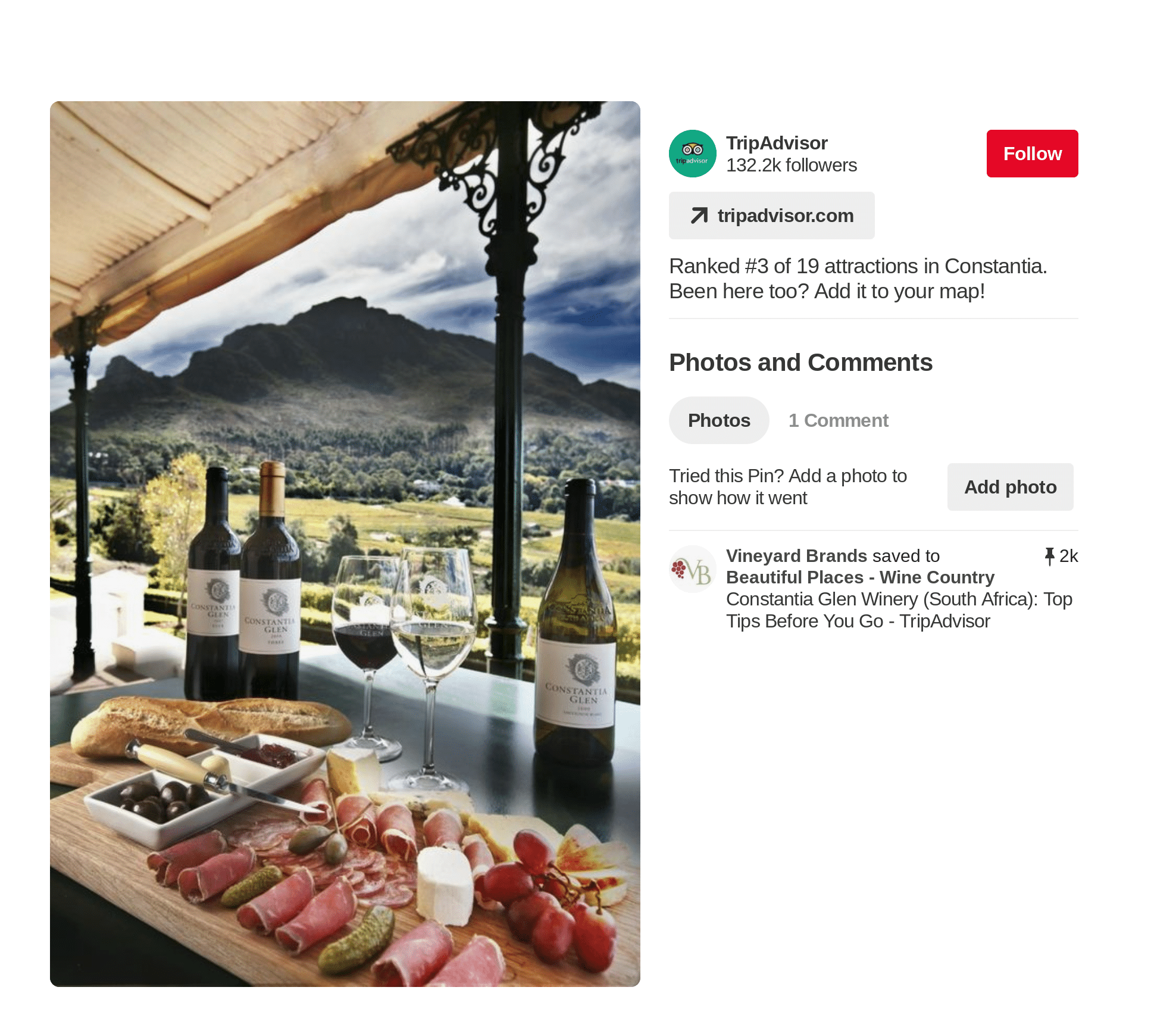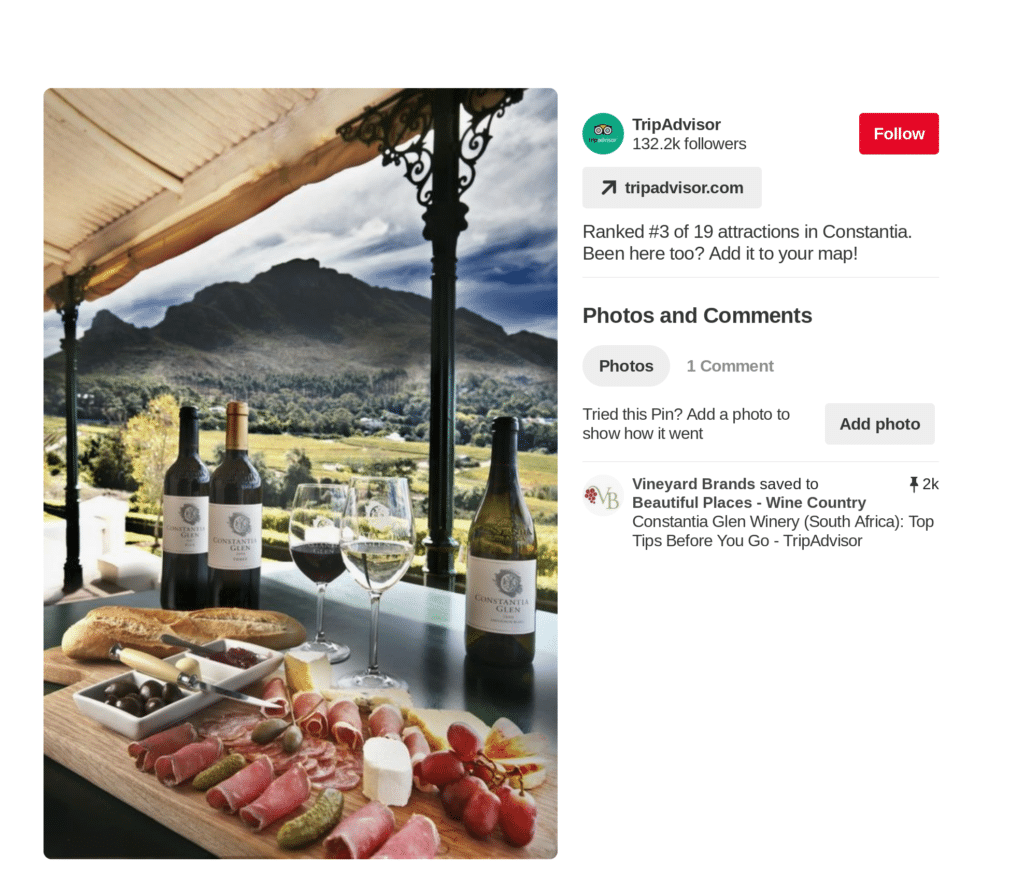 The text gives the image meaning and encourages users to click it, but the text would fall flat without the stunning image or the link to a booking page or about page. When creating your own winery destination ideas, make sure all the Pin elements work together.
Beach Resort Outfit Ideas
Nothing helps build hype for a trip to a beach resort than looking at outfits to bring. Take advantage of that hype by creating a Pin board dedicated to beach outfits. Mix it up between collage graphics and single photos of models sporting beachwear. For example, you might add this Pin, which features multiple photos of beach resort outfits and links to a website where users can discover and purchase even more outfit options.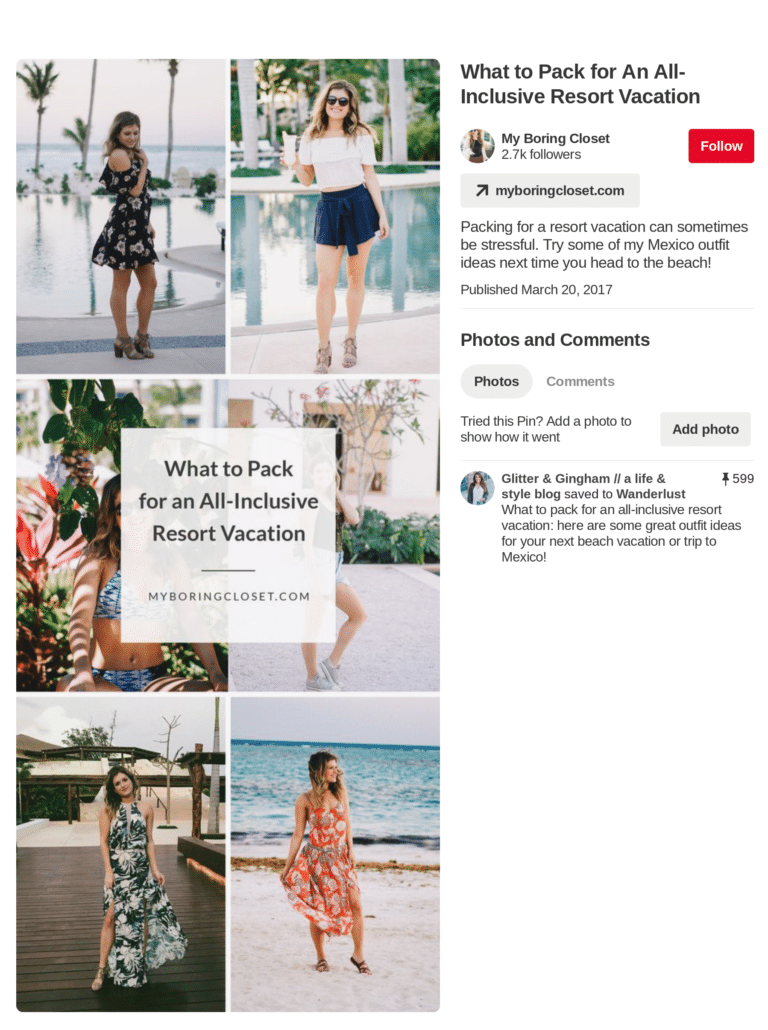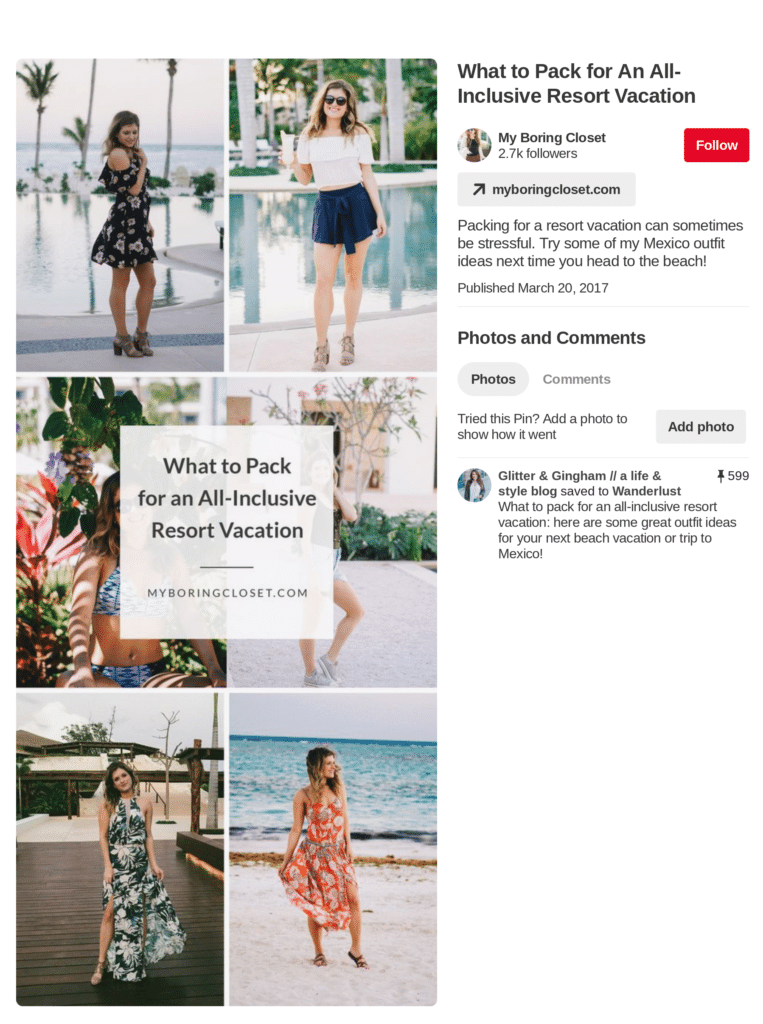 Weekend Getaway Ideas
Pinterest is a great platform for brainstorming, even if it's just for a short weekend getaway. You can help your audience generate ideas with a graphic showing a few different destinations, a video of people enjoying those destinations, or an image with a link and text overlay.
With the last option, you can direct your audience to your travel website with an enticing headline. That's what Travelocity does with a Pin that has the text overlay "8 Weekend Getaways for Under $1,000." When clicked, it directs users to Travelocity's blog post listing eight getaway ideas in detail.
Food Guide to City
Another common Pinterest trend for travellers is food. Where are they going to eat once they get to their destination? Help them out by sharing a food guide Pin, either as a graphic with the top places listed in a specific city or with a link attached to an image that takes users to your guide.
Conde Nast, for example, shows a photo of a chicken meal with accompanying text that reads, "10 Best Places for Hot Chicken in Nashville." When users click the Pin, they are directed to the blog post on Conde Nast's website that lists those places. Conde Nast is further helpful because the Pin is organized in a Pinterest board designated to Nashville-specific Pins with guides.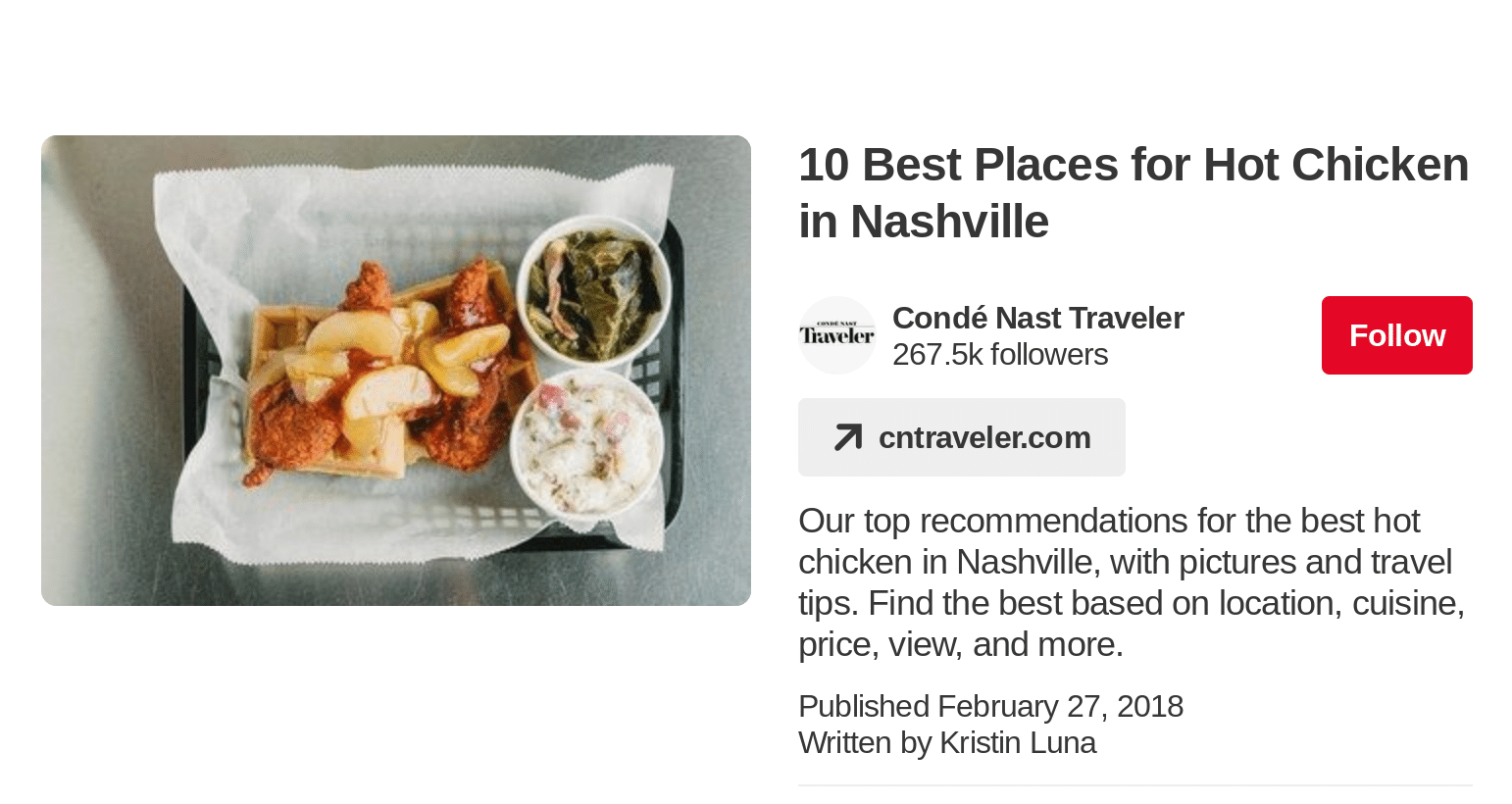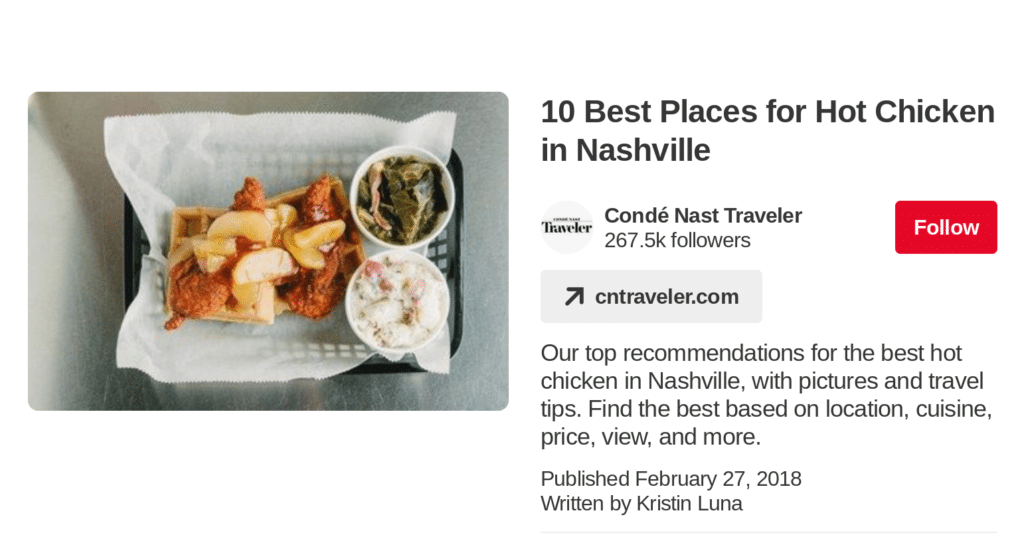 Image Specifications and Best Practices
To ensure that your images appear perfectly on Pinterest platform, you must abide by the rule of its specifications. By doing so, you'll prevent errors such as images that are cropped awkwardly or images that appear pixelated once posted to the site.
First, you must ensure your images are of the right file type, which are PNG and JPEG, and the right file size, which is no bigger than 10 megabytes.
Second, the pictures you post must have the following acceptable width and height:
Width = 600 pixels, Height = 900 pixels
Width = 1000 pixels, Height = 1500 pixels
Width = 1200 pixels, Height = 1800 pixels
Width = 2000 pixels, Height = 3000 pixels
Your goal on Pinterest should be to guide users to the best ideas. This means your images should be both visually compelling and relevant to your brand. In addition to following Pinterest's image specifications, you must ensure that your images stand out in feeds and your Pin clearly highlights your brand or service or gives users accurate context about your offerings. Pinterest says you should also avoid abstract imagery or stock photography if it doesn't contribute to your message.
Help Them Plan Their Adventure
Pinterest is the planning platform. Capitalize on that by sharing practical and convenient information that will help your audience plan their trip. If you're struggling with content ideas, ask yourself: "What would I find useful? What would help me, as a traveler, plan my trip?" Once you know the answer to those questions, using the trends discussed in this article for inspiration, you're well on your way to giving your audience the adventure of their dreams.