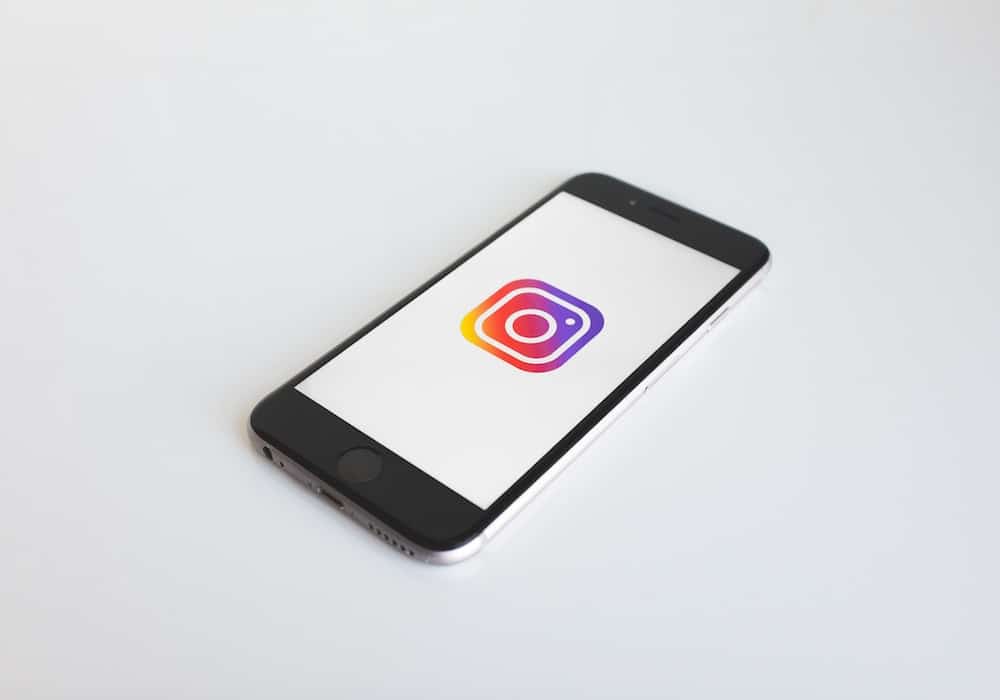 The popularity of Instagram advertising is booming as the platform's user base continues to grow. In June, Instagram reached a major milestone of one billion monthly users. As a result, advertisers are flocking to Instagram to reach more people, particularly, the Gen Z generation. Using Instagram's variety of selling tools, like Instagram's Shopping tags, you can use the platform to acquire more sales for your business.
However, Instagram doesn't do all the work for you. You need to exert your own creative elbow grease to generate the results you want through your Instagram campaign. But what makes a good Instagram ad? There are qualities that exceptional ads typically have. Usually, a great Instagram ad does at least a few of the following: educates, entertains, engages, provides a value proposition, provides social proof, evokes an emotion, has high-quality images or videos, features the product, and implements good branding. Finally, a good Instagram ad is optimized for mobile screens.
While imitation may be the sincerest form of flattery, we know there are some restrictions. For example, mimicking another brand's social media and word for word, image for image, is an infringement on that brand's intellectual property. If you want to refresh your ads with better creatives, you don't need to copy word for word, image for image. Instead, you can get serious inspiration for your own unique ad by looking at ads other brands are showing off (for good reason). In this article, we'll look at some examples of exceptional Instagram ads that will hopefully inspire you.
1. Shapermint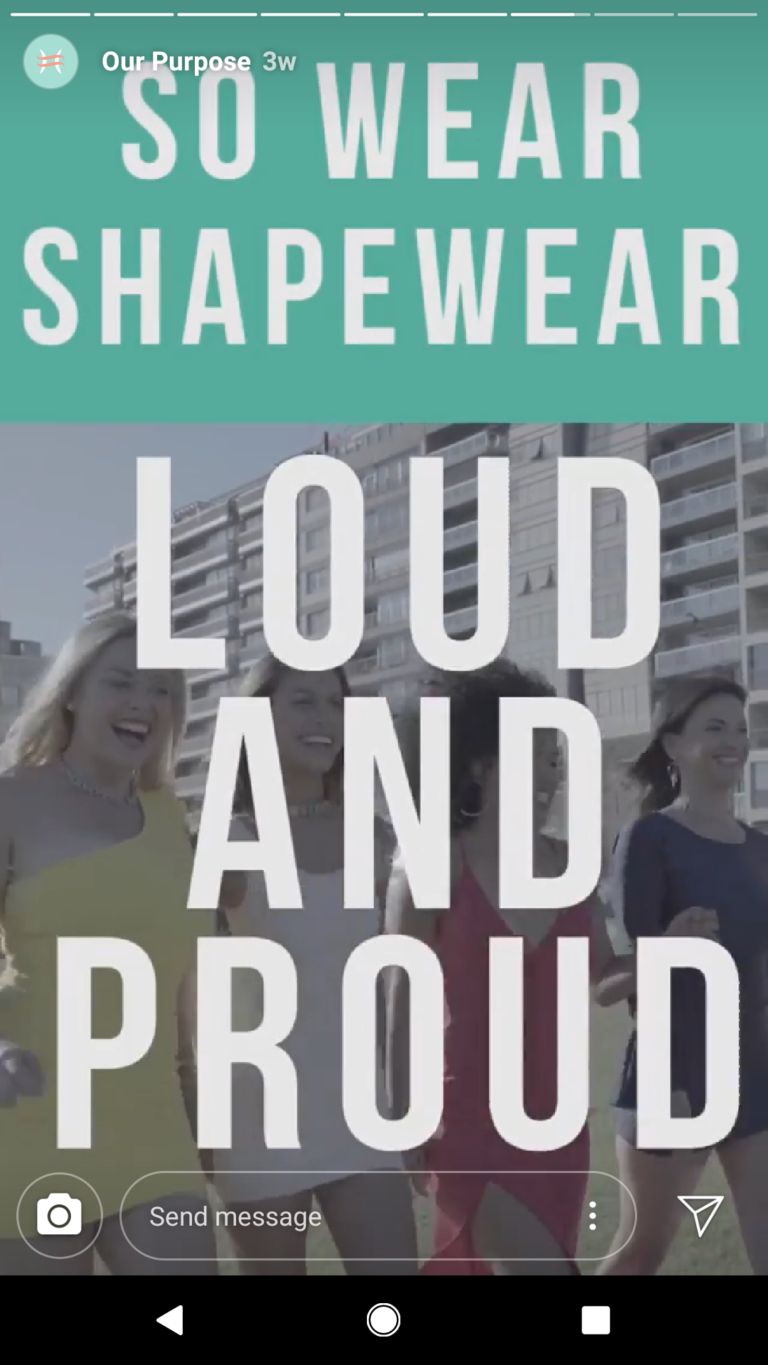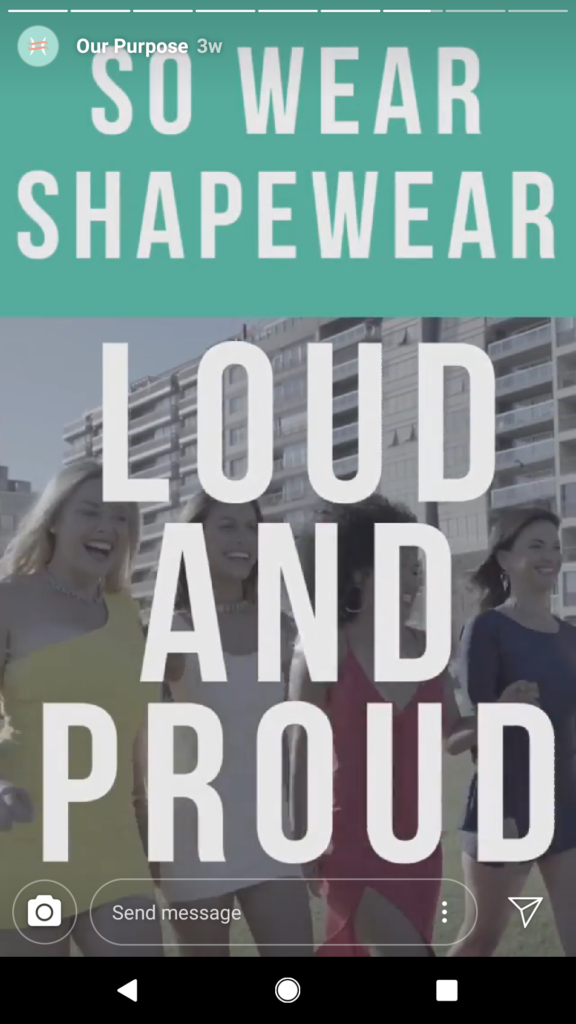 Shapermint is a brand that sells shapewear, clothing that slims women's bodies. In this Stories ad, Shapermint uses a series of video clips and text overlays to show women of various shapes and sizes wearing Shapermint clothing with confidence. The ad promotes body confidence and pride, no matter the body shape or size.
In addition to using high-quality video, Shapermint uses large, bold text to get your attention and manipulate your emotion. The brand cleverly uses strong, empowering language, such as "We are more than just our bodies," "Confidence," "Comfortable in your skin," and "In charge." Using this kind of language, Shapermint inspires women, likening the purchase of its products to joining a social movement.
The ad also incorporates good branding throughout the video. Where there isn't footage of women wearing the product, Shapermint uses text overlays with colored backgrounds that match the brand's color scheme. Additionally, the ad is optimized well for mobile, dividing up the screen vertically where appropriate and filling up the vertical space.
2. Starbucks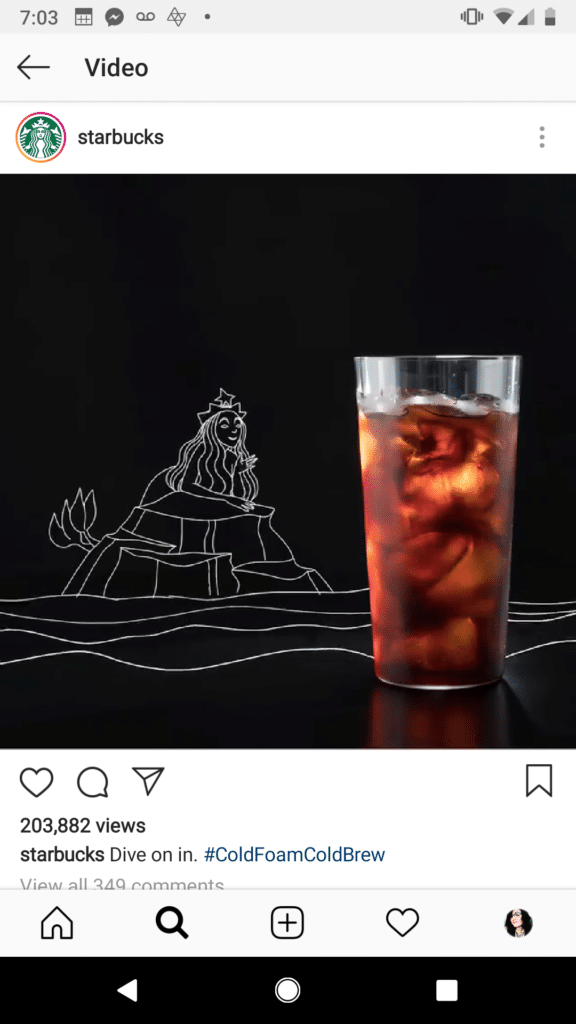 In this short Instagram video, Starbucks grabs your attention with a simple but effective animation. The mermaid dives into the ocean, splashing water into the pictured coffee drink, which foams at the top. The animation highlights Starbucks' cold foam beverage with only a very brief caption: "Dive on in. #ColdFoamColdBrew."
In addition to grabbing your attention right away and showing you the product it's promoting very clearly, Starbucks also implements good branding in this animation. Specifically, the mermaid in the animation is the woman from the Starbucks logo, and the black background and chalk-like white lines match the aesthetic of a Starbucks cafe.
3. Mrs. Meyer's Clean Day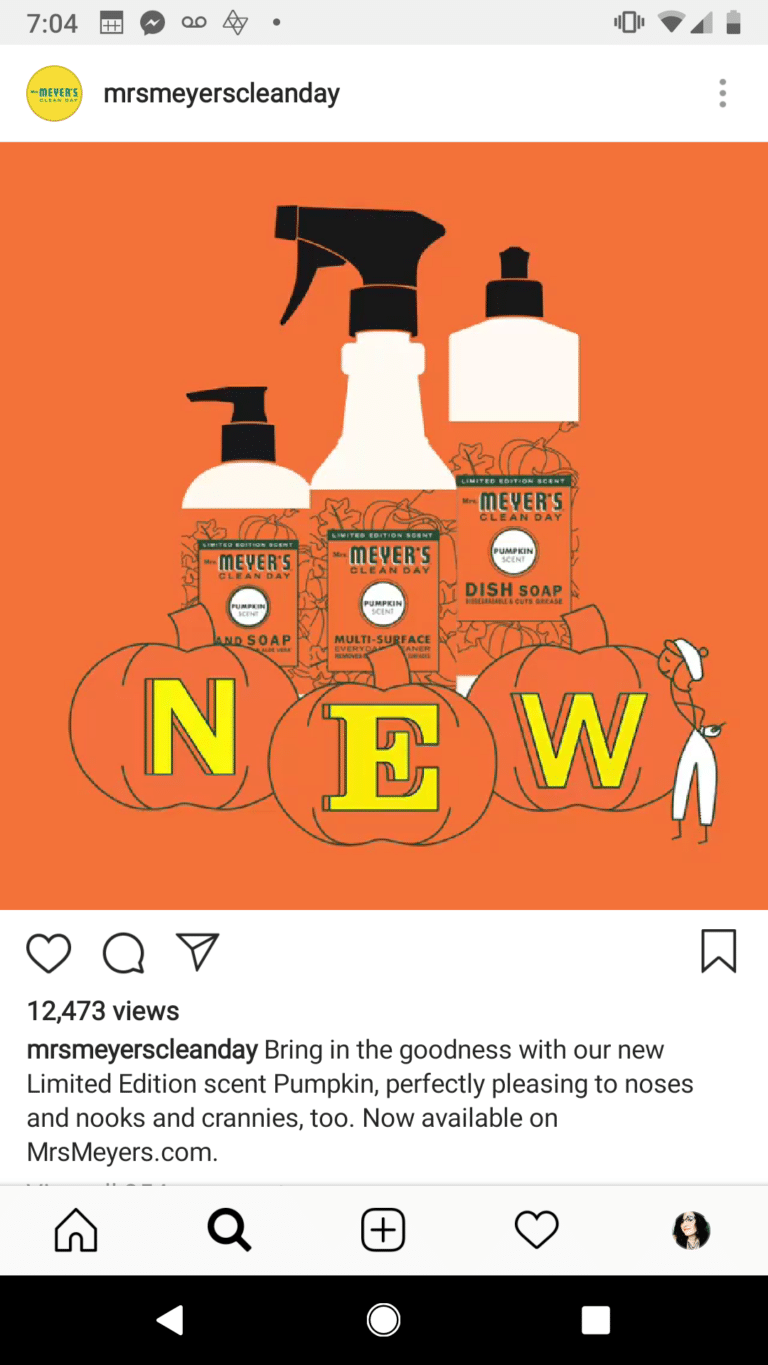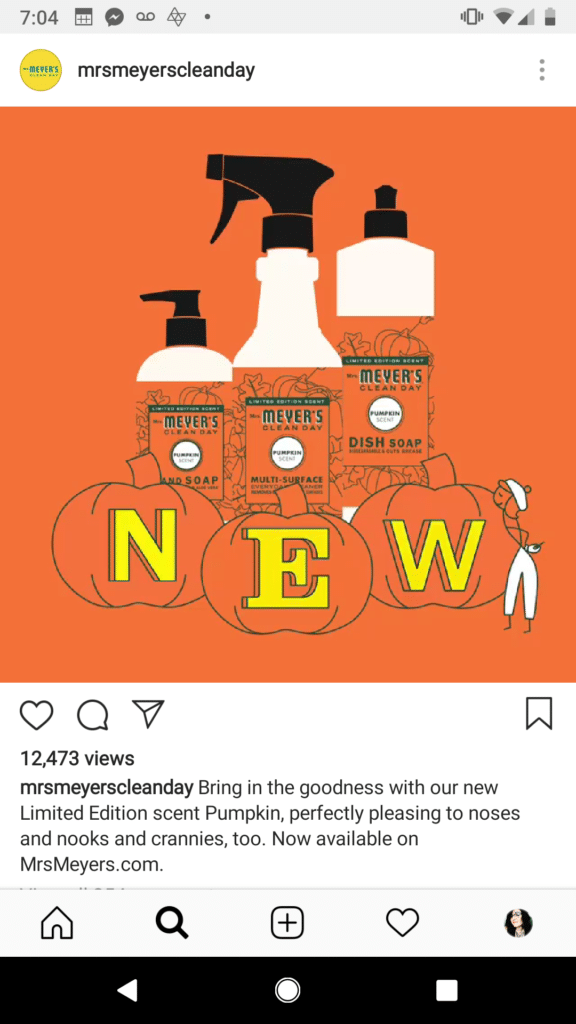 Mrs. Meyer's Clean Day is a brand of household cleaning products. Relevance, color, and attention make this a great video ad. First, the video is relevant to the time of year, October, using the color orange and pumpkin carving typically associated with Halloween. Next, after the cartoon character carves the word "NEW" into the three pumpkins, Mrs. Meyer's effectively grabs your attention when three of the brand's cleaning products pop up from each of the pumpkins. The image fills the screen and shows you clearly the products the brand is marketing: limited edition, pumpkin-scented cleaning products.
4. Function of Beauty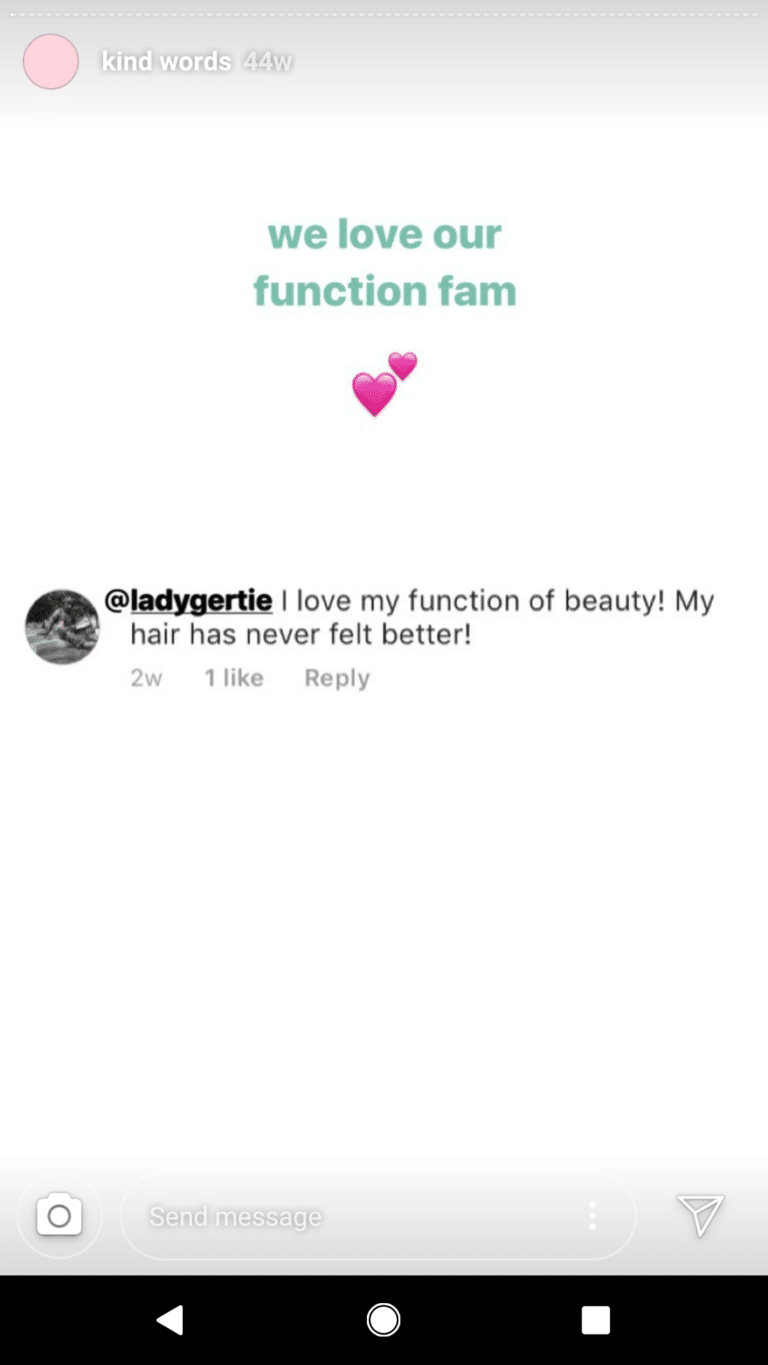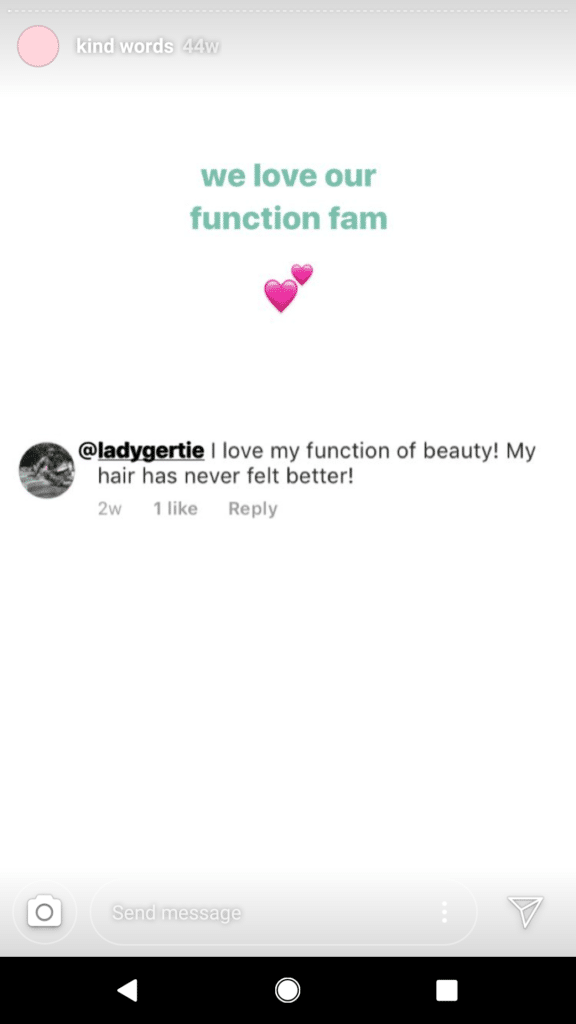 Function of Beauty sells customized shampoos and conditioners. This Stories ad is a great example of using social proof to build customer trust. Throughout the Kind Words story, Function of Beauty presents itself as a reputable brand by showing positive customer testimonials and online reviews of its products.
Customers are more likely to buy from a brand with a lot of positive reviews and testimonials. This ad creatively uses the Instagram Stories platform to get social proof of product reviews out there.
5. IHOP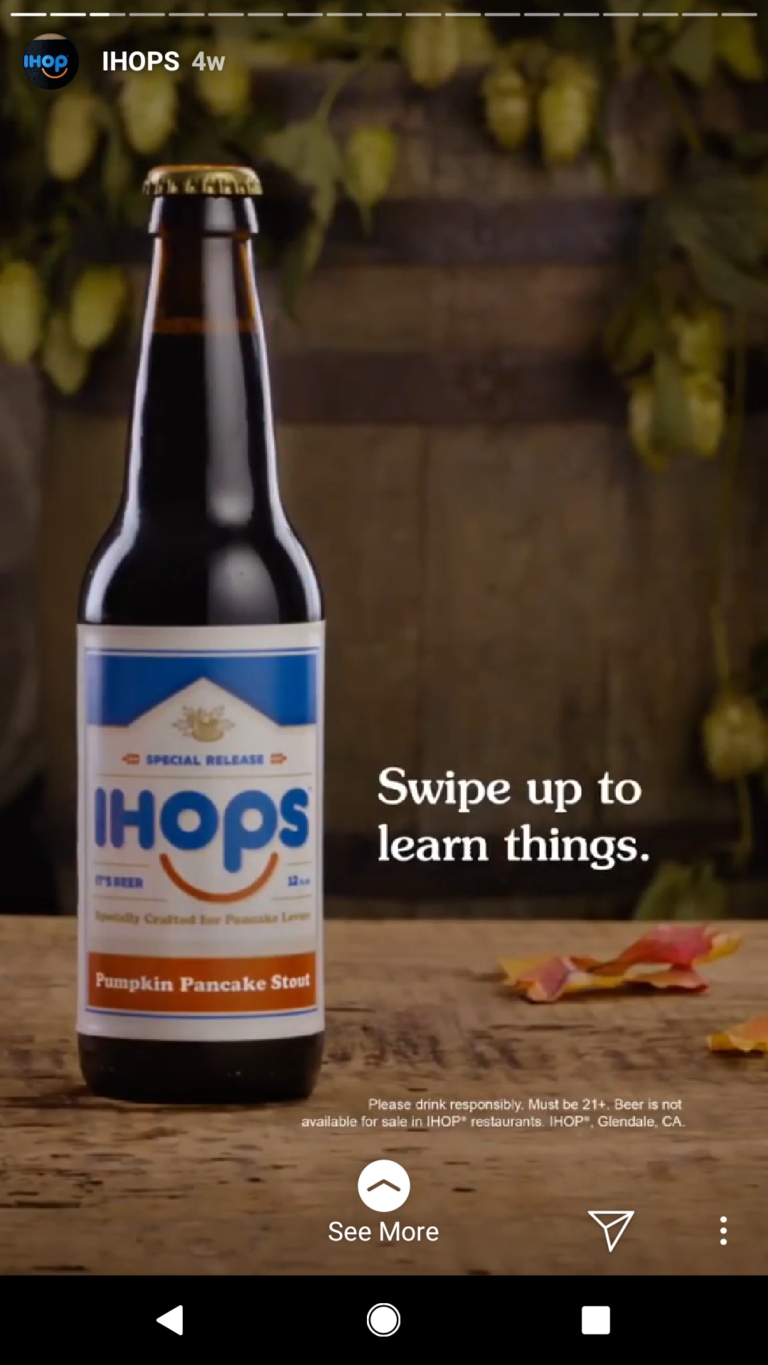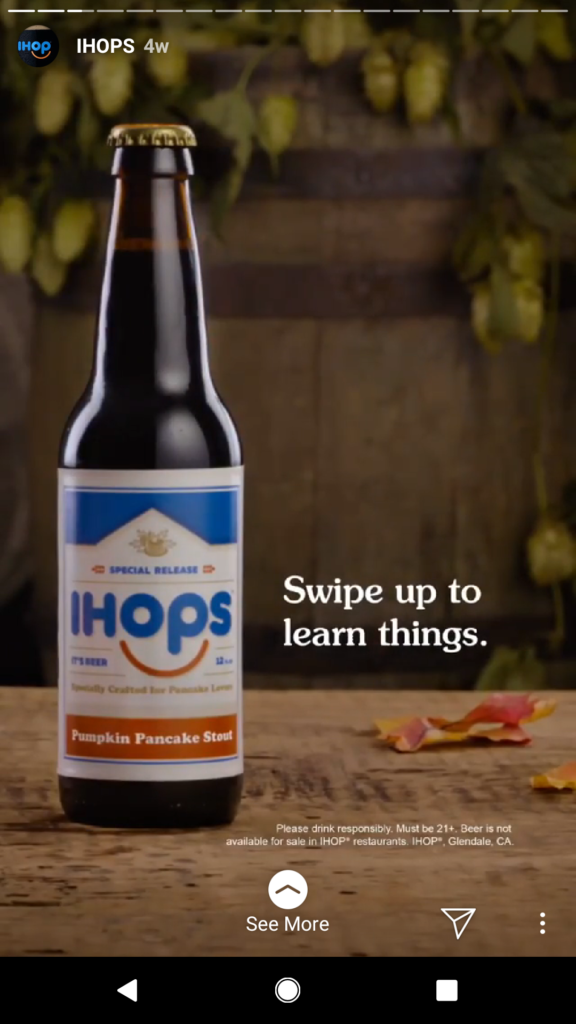 The International House of Pancakes (IHOP) offers more than just pancakes, as this Instagram Stories ad proves. This vertical ad implements the IHOP brand and humor throughout while also encouraging engagement. To promote its Pumpkin Pancake Stout, IHOP uses a series of close-ups of the beverage, as well as a video of the product being made. Periodically, IHOP presents call-to-actions, as seen in the image above with the "See More" swipe-up option, using humor to draw attention to it: "Swipe up to learn things."
The series of Stories also include fall themes relevant to the season, such as a hand popping up from a pile of autumn leaves holding a bottle of the "Pancakin' beer." Additionally, IHOP throws in "I'm a pancake beer, ask me a question" bubbles to get its audience engaged.
6. Calvin Klein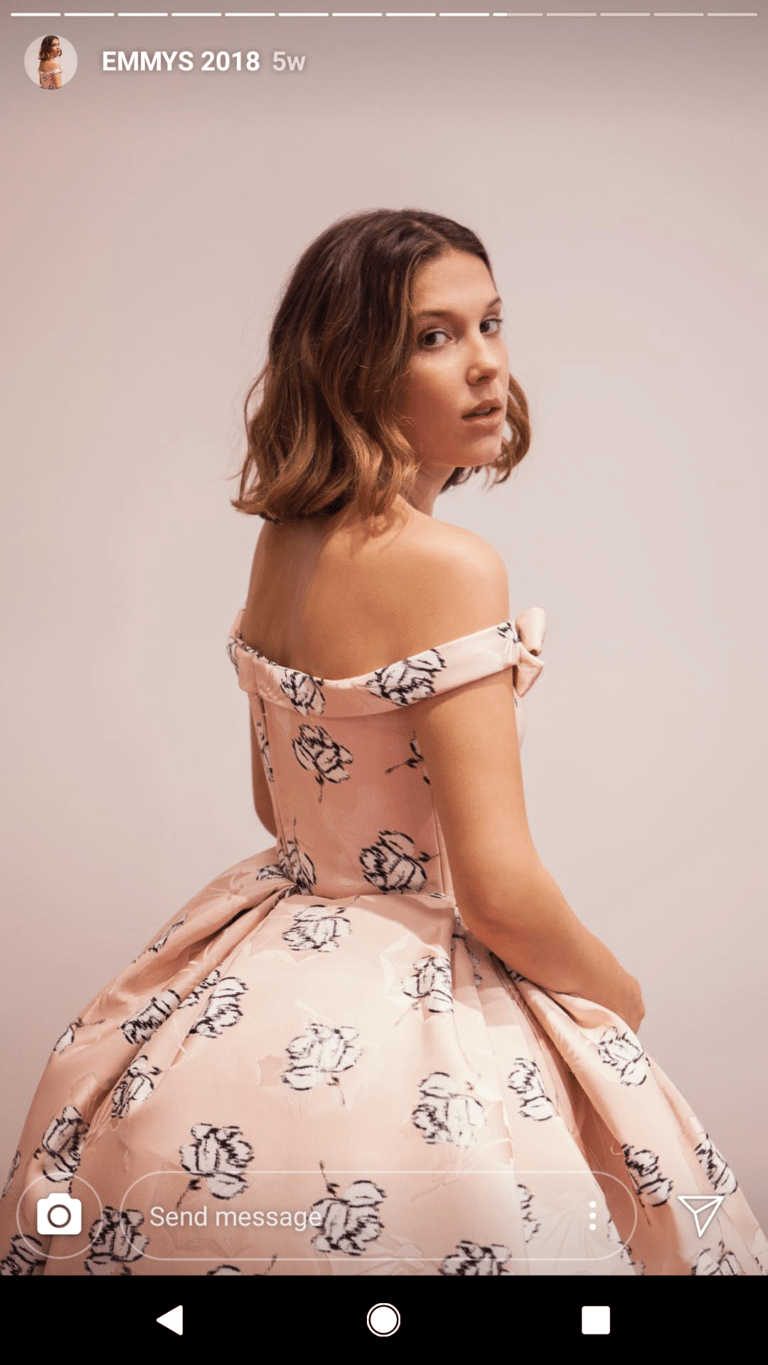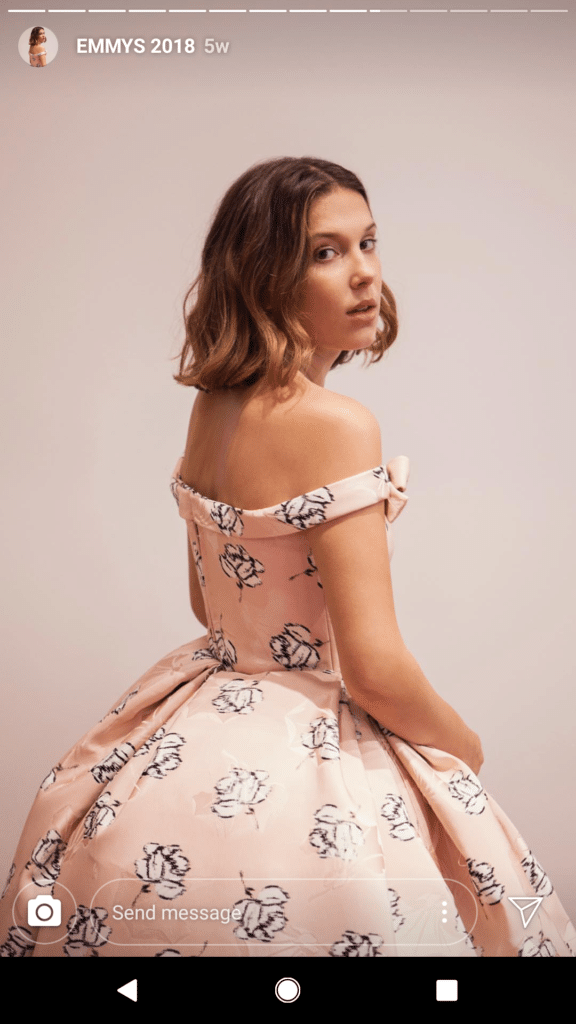 Calvin Klein is a sophisticated clothing and fashion brand, and we see that sophistication shine through in this Instagram Stories ad. The ad, titled "EMMY'S 2018," goes behind the scenes in an "exclusive look" at the making of the brand's custom Emmy looks. The video shows close-ups of sewing, pinning, and hemming of the dress in the image above. Once the dress is finished, Calvin Klein shows the model wearing it, zooming in on different parts of the dress. Watching this ad, you can't help but feel both impressed and a little nostalgic.
The ad concludes with a close-up of the Calvin Klein label, leaving the brand name at the forefront of your mind.
7. Dove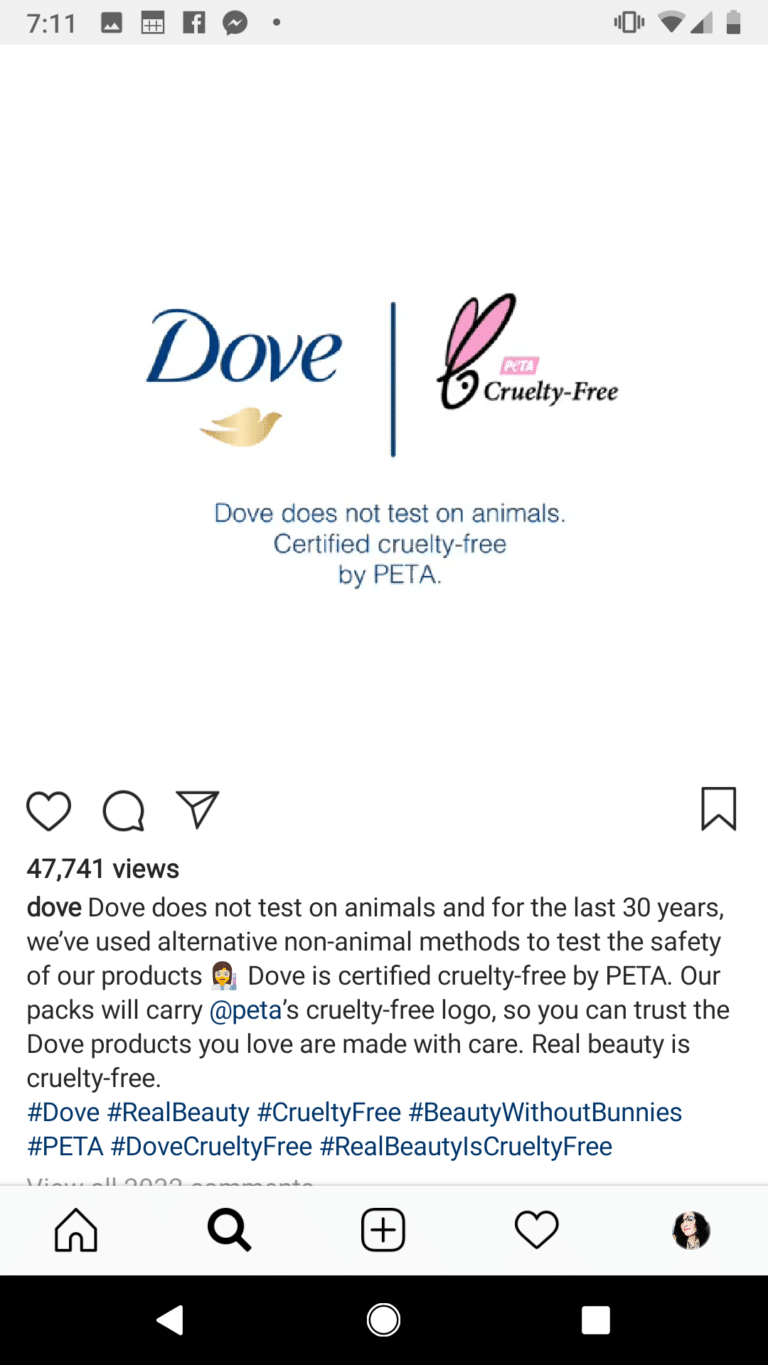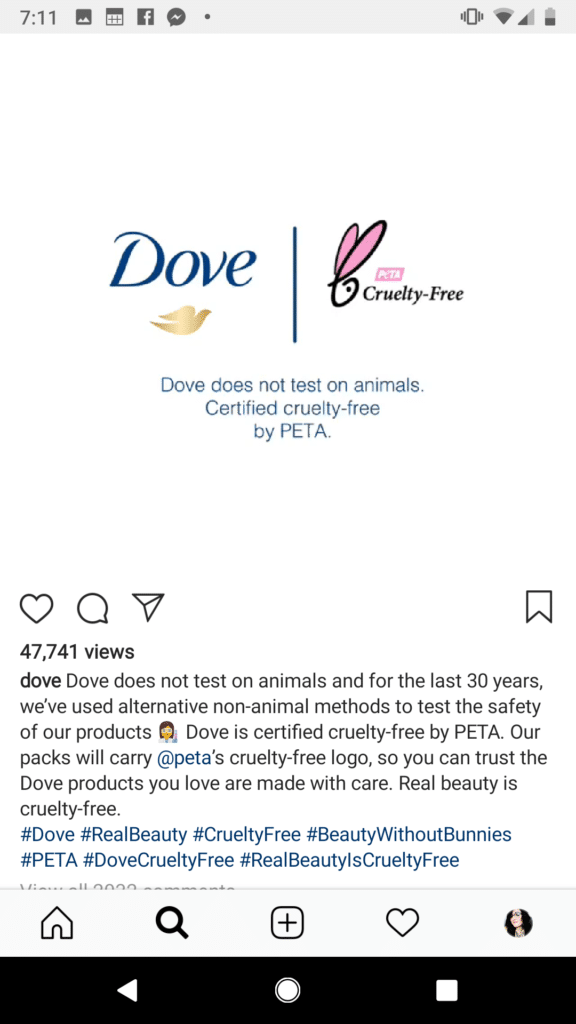 Dove uses clever branding by showing the classic Dove logo, but the dove under the name changes shape into different animals to get your attention, as well as to clearly convey the main message, which is Dove is cruelty-free. Next, the social proof comes in with the cruelty-free stamp by PETA. The approval by PETA tells you that Dove is an animal-loving brand that can be trusted.
8. WeddingWire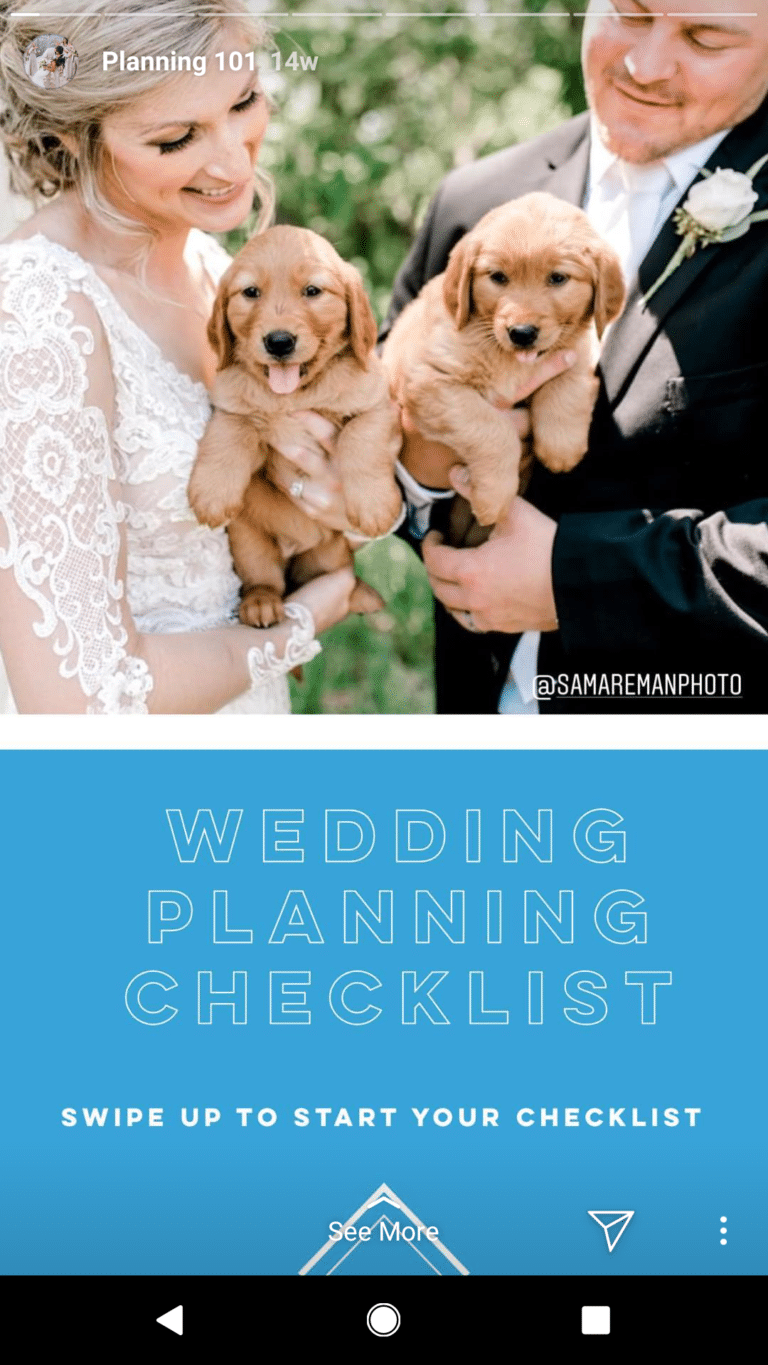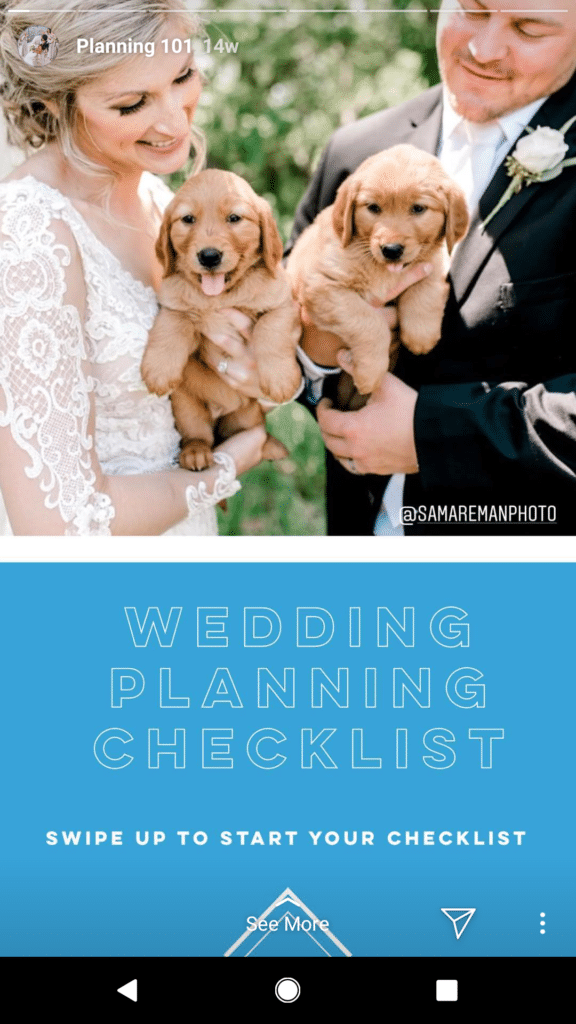 WeddingWire, a wedding planning business, engages with its audience in this mobile-optimized ad. It simply invites you to start your wedding planning list, keeping it relevant to what the business does (i.e. wedding planning) without pushing a sale.
The ad also appeals to our emotions. Who doesn't love puppies? Combine puppies with weddings, the happiest days of people's lives, and you can't help but feel good looking at this ad.
9. Gap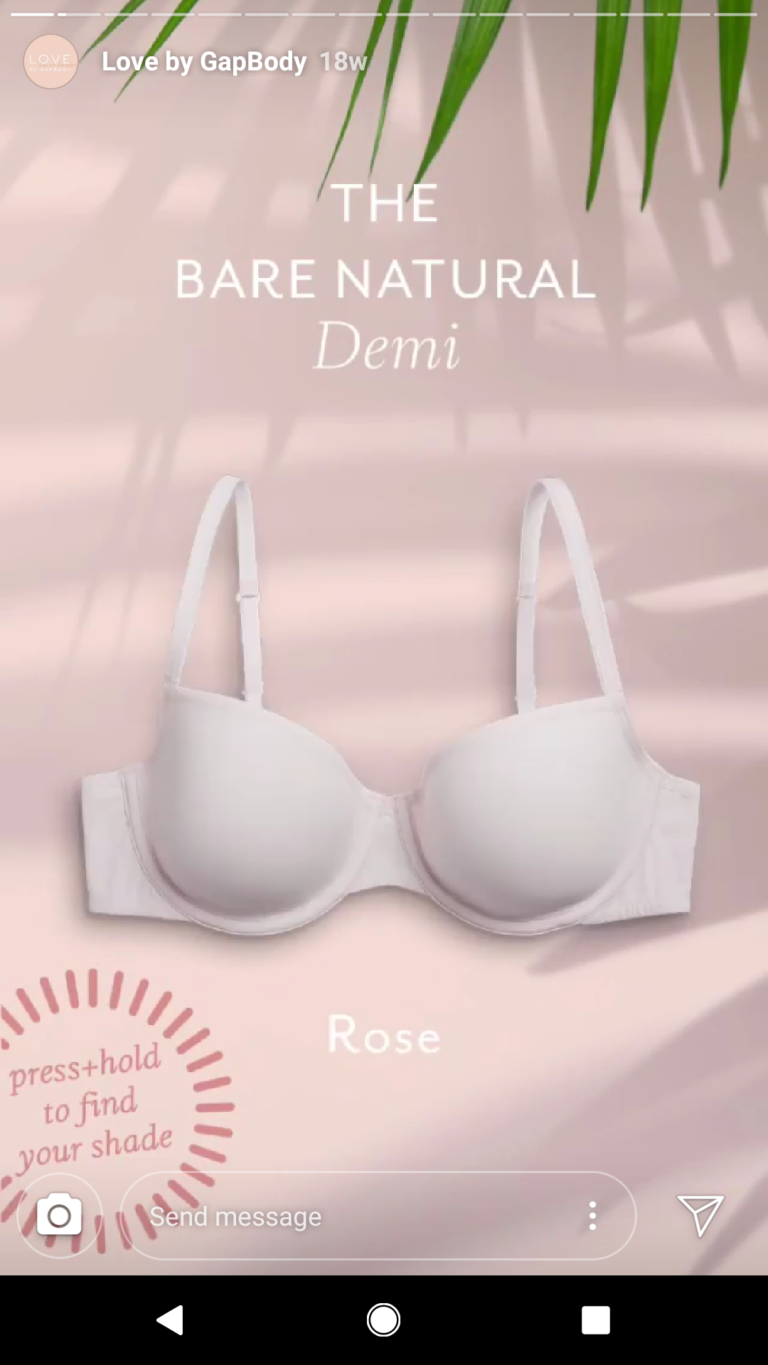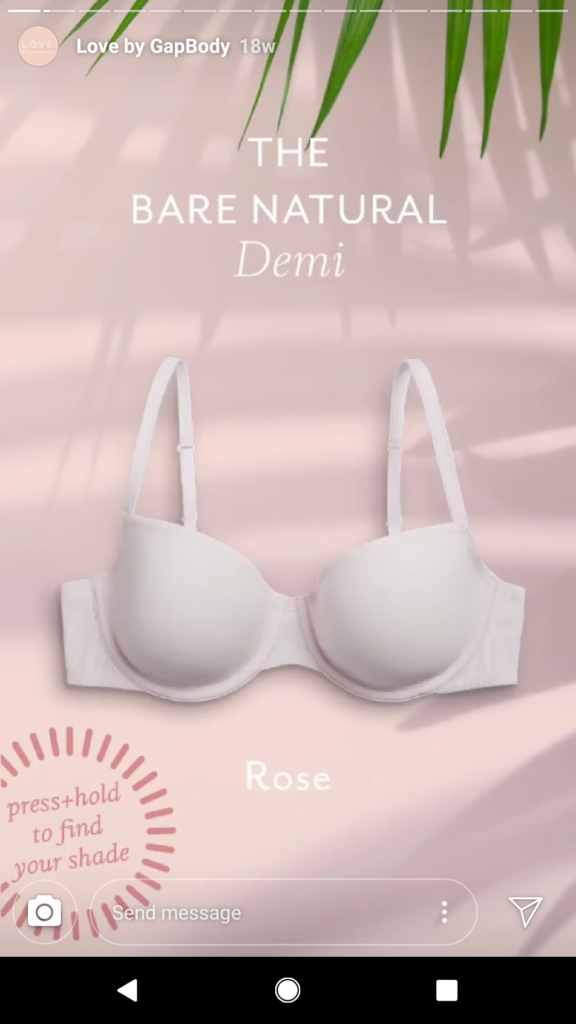 Gap, a long withstanding clothing retailer, uses this Instagram ad to feature its bra selection in different color variations, bringing the store window experience to your phone. As the bra colors change, you're also encouraged to engage with the ad in the bottom left corner with a call to action that invites you to "press + hold to find your shade." This call to action adds a personalized experience to get you interested and shopping.
10. Apple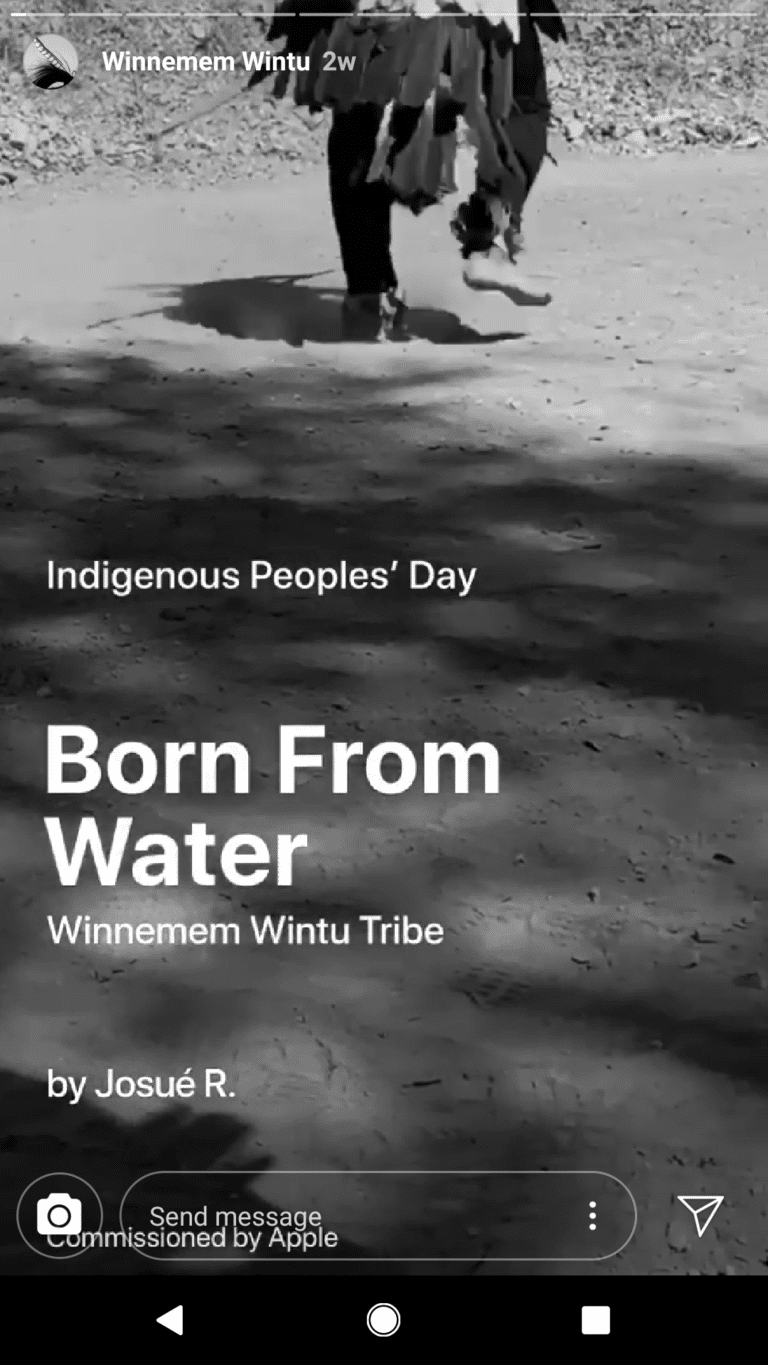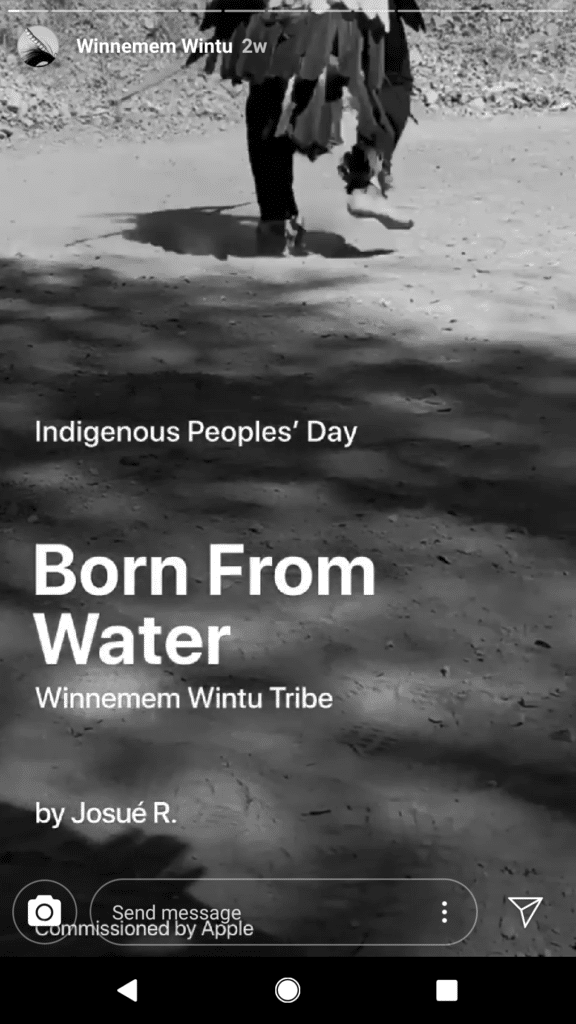 Although this Instagram Stories ad doesn't feature any Apple products, it promotes itself by implying that the video was captured with an iPhone. It also uses an artistic black-and-white perspective associated with Apple's image as an artsy technology brand.
The ad is socially relevant by recognizing Indigenous Peoples' Day, highlighting the Winnemem Wintu tribe to establish the brand as culturally diverse. The "Born From Water" headline holds emotional weight, helping us appreciate the origins of the tribe.
11. Regal Cinemas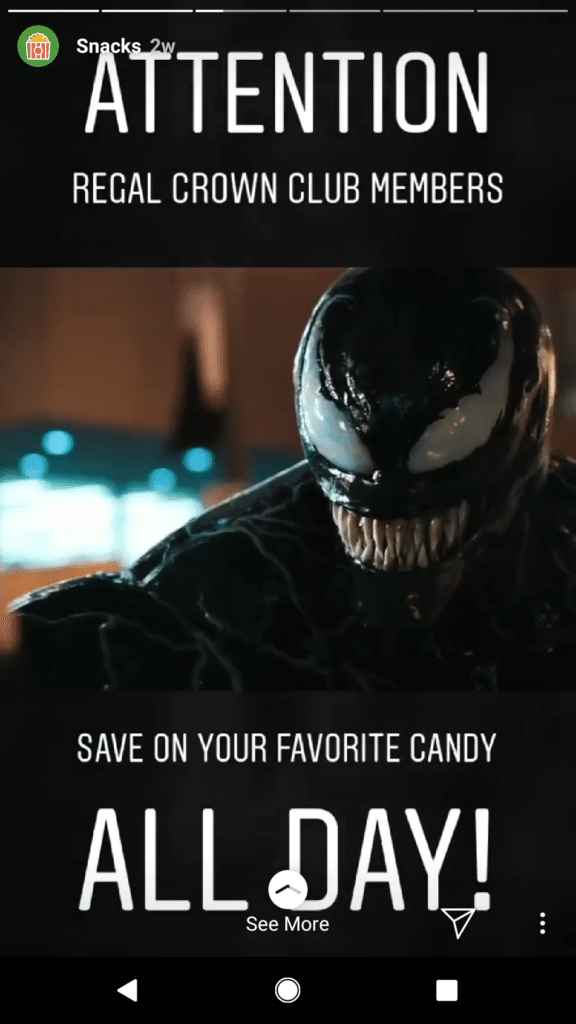 Regal Cinemas promotes its Regal Crown Club membership in this Stories ad. The mobile-optimized ad is simple, using a clip from a current movie shown at Regal theaters (Venom) to catch your attention. In addition to clearly headlining the ad with "Attention Regal Crown Club Members," Regal attracts interest with the incentive to "save on your favorite candy all day!". With the image of a hungry Venom, the ad is relevant both to the message and the movie-going experience of Regal Cinemas. The ad then caps off with a "see more" swipe-up call to action.
12. Ben & Jerry's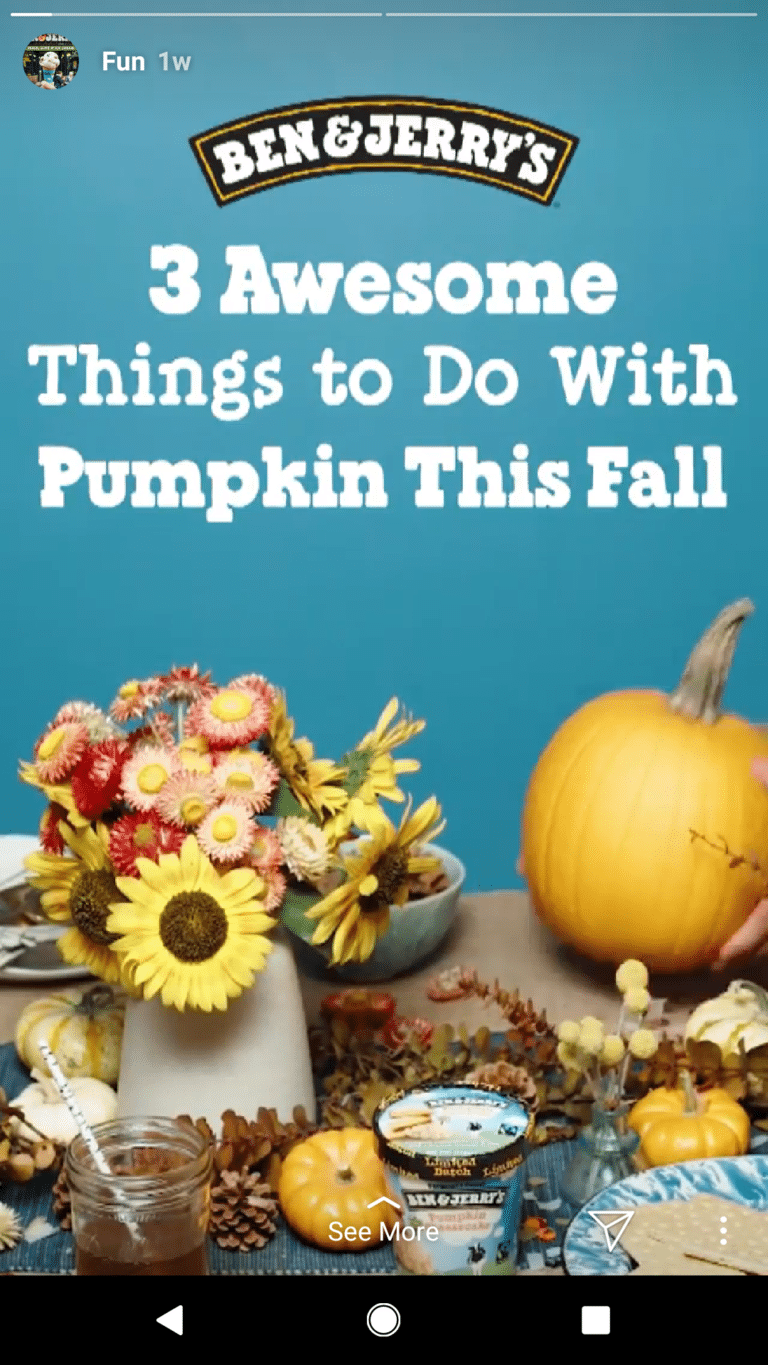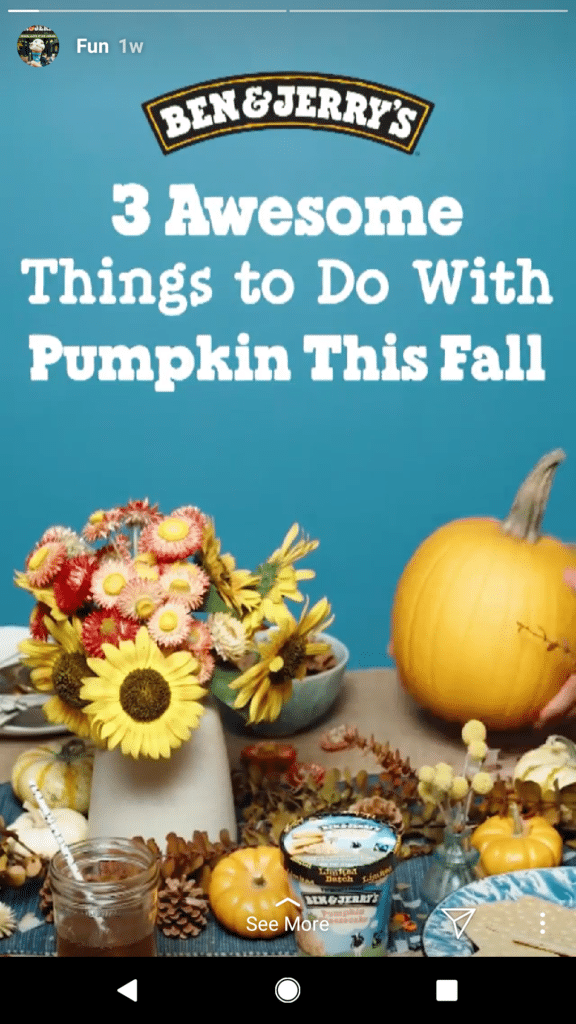 Ben & Jerry's has no trouble promoting its ice cream even in the colder months. The brand uses seasonal relevance to engage its audience in this Instagram ad, making it more of an article headline than an ad promoting sales. It peaks your curiosity, inviting you to discover the three "Awesome Things to Do With Pumpkin This Fall" by swiping up on "see more."
While the foreground includes autumn-related objects, such as pumpkins and leaves, the ad still incorporates branding. We see this with the subtle placement of the Ben & Jerry's ice cream carton at the bottom, as well as the light blue background and Ben & Jerry's logo at the top.
13. Stitch Fix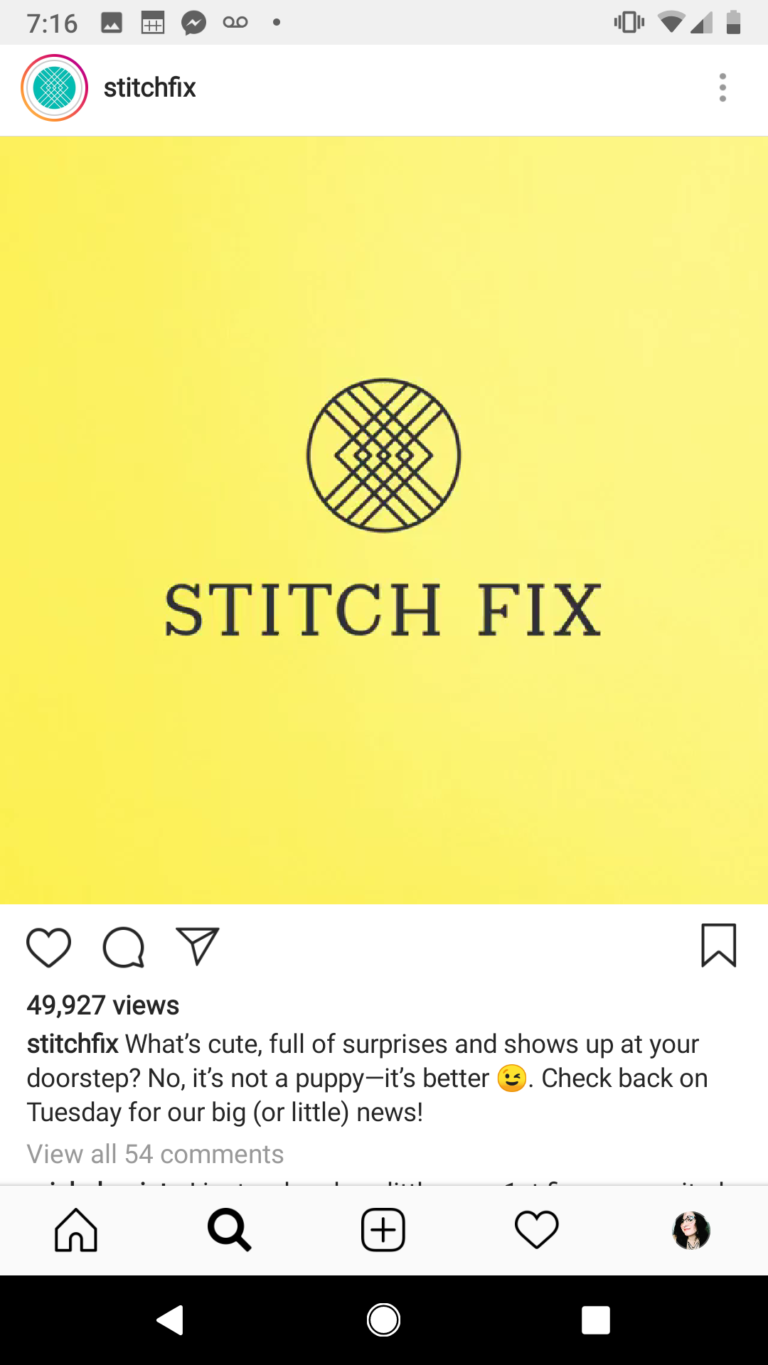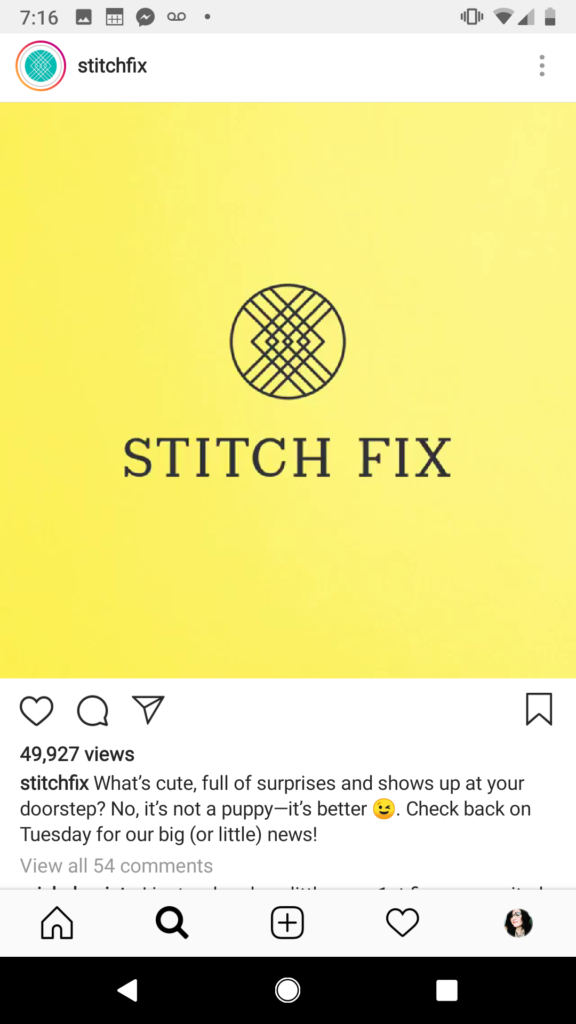 Stitch Fix, a subscription fashion brand that delivers personalized outfits to your doorstep, creates a little mystery and curiosity in this Instagram ad. In a 3-2-1 countdown video, Stitch Fix announces, "We've got some (little) news!" and concludes simply with the Stitch Fix logo. You're left wondering what the news is, so you naturally look at the caption for an explanation. The caption tells you to "check back" to hear the "big (or little) news!" By drawing your attention to the caption and then saying you have to check back later to find the news, Stitch Fix is able to engage its audience and keep them returning for more.
14. Glade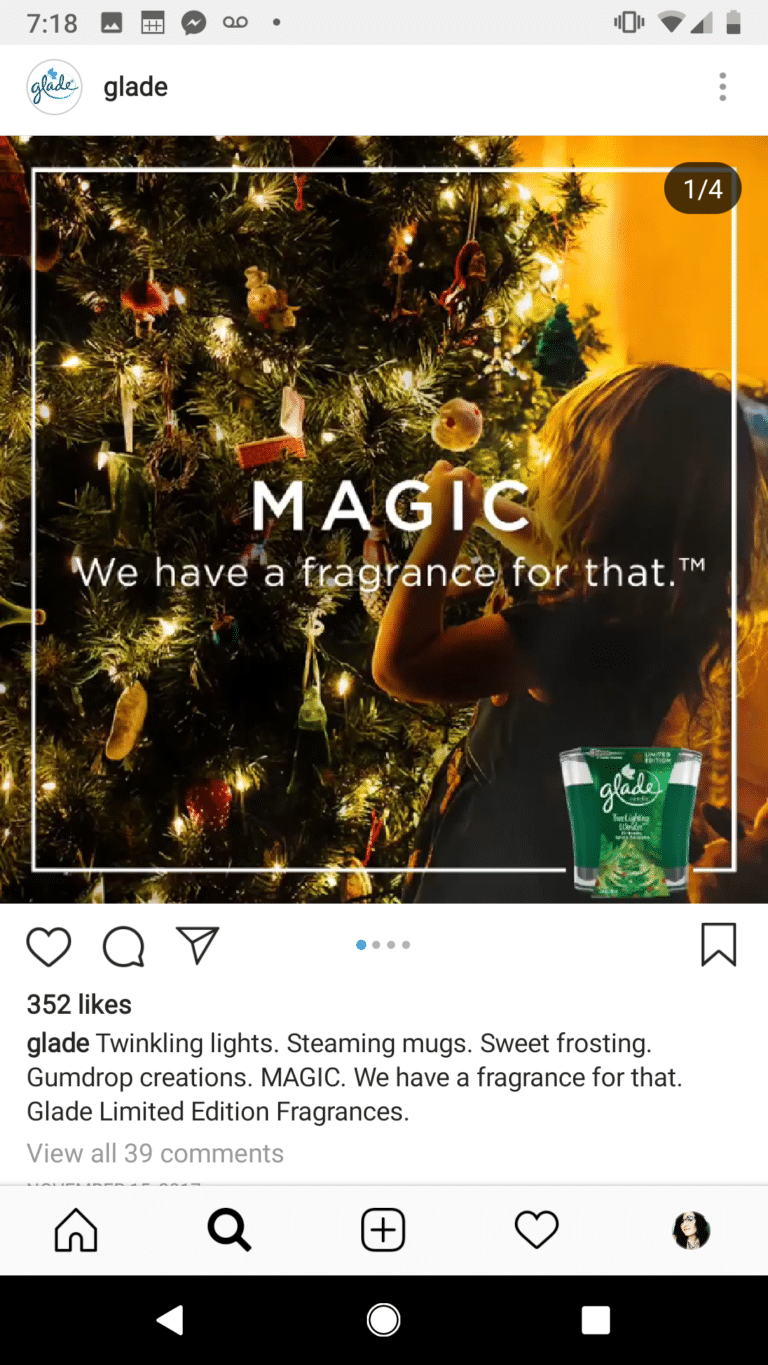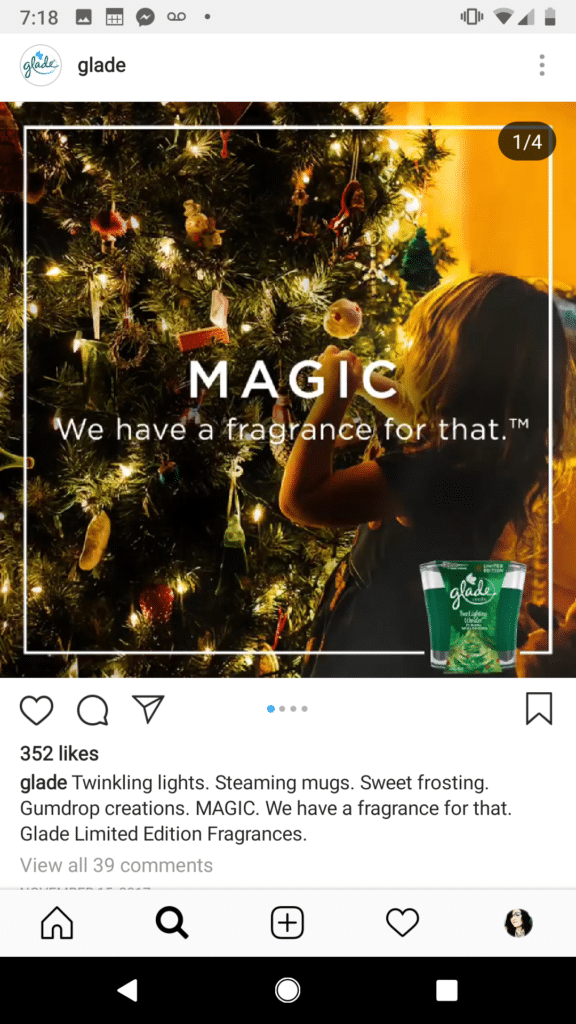 Glade, the fragrance brand, gets in the holiday spirit in this ad. The first image is a simple video animation: the lights on the tree twinkle while everything else is still. It's an adorable image that appeals to your nostalgic and warm family feelings that come during the holidays. Glade plays up the sparkle of the image with a simple text overlay: "Magic: We have a fragrance for that," as well as a caption that sets the holiday scene. The ad also includes subtle but effective branding with the small placement of a Glade candle in the bottom-right corner. You can almost smell Christmas trees and hot cocoa just looking at the image.
Swiping through the other images in the ad, you get more images paired with specific fragrances. For example, the second image shows a child with a cozy, warm beverage, and only the steam rising from the mug and the snow outside the window are moving. In the bottom right corner, we see a different Glade fragrance that fits the setting. The other two images follow the same pattern. Overall, branding and emotion are the qualities that stand out in this ad.
15. Yankee Candle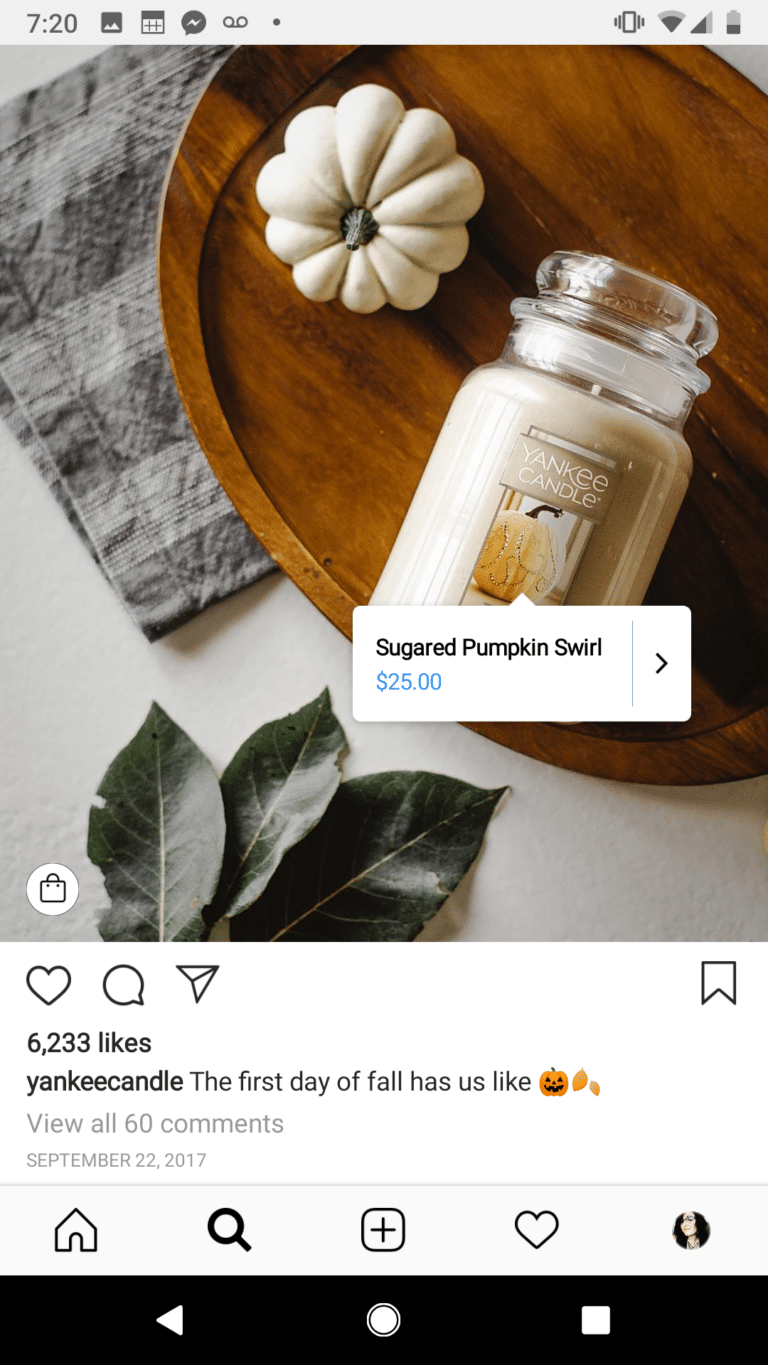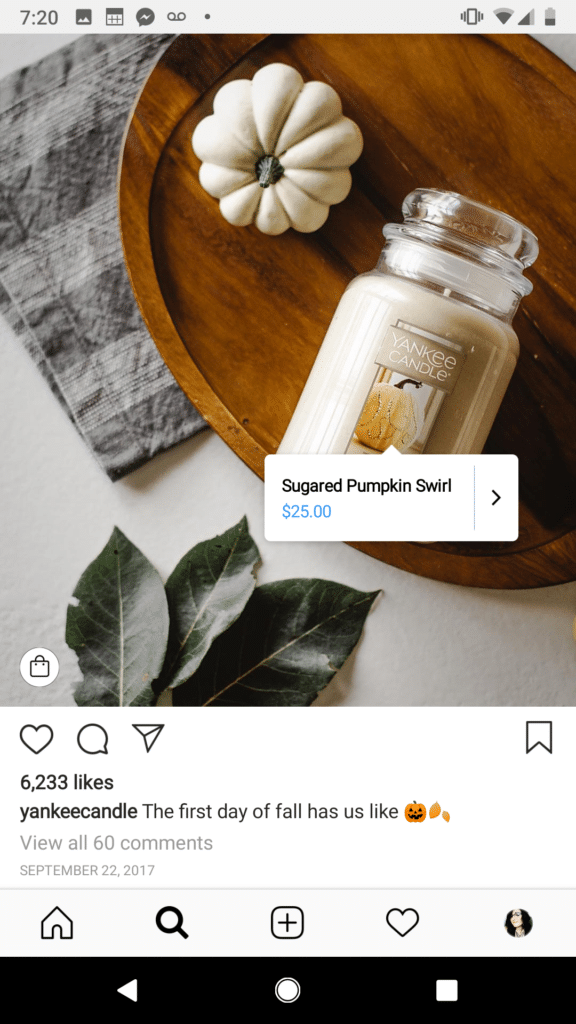 Yankee Candle gives us a perfect example of how to use Shoppable tags. The image is simple, showing a seasonal pumpkin candle in a professionally arranged photo. When you tap on the image, a tag pops up with the cost of the candle. If you click on the arrow, you're directed to a page with more information about the product, as well as a link to Yankee's website where you can buy it. Using Shoppable tags in this way allows you to create a high-quality image, engage with customers, and drive website traffic in a seamless manner.
16. Buffy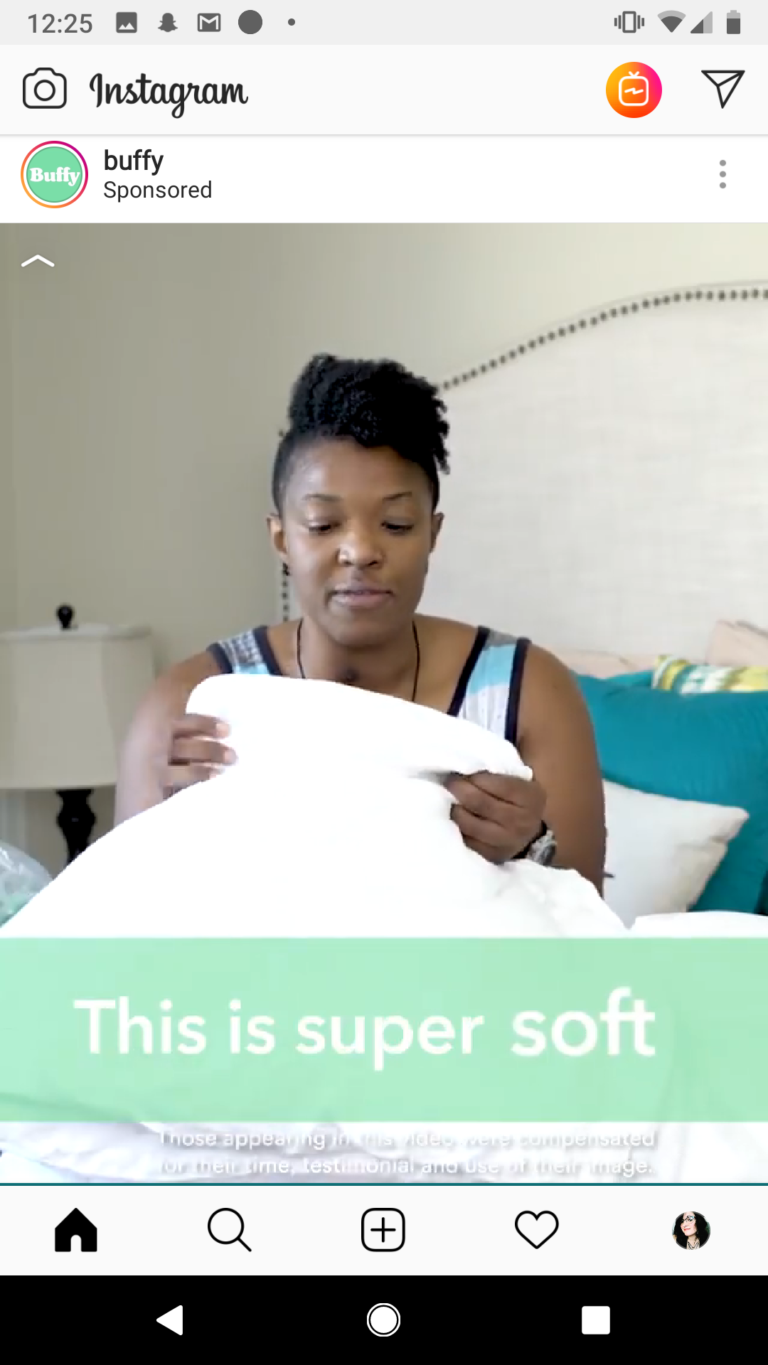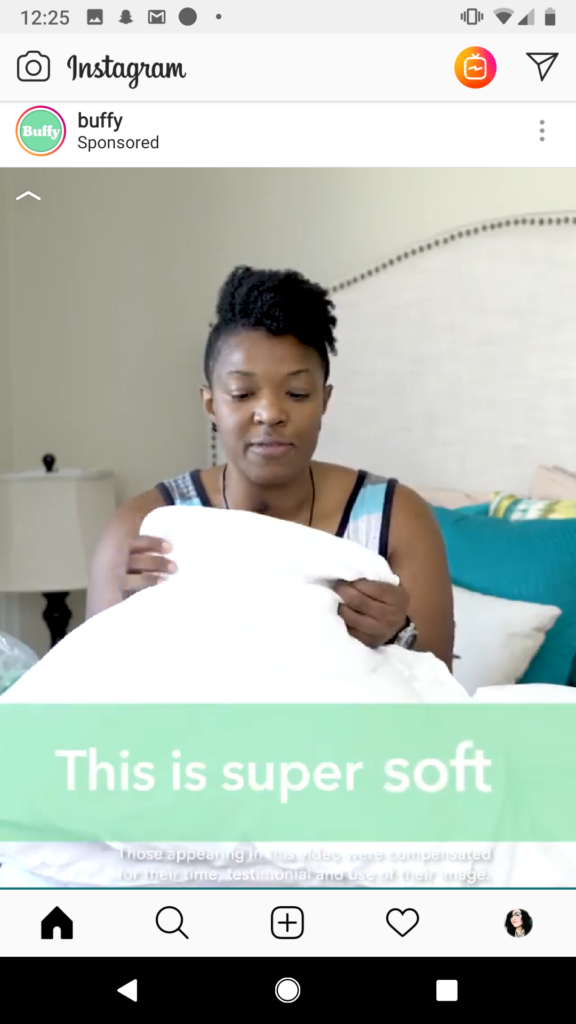 Buffy promotes its comforters using social proof as its primary strategy in this particular ad. The video shows a customer's review of a Buffy comforter, using a light green bar at the bottom behind the captions to match the brand's color scheme, which demonstrates good branding as well. In the video, the customer is using the product while she praises it, giving it her stamp of approval. The caption includes a quote by the customer and five stars. This strategy helps build trust: you almost feel like it's an organic post by a regular user rather than a sponsored ad. In addition, the "learn more" call-to-action allows you to engage with the post, driving traffic to the Buffy website to buy this highly praised comforter.
17. Payoff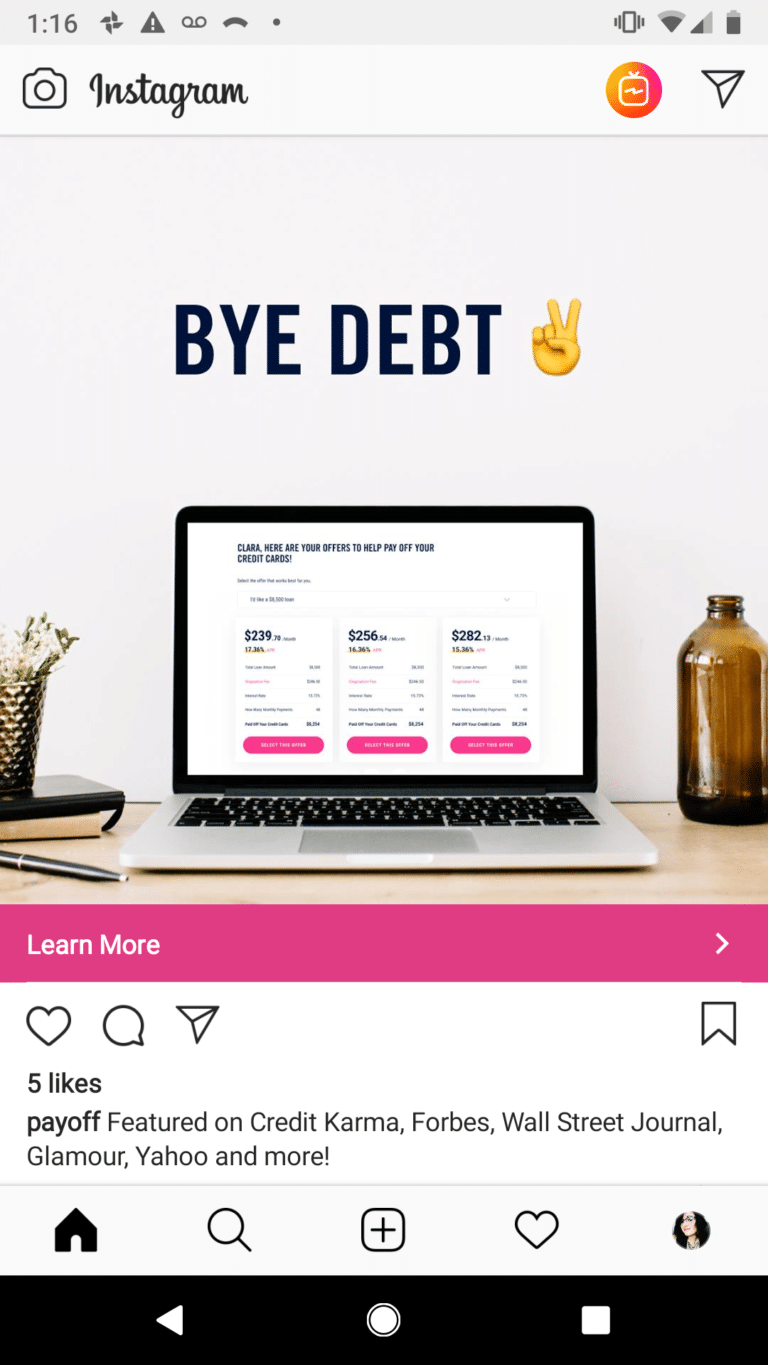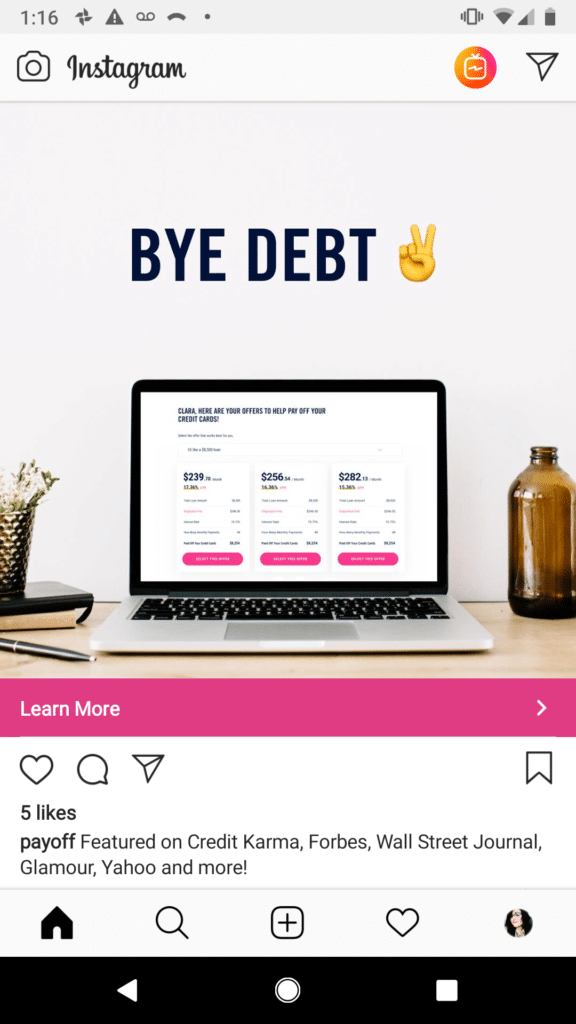 Payoff is a loan service that helps people pay off debt. In this ad, Payoff elicits emotion, employs good branding, and uses a little bit of social proof. First, the "Bye Debt" gives you a sense of relief. Finally, you've received the answer to your money problems. Second, we see good branding with the open laptop showing Payoff in action and the use of the brand color, pink, with the "mearn more" call-to-action.
Finally, we see the social proof in the caption, where Payoff points out its recognition by prominent entities like Credit Karma, Forbes, Wall Street Journal, Glamour, and Yahoo, helping you see how trustworthy the company must be.
18. Waking Beauty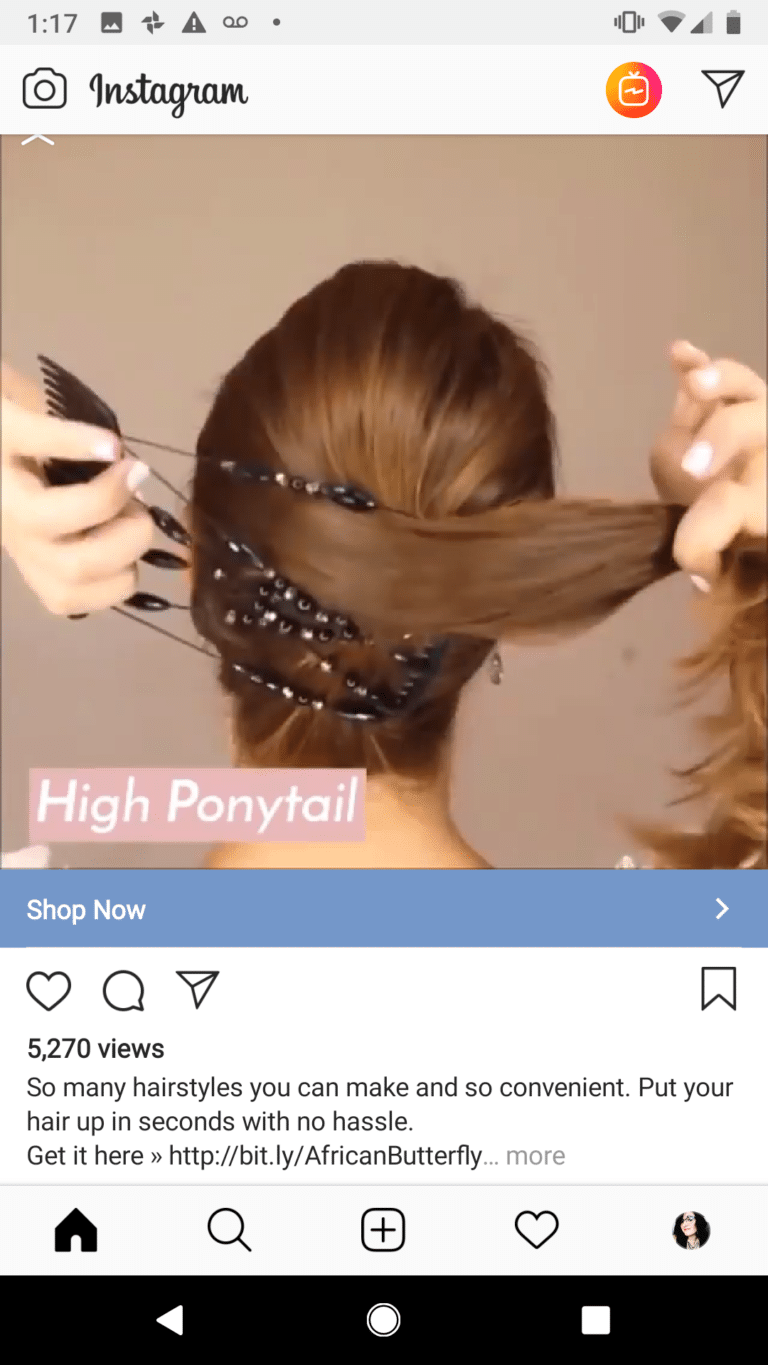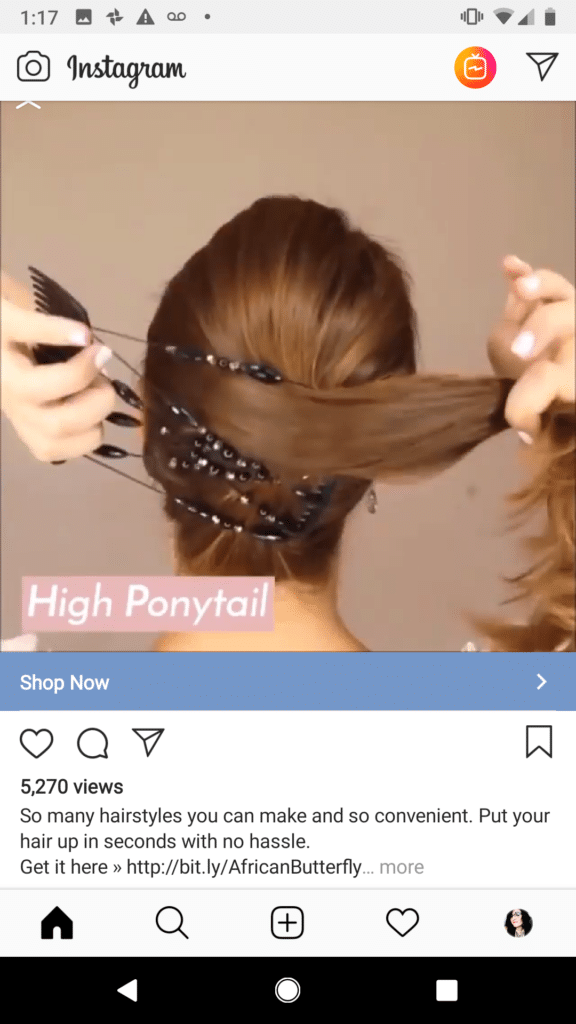 Waking Beauty, a company that sells hair and skin products, uses a tutorial video to both educate and stun its audience. The video shows all the various ways you can use a Waking Beauty hair comb to make stunning hairstyles. It makes you want to try the product. To drive traffic to its website, Waking Beauty also includes a "shop now" call to action.
19. Sleep Number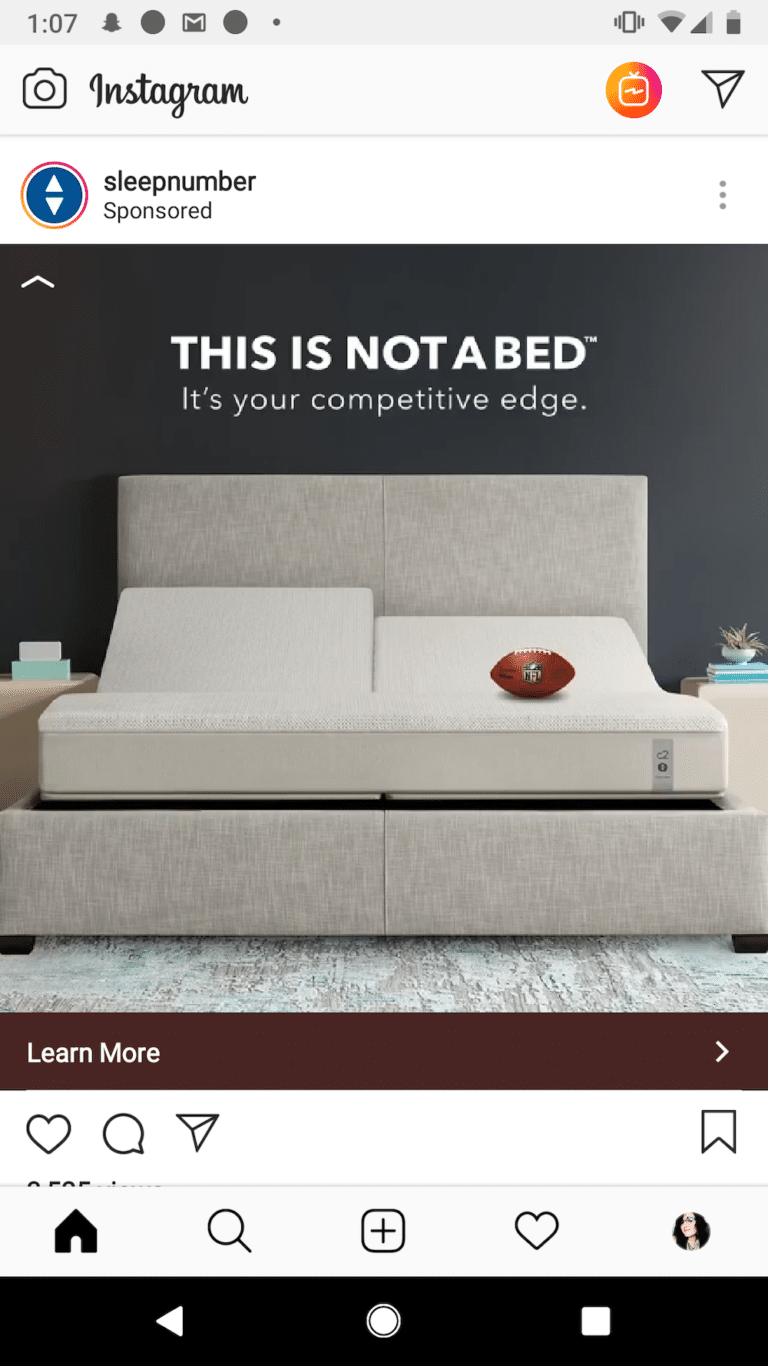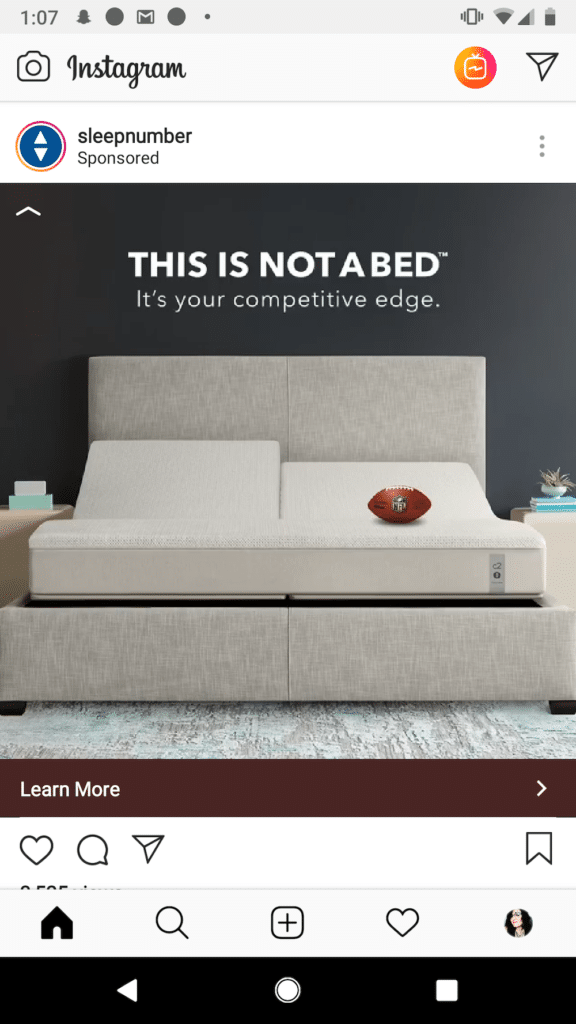 Relevance and social proof are key in this Sleep Number ad. With football season well underway, Sleep Number ties it together with the promotion of its bed, using a football animation bouncing on the bed and referring to the brand's partnership with the NFL in providing better sleep. The ad then appeals to the competitive side of football fans with the line "This is not a bed: It's your competitive edge." If you are a football fan, you're likely tempted to at least tap the "Learn More" call to action to browse Sleep Number's bed selection on its website.
20. Wayfair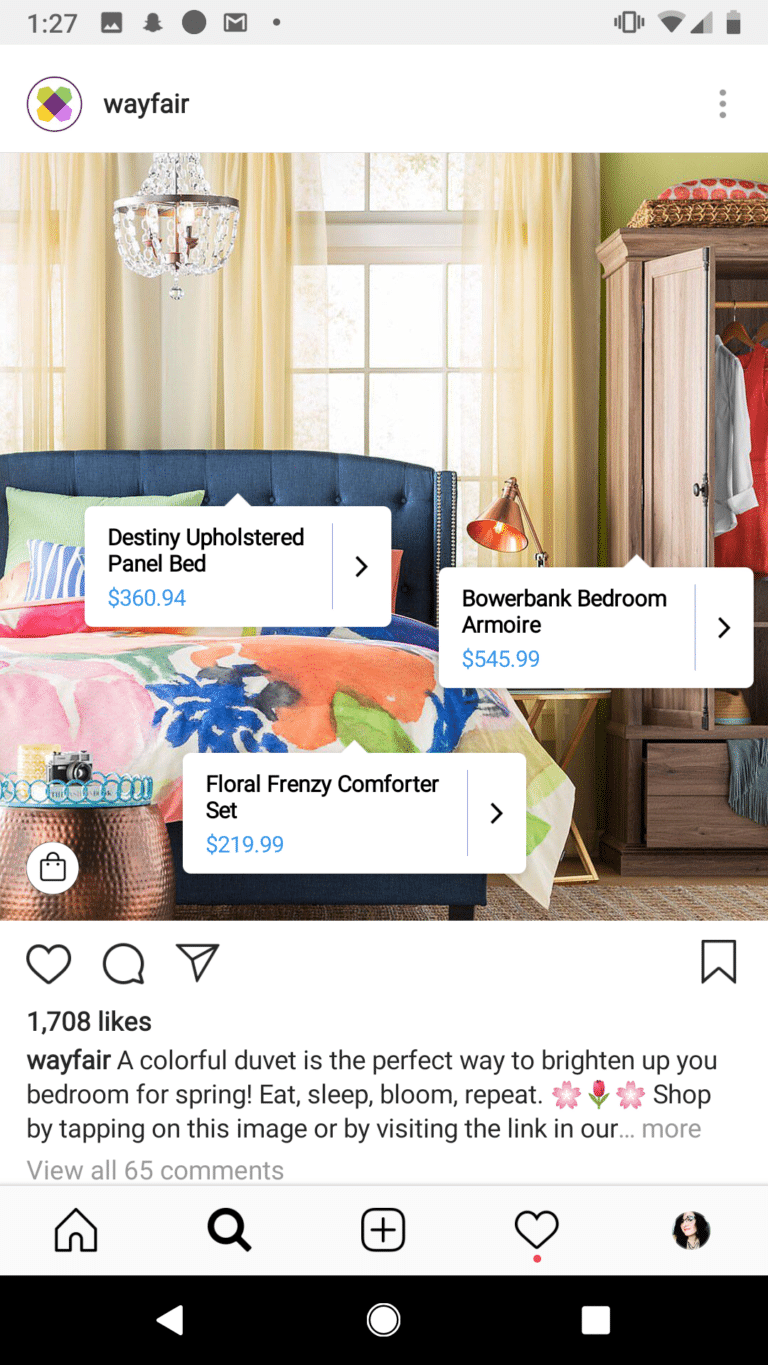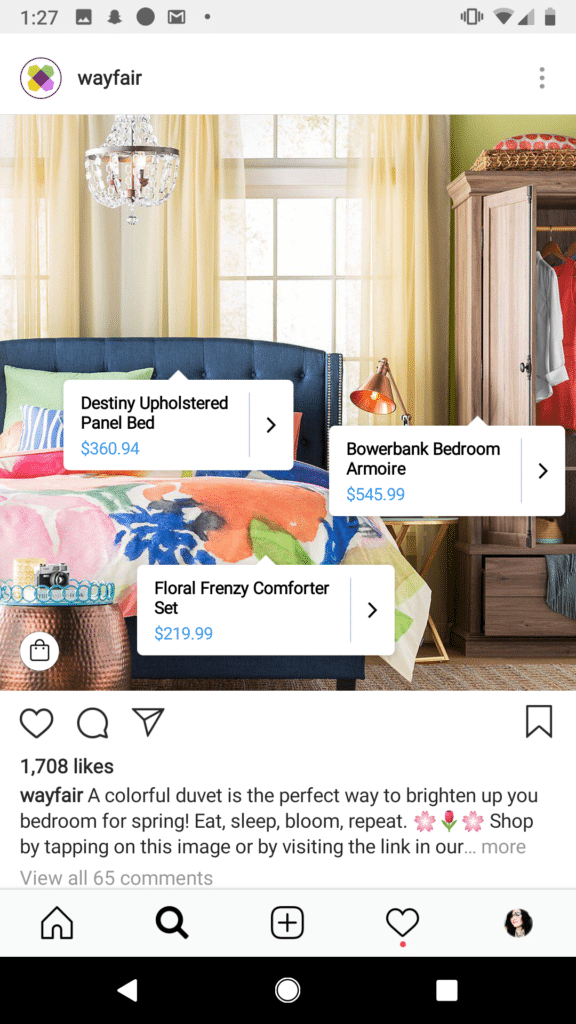 Wayfair, an online store for furniture and other household necessities and decor, gives us another example of Shoppable tags in action. The company uses a high-quality photo of a nicely decorated bedroom to feature its products in an appealing fashion. You can then tap on items in the image to see how much they cost and on the arrow to learn more about the product you're interested in. This strategy is an effective way to capitalize on shoppers' household tastes at their highest point of interest to get them to visit Wayfair's website and easily buy the products in the image in a seamless experience.
The Next Step
Think you have a better feel for what a good Instagram ad can look like? Jot down any ideas these examples spark in the creative nook of your brain and get to work. Your ad could be the next one to be listed among the greats.