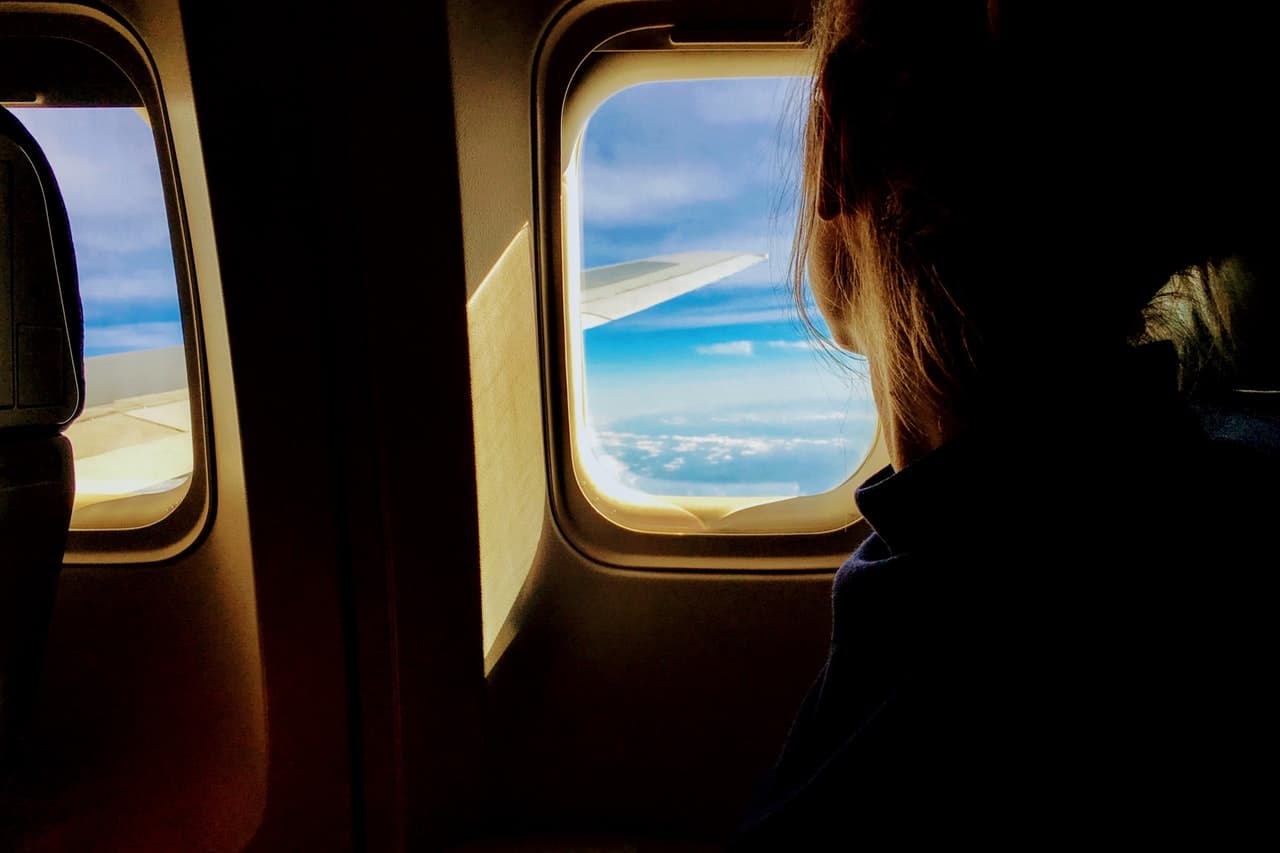 Are we there yet? With Facebook's new features for dynamic ads for travel, advertisers are well on their way to converting travel intent into bookings.
What are Facebook Dynamic Ads for Travel?
Facebook Dynamic Ads for Travel are a powerful advertising solution designed specifically for the travel industry. These ads enable travel businesses to showcase their offerings to potential customers in a personalized and dynamic manner.
By leveraging user behavior and preferences, these ads automatically generate and display relevant travel options, enticing users to engage and make bookings.
These ads work by using data such as users' past travel searches, interests, and interactions to tailor the content displayed to each individual. For example, if a user has previously searched for beach destinations, the dynamic ad might showcase beachfront resorts and vacation packages. If another user has shown interest in city breaks, the ad could highlight hotel options in bustling urban centers.
3 Ways to Generate Bookings
Sometimes all it takes to inspire a customer to place a booking is a tiny extra nudge to convince them that it's meant to be, Facebook advertising is a great way to do so. From amusement park ads to resort holiday specials, Facebook is giving businesses in the industry a hand with three new ways to generate bookings through dynamic ads for travel.
1. Promotion of Hotels and Flights
Dynamic ads for travel now allow businesses to use browsing and booking activity to promote relevant flights. When a customer researches hotel and flight bookings or has booked through another business, that information can be used to craft a dynamic ad to give businesses a competitive edge.
2. Broad Audience Targeting
Only available to hotel advertisers at this time, broad audience targeting for dynamic ads allows businesses to reach more potential travelers, targeting those most likely to make a booking. This option extends promotional reach further than just website and app visitors. Facebook plans to open up this broad audience targeting to flight promotions in the coming months.
3. More Creative Solutions
One creative solution now available for dynamic ads for travel is social context. Sharing with users in their news feeds the places their friends have traveled to increases trust and establishes relevance. It also inspires users to plan their own adventures.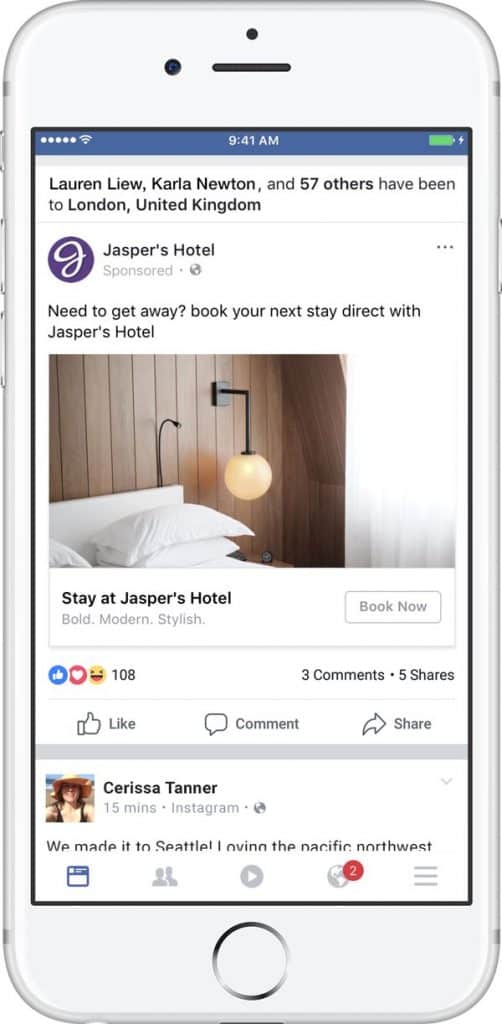 A second creative feature now offered for dynamic ads for travel is the use of overlays. Place your price or discount information in an overlay to pique more interest in your promotion.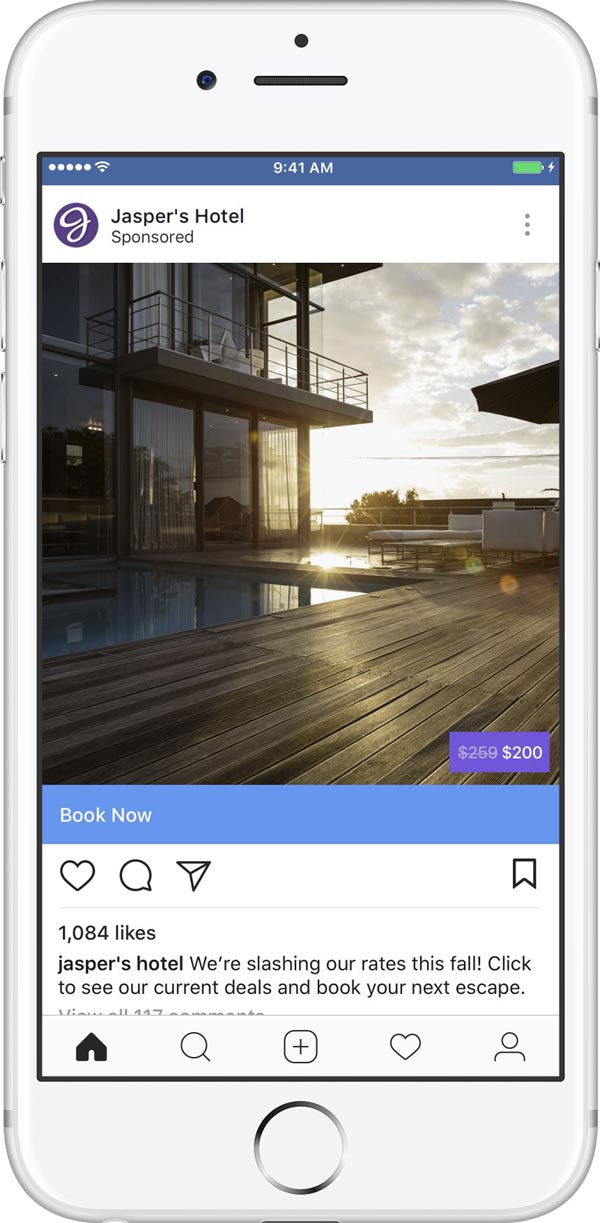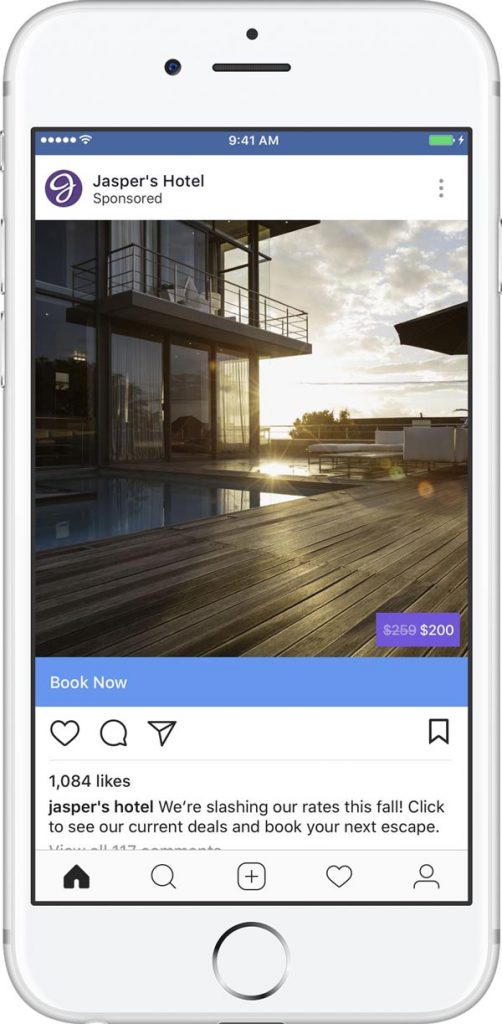 Last but not least, the collection ad format is now available for dynamic ads for travel. Pair engaging visuals with special offers to capture the attention of aspiring travelers.
Tips for implementing Facebook Dynamic Ads for Travel
1. Optimize Your Product Feed
Ensure your product feed is comprehensive and accurate. Include essential details like destinations, hotels, flights, prices, and availability. A well-structured feed ensures your dynamic ads display up-to-date and relevant information.
2. Craft Engaging Ad Creatives
Create visually captivating ad creatives that highlight the uniqueness of your travel offerings. High-quality images and concise, compelling descriptions can capture users' attention and spark their interest.
3. Segment Your Audience Thoughtfully
Segment your audience based on factors like travel preferences, demographics, and past interactions. This allows you to tailor your dynamic ads to specific user groups, increasing their relevance.
4. Experiment with Variations
Conduct A/B tests with different ad elements, such as visuals, copy, and calls-to-action. Experimentation helps identify what resonates best with your audience and improves engagement.
5. Utilize Dynamic Remarketing
Implement dynamic remarketing to re-engage users who have shown interest but haven't booked. Tailor ads to remind them of their previous interactions and entice them to complete their bookings.
6. Prioritize Mobile Optimization
Make sure your dynamic ads are optimized for mobile users by ensuring that the ad experience is seamless, visually appealing, and easy to navigate on mobile devices.
What are the KPIs for Facebook Dynamic Ads for Travel?
Key Performance Indicators (KPIs) are essential metrics that help you measure the success of your Facebook Dynamic Ads for Travel campaigns. These metrics provide insights into the effectiveness of your ads and their impact on generating bookings and engagement. Here are some crucial KPIs to monitor:
1. Click-Through Rate (CTR): CTR indicates the percentage of users who clicked on your dynamic ad after seeing it. A higher CTR suggests that your ad content is relevant and compelling to your target audience.
2. Conversion Rate: The conversion rate is the percentage of visitors who have performed a specific action, such as booking a hotel or flight after clicking on your ad. A higher conversion rate suggests that your dynamic advertisements are effectively persuading users to take action.
3. Return on Ad Spend (ROAS): ROAS refers to the revenue generated for every dollar spent on your dynamic ads.. It helps you assess the profitability of your campaigns and determine whether your ad spend is generating a positive return.
4. Cost Per Conversion (CPC): CPC represents the cost you incur for each conversion (booking) generated through your dynamic ads. Monitoring CPC helps you optimize your budget allocation for maximum efficiency.
5. Ad Engagement Metrics: Track engagement metrics like post engagement, likes, comments, and shares. Higher engagement indicates that users find your ad content appealing and are interacting with it.
6. Return on Investment (ROI): ROI assesses the overall profitability of your dynamic ad campaigns by comparing the revenue generated from bookings to the total costs incurred, including ad spend.
7. Booking Metrics: Monitor metrics related to bookings, such as the number of completed bookings, total revenue generated, and average booking value. These metrics directly reflect the effectiveness of your campaigns in driving revenue.
8. Abandonment Rate: Abandonment rate measures the percentage of visitors who start the booking process but don't complete it. A high abandonment rate may indicate issues in the booking process or the need for improved retargeting strategies.
9. Dynamic Ad Performance: Evaluate metrics specific to dynamic ads, such as the number of products showcased, unique product clicks, and product click-through rate. These metrics help you gauge the effectiveness of your personalized ad content.
10. Return on Investment per Audience Segment: If you're using audience segmentation, assess the ROI for each segment separately. This helps you identify which segments are delivering the best results and adjust your targeting accordingly.
Final Thoughts
Facebook Dynamic Ads offer a practical pathway for travel businesses to boost bookings effectively. By tailoring ads to individual preferences, retargeting interested users, and spotlighting enticing offers, these strategies can lead to more travelers discovering and booking their desired experiences.
FAQs
What are Facebook Dynamic Ads for Travel?
Facebook Dynamic Ads for Travel are a type of ad that automatically generates ads for your travel products and services based on the interests and browsing history of your target audience. This means that your ads are always relevant to the people who see them, which can help you increase your click-through rate (CTR) and bookings.
What is the cost of Facebook Dynamic Ads for Travel?
The cost of Facebook Dynamic Ads for Travel varies depending on your bidding strategy, targeting options, and the performance of your ads. However, they are typically priced on a cost-per-click (CPC) basis, which means you only pay when someone clicks on your ad.
What are some common mistakes to avoid when using Facebook Dynamic Ads for Travel?
Here are some common mistakes to avoid when using Facebook Dynamic Ads for Travel:
Not using relevant keywords

Not targeting specific audiences

Using low-quality images and videos

Writing unclear or confusing ad copy

Not using a call to action
What are the benefits of using Facebook Dynamic Ads for Travel?
Facebook Dynamic Ads for Travel offer a number of benefits, including:
Reach a wider audience

Increase click-through rate (CTR)

Generate more bookings

Save time and money