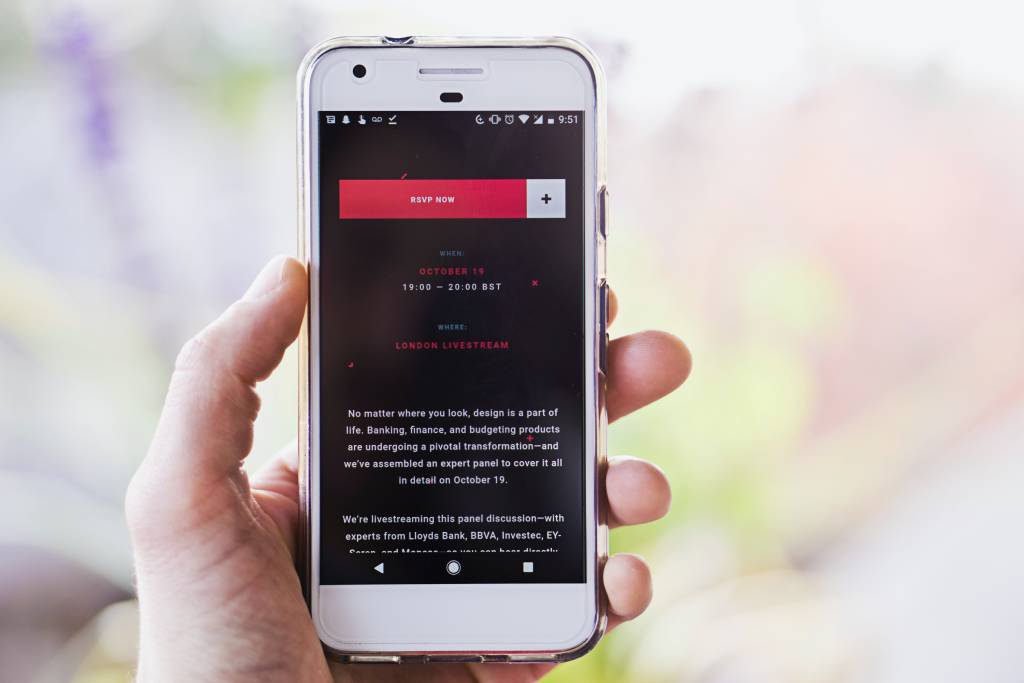 Unsplash / Matthew Fournier
Email marketing is one of the oldest yet the most effective communication channels for brand communication. 
Most customers are open to sharing their contact information like names and email addresses when they buy from brands as they want to receive communications from retailers via email: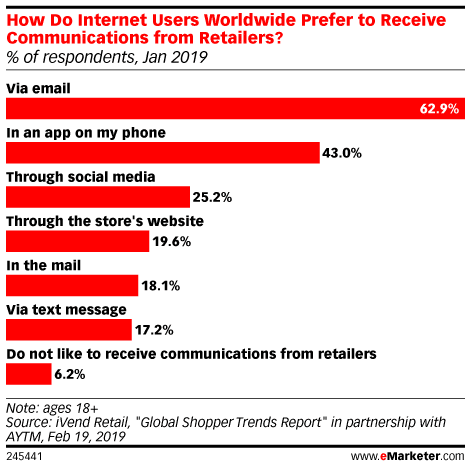 Source / eMarketer
However, it's also important to be active where your target audience spends the most time and find new communication channels. More and more brands integrate social media with email marketing for maximum impact. For instance, many companies combine Instagram and email marketing.
Whether you have an Instagram presence or you're just starting with Instagram marketing, it's a good idea to attract more followers to your profile. One of the best ways to grow your Instagram following is to tell your email subscribers about your social media presence. 
Why Should You Use Email Marketing to Grow Your Instagram Following?
Living in the era of social media platforms, when people spend a considerable amount of time on Instagram, email marketing and Instagram marketing go hand in hand. Here are the main three reasons to use email marketing to grow your Instagram following:
Email subscribers are loyal to your business:

When people sign up for your email list, they are more likely to be interested in your company. According to

one report

, 91% of email subscribers want to hear from companies and 86% of customers would love to receive promotional emails. This means your email subscribers are loyal to your company, so it gives you an opportunity to start a conversation with your customers and ask them to follow your company on social media platforms like Instagram.

People spend more time on Instagram:

Instagram is one of the fastest-growing social media platforms as people are visual learners who love perceiving visual content such as images and photos. It's one of the reasons why people spend more time on the platform. In fact, an average Instagram user spends around

53 minutes

daily on the platform. This means brands get an opportunity to interact with engaged users if they have an Instagram presence.

Customers want to interact with brands on Instagram:

Despite the popularity of emails among customers, brand communication isn't limited to email. With the growing popularity of Instagram, users want to follow their favorite brands in-app. Today,

90% of Instagram users

follow at least one business on the platform which means your customers are open to communication with your company on Instagram.
As you can see, Instagram presence is important to brands of all sizes and niches. The more followers you have, the better as they help to spread the word about your company, provide potential customers with social proof, and even boost sales. 
Thus, we've gathered email marketing tips that can help to convert your loyal email subscribers into Instagram followers. Here are seven excellent ways to grow your Instagram following with email marketing.
Spread the Word about Your Instagram Profile
To attract more Instagram followers, it's important to tell your customers that you have an Instagram presence. This tactic works best when sending welcome emails to newly acquired customers who don't know much about your brand.
Why? Not only does it tell email subscribers about your business growth, but it also gives your email subscribers an opportunity to choose communication channels they are interested in. Thus, it's a good idea to write an email that tells more about your Instagram profile.
The easiest way to do it is to add social media icons to your email and show off all social media platforms where your company has a presence and therefore give your subscribers an opportunity to follow you where they are more active: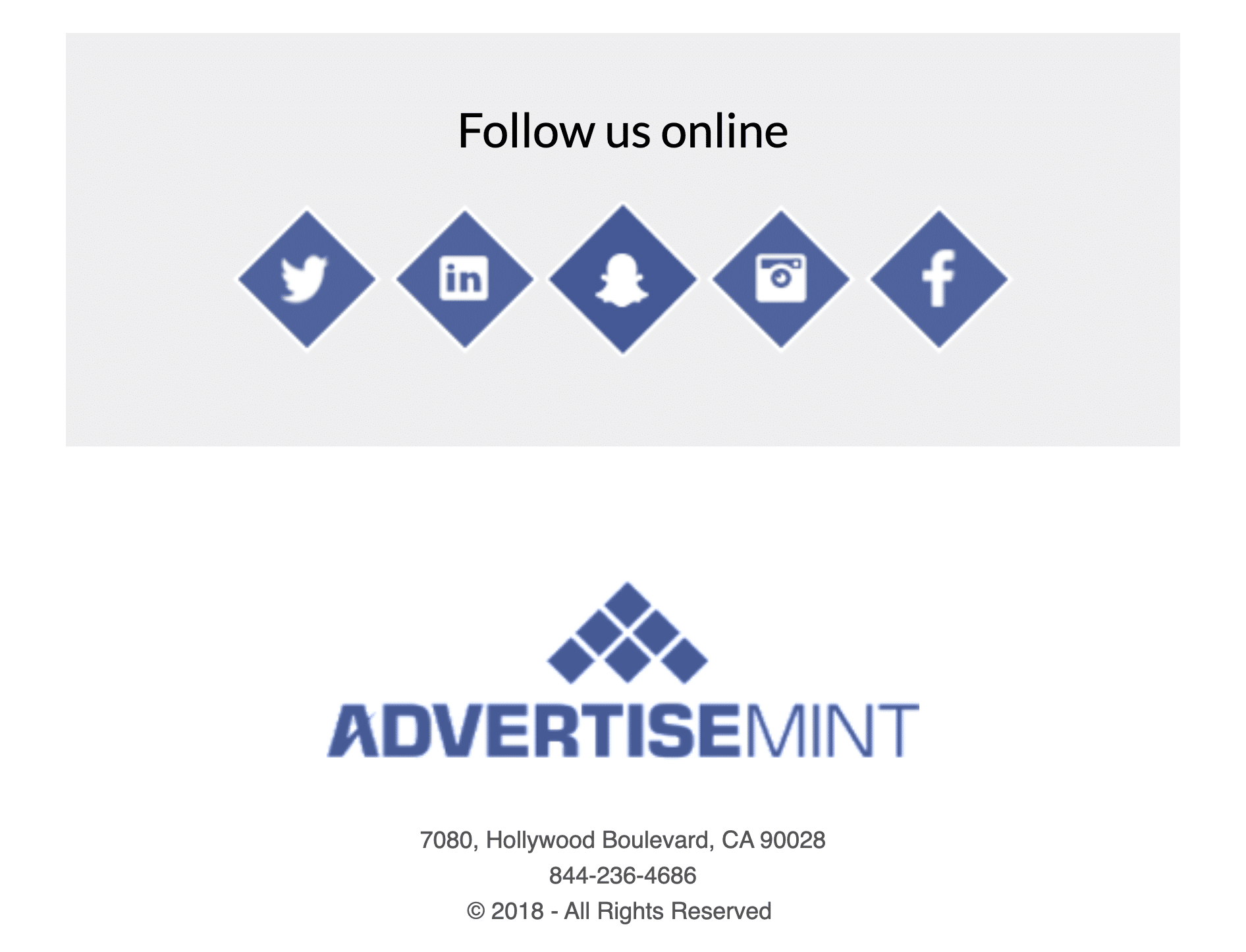 But if you want to hook your audience's attention and encourage your email subscribers to follow you on Instagram, you can give a special discount to your followers, just like in the example from Casemate: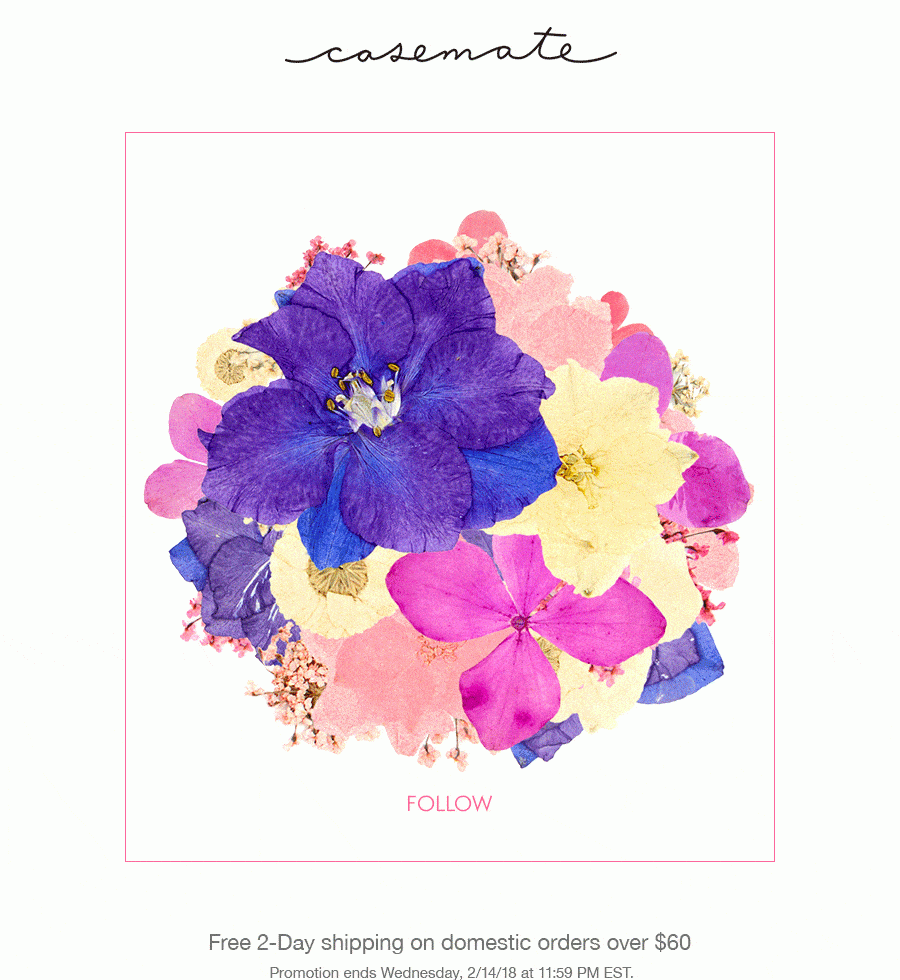 Source / EmailTuna
Show Your Instagram Followers as Social Proof
It's psychologically proven that people tend to imitate others, so your customers are more likely to follow you on Instagram if other customers do it as well. Thus, it's a smart idea to find user-generated content, ask your customers for permission to use it, and show these images as social proof as a part of your email marketing strategy.
Here's the deal:
As specified in the latest report on user-generated content, 93% of marketers agree that people trust photos/videos from customers more than branded content and 75% of marketers also claim that posting fan-made content on business profiles makes the company more authentic. 
Here's an example of this strategy from Italist. The company features the customers' photos in their products, tag the authors' accounts, and invite email subscribers to follow the company on Instagram: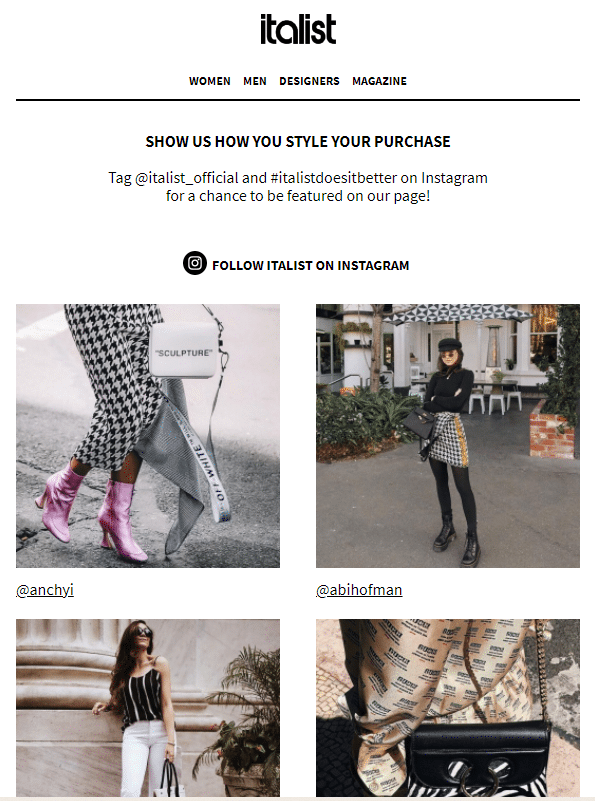 Source / EmailTuna
To make the most out of this idea, use email segmentation and create emails that feature products or content your selected subscribers last viewed. Not only does it help to remind your customers about products they show interest in, but it also provides potential customers with social proof.
Tell About Your Instagram Profile in the Email Signature
To tell about your Instagram account without being too promotional in the email, let your email subscribers decide whether they want to follow you on the platform or not. 
As a result, it's a good idea to create an Instagram icon for email signature and therefore spread the word about this platform among those subscribers who show interest in finding out more about your company.
Whether your email marketing campaigns are personal or impersonal, you can still build brand trust and help interested subscribers learn more about your company by adding the email signature. 
To get more Instagram followers, you can create a 'Follow us on Instagram' banner with a clickable link that redirects email subscribers to your business profile. Check out this example below: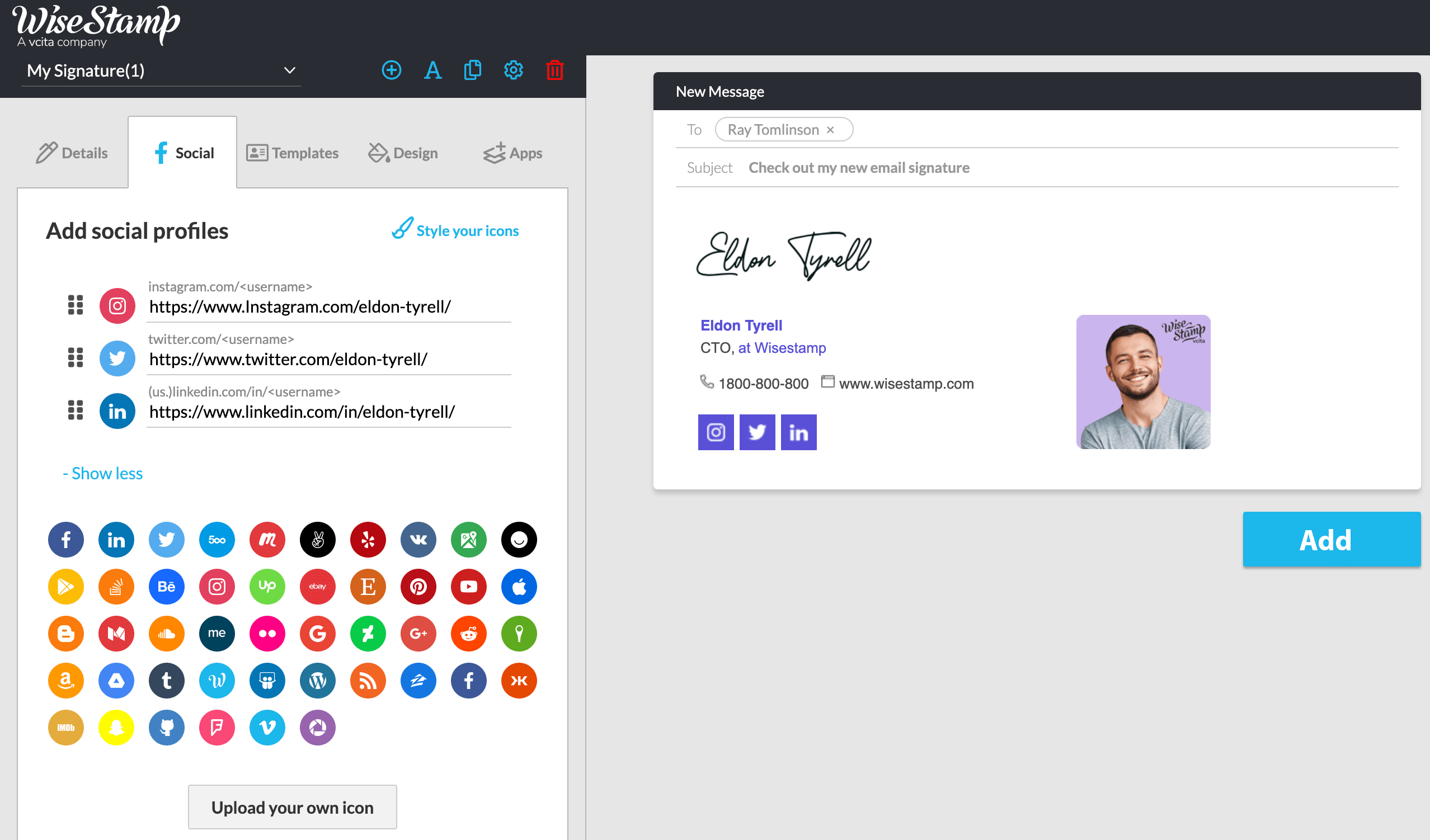 Source / Wisestamp
Celebrate Instagram Milestones with Email Subscribers
If you have a solid following on Instagram, that's great. This means you have the right Instagram marketing strategy that attracts people to your account. 
But wouldn't it be great if you could double your Instagram followers?
To tell about the good news and encourage more people to follow you on Instagram, you can share Instagram milestones with your email subscribers.
People want to belong to something special, so this strategy not only shares the company's achievements but also creates a sense of belonging that encourages email subscribers to become your social media followers. 
Let's take a look at Bluebella. When the company got 500k followers on Instagram, Bluebella created a thank-you email and sent it to all customers to share the good news with their customer base and encourage other people to follow their profile on Instagram: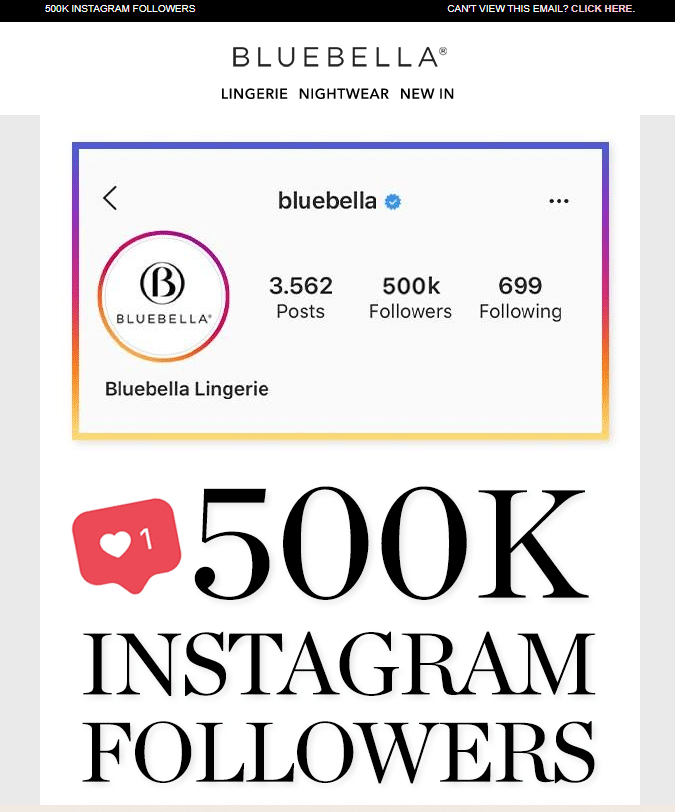 Source / EmailTuna
Encourage Subscribers to Follow Your Brand Hashtags
Both marketers and social media users know the power of hashtags as they help to organize content by theme or topic. The popularity of hashtags is growing, so more and more companies create Instagram hashtags that help their community discover relevant content.
Do you have brand hashtags? Great! Now it's time to tell your customers about these hashtags and encourage them to follow your hashtags on Instagram. Working on email marketing campaigns, you can tell about your brand hashtags, just like in the example below: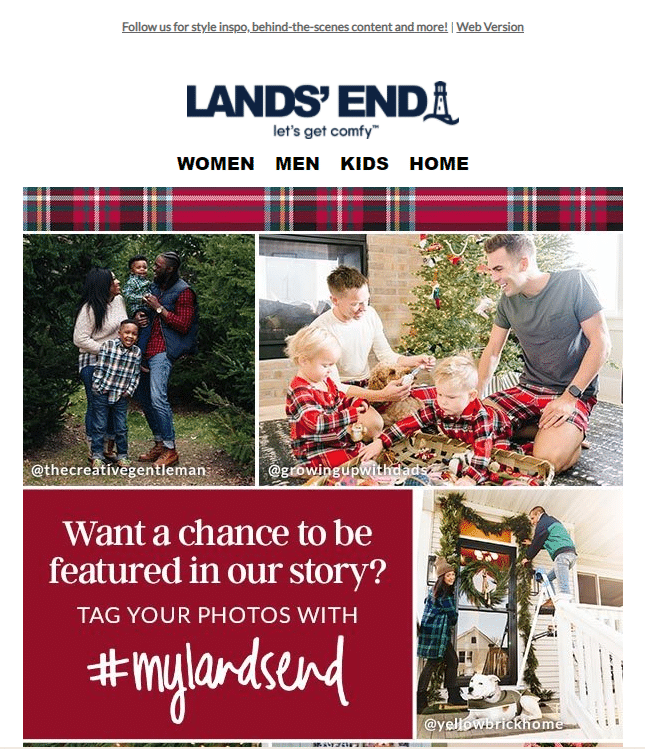 Source / EmailTuna
When your customers know how to find relevant information about your company and products on the platform they use daily, it helps to improve customer experience and therefore leads to higher customer engagement. What is more, it also motivates email subscribers to find your Instagram business profile and track your company's news on the platform which means more Instagram followers. Win-win!
Promote Your Instagram Giveaway via Email 
Free stuff is irresistible. Modern customers want to test out products for free before buying them, so they participate in social media contests that give away valuable prizes. In fact, one report says that Instagram accounts with contests grow 70% faster than others. 
With the popularity of social media contests, Instagram giveaways help achieve your business goals, whether you want to boost brand awareness, spark interest in your product variety, drive website traffic, or increase e-commerce sales. Plus, Instagram giveaways have become one of the easiest and fastest ways to grow your following.
But if you want to attract more followers, it's important to promote Instagram giveaways, and telling your loyal email subscribers about them is a proven way to gain more participants. Once you have an Instagram giveaway, don't miss a chance to tell your email list about it. Check out how Salomon did it: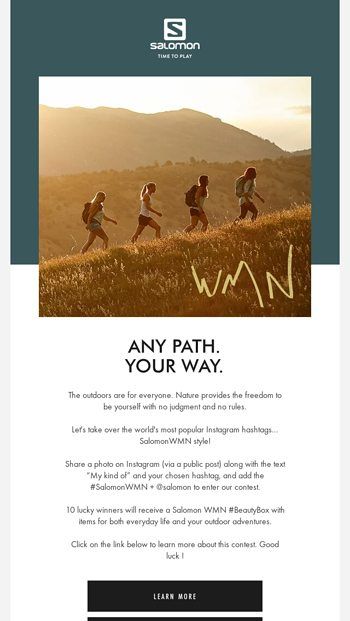 Source / EmailTuna
Retarget Your Email Subscribers on Instagram
If you're reading this blog post, it's more likely you have an email list with all customer data. To make the most out of this information and turn your subscribers into followers, you can give Instagram advertising a try. 
It allows marketers to create custom audiences and run ads to customers you already know based on their email addresses. This means you can interact with your existing customers on the platform even if they don't follow your company on Instagram.
Case in point:
To increase brand awareness and drive sales, Alice + Olivia created an Instagram ad campaign: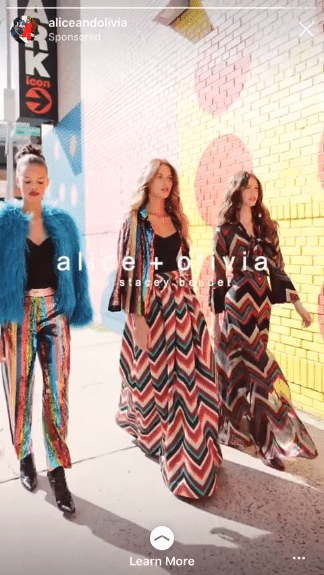 Source / Business Instagram
The company used different audience segments, including the audience of existing customers based on their email addresses. The campaign got a  72% increase in revenue and 5x more conversions.
In Short
Modern customers use various communication channels to keep up with brand news and product updates. Today, Instagram and email marketing go hand in hand with each other which gives marketers an opportunity to turn loyal email subscribers into Instagram followers. 
If you're focused on getting more followers at the moment, there are 7 excellent ways to grow your Instagram following with email marketing, so check out our list and find out what works best for your company.