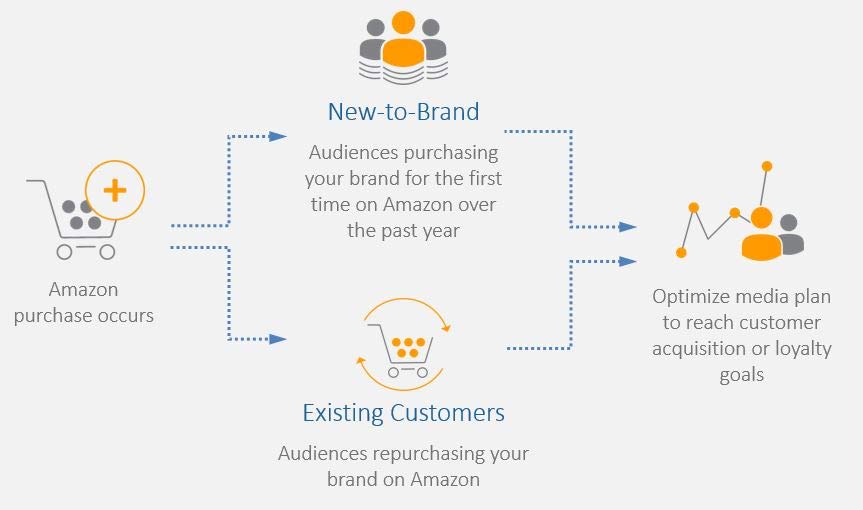 Amazon's large platform makes tracking advertising metrics a daunting task. But Amazon recently introduced new-to-brand metrics for display, video, and Sponsored Brands advertisers so campaign performance metrics are clear and easier to understand.
The new set of metrics are now part of Amazon's measurement suite and help advertisers develop strategies that drive customer acquisition and efficient business growth. The metrics' key function is to identify whether a buyer is an existing customer or a customer that's new to a brand, with no purchases of the brand's products made on Amazon within the last year.
New-to-brand measures total new-to-brand purchases and sales, new-to-brand purchase rate, and cost per new-to-brand customer, among other campaign performance metrics. These metrics make it easier to calculate the approximate cost of acquiring new customers on Amazon, as well as determine which advertising channels and strategies will deliver optimal campaign performance. They also help advertisers identify areas where they can optimize strategies for maintaining brand loyalty with existing customers.
These new metrics are just one of the resources Amazon is dishing out to advertisers. For advertisers who want to see how their Amazon ads measure up against those on rival sites, Amazon is currently testing an attribution pixel
Written by Anna Hubbel, writer at AdvertiseMint, Facebook advertising agency reviews
Comments
comments