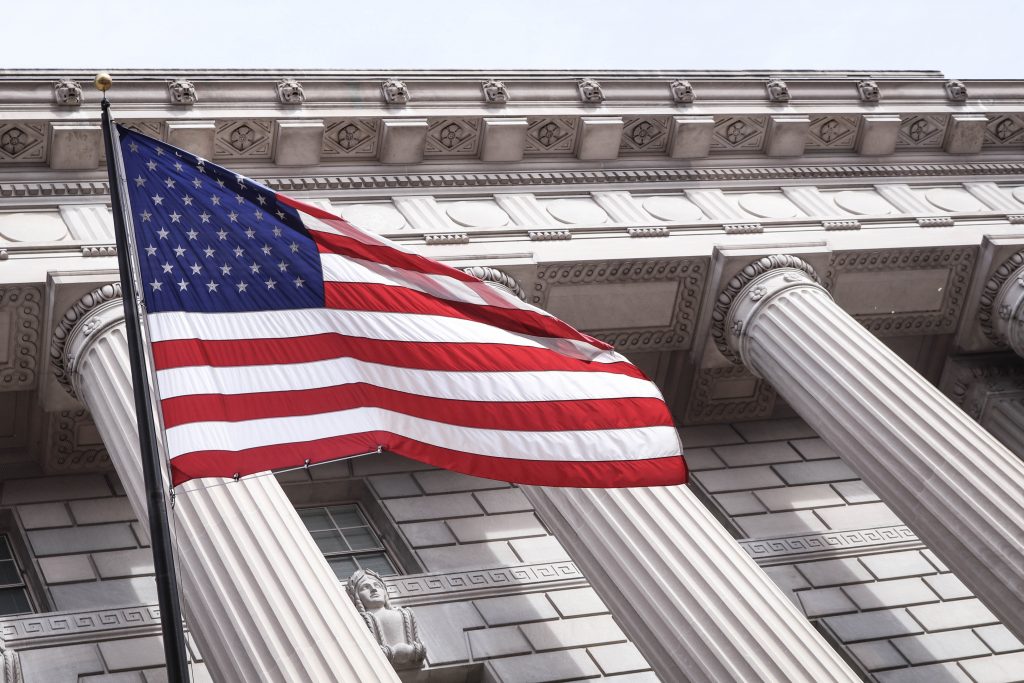 One of the best ways to maximize your exposure is to run political ads on Facebook. With billions of users around the world, Facebook is a place where politicians speak to their constituents. If you plan to run political ads, you will need to get authorization first.
Facebook advertising is filled with rules. Any Facebook marketing company is well aware of that. With many politicians entering the social platform, the social media company must ensure that everyone goes through the authorization process. Here's how you get authorized to run political ads on Facebook.
Getting Authorization to Run Facebook Political Ads
You have to prove that you are who you say you are. To preserve the integrity of U.S. elections and to prevent the 2016 election interference from happening again, Facebook wants to ensure that the people running political ads are the candidates themselves.
Step 1: Submit Information for Verification
Page admins, as well as ad account admins, will be required to submit a copy of at least one government-issued form of ID to Facebook for verification. They must also disclose a residential mailing address.
Step 2: Enter the Unique Access Code
Facebook will mail a unique code to the residential mailing address that you provided. Once received, you will enter the code on Facebook.
Step 3: Disclose Financial Details
You will need to provide details about the person responsible for funding the ads, whether the funds are coming from a political party or whether it is self-funded. This information helps the general public understand how the campaign is receiving money.
If you need more help with getting authorization, check out Strategic Marketing Group's 8-minute tutorial:
A History of Facebook Political Ad Authorization
Facebook implemented its new authorization process back in May 2018. The company provided a timeline for US advertisers only, with plans to introduce the authorization process to other countries in the future.
The new authorization process prevents the misuse of Facebook for political purposes during elections. Since the public discovered that Russian troll accounts distributed politically divisive ads during the 2016 US presidential election, Facebook has been revealing other ways its platform has been misused for political purposes, such as in the Cambridge Analytica scandal. In response, Facebook has been announcing new ways it plans to crack down on misuse and improve transparency across pages and ads.
The first step of the authorization process took off on May 7, 2018, when Facebook required authorized advertisers to label their ads. This meant all ads included a "This is a political ad" label, which advertisers must use to let users know their ad contains political content. Here's a timeline of the changes in political advertising on Facebook.
May 22: Political Ads Archive Available to the Public
Political ad archives became available to the public on May 22. Ads in this archive contain a "paid for by" disclaimer.
May 22: Political Ads Must Have Labels
Advertisers must adhere to all of Facebook's authorization requirements and include labels on political ads that clearly and transparently indicate that they are political ads.
May 22: Political Ad Labels Become Visible to the Public
If an ad that contains political content did not have the label, Facebook disapproved it and moved it to the archive.
May 22: Political Ads Become Publicly Visible in the Archive
Ads in this archive are searchable until seven years after creation, at which point they will be removed from the archive.
June 4: Facebook Continues to Review Active Ads
Facebook conducted an ongoing review to ensure that ads meet the new standards. If advertisers' ads did not comply, they were expected to recreate them accordingly. Until the ads are changed to meet the new standards, they simply were disapproved and moved to the political ad archive.
Tips on Running Political Ad Campaigns on Facebook and Instagram
The number of users on social media has grown exponentially. As of October 2019, there were more than 2.4 billion users on Facebook and another 1 billion on Instagram. When you are promoting your political standing to a large number of individuals, it only makes sense to do so on Facebook and its sister platform, Instagram.
Step 1: Establish a Disclaimer
If you're going to run an ad on Facebook that focuses on politics or social issues, you must create a disclaimer. Facebook will only approve disclaimers if they
Accurately represent the person responsible for the ad
Don't include any profanity
Don't include URLs or acronyms
Don't wrongfully imply that the ad was funded by Facebook
Don't wrongfully imply that a foreign leader paid for the ad
Don't duplicate the language Facebook provides about who the ad was paid for
Facebook will need to approve your disclosure before you can run your ad. If Facebook rejects your disclaimer, you can refer to the advertising policies, make edits, and submit it for review again.
Step 2: Create Your Ad Based on the Competition
Facebook provides access to the Ad Library, where previously and currently active ads appear. When running your political ad campaign, you will want to remain competitive with your opponents. The Ad Library is searchable, allowing you to see the other politicians who are advertising on Facebook. You can view all active ads to see the amount spent, the number of impressions, and the age, gender, and location of individuals seeing the ad.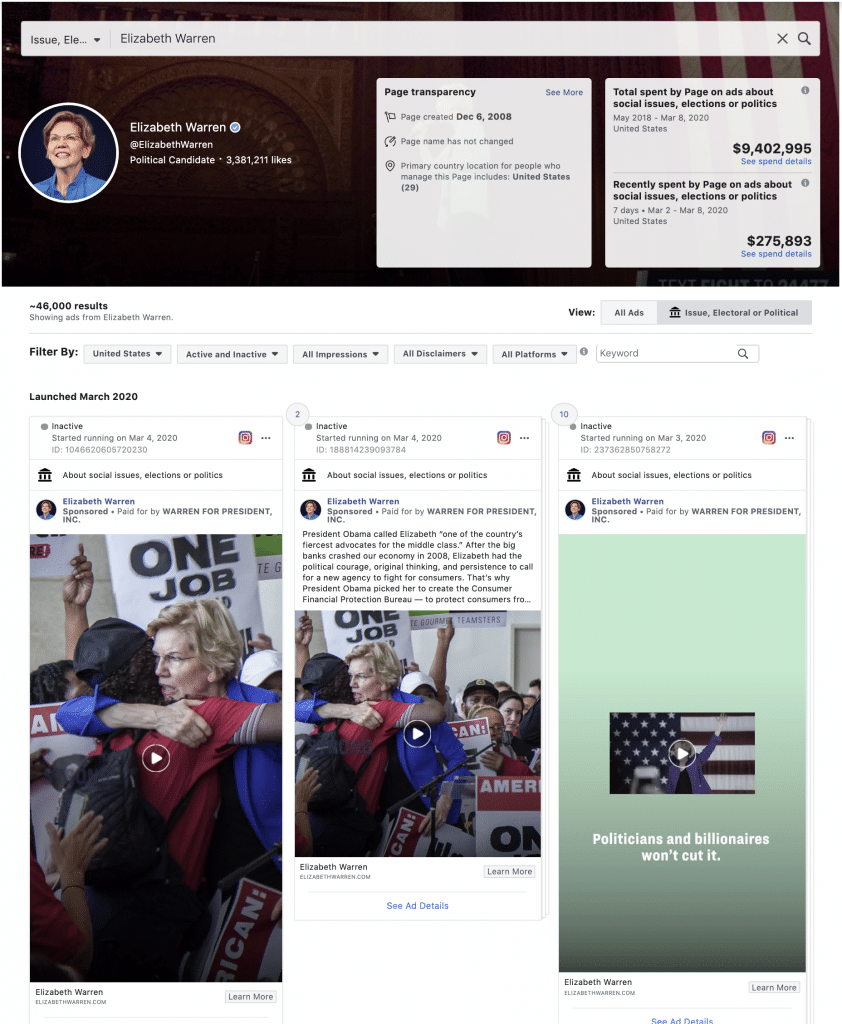 Step 3: Choose Ad Placement
You will want to choose your ad placement carefully. There are more options than ever, including feeds, in-stream videos, and Stories. The right column won't provide disclosures, so you will want to stay away from placing ads there. Further, you can choose to run Sponsored Messages within Facebook Messenger once you have been approved for political ads.
Tips on Using Custom Audiences for Facebook Political Ads
As a politician, you now have more than one audience that you want to attract. It's not just about Republicans versus Democrats. Some audiences will vary based on their beliefs, their geographic location, and their stance on particular issues. Thus, you will want to use the tools Facebook provides to customize your audiences.
Step 1: Establish the Criteria
Facebook allows you to define a broad or narrow audience, according to the follow criteria:
Location
Demographics
Interests
Behavior
Connection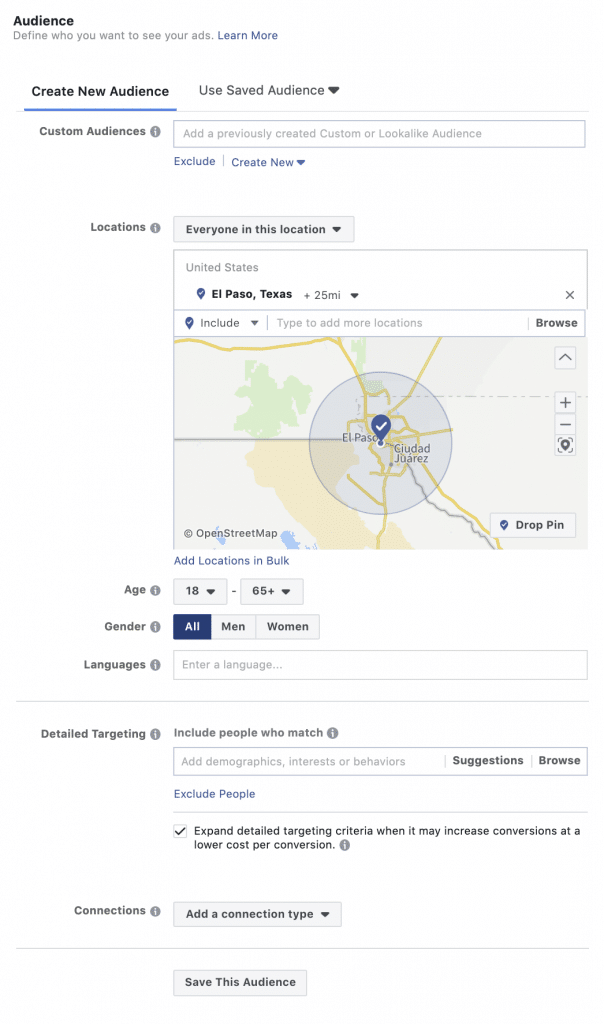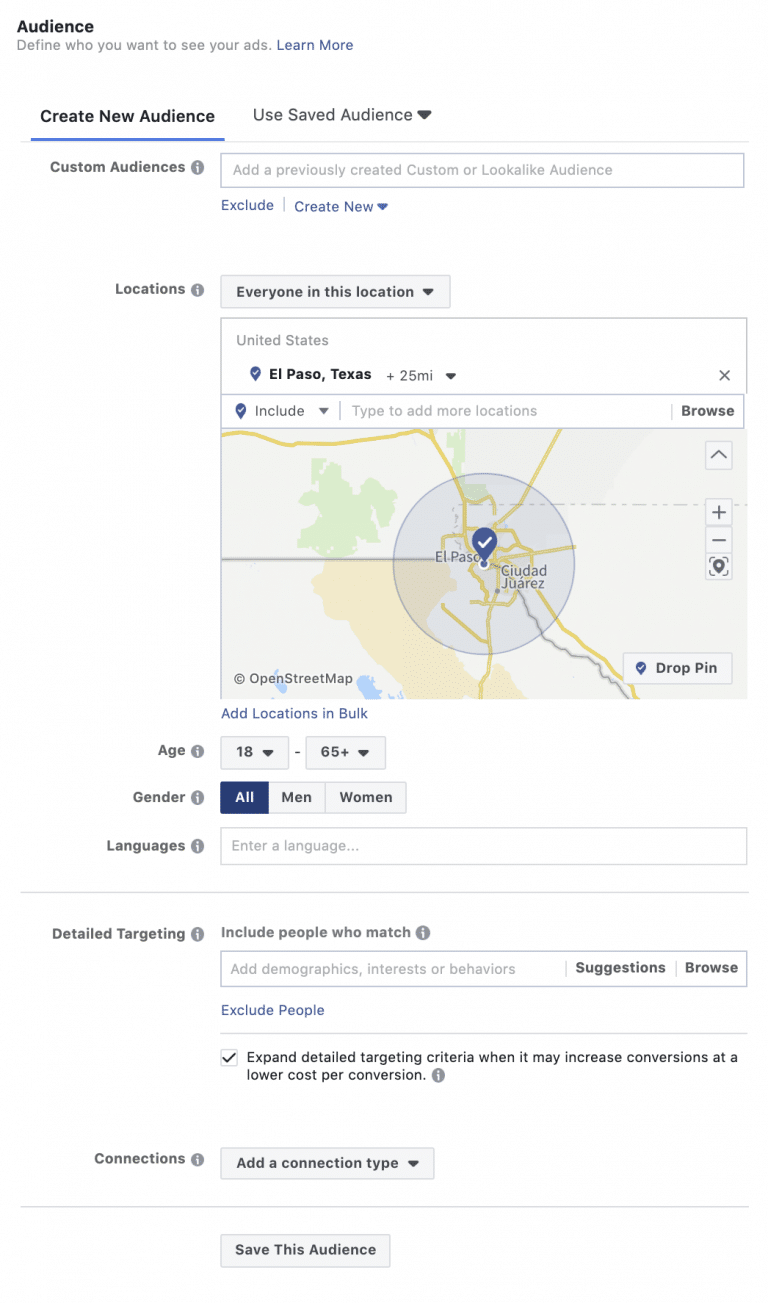 These options ensure that you can build your audience based on who may have already liked one of your opponents in the political arena, who may have liked specific pages, and who may fit specific demographics.
Step 2: Monitor Analytics
Facebook provides you with the opportunity to see how many people are interacting with your ad. In the event that you're not getting the reach that you desire, you can make changes to your campaign to improve performance.
Analyzing analytics reports on Ads Manager can be confusing. For more help, check out Oberlo's tutorial:
Using Facebook to Enhance Your Message
You may have a number of messages that you want to launch throughout your political campaign. So long as you ensure your ad avoids the common reasons for Facebook ad rejections, the platform provides you with the ability to run as many concurrent ads as you desire. Each ad can target a different audience that you can customize. Further, you can monitor the performance of your ads and make necessary adjustments.
With the tools Facebook provides, you have the ability to reach a large number of individuals. If you want to run political ads on Facebook, you must first get authorization. Facebook can be one of the easiest ways to get your name in front of potential voters so that you don't have to rely solely on televised debates and local meet-and-greets to share your take on issues.