November 16, 2017
[bctt tweet="How to create a @snapchat Geofilter for your business. #digitaladvertising #digitalmarketing. " username=""]
A Snapchat business geofilter is a text overlay that appears to Snapchatters when they are near your physical store. Geofilters, when clicked from Snapchat's filters menu, appear over Snapchatters' images, containing the location and the name of a local business nearby. Using a geofilter allows you to promote your local business to Snapchat's 178 million daily active users. Here's how you create one.
How to Create a Snapchat Geofilter for Your Business
Step 1: Create geofilter
There are two ways you can create your geofilter. One, you can create it using a photo editing software, such as Photoshop. When doing so, you must ensure that your graphic is 1080×1920 because all Snapchat photos and videos are in the vertical format. You must also ensure that your graphic does not cover the center of the screen. If you don't abide by this rule, Snapchat will reject your filter.
If you don't have photo-editing skills, you can create your geofilter directly from Snapchat's On-Demand Geofilters page, using its templates. Choosing this option, however, will limit your creativity because Snapchat's templates and photo-editing tools are limited. Snapchat only has 25 templates and three editing tools: color, text, and elements.
When creating your filter, always abide by Snapchat's geofilter submission guidelines. Once you're done, submit your creation to the aforementioned On-Demand Geofilters page.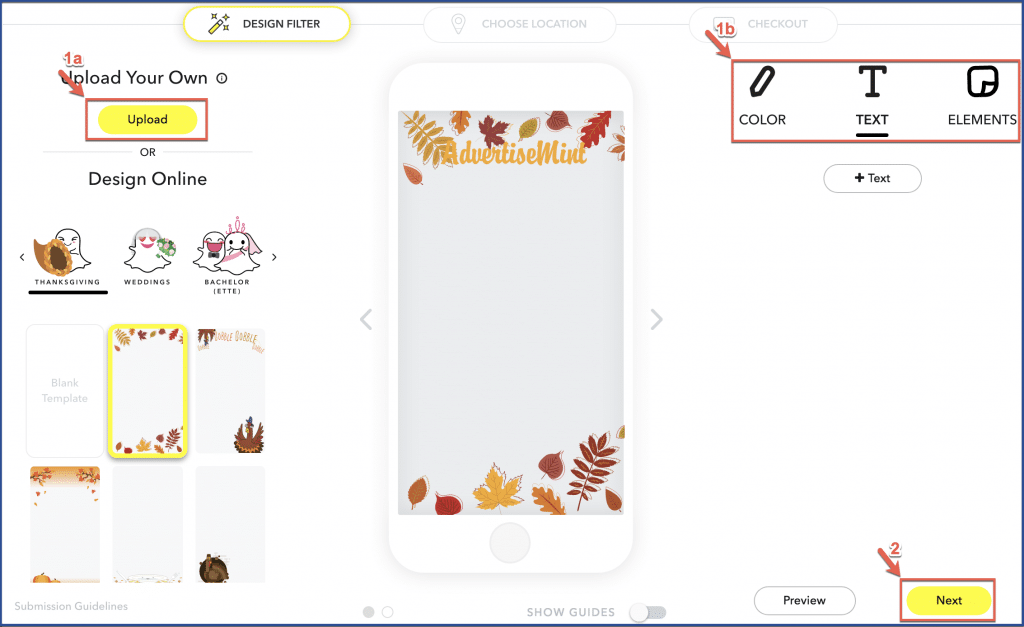 Step 2: Enter location, dates, and square footage
Enter your business location and the dates you want your geofilter to run. Then select the radius for your geofilter. Snapchatters within your chosen radius will be able to see and use your geofilter.

Step 3: Enter geofilter details, payment information, then submit
Name your geofilter then select "business" as your filter type. After you enter your payment information, submit your geofilter to Snapchat for approval. In this final step, all you need to do is wait.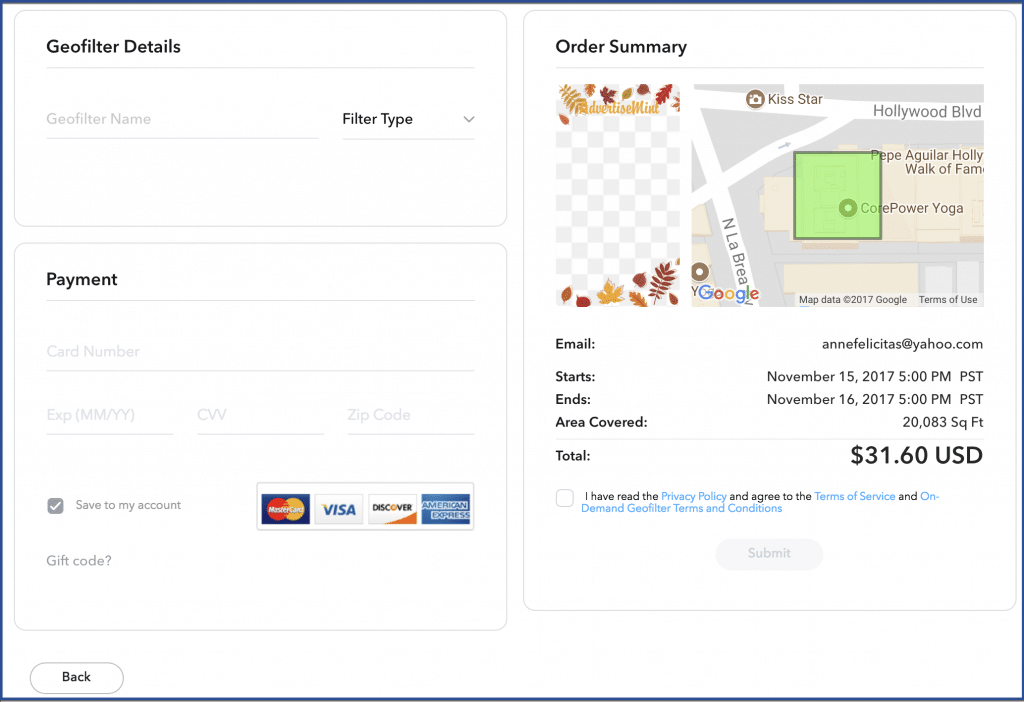 Comments
comments