A Snapchat business geofilter is a text overlay that appears to Snapchatters when they are near your physical store. Geofilters, when clicked from Snapchat's filters menu, appear over Snapchatters' images, containing the location and the name of a local business nearby. Using a geofilter allows you to promote your local business to Snapchat's 178 million daily active users. Here's how you create one.
How to Create a Snapchat Geofilter for Your Business?
Step 1: Create geofilter
There are two ways you can create your geofilter. One, you can create it using a photo editing software, such as Photoshop. When doing so, you must ensure that your graphic is 1080×1920 because all Snapchat photos and videos are in the vertical format. You must also ensure that your graphic does not cover the center of the screen. If you don't abide by this rule, Snapchat will reject your filter.
If you don't have photo-editing skills, you can create your geofilter directly from Snapchat's On-Demand Geofilters page, using its templates. Choosing this option, however, will limit your creativity because Snapchat's templates and photo-editing tools are limited. Snapchat only has 25 templates and three editing tools: color, text, and elements.
When creating your filter, always abide by Snapchat's geofilter submission guidelines. Once you're done, submit your creation to the aforementioned On-Demand Geofilters page.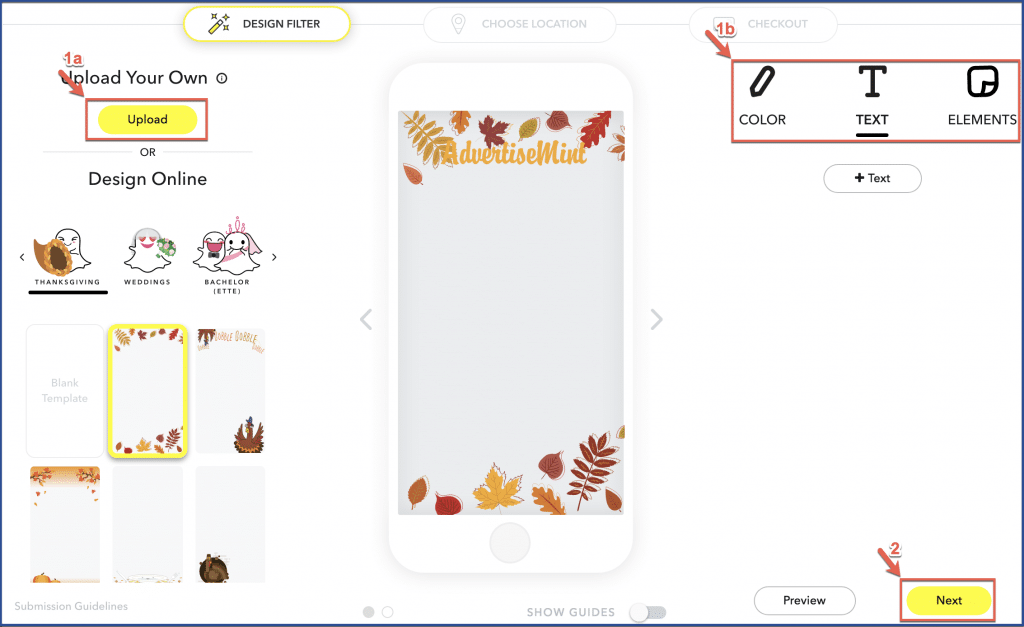 Step 2: Enter location, dates, and square footage
Enter your business location and the dates you want your geofilter to run. Then select the radius for your geofilter. Snapchatters within your chosen radius will be able to see and use your geofilter.

Step 3: Enter geofilter details, payment information, then submit
Name your geofilter then select "business" as your filter type. After you enter your payment information, submit your geofilter to Snapchat for approval. In this final step, all you need to do is wait.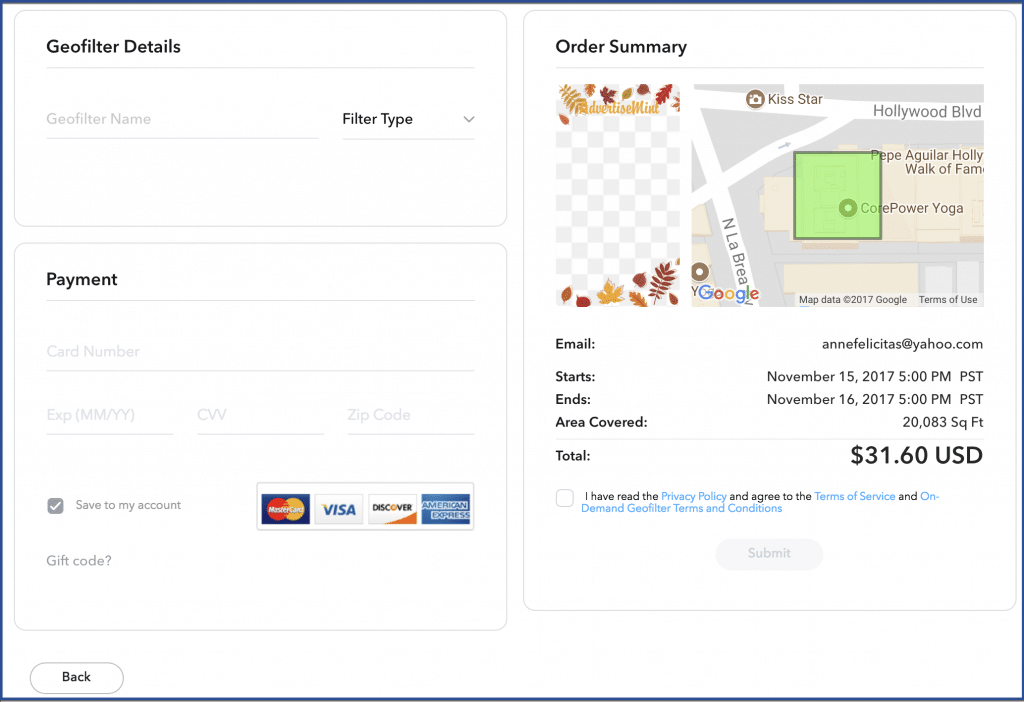 What Can't Go in a Snapchat Geofilter?
Before going through all the trouble of creating a custom geofilter or reaching out to a marketing company to do one for you, make sure that it follows all of the rules outlined by Snapchat. After all, wasting time and money for a rejected geofilter is a perfect recipe to feel dejected.
For one, make sure to not include any trademarked images you don't have the rights to. This might be a no-brainer, however, it is the first step to making sure your geofilter gets accepted.
On top of that, avoid having any images of real people. Alongside that, no real names, phone numbers, hashtags, and real-life usernames.
Similar to Facebook ad guidelines, you should also avoid any mention of drugs, profanity, or sexual images.
Snapchat Geofilter Creation Tips
When you create a geofilter, you want it to be easy to use in addition to being pleasant to look at. It should be able to seamlessly overlay across a variety of images that your target audience may snap. So what would that look like?
First of all, make sure that it is not too busy. Keep the design engaging, but still clean. Make sure it can also stand out on a variety on a variety of backgrounds as designs can look incredibly different on paper versus in practice.
Consider also having your filter also hint at the general location that they're at– include more details than just the fact that it is your store. Whether it is the state, city, or street that it is on, think about what your target audience would want to flaunt to their friends on Shapchat? Is the district particularly known for something? Maybe include an icon or a banner that signifies that, and in the process, you will also be promoting your business. Find that perfect balance between highlighting the location and the actual business itself.
There are other things to worry about in relation to your snapchat geofilter that have nothing to do with design. That's right– the actual location of the filter itself. You want to make sure that the parameter in which the geofilter, also known as Snapchat location filter, is available isn't too confined to the physical location of your storefront. Phones can glitch and you want to make sure that there is a higher chance someone will use your geofilter, rather than lower the chances of use.