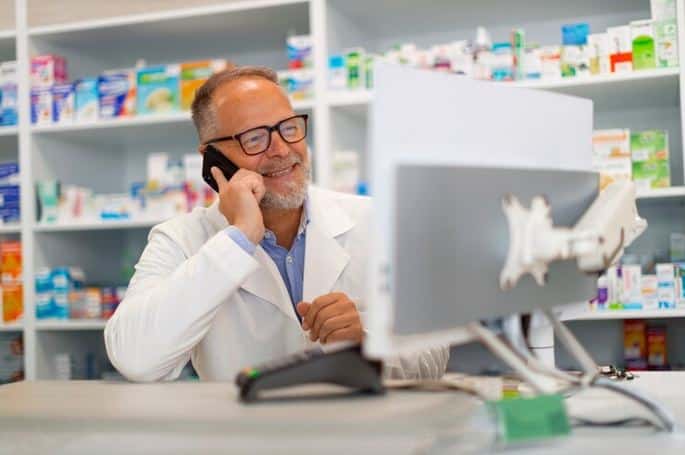 Could digital marketing transform the pharmaceutical industry?
This question indicates the growing importance of digital marketing for pharmaceutical companies today.
According to a Statista report, spending on digital ads among healthcare and pharma companies in the US market will hit a projected $19.66 billion by the end of 2024.
As an online marketer, I see huge potential in using digital channels to enhance how drug makers engage customers and use data.
But doing digital marketing right takes proven knowledge and smart tactics. That's why I wrote this guide to help pharma marketers smoothly navigate the digital world of the pharmaceutical business.
In this guide, you'll learn how to:
Build real business connections through social media
Balance pharma sales and industry rules
Educate customers and engage with industry stakeholders
Drive business success in the digital age
And much more!
Whether you're new to digital marketing or not, you'll get practical tips to take your pharma marketing up a notch and grow your business.
Let's dive in to gain in-depth knowledge of digital marketing for pharmaceutical Industry.
What is Pharmaceutical Digital Marketing?
Digital marketing simply means using online strategies to connect with customers to drive sales. Digital marketing for the pharma industry opens up new ways to promote pharma products and enlighten people.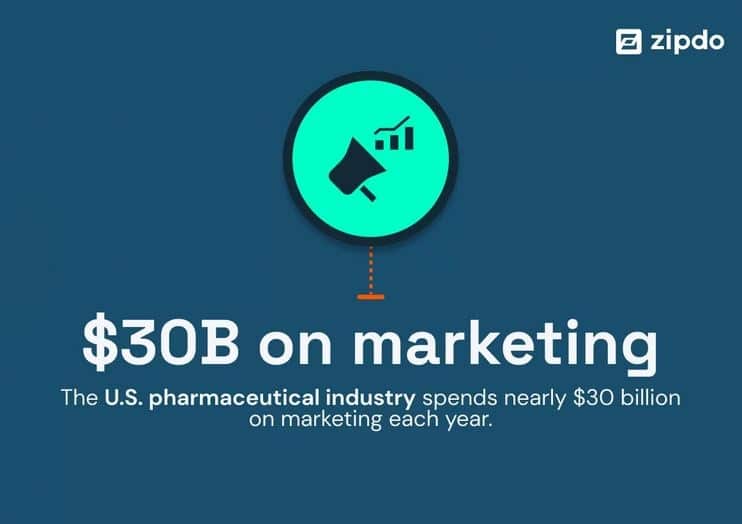 Source: zipdo.co
By leveraging digital channels, the marketing team of pharma companies can:
Share information on social media
Run ads on search engines and websites
Send email blasts with helpful content
Host webinars to answer your audience's questions
These digital options allow pharma brands to interact with physicians, patients, and caregivers directly. They can craft targeted messages to address specific needs.
With digital analytics, marketers in the pharmaceutical industry can optimize their marketing techniques. They see which online efforts perform best. Then, they can focus resources there.
The claims and messaging of pharmaceutical companies have to follow strict industry rules. Responsible digital marketing means:
Providing accurate, science-based information
Avoiding unapproved health claims
Ensuring transparency on drug risks
Protecting patient privacy
Maintaining compliance with the healthcare industry standards.
With the right digital marketing approach, pharmaceutical companies can responsibly reach and educate more people. It empowers better treatment decisions and builds valuable connections via digital communications.
Pharma Marketing in the Digital Age
The job of pharma marketers has changed a lot due to the presence of digital platforms and tools. They now have many more ways to reach and engage with customers.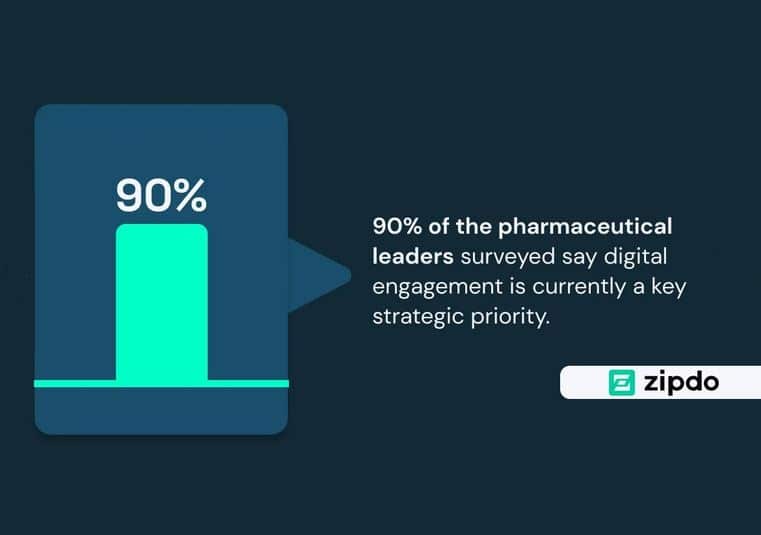 Key roles of pharma marketers today include:
Creating engaging digital content like videos, social posts, and podcasts
Running paid campaigns on search engines, websites, and mobile apps
Developing educational webinars and training programs
Managing relationships with healthcare providers and patient groups
Connecting with audiences through two-way social conversations
Analyzing data to see what marketing works best
Ensuring responsible messaging and regulatory compliance
Testing out new digital platforms and marketing tech
Collaborating with sales teams for aligned outreach
Training others in the company on effective digital strategies
Digital allows pharmaceutical marketers to support customers across every stage of their journey – from initial contact to ongoing care.
Traditional vs. Digital Pharma Marketing
Traditional pharmaceutical marketing relies on the following:
Print and TV ads
In-person sales visits
Conference booths and talks
Mailed brochures and pamphlets
Digital pharmaceutical marketing uses:
Website and social media content
Search engine and online ads
Webinars and virtual events
Email and mobile messaging
Online reviews and communities
Digital provides more personalized, measurable ways to interact. It gives pharmaceutical marketers valuable data to improve their strategies. And it reaches customers where they already spend time online.
Crafting a Pharma Marketing Strategy
Creating a solid digital marketing plan is super important for pharma brands. With so many options now available, pharma companies need to have a smart plan.  A plan that ensures their efforts connect with the right healthcare audience and drive real results.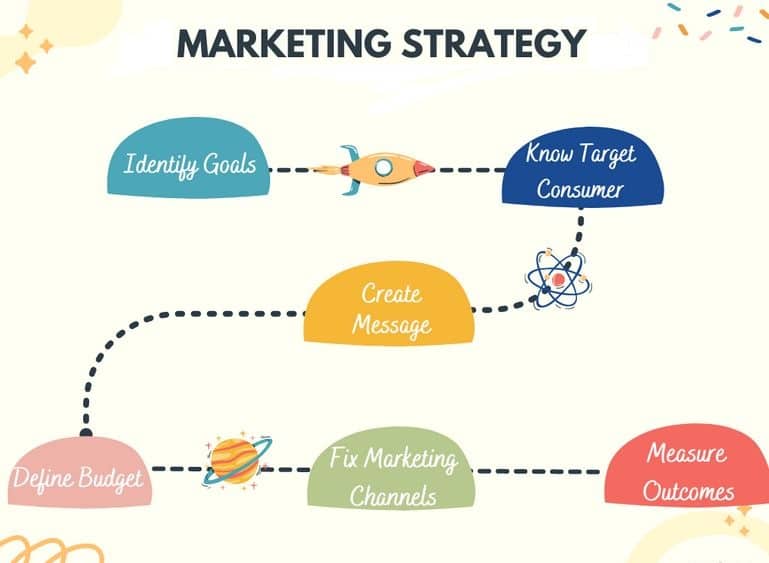 Source: deskera.com
When building a plan, first think about who you need to reach and what motivates them. Are you looking to boost awareness with patients? Want to educate physicians on new treatments? Drive sales to pharmacies?
Different audiences have different needs. Do your research so you can craft messages that resonate.
Next, be clear on your marketing goals. Do you want to increase brand favorability? Improve patient loyalty? Identify realistic objectives tied to business aims. Balance short-term and long-term goals for ongoing success.
Figure out the right marketing mix and gather the relevant marketing materials. Consider how much budget to allot for digital ads, social media, content creation, email marketing, and other internet marketing initiatives. Use data to guide optimal spending across efforts.
Here are some quick pro tips:
Test different marketing messages and formats to see what performs best.
Track engagement across every campaign to identify winners and low performers.
Adjust strategies based on analytics – double down on what works!
Partner with an experienced digital marketing services provider to execute tactics smoothly.
Finally, always follow regulation requirements when promoting treatments. Work closely with your legal team to ensure compliance from start to finish.
With the right digital marketing plan tailored to your audiences and goals, you can achieve your desired results!
Pharma Social Media Marketing
Social media has become a major digital channel for pharma marketing. Using platforms like Facebook, X (formerly Twitter), and LinkedIn provides big opportunities to engage healthcare audiences. But it takes smart strategies to succeed at it.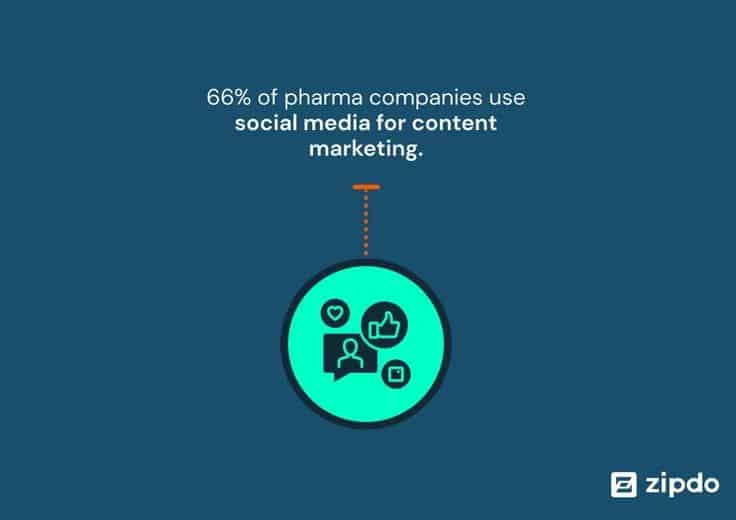 First, think about your campaign goals, as I mentioned earlier. Tailor social content and messaging for each audience.
Here are some tips to maximize your social media marketing:
Post a mix of educational and promotional content to provide value. For example, share quick tips for managing a condition in addition to new product features.
Respond to comments and questions to foster two-way conversations. This builds relationships with followers.
Use images, infographics, and short videos to make posts more engaging.
Test different posting schedules to see when your followers are most active.
Collaborate with influencers like patient advocates to expand reach.
Analyze performance data to refine your approach over time.
Just remember – always follow pharma rules while using social networks. Get compliance approval on every marketing content and disclose risks appropriately. Being responsible pays off in the long run.
When done right, social media enables your brand to engage directly with key audiences daily. It offers an invaluable tool to build a solid brand perception and humanize your company.
Pharma Email Marketing
A 2020 marketing survey revealed that businesses earned $36 for every $1 invested in email marketing. Email is a powerful digital marketing channel that every pharma brand should be using
. But it takes strategy to cut through inboxes and drive real results.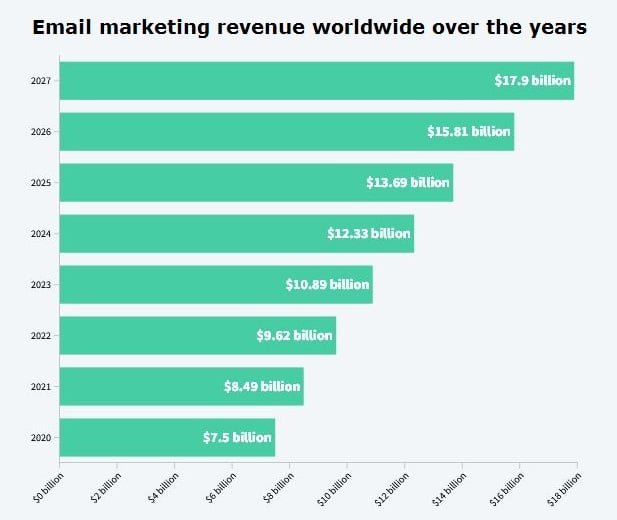 Source: constantcontact.com
Let me break down some email marketing tips and best practices for you!
First, build a targeted subscriber list to send to. This may include doctors, medical professionals, hospital decision-makers, patient support groups, etc. 
Make sure you have compliant opt-in processes.
Stay organized by segmenting your lists based on role type, specialty, location, and preferences
.
When creating emails, focus on providing subscribers value. Send educational content like treatment guides, relevant studies, event invites, and industry news. Promote products when appropriate, but avoid over-selling.
Here are some quick hits for boosting open and click-through rates: 
Write catchy subject lines that highlight key info 
Make sure content is mobile-optimized
Personalize messages with merge fields 
Use calls-to-action to drive specific behaviors
Test different cadences to find the optimal frequency
Be sure to track email performance. 
Monitor
open rates, clicks, conversions, and unsubscribes. This allows you to refine and improve campaigns continually
.
You must stay compliant with anti-spam requirements.
Provide opt-outs, adhere to regulations, and get legal approval. This protects your sender reputation.
Email marketing provides a cost-effective way to engage stakeholders and build meaningful relationships over time.
Pharma Influencer Marketing
Teaming up with influencers has become a popular digital marketing strategy for pharma brands
. 
By partnering with the right medical experts and patient advocates, companies can grow their reach and credibility
.
According to this 2023 report, the current market size for influencer marketing stands at $21.1 billion as brands continue to leverage social media stars.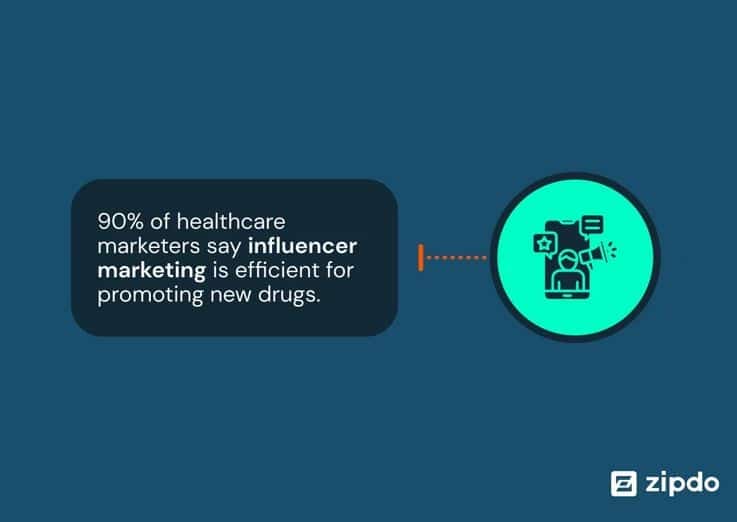 First, find influencers who
genuinely
care about a disease or treatment. They should want to educate and empower their communities. Match them to campaigns aligning with their niche expertise.
Here are some possible examples:
An HIV drug maker could work with HIV+ influencers who share their personal treatment stories. This will reduce stigma while educating patients.
A diabetes company could collaborate with food and fitness influencers on healthy living content

. Followers will get recipes and tips for blood sugar control.
A vaccine brand can have pediatricians and nurses post about the importance of taking the vaccine shot. This will go a long way in countering anti-vax propaganda

. 
The key is choosing partners with engaged followers in your target audience. Vet content meets pharma compliance rules.
When done right, influencer marketing helps companies:
Increase awareness through storytelling from relatable faces 

Build credibility by associating with trusted experts

Start meaningful dialogues with their communities

Get valuable advocacy from credible voices
Influencer marketing enables genuine engagement with key audiences. 
If you want to leverage the power of authentic storytelling, give influencer marketing a try.

Content Marketing for the Pharma Industry
Content has become king for strengthening trust and engagement with healthcare audiences. But creating compliant digital content takes work for pharma companies.

The key is providing value through teaching rather than always promoting. Share disease education, treatment guides, expert advice, patient stories, and more. This content should aim to inform and empower.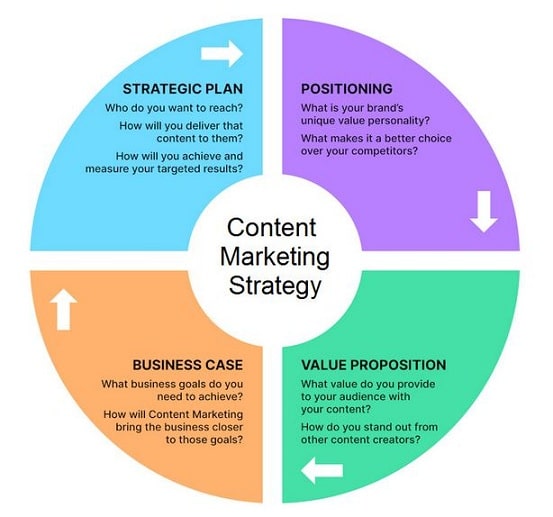 Source: empowerpioneers.com
Some tips for creating stellar content:
Target specific audience interests and needs

Mix formats like articles, videos, social posts

Promote

lightly

– focus on education

Monitor

engagement levels to refine topics

Repurpose top-performing content across channels
It's crucial to ensure all content meets industry rules. Here's how:
Vet all claims and disclosures through compliance

Stick to approved indications and guidance

Balance benefit and risk information

Ensure transparency around results, sources, sponsorship
A good content marketing strategy for pharmaceutical companies helps to build relationships, nurture leads, and guide healthcare stakeholders online. It can drive brand awareness and loyalty
organically
over time. 
But you have to invest in high-quality information people
truly
value. 
Pharma SEO Best Practices
Want your pharma website and content to rank higher in search and get found more easily? Then you need to optimize for those search engines, my friend! Having a strong SEO strategy can really benefit pharma brands online.
Here are some quick tips to boost your company website SEO:
Include keywords in titles, headers, URLs, etc. But don't overstuff – be natural!
Create blog posts, articles, and other content optimized around specific keyword terms
Make sure your site loads fast on mobile. Slow sites get penalized!
Get backlinks from reputable industry websites to improve domain authority
Refresh old content to keep it relevant. Search engines love freshness.
Leverage Google Search Console to monitor your pages' performance
Build internal links between related content to strengthen keyword focus
Now, here are a few things to keep in mind for pharma specifically:
Target keywords that doctors, patients, and caregivers search
Make sure claims are compliant – avoid promotional language
Balance SEO focus with creating valuable, informative content
Be transparent about risks, safety information, clinical data sources
Regularly create new educational materials on different topics
SEO helps pharma brands get their content in front of the right people when they're searching for disease and treatment information online. It can drive traffic and awareness over time through savvy optimization.
Data Privacy and Compliance for Digital Marketing in the Pharma Sector
When doing digital marketing in this highly regulated industry, you must address two super important issues. They are data privacy and compliance with the pharmaceutical industry rules. Let's talk about best practices in this regard.
First up is respecting people's data privacy. Be totally transparent if you're collecting any personal information like names, emails, interests, etc. Only gather what you absolutely need to get the job done. Store data securely and limit internal access.
Here are some pro tips:
Share your privacy policy and get proper consent
Allow people to access or delete their data if they want
Anonymize data when possible to protect privacy
Use aggregate data instead of individual data when you can
Being compliant with all the pharma regulations is crucial too. Have your legal team review digital content and campaigns before launch. Avoid unapproved claims or off-label promotion. Disclose risks properly.
This protects your marketing ability in the long run. Here are some key areas:
Ad review for search, social, and influencer content
Rules for virtual events and webinars
Social media guidelines for branded pages
Implementing pharmaceutical marketing strategies in growing the business is vital. But the ethical management of data is more important.
Ethical data management and strict compliance with industry regulations build trust. They also safeguard your pharma reputation and partnerships.
Benefits of Digital Marketing in the Pharmaceutical Industry
Digital marketing has many benefits in today's business landscape. These benefits 
can help take your pharmaceutical company to the next level.
Let's explore some of the key benefits!
First, digital technologies and platforms allow for more personalized marketing.
You can tailor marketing messages for specific needs by understanding customer data and interests
. This boosts brand awareness and improves
customer experience.
Digital marketing allows two-way conversations at scale. Social media, chatbots, virtual events – these tools foster valuable engagement.
It also provides awesome analytics. Companies get clear insights into what content and campaigns perform best. This allows data-driven optimization. This could be why digital ad spending in the US healthcare and pharma industry has risen steadily in recent years.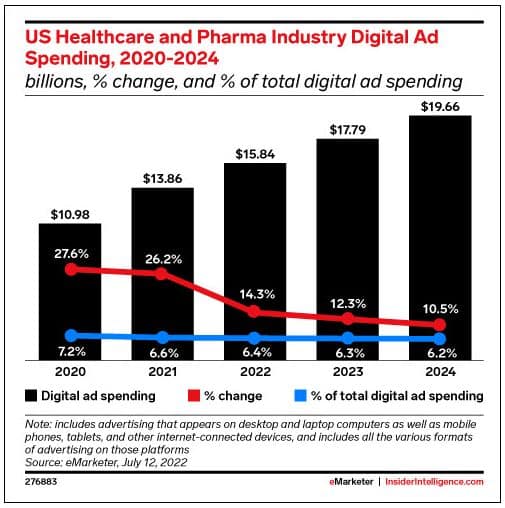 Source: emarketer.com
Here are some other benefits of digital marketing in the pharmaceutical industry:
Wider reach to niche audiences through targeted online ads and content

Increased brand awareness and credibility through thought leadership

More efficient use of marketing resources and budgets

Capability to track ROI and quantify marketing impact
So, digital strategies bring pharmaceutical brands closer to customers. They empower personalized promotion and frictionless education. This helps build knowledgeable patient communities over time.
Embracing digital strategies gives pharma brands key advantages in the modern healthcare landscape. It can strengthen brand affinity while achieving business goals. The future looks bright!
Analytics and Reporting for Pharma Digital Marketing
Using analytics and reporting is essential for pharmaceutical brands to understand if their digital marketing campaigns are actually effective
! Let's discuss the key ways to use them.

First, decide the key things you want to measure based on your goals. Some examples are website visits, social media reach, content downloads, or prescription rates. These are your key performance indicators (KPIs).
Next, use marketing tools to track KPIs across all marketing activities. Tools like 
Google Analytics for your site and Facebook Insights for social can help. These provide valuable insights into engagement and impact
.
Analyze which messages and channels perform best. See which content gets the most clicks and shares. Find when your physician or patient audience is most active. The data reveals what resonates.
Here are some analytics pro tips for pharmaceutical digital marketing:
Look for trends over time, not 

just

one-off data points.

Compare results across different digital channels and content formats.


Be sure to share results with your team of marketers. Data should inform decisions.

Partner with digital marketing experts to help analyze and optimize based on the data.
The bottom line is that analytics empower you to see what content and tactics work. And those that are underperforming too
. This insight drives you to double down on high-impact marketing and optimize the rest. Use data to guide your pharma digital strategy!

Future Trends in Pharma Digital Marketing
The pharma industry keeps evolving, as does digital marketing in general. Let's discuss some future trends for pharma digital marketing:
Data-Driven Marketing: Data is fueling marketing decisions more than ever. Pharma companies must upgrade their customer experience systems and organizations to utilize it fully. The focus is moving to engaging customers however they want. Data is calling the shots.
Personalization: One-on-one marketing has now become super important in pharmaceutical marketing. By harnessing AI's predictive powers, marketing solutions can get more customer-focused and efficient. Look for more personalized content in 2024 and beyond. No more one-message-fits-all blanket approach.
Omni-Channel Marketing: Brands are realizing that multi-channel is more than just being everywhere. In the coming years, relevance and consistency would rule over simply being omnipresent. Pharma reps are using the omnichannel approach for targeted outreach to physicians and healthcare decision-makers. Coordination is king.
Interactive Content: Interactive content helps pharma reps forge emotional bonds with prospects. Look out for advancing visual and interactive content to drive digital marketing efforts in the near future. Marketing will get much more personal!
Patient-Centered Strategies: The patient-focused approach permeates healthcare widely, including marketing in the pharma industry. In the coming years, expect more social media brand presence in marketing pharmaceutical products. Marketers are embracing social spheres to engage audiences in the pharmaceutical sector.
The details vary, but the digital future promises more authentic, transparent communication between pharmaceutical companies and people who need their products.
Conclusion
I hope this guide got you pumped about the huge potential of digital marketing for pharmaceutical brands.
Digital marketing has become a powerful way to reach audiences, tailor messaging, foster engagement, and drive results.
But partnering with an experienced digital agency is how to navigate the digital landscape smoothly and achieve results faster.
AdvertiseMint is the digital agency partner you need to start or scale your pharma digital marketing efforts.
Our paid social media ads services can help your pharma company reach and connect with physicians, patients, and healthcare professionals. And, of course, drive massive sales for your pharmaceutical products.
We want to grow your pharma business with our highly targeted ads services.
Want to partner with us to take your business to new heights? You can get started by speaking with one of our ads experts.
Click here to book your FREE Facebook Ads consultation now!
It takes less than a minute.