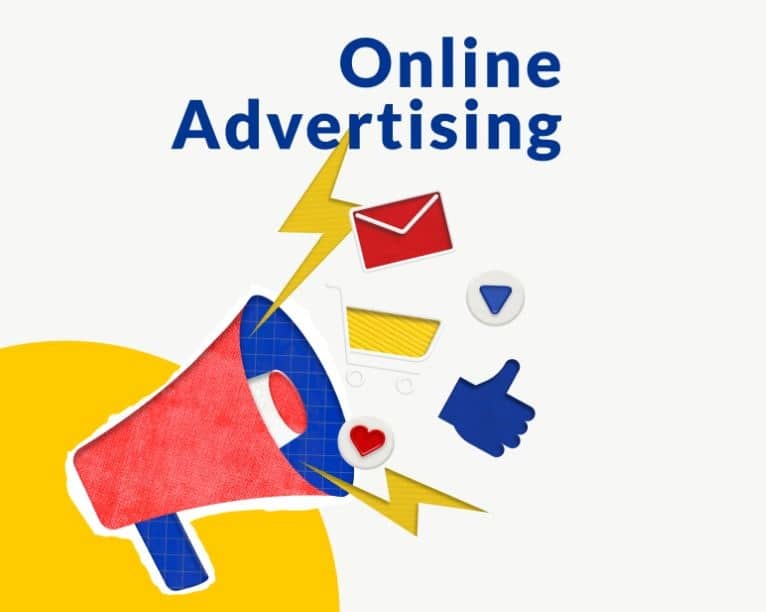 Online advertising for business is now a necessity for all entrepreneurs. As more people use the web daily, online ads provide affordable exposure to targeted audiences.
Do you want to advertise your business online but don't know where to start? You're not alone. Many small business owners struggle to make online advertising work.
But the key is having an effective advertising strategy.
The online landscape changes fast. New platforms and advertising options pop up all the time. To connect with customers, you must meet them where they spend time online.
In this article, I'll show you how to create a winning advertising plan that gets you the right customers.
You'll learn how to:
Know your target audience
Set advertising goals
Create stellar ad copy and visuals
Monitor and optimize ad campaigns
And more!
Online advertising for business, when approached strategically, can grow your brand and profits quickly.
Sounds good?
Let's get started!
Importance of Online Advertising for Small Businesses
Running a business is no joke. Getting the word out to potential customers can feel impossible with a limited budget. But here's the good news – online advertising opens up a whole new world to grow your business.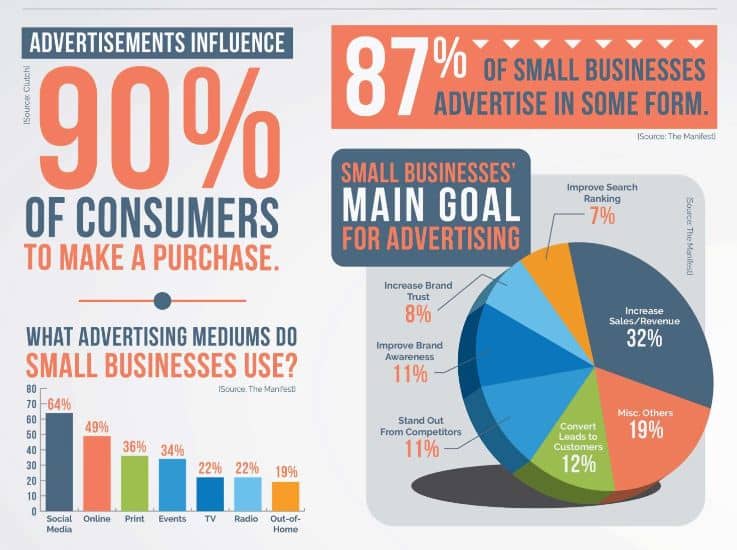 Source: Johntalk.com
Ad spending in the US digital advertising market is expected to hit $271.20 billion by the end of 2023.
Internet advertising lets you reach way more people than traditional methods like print ads or commercials. And get this – it costs a fraction of the price!
With online ads, you can precisely target your perfect potential customers based on things like:
Location
Interests
Shopping habits
And more!
It's like a laser beam versus a spray bottle. Online advertising puts your message right under the noses of those most likely to be into what you're selling.
You get insane amounts of data too – impressions, clicks, sales. You name it. This helps inform where to spend your limited advertising budget to get the biggest bang for your buck.
And if something isn't working, you can tweak or pause ads instantly. No waiting around for the next print issue or air time. Digital advertising is lightning fast.
Really, every business needs to be where their customers hang out. And where is that? Online! On social media platforms, YouTube, and search engines. Setting up ads on these major platforms means you're right there when people are looking for what you offer.
So don't let your business get lost in the shuffle. Strategic online ads are your megaphone, spotlighting what makes you great.
Turn up the volume and watch those sales start ringing!
Understanding Your Target Audience
Let's talk about your ideal target audience. The people you want to sell to. Your potential customers.
Getting inside their heads is super important for your digital marketing plan. You have to know what makes them tick before you try tickling their fancy with your paid ad!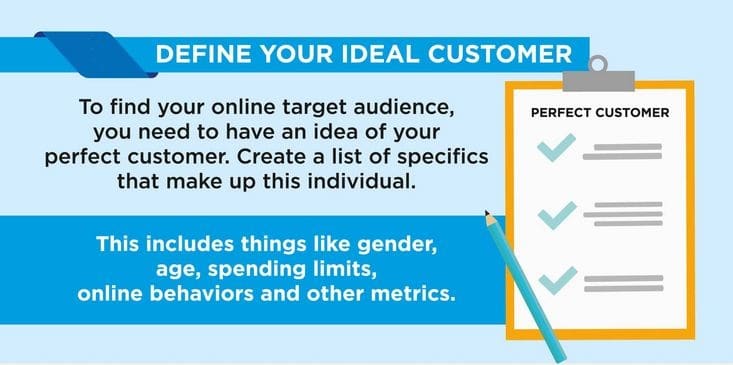 Source: greengeeks.com
Ask yourself these questions about your potential customers:
What are their hopes, dreams, and fears?
What motivates them to buy?
Where do they hang out online?
What social media platforms and search engines do they use daily?
What types of content do they engage with?
How can your business solve their problems?
Essentially, you want to be able to walk a mile in their shoes. Empathize and understand what makes them interested in your business. How can you light up their lives?
This insight is like a compass, pointing to where to focus your advertising to catch their attention.
It also helps you speak their language in your ads. Use words and images they can relate to. Feel their vibe. Does your audience appreciate humor or a more serious tone?
Crafting online ad campaigns with a laser focus on your prospects' needs and behaviors is how you go from robotic spam to authentic engagement.
So don't rely on assumptions. Do the research to really get what makes your audience unique. Let their wants and needs guide your strategy. This is how you grab their hearts, minds, and dollars!
Different Types of Online Advertising
What are the different flavors of online advertising? Let's explore some tasty options for businesses of all sizes.
Search Engine Advertising
We all turn to search engines like Google when we need to know something or find something online. Tapping into paid search advertising is a prime way to get your business in front of people actively looking for what you sell.
Search ads work by showing up above or next to organic search results. So when someone searches for "cute rain boots," your ad for stylish wellies could appear up top.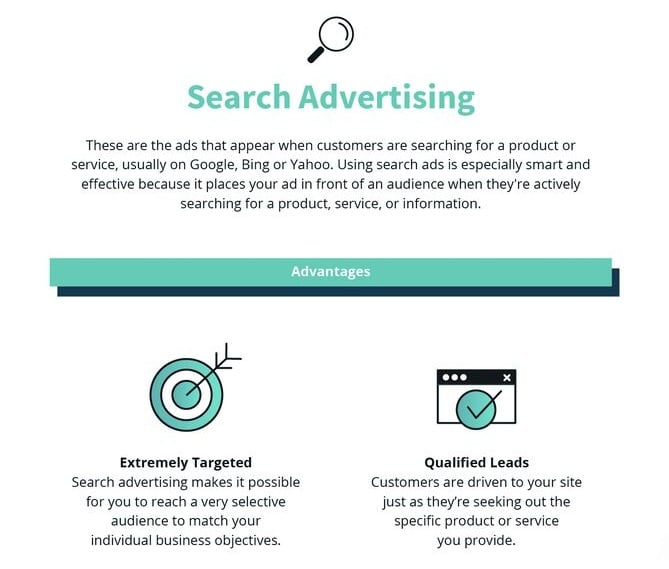 Source: hibu.com
You only pay when someone clicks your search ad to visit your site. And you can target based on keywords, location, and more to laser focus on seekers of your stuff.
Most search ads happen through Google Ads. But other search engines like Bing and Yahoo also provide profitable pay-per-click advertising opportunities.
Just remember – great search ads:
Use keywords related to your products or services
Grab attention with compelling headlines
Send searchers to relevant pages on your site
Get this recipe right, and search advertising delivers customers on a silver platter!
Social Media Advertising
With billions of active users, social platforms like Facebook, Instagram, TikTok, and LinkedIn are online hot spots.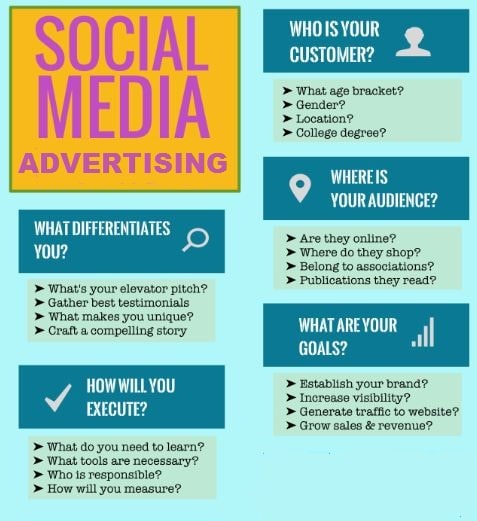 Source: mariapeaglerdigital.com
Setting up ads on social media can help you:
Grow your community
Boost brand awareness
Promote content
And drive sales!
The key is placing ads on the specific social sites where your audience spends time.
You can target users by location, interests, behaviors, and more. Your ads appear seamlessly in their feeds. It's a natural way to engage.
The formats are diverse, from photo and video ads to carousels and boosted posts.
And easy tracking means you see what content and messaging perform best. Keep honing your social media advertising approach for killer results!
Display Advertising
Beyond search and social, you can capture eyeballs with display advertising across the web.
Display ads include:
Banner ads
Video ads
Rich media
And more!
These visual ads help promote your business by increasing visibility and brand impressions.
Strategically place display advertisements on sites that attract your target audience. For example, fitness ads on health sites.
Keep display ads crisp and engaging. Mind the image file sizes – you want fast-loading ads. And test different calls to action. Display advertising works great as a brand supplement to search and social efforts.
Native Advertising
Native advertising aims to blend ads into the natural content and flow of websites. This makes them less disruptive and obvious than banners and popups.
Examples are things like:
Sponsored articles
Recommended product lists
Branded content
Podcasts
And more!
The trick is making native ads match the style and tone of surrounding content. Make them informational and useful to appeal to your audience.
When done right, native ads feel organic rather than salesy. Use them to raise awareness and nurture prospects through the buyer's journey.
Native advertising requires more effort than standard display ads. But the seamless integration can really pay off!
There you have it! A quick tour of popular online advertising approaches. Try different formats to see what resonates best with your audience and goals. The digital buffet is packed with tasty options. Time to dig in!
Developing an Effective Online Advertising Strategy
You've got your audience locked and ads picked. Now it's time to bring it all together into a rock-solid game plan – your digital advertising strategy!
This is like the blueprint that guides your renovations to create an amazing advertising house. Without it, you're just swinging a hammer blindly.
Let's talk about steps to build your strategic foundation…
First, get crystal clear on the goals for your online advertising campaigns.
Do you want to:
Generate more website traffic?
Get more sales leads?
Increase brand awareness?
Engage existing customers?
Or achieve some other goal relevant to your business?
Defining your wish list keeps your efforts focused. It also gives you metrics to track so you can evaluate success.
Next, pick which online advertising channels make the most sense for your business. We covered a few popular ones earlier. We'll discuss more advertising channels in the next section of this guide.
Consider factors like:
Where does your audience spend time online? On which sites and platforms?
Which ad formats resonate best with your target users?
What budget and resources do you have?
Choose one or two channels to start and expand from there. There is no need to be everywhere at once.
Now for the money talk. Figure out how much budget you can allocate towards paid advertising across your selected channels.
Be sure to factor in things like:
Campaign management time
Ad creation (design, copywriting)
Testing different options
Having a clear sense of budget and an expected ROI helps inform where to invest and how to measure success.
And that's the bird's eye view! Turn your strategy into an actionable plan with specific campaigns, budgets, and tasks. Then get out there and start advertising online like a boss!
10 Top Platforms to Advertise Online
The online world is one big advertising display board with many sections. Let's explore some of the best online advertising platforms where you can promote your business.
Google
As the #1 search engine, Google gets an estimated 8.5 billion daily searches. Capitalize on this insane traffic with Google Ads.

Source: Oberlo.com
Google ads options include:
Search ads – Appear above organic results for keywords related to your biz
Display ads – Graphical ads on Google sites and partner networks
Video ads – Promote your brand with YouTube video ads
Shopping ads – Showcase products people are browsing to buy
Google allows you to laser target your audience and only pay when people engage. Google Ads is a juggernaut for a reason.
Facebook
With billions of active users, Facebook is a beast for promoting brands.
Facebook advertising lets you:
Target users with precision based on traits like interests, behaviors, and more
Raise awareness with video and image ads in the News Feed
Drive conversions from website clicks to catalog sales
Track people who've previously visited your site people with retargeting ads
The platform makes it easy to create and test different ad variations. And Facebook Pixel helps track conversions. The Facebook platform has a huge reach, great targeting, and robust analytics to power your social media marketing efforts.
YouTube
YouTube sees over a billion hours of video watched daily. Stand out with YouTube Ads like:
Pre-roll ads before videos play
Overlay ads that pop up in videos
Masthead text ads on YouTube's homepage
Source: score.org
Video marketing can grab more eyeballs. YouTube's targeting and audience data enable next-level relevance. Ads on YouTube work great for direct response marketing.
Instagram
Tap into Instagram's one billion monthly active users with ads in-feed and in Stories. Options include:
Image and video ads
Carousels
Stickers and filters
Shoppable posts
Visual content thrives on Instagram. Drive brand lift and direct response with creative that inspires.
X (Formerly Twitter)
Promoted Tweets, Trends, and Accounts help amplify your presence on X. Benefits include:
Real-time conversations with engaged users
Various ad formats fit naturally in feeds
Targeting by keywords, interests, behaviors, and more
Promoted content can boost awareness, engagement, and sales if your audience is on X,
LinkedIn
LinkedIn ads are a great way for businesses to reach professionals! With over 900 million registered users on the platform, you can advertise with:
Sponsored content in feeds
Text ads
Message ads that drive conversations
Target by job role, industry, skills, and other filters relevant to business buying. More than 61 million companies are on the platform, and it's highly suitable for your B2B promotions.
Amazon
Amazon's ad platform lets you promote products people are primed to purchase. Ads types include:
Sponsored Products – Target keywords relevant to your listings
Sponsored Brands – Build awareness in search results
Display Ads – Banners and other creatives on and off Amazon
Optimizing campaigns can really increase product visibility and Amazon sales.
Snapchat
Reach younger demographics on this visual messaging app. Ad options include:
Commercials of up to 3 minutes
Sponsored AR Lenses
Filters and Lenses
Story Ads
The vertical format lends itself well to mobile. Snapchat can potentially reach up to 575.7 million individuals, representing 7.2% of the world's population. If Snapchat is where your audience is, advertise there!
Pinterest
Inspire people browsing for ideas with Promoted Pins on this visual discovery platform. You can:
Boost existing Pins for wider reach
Tailor for specific interests and behaviors
Drive traffic or conversions
Pinterest ads are great for lifestyle brands looking to engage buyers seeking inspiration.
Bing
Though smaller than Google, Bing still sees millions of searches daily.

Source: backlinko.com
You can increase visibility on Bing with:
Keyword-targeted Search Network ads
Graphical display ads
Remarketing and similar audiences
Costs are often lower for Bing Ads. Advertising on Bing is worth exploring to supplement Google and other platforms.
There you have it! Ten major online advertising options with unique audiences and tactics. Pick the best platforms for your business goals and let the promotions begin!
Ad Copy and Creative Design
Ads are an effective way to grow your business. But you need compelling ad copy and visuals to power them.
Words matter big time in advertising. Your ad copy needs to grab attention and persuade people to act instantly.
Here are some tips for stellar ad copy:
Focus on customer benefits and how you solve needs
Use concise, scannable sentences in an active voice
Speak to your audience directly like you're having a chat
Sprinkle in power words that provoke emotion or urgency
Ask questions to engage readers
End with a clear CTA that tells people what to do next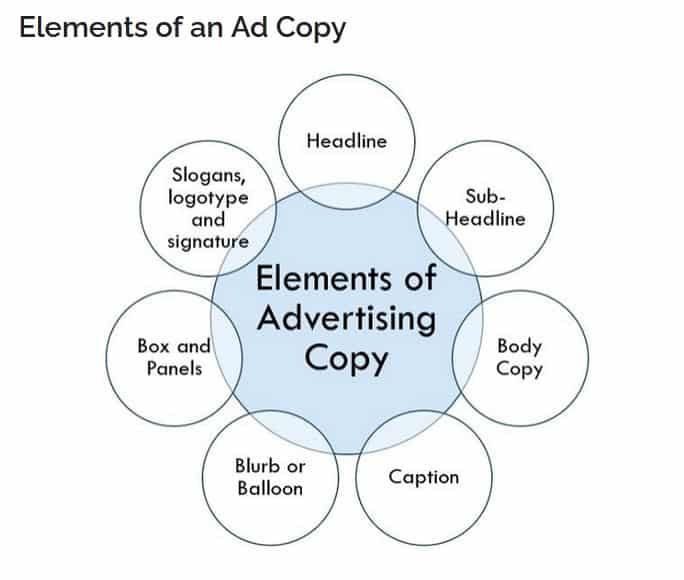 Source: beingintelligent.com
It takes testing different ad copy to see what resonates most. Aim for a balance between informative and conversational. Finding your brand's tone and voice takes experimentation.
Now, let's talk about eye-catching visuals. Strong ad creative aligns with your brand style and messaging.
For images and video, consider:
Use high-quality files that load fast
Show real people using your product or service
Convey the desired emotion or experience
Let your brand personality and style shine through
Again, testing is key. Try different images, fonts, colors, and arrangements to see what pops.
An ad widget like Smartmockups or Crello can help design variations quickly.
Run A/B tests to learn what visuals and copy perform best. This is how you go from stabbing in the dark to developing winning formulas informed by data.
With compelling ingredients – words, visuals, and a clear CTA – you'll whip up ads that convince and convert. Hone your recipe with relentless testing and optimization.
Monitoring and Optimization
You did it – campaigns are running, and ads are working their magic! But the real work has only just begun. Now, it's time to monitor those ads and optimize based on what the data tells you.
When you first launch campaigns, expect to be in proof of concept mode. You're testing different elements, like targeting, creative, placements, etc., to see what gains traction. Don't get married to any one approach too early.
Stay glued to your campaign analytics to spot opportunities. Depending on the platform, analyze metrics like:
Impressions
Clicks
CTR
Conversions
CPC/CPA
Look for trends and insights about what is and isn't resonating. Then, use what you learned to refine targeting, bids, creatives, and messaging to improve performance.
For example, if a certain ad copy is getting lots of clicks but low conversions, try a version focused more on benefits or proof to assuage concerns.
Optimizing is an ongoing process of incremental improvements through constant testing. Don't be afraid to experiment with new ideas or even pause/remove elements that aren't working.
While monitoring analytics, also keep an eye on the bigger picture of how your campaigns align with overall goals.  Check if tactics lead to vanity metrics like clicks but no actual business growth.
Online marketing and advertising require diligence, patience, and vigilance. There will always be new opportunities to try that might yield better results. Treat optimization as a habit, not a one-off task.
With regular refinement guided by data, you'll gain clarity on what works best for your audience and business. Then, you can double down on winning formulas that deliver good ROI and help your paid marketing campaigns soar!
Conclusion
And that's a wrap! In this guide, we explored various aspects of online ad campaigns.
With the right knowledge, online advertising stops being a stab in the dark. It becomes a strategic tool to connect with customers and grow your small business.
But who has time to keep up with the ever-changing world of digital advertising? That's where working with experts pays off.
Enter AdvertiseMint!
At AdvertiseMint, we become an extension of your team, handling the heavy lifting so you can focus on your business. Our paid advertising services create effective ad campaigns tailored to your goals.
We will promote your products or services to target audiences across major platforms like Google, Facebook, Instagram, TikTok, Snapchat, etc. The focus is increasing your ROI.
We've successfully done it for many businesses like yours and want to do it for you too.
Ready to turn online advertising into an engine that drives your profits, sales, and brand growth?
It starts with a quick consultation with one of our ads experts.
Click here to request a FREE Facebook Ads consultation now!