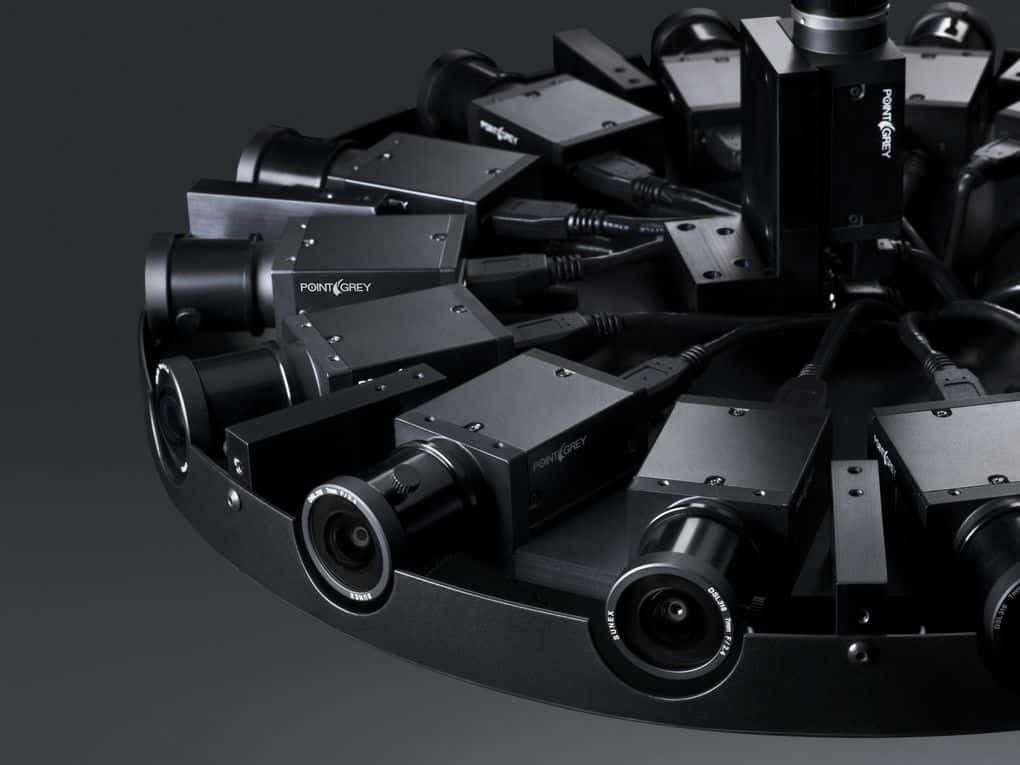 Looks impressive right? Today at F8, Facebook revealed the "Surround 360", a 17-lens 3D VR camera that looks like a UFO on a stick and requires almost zero post-production work, unlike most VR rigs. Facebook won't be selling the Surround 360. Instead, later this summer it will put the hardware designs and video stitching algorithms on Github. All the parts can be bought online for $30,000.
The four main draws of the Surround 360 camera:
Extremely high-quality footage: its 17 4-megapixel lenses can shoot in 4K, 6K, and even 8K, dumping the 30-gigabit per second data to a hard drive over USB. The one fish eye lens on top and two on the bottom mean there's no hole in the footage above or beneath you, and the pole the camera stands on disappears.
Durability: its aluminum casing can be quickly assembled and disassembled, it will survive tough conditions like the desert, and it can shoot for hours straight without overheating
Portability: it's designed to handle frequent plane flights, and its rolling base makes it simple to move around.
Near zero post-production required: by using genlocking to connect all the lenses, the software can do less work so footage is ready for distribution an order of magnitude faster, in a day rather than weeks
Facebook is positioning Surround 360 as the best-designed camera of its kind, thanks to integrated hardware and software designed by the company to work in harmony. The device can work for "many hours" without overheating, and exports video in resolution up to 8K. It can be viewed on Gear VR, Oculus, and inside the Facebook app, among other places.
"We do not have ambitions of getting into the camera business, but we realized there wasn't a good reference camera" Facebook Chief Product Officer Chris Cox told reporters Monday. Facebook's goal is simply to catalyze 360 and VR content production to fill its ad-fueled social network and the headsets it sells with teleportations worth your time.
Like, alright and I crochet in my spare time – am I right?
Comments
comments