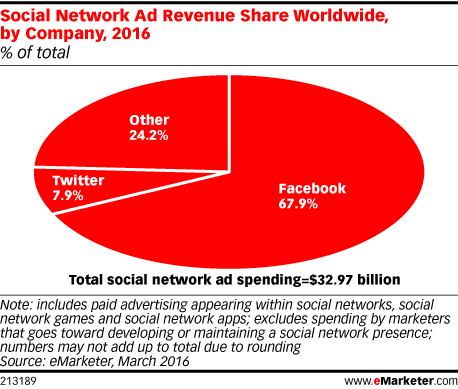 Money is falling from the sky for Facebook, all thanks to Facebook advertising. Recently, eMarketer released an article estimating Facebook's total social media ad revenues. It estimated a whopping $22.37 billion net revenue for 2016, an impressive leap from the $17.08 billion in 2015. Most of its revenues will come from outside the U.S. This shows that it's popular not only in the U.S. but also across the globe.
The Rise of Facebook Video Ads
So why is Facebook advertising so popular? According to eMarketer principal analyst Debra Aho Williamson, Facebook's video ads are becoming "more and more popular for marketers whose objective is broad awareness." Additionally, she claims that "products like Dynamic Ads, which let advertisers upload their product catalog to Facebook and then deliver relevant targeted ads, are proving highly effective for marketers that want to drive lower-funnel activities, such as purchases."
Based on Facebook advertising's popularity amongst businesses and the impressive annual revenue it receives from social media ads, advertisement on Facebook is the way to go for businesses craving exposure.
Facebook's Advertising Future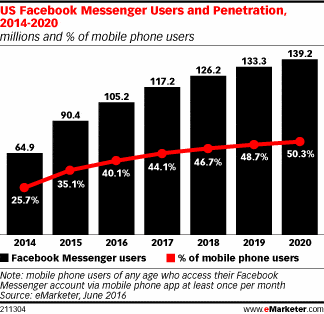 Success awaits Facebook's future. According to our very own CEO Brian Meert, "Facebook still has captured the lion's share of the social ad revenue and continues to capture more from competitors. It has looked into expanding its ads beyond their platform via the audience network which would give them more room to show their targeted ads. I would expect to see Facebook continue to dominate the social landscape in the foreseeable future."
Facebook is inventing new ways to maintain its seat at the social media advertising hierarchy. Rumor has it that Facebook is currently experimenting with advertising on its messenger app. "Messenger," says Williamson," is gaining traction among marketers that want to experiment with chat bots. These are very early days for conducting business activities on Messenger, however, and it remains unclear just how important it will be as a marketing vehicle."
Nevertheless, Facebook Messenger ads or no Facebook Messenger ads, Facebook still conquers the social media advertising scene.
Comments
comments