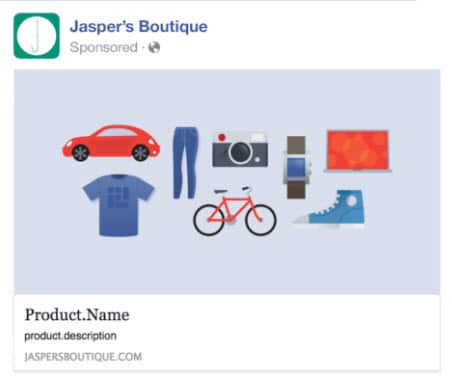 If you choose "Promote a product catalog" as your Facebook advertising objective, you will be able to create dynamic ads, ads that advertise products from your product catalog. Dynamic ads work well if you target customers who have browsed through your catalog but have not yet purchased an item. The pixel will track which pages of your website your customer visited (i.e. product catalog or checkout) and, based on its findings, will serve a relevant ad to that customer. For example, if your customer browsed through your collection of fur coats, your ad will advertise that same product. Dynamic ads are great tools that push interested customers to make a purchase.
Although Dynamic ads sound like they require a lot of effort to create and maintain, they actually run on their own. In fact, they're an easy and effective way to experience the benefits of Facebook for business without much hassle involved. With dynamic ads you can:
Promote all of your products with unique creativity without having to configure each individual ad.
Set up your campaigns once and continually reach people with the right product at the right time.
Reach people with ads on any device they use.
Show people ads for products they are interested in order to increase their likelihood to purchase.
In order to create dynamic ads, you must have two essential things: the Facebook Pixel and a Product Catalog
A product catalog, also known as a product feed, is a list of products you would like to advertise on Facebook. The product catalog you create on Facebook must have a product ID, name, description, landing page URL, image URL, and availability status. Additionally, the product(s) featured in your dynamic ad cannot be on the list of prohibited items to advertise on Facebook.
The Facebook Pixel is a piece of JavaScript code that tracks your customer's webpage destination. If your customer goes to your About page, your Contact page, or your Checkout page, the Facebook pixel will know. The Pixel is an essential element of your Dynamic ad as its trackings help you advertise relevant products your customers already expressed interest in.
If you want to promote relevant products from your catalog to interested customers, then you should choose "Promote a product catalog" as your Facebook advertising objective and create a dynamic ad.
Comments
comments