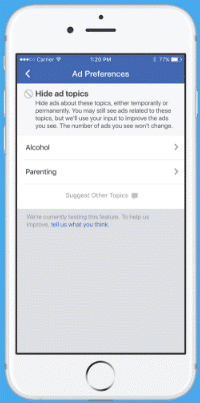 Facebook is testing a new blocking option for its U.S. users: the option to block ads that users deem insensitive. Currently, users can only block ads related to alcohol and parenting. Facebook will include other topics users can block when they flag certain topics as distressing or insensitive.
"This is an early test that will allow people to hide ad topics they prefer not to see," a Facebook spokesperson told Business Insider. "We are starting with alcohol and parenting since those were the two most common topics that came up in our research."
Although Facebook allows users to choose the types of ads they want to see, this is the first time Facebook has given users the power to block ads.
The new blocking tool is located on the updated version of the ad preferences menu (also the place where users can choose which types of ads they want to see). If you do not see this new blocking tool, it is likely that the tool has not rolled out to you. Facebook has not specified whether the test rolls out to all users or to a select few.
Since this new tool is merely a small test, whether it will officially roll out to all U.S. users still remains uncertain. Its official debut depends strongly on the test's success.
Comments
comments