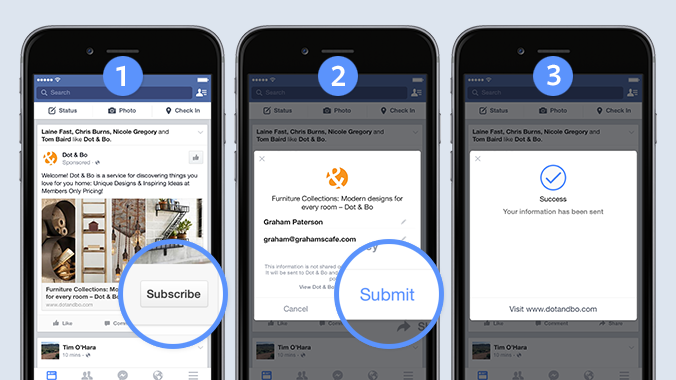 Facebook announced today that they are testing a new feature called "lead ads," which is a simple way for people to fill out forms on their mobile devices.
Lead ads ensure the mobile sign up process is much easier for consumers by automatically populating contact information such as name, email & phone from the users Facebook profile.
At the moment, Facebook is testing different versions of lead ads that would let people sign up for things like newsletters, price estimates, follow-up calls and business information. The lead ads use a native signup flow within Facebook. This helps avoid a lot of the pain points usually associated with filling out forms, like having to leave one app and start a form in another app, and having to enter all of their information from scratch.
People can edit their contact information, and information isn't sent to the business until a person clicks the "submit" button. Advertisers may only use this information in accordance with their privacy policies, which we make available in the lead ad before people click submit. Advertisers are also restricted from re-selling lead information to third parties. The current test of lead ads is limited to a small group of businesses around the world. We'll share more information about lead ads as we gather feedback.
Comments
comments