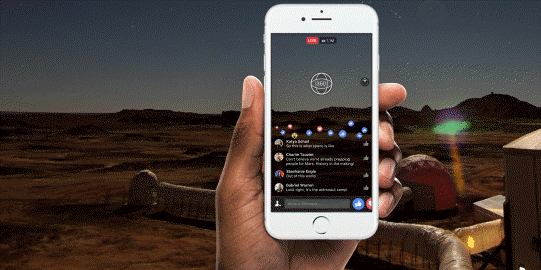 Earlier this month, Facebook officially launched Live 360, a new video format that takes immersive experiences to an astronomical level.
Live 360 combines 360's power of interaction and Live's power of real-time recordings. With Live 360, audiences can watch videos filmed in real time while interacting with the video's environment. For example, viewers can move their cursors up, down, left, and right to get a full 360 look of the video's surroundings—it's as though audiences are right inside the video.
Facebook launched Live 360 by going live with National Geographic at the Mars Desert Research Station facility in Utah. The video featured astronauts  emerging from their pods in outer space and astronauts giving a tour of the living quarters, showing viewers how to wear space suits, and exploring the Martian landscape. Additionally, during the Live video, scientists, writers, and thinkers, answered questions from the audience.
According to Facebook, Live 360 video will be available to more Pages via the Live API in the coming months. The new video format will roll out to more pages and profiles in 2017.
Comments
comments