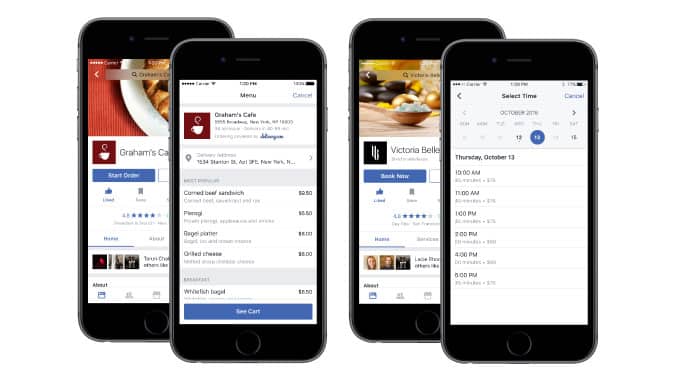 On October 19, Facebook updated Pages' call-to-action buttons. The update includes more CTA button options and an integration with third party services such as HomeAdvisor and Microsoft Bookings that Facebook ad companies should become well aware of.
These are the new CTA buttons:
Start Order – Place orders with delivery.com or Slice.
Book Now – Book appointments with HomeAdvisor, MyTime, and other services.
Buy Tickets – Purchase tickets with Eventbrite or Ticketmaster.
See Showtimes – Find show schedules and purchase tickets with Fandango.
Get Quote – Request a quote on Messenger
Request Time – Book an appointment on Messenger
Shop Now – Shop from the shop section on Messenger
Before Facebook's update, CTA buttons directed customers to an external site, removing them from Facebook's platform. This process proved disadvantageous to businesses because it caused customers to drop off without connecting with a business, and an external site, which leads to opening a web browser, is not a mobile friendly experience. To combat these problems, Facebook partnered with third party services to allow customers to connect with business without having to leave its platform.
The current third party services available to businesses include the following:
HomeAdvisor
Microsoft Bookings
Microsoft Bookings
MyTime
Booker by Booker Software
BookingBug
Front Desk
Porch
Setster
SimplyBook.me
TalkLocal
Delivery.com
Slice
These third party services allow customers to book an appointment or place a food order straight from any Facebook business page. To access this feature, however, you must first own or sign up for one of these accounts.
If you don't have an account with any of the third party services or if you do not plan to sign up, you can still manage bookings and inquiries through Facebook Messenger. When customers click on Facebook's new "Get Quote" and "Request Time" buttons, Facebook will show them a form that they fill, which Facebook will then send to the business owner via Messenger.
These new CTA buttons for Pages and Messenger, as well as the new integration of third party services, make interaction with businesses easier and more mobile friendly. Because these features are still rolling out, it may or may not appear on your page. If not, return a different time for the update.
What do you think of Facebook's new CTA buttons? Leave your thoughts below on the comments section or share to friends.
Comments
comments