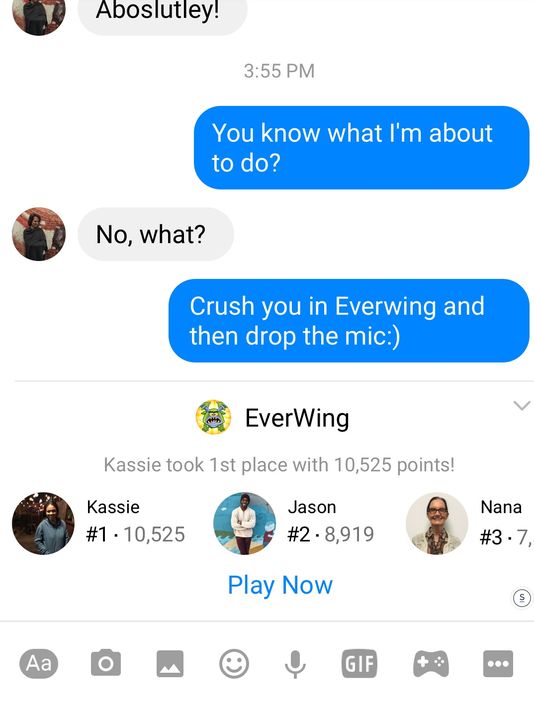 Yesterday Facebook brought gaming to its Messenger app, a place where friends can compete in games such as PAC-MAN and EverWing. While it does not change the scope of FB advertising, it says a lot about relevant audience online behaviors.
Games on Messenger are only accessible to those with the latest version of the app on iOS or Android Messenger. Those with the latest version will see a game controller icon which they can tap to choose a game. Players can also find games on Facebook's News Feed. Currently, Seventeen games are available to the public, games which include Words with Friends, Frenzy, SPACE INVADERS, and Galaga. Players can compete against other players and scores will be recorded on the app for others to see.
During its testing stages, Messenger games accrued 1.2 billion plays in three months.
"We were shocked by how successful this was and how people really enjoyed not only playing games on Messenger but also challenging their friends," said Messenger chief David Marcus. "That's when we decided we needed to build a better gaming experience for people on Messenger and actually let the pros build games, the real game developers, instead of us."
The test's success led to Facebook's initiative called Facebook Instant Games, an HTML5 gaming platform used to play games on Messenger and in the Facebook News Feed on the Web and on mobile.
Bringing games to Messenger reminisced the popularity of gaming on Facebook during its early days. Games such as Farmville, Mafia Wars, and Pet Society, burst into popularity in 2009, but, as the years progressed, lost its appeal to the public as users started accessing Facebook through their smartphones. Recently, Facebook has, once again, developed interest in gaming, investing in GameRoom, a gaming platform, and Oculus.
"[Games are] a content type that many people relate to, and when you have a new platform, games are almost always one of the first app types that make an appearance, and that's what we are seeing with Messenger," said Gartner analyst Brian Blau.
Messenger games will be free, and there will be no in-game purchases or advertising.
Comments
comments